Tesla (NASDAQ:TSLA) released its much anticipated deliveries report for Q3 on the 2nd. Model 3 production at 53,239 was in line with guidance. Deliveries of Model 3 at 55,840 were slightly below street expectations. In-transit vehicles decreased by about 3,000 units which indicates the inventory has been drawn down slightly counter to our expectations.
Model S and X deliveries came in at 26,903. While this is stronger than expectations, we note that various promotions along with fleet sales are the likely reason for the strength.
Setting aside the numbers themselves, the press release stands out for a few things:
There is no reiteration of Q3 or Q4 profitability or cash flow unlike recent releases – in fact, it explicitly punts that to earnings release.
There is no mention of the Model 3 reservation count. Simultaneously, there was no commentary on orders. Instead, the PR included commentary that there are significant opportunities to grow the addressable market for Model 3 by introducing leasing, standard battery and other lower-priced variants of the car, and by starting international deliveries. It should be very clear that management is not pointing to growth but pointing to some ideas on how the company could grow.
The report pointed to tariff related challenges with China and the company plans to initiate production in China to overcome headwinds. Stage has now been set for Q4 guidance miss for Model S and Model X.
In-transit Commentary Appears Dubious
Before discussing the impact of Q3 numbers and demand situation, one item requires reader attention: in-transit numbers.
There is considerable evidence that Model LR demand has died down several weeks back. And, Tesla has been delivering mostly AWD and P version products towards the end of the quarter. As of the end of the quarter, there was at least a one-week lead time on P/AWD products. It is possible that 8,000+ P/AWD Model 3s were in transit at the end of the quarter given this dynamic. It is possible but extremely unlikely. Consider the chart below from Model 3 public tracker.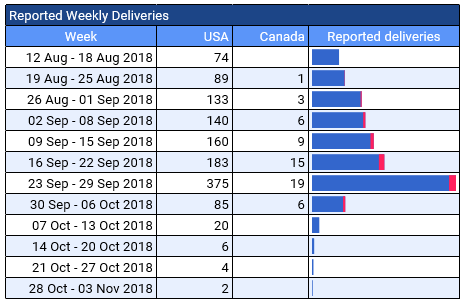 With over 8,000 cars in transit, one would think the deliveries during the first week of October would be healthy, but there is no evidence of that in the image above. We suspect Tesla is categorizing inventory as in-transit or resorting to some other shenanigan to boost the in-transit number. To put it mildly, the in-transit number is highly dubious.
Setting aside the in-transit numbers, what do the Q3 delivery numbers mean to Tesla?
Tesla May Be Close To Breakeven And Cash Flow Neutral In Q3
The higher than expected Model S and Model X sales, and the massive amount of money that Tesla is collecting from customers prior to delivering Model 3 cars is a big boost to Tesla in terms of profitability and cash flow.
The number of levers that Tesla has at its disposal to create artificial boost to profitability or cash flow in any given quarter is high. Levers include: ZEV credits, AP revenue recognition, expense deferral, promotions with no upfront cost but significant future expenses (such as free Supercharger credits and low interest loans), and categorization of expenses (whistleblower suit by ex-employee Marty Trip alleges that Tesla capitalized scrap).
Due to these levers, it is possible that Tesla may get close to breakeven. However, our model suggests that a loss north of $100M is likely. Even if Tesla can be made to look profitable in Q3, there will be considerable investor doubt as to whether it can sustain in the future quarters.
In terms of cash flow, it is very difficult to predict how Tesla will do given the opacity into the customer deposit line item (especially with its new practice of collecting money for the car prior to even scheduling delivery)
Demand Is A Big Problem
Regardless of how Q3 financials pan out, the biggest problem that besets Tesla today is demand (or the lack thereof).
As discussed in the previous note, the situation with the LR model demand has gotten so bad that Tesla has now essentially stopped producing this version (image below from Model 3 public tracker). Note the paucity of blue dots that represent the LR version.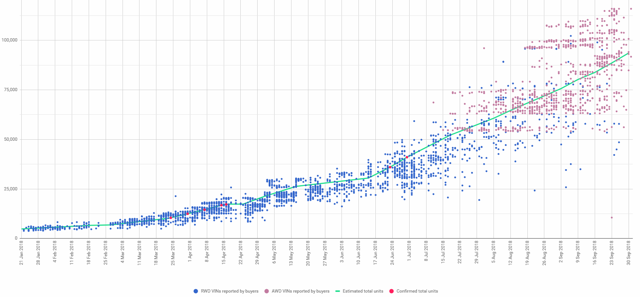 Similar story is playing out with the "P" and "AWD" versions. Note from the image below that the reservation queue demand for "P" and "AWD" versions is almost exhausted. Note the very steep roll-offs during the last week of the quarter.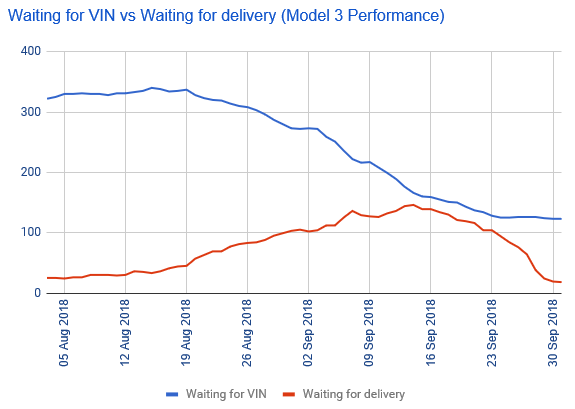 This is bad news for Tesla as the Model 3 Performance version is the only Model 3 with decent gross margins. Note that the reservation queue for this highest margin version is all but gone.
On the upside, Tesla has recently drummed up additional sales for this model by offering free lifetime Supercharging. Thanks to this long-term loss-making promotion, Tesla has been able to drum up "P" version demand by about thousand cars. We predict that the reservation queue, including this new demand, will be essentially satisfied during the first or second week of October. Going into November, there is very little demand for the only Model 3 with respectable margins.
Considering the big delivery push and in-transit numbers, we also predict that the reservation demand for the AWD version will be satisfied in October.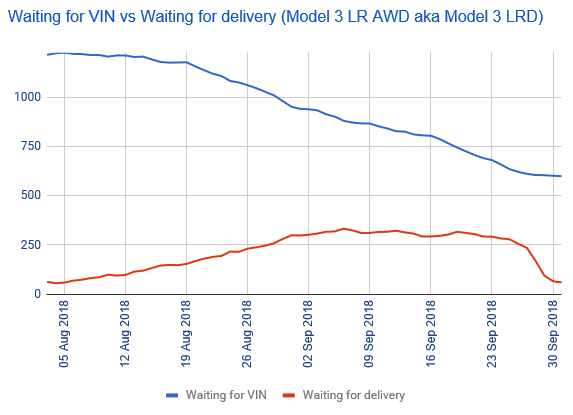 It is then no wonder that Tesla has very little scheduled and is delivering very little in October (see first image in the article). It is also little wonder that there are multitudes of car carriers sitting empty around Tesla Fremont facilities (source: Flash Jourdan from Twitter).
Barring initiation of sales to Europe in Q4, we expect Model 3 AWD sales to collapse by late October. By November, we expect Model 3 run rate, including all available models, to be around 2,000 to 2,500 cars per week. This is a disaster for Tesla as this is less than half the rated production and well below the breakeven point communicated by CEO Elon Musk.
Cash Flow Is Starting To Become A Critical Issue
There is no doubt that Q3 was engineered to be a relatively strong cash flow quarter with big push in delivering high margin "P" and "AWD" version sales. But, due to demand and mix issues, cash flow beyond October is bleak barring a capital raise.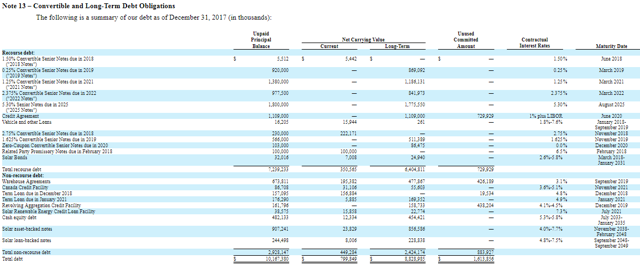 As can be seen from the image above, the company has several loan maturities in the Q3 2018 to Q1 2019 time frame that cause considerable cash burden:
$100M Promissory Note due 8/2018 (reports indicate that Tesla IR is not answering this question and there have been no filings indicating this may have been paid; given poor Tesla practices, it is possible that this may have been rolled over but odds favor these being cashed out).
$230M Convert due 11/2018.
$157M Non-recourse Term Loan due 12/2018.
$920M Convert due 3/2019.
Furthermore, there is a $566M Convert due 11/2019. The image below shows debt maturities over the next few years.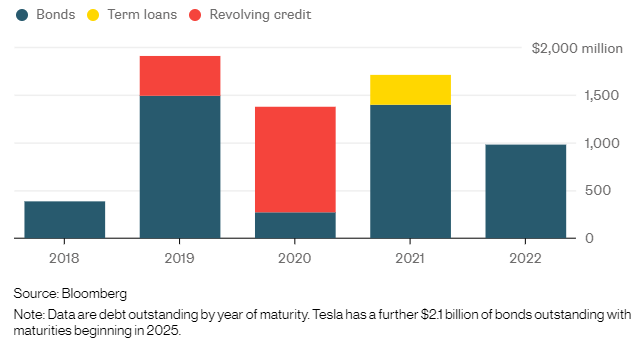 The problem for Tesla is that it has a billion of dollars of debt or more coming due every year without even accounting for additional capex needs for new ventures such as Model Y, Truck, or Roadster. The company has no prospects of addressing the current debt let alone new debt without substantial cash flow.
If the company cannot generate significant, if any, positive cash flow in this quarter with disproportionately large amount of high margin "P" version of Model 3s, and benign competitive environment, then it will never be able to generate the required cash flow with less favorable Model 3 mix and competition from many new BEVs in the market.
Prognosis
The Q3 delivery report is tame and lacks the bluster we have seen in recent quarters. While the hints are subtle, there is little doubt that Tesla is laying the groundwork for a future guidance reduction. The narrative fits with the lack of demand signs that are now becoming increasingly obvious.
Based on all available information to date, here are some predictions:
Due to dramatically reduced demand for the current models in the US, Tesla will have to:

A. Speculatively ship product to Europe ahead of homologation.
B. Release a new lower priced Model 3 in Q4 (something in the $40K-$45K price range possible).
C. If A or B does not happen, then Tesla will see an emphatic downtick in Q4 demand.
When it comes to Model S and Model X, the ground has already been laid in Q3 deliveries report in the form of China tariff issue. Due to China issues, Tesla will see much lower Model S and Model X demand going forward. Tax credit expiration in the US and Netherlands will help demand somewhat, but Tesla will have to significantly ramp down Model S and Model X production in Q4.
What is worse is that the demand challenges of Model S and Model X pale in comparison to Model 3 problems. Tesla MUST start dramatically reducing Model 3 production or shut it down altogether for several weeks in Q4.
Because of the combination of factors, we find another massive layoff in Q4 likely. We expect a company-wide reorganization and at least 10% reduction in labor in the coming weeks.
We expect that the Q3 call has the potential to get very ugly. Cash flow issues and debt payment schedule will start dominating investor questions starting Q3 and in subsequent quarters unless there is a capital raise.