Summary
The time has come once again to put bull market swagger to the test.
The S&P 500 Index is now on its own.
Are you ready for what may lie ahead?
The time has come once again to put that bull market swagger to the test. Following a blissful third quarter, hints of increased volatility and a potentially sustained downside move in stocks have returned to the markets. For after nearly setting a new intraday all-time high on Wednesday, the S&P 500 Index has fallen back by just under -2% to close out the week. Perhaps this move will end up being nothing, but then again it could be the very start of something more. What are the key markers that stock investors should be monitoring as they travel what could be a bumpy next few weeks of October?
The S&P 500 Index is on its own. The first thing to know about today's stock market is the following: while the headline S&P 500 Index of U.S. large cap stocks has looked great for several months now, the rest of the stock market world has been struggling for some time now. Both U.S. mid-caps and U.S. small caps peaked in late August and are already down by -4% and -6%, respectively. As for markets outside of the U.S., developed international and emerging market stocks never recovered from the late January and early February correction, having fallen by -10% and -21% (bear market!?! <gasp>) over the more than eight months since. Thus, if the S&P 500 Index is going to make its way higher from here, it will be leading the way and perhaps doing so on its own. Why does this matter? Because decoupling becomes increasingly difficult to sustain the longer it goes and the more deviated it becomes.
Valuations are not going to save this market. Another point to keep in mind as we ride this graying bull into the twilight is that stocks are still trading at a significant premium even after factoring in all of the juice from the corporate tax cuts from late last year. Today, the S&P 500 Index is still trading at more than 22 times earnings, which is a more than 35% premium over the historical average multiple for the broader market. Why does this matter? Because stocks will need to fall a long way before value investors will start to get excited about the discounts on offer in the market.
Earnings are not going to save this market. A source of comfort for many bulls is the strong double-digit annual earnings growth that corporations on the S&P 500 Index (NYSEARCA:SPY) have been collectively generating throughout 2018. Surely stocks cannot start falling sustainably to the downside with earnings growth still rising so strongly, right? Here's the problem with relying too much on this notion.
First, the market has already effectively priced in the earnings gains from the tax cuts, particularly now that these higher earnings estimates have been getting revised lower nearly each and every week now since the end of April.
Also, we will not know whether corporate earnings have officially peaked and rolled over until well after the fact. In 2007, investors could not even begin to see the decline in earnings until late October to early November of that year, which was more than three months after stocks had reached their first peak in July of that year. And in 2000, investors were not able to see that earnings had peaked and were starting to decline until late January and early February of 2001, nearly a full year after the lights first went out on the tech bubble.
Why does this matter? Because we are swimming somewhat in the dark through risk infested markets driven primarily by momentum at this very advanced stage of the market cycle. Momentum is a powerful force that should not be underestimated. But man is it ruthless and unforgiving once it finally relents. More on this idea in another article for another day.
Making a mockery out of downside risk for nearly a decade. Of course, the S&P 500 Index has made its reputation in the post crisis period by repeatedly mocking anything and everything that might reasonably cause it to go down on any given trading day. Thus, while all of the considerations above and many more should be duly noted, this S&P 500 Index bull market should not be counted out until we almost literally see the whites in the eyes of the next bear market.
Nonetheless, it remains as important as ever to determine what we might expect on the downside from this intrepid benchmark index to make sure that we are ready and that there are minimal surprises as events unfold.
So where do we stand today on the old S&P 500 Index?
The first line of defense is already broken. The S&P 500 Index has been riding its 20-day moving average (the dotted green line on the chart below) to the upside since early May. Outside of a brief stint in late June and early July, the S&P 500 Index has repeatedly moved its way higher after bouncing off of this support line. That is until late last week when the 20-day M.A. gave way.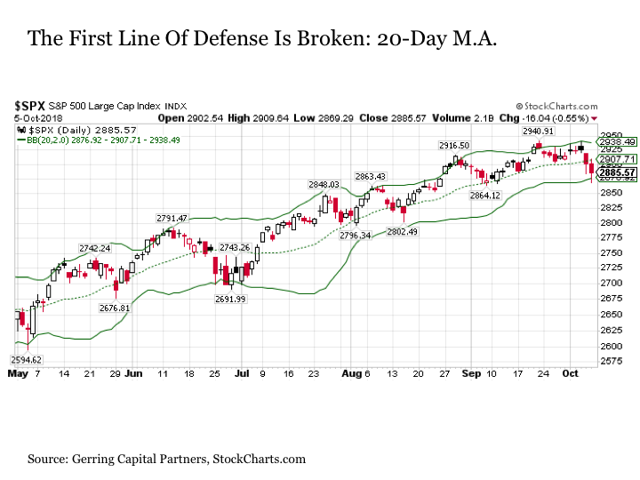 Is this a problem? Not necessarily. The 20-day moving average is a short-term technical level that as evidenced by what we saw in July can be reclaimed just as quickly as it is surrendered. But the fact that it has been broken after several months of support is still worth note.
The second line of defense is now being tested. The next key support level, which is more significant from a sustainability of trend perspective, is the 50-day moving average (the blue line on the chart below). On four previous occasions since May when the 20-day moving average was under fire, the 50-day moving average provided support for the next bounce to the upside. After Friday's trading, we are now looking at a fifth such test of this support.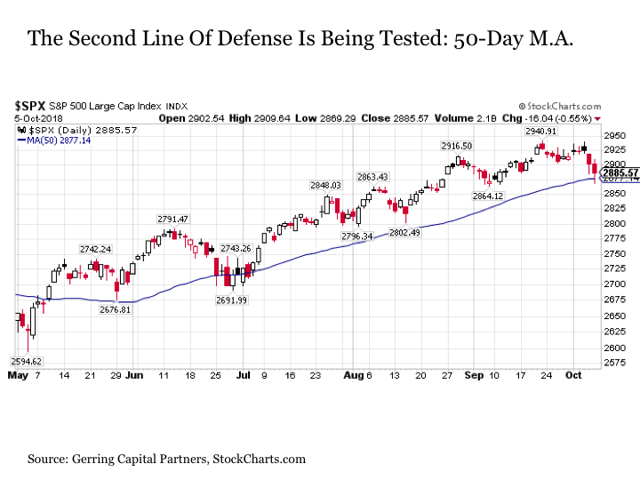 It will be worth watching to see if the S&P 500 Index can sustain this support level early next week. For if it gives way, a decent sized technical air pocket exists below.
The third line of defense. The next line of defense following a break of the 50-day M.A. would be the 200-day moving average, which is the red line in the chart below. This is a key support level that held strong on four separate occasions in keeping the S&P 500 Index pushing higher through a volatile first half of 2018. But after a dreamy third quarter, this support level is now a considerable distance away to the downside.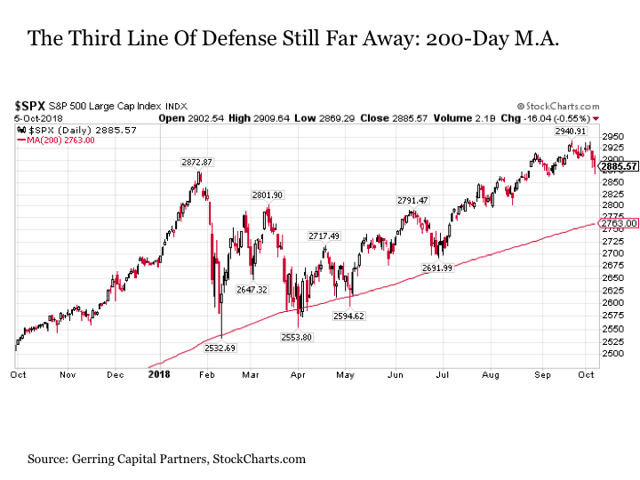 This raises the first important question for investors to consider today. Are you ready for the S&P 500 Index to be down by more than -6% from its late September peak? It is important that you are ready for such a possibility, for this could easily come to pass over the coming days to weeks, and it would represent nothing more than a bull market regressing back to its trendline mean in continuing to make its way higher. The same thing could have been said about the violent pullback that took place at the end of January and the beginning of February, but it certainly didn't feel that way for most investors when it was playing itself out, as many were left rattled by what was nothing more than bull market mean reversion to long-term trend.
The ultimate line of defense. This is where the stuff gets real for the U.S. stock market. Suppose the S&P 500 Index falls back to its 200-day moving average and eventually breaks below it. The next major technical support level would then come at the ultra long-term 400-day moving average (the pink line on the chart below), which is still more than -11% away from the recent S&P 500 Index highs.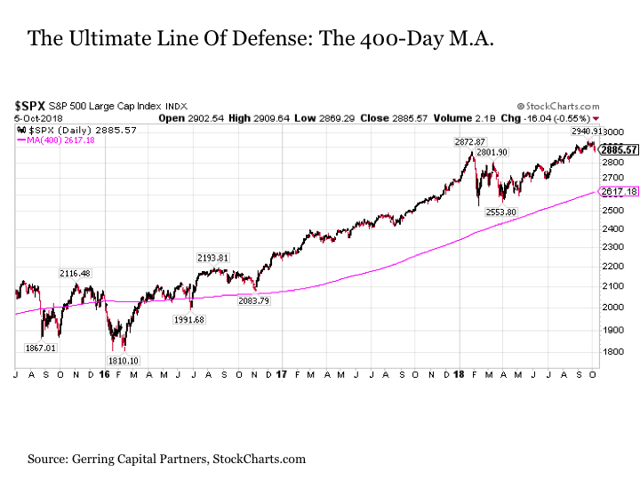 It's been a long time since the big pink has had to come into play in support of the S&P 500 Index. The last instance came during the coulda been without the Fed monetary stick save, probably shoulda been bear market onset of late 2015 and early 2016 when the S&P 500 clung to support on six different occasions (and surrendered support a few times along the way) as it found its footing to continue making its way higher.
Nonetheless, this raises the second important question for stock investors to consider. Are you ready for the possibility that S&P 500 Index could be down by more than -11% from its late September peak? Because this could also easily come to pass. And while many investors along with the mainstream media will likely be trading and broadcasting with alarm (I can already see the ads for the "Markets In Turmoil" special to air at 8PM on a given trading day during such a pullback), once again such a correction would be nothing more than a regression to the mean for a bull market that has been running so far ahead of trend for so long that it has lulled many of its participants into worrisome complacency.
This also leads to the third important question to consider. Are you ready for the possibility that S&P 500 Index could be down by as much as -15% or more? For as evidenced by the events of late 2015 and early 2016, even if the S&P 500 Index breaks below its 400-day moving average, it does not mean that the bull market is necessarily over. Granted, this will be a time when risk monitoring and daily moves will be of paramount importance. But even then the bull will still have a lot of fight left, as one can be certain that many investors will view any such pullback as the buying opportunity they missed around this time last year. Yes, the S&P 500 Index has run up that far, that fast that a -15% pullback would do nothing more than bring us back to where we were just twelve months ago. The faster it climbs one side of a hill, the faster it can come down the other side.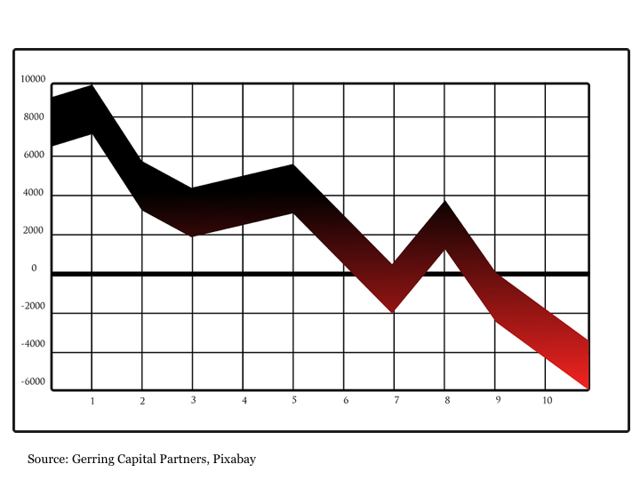 The bottom line. It's easy to think that the stock market will go up forever, but it won't. Pullbacks and corrections are a part of the normal course of a bull market, and while the rest of the stock market world has been battling to varying degrees for some time now, we have not seen such challenges around these parts in the S&P 500 Index for some time now.
Even if you are bullish on the stock market, you must be ready for the potential that stocks could fall by as much as -6% to -11% or more, and it would mean nothing more than your bull market behaving normally and staying intact in its ongoing climb to the upside.

Even if stocks fall by as much as -15% or more, it still may not mean that this bull is over, as markets that rise this high for this long do not go away easily and without an extended fight marked by increasingly more elevated volatility before finally expiring.
So as you continue to ride this bull market higher, it is important to keep it fully in context. A -2% decline is nothing. And a -6% to -11% decline over the course of many weeks or even a few months should be expected as a normal part of a bull market remaining fully intact and continuing to move to the upside.
If you are not fully prepared both mentally and as part of your portfolio strategy for such an outcome moving forward, it is important to reevaluate your risk tolerances and the appropriateness of your current portfolio allocation so that you are better prepared for what may lie ahead for capital markets.
Disclosure: This article is for information purposes only. There are risks involved with investing including loss of principal. Gerring Capital Partners and Retirement Sentinel makes no explicit or implicit guarantee with respect to performance or the outcome of any investment or projections made. There is no guarantee that the goals of the strategies discussed by Gerring Capital Partners and Retirement Sentinel will be met.
Are you ready for what may lie ahead for global capital markets? Are you interested in asset allocation strategies that look beyond the traditional stock and bond markets in working to generate consistent returns and protect against downside risk over time? If so, come join us on Retirement Sentinel, my premium Marketplace service on Seeking Alpha, as this is a key focus of our portfolio modeling, research and discussion. A two-week free trial is now available for those interested in learning more. I look forward to you joining us on Retirement Sentinel.
Disclosure: I/we have no positions in any stocks mentioned, and no plans to initiate any positions within the next 72 hours. I wrote this article myself, and it expresses my own opinions. I am not receiving compensation for it (other than from Seeking Alpha). I have no business relationship with any company whose stock is mentioned in this article.
Additional disclosure: I am long selected individual stocks and mutual funds as part of a broad asset allocation strategy.