Breakout Forecast Selections for Week 41:
Week 40 was skipped as I was out of town presenting financial methodologies to graduate and undergraduate finance students at Penn State University. Market conditions have declined significantly since Week 39, with steady declines through the past week as well. The positive momentum gauge is down to 27 from a value of 65 at the end of Week 39.
In Week 34 of last year, the positive momentum gauge set its all-time highest score of 120 since the momentum gauge has been put to use. The all-time low for the positive momentum selection gauge is 8 during Week 14 of 2018
The negative momentum score has increased significantly to 53 from a low/medium condition of 36 at the end of week 39. In relative scaled values, the positive momentum is now much lower than negative momentum strength heading into Week 41.
Last published report (Week 40 skipped): Week 39 Breakout Forecast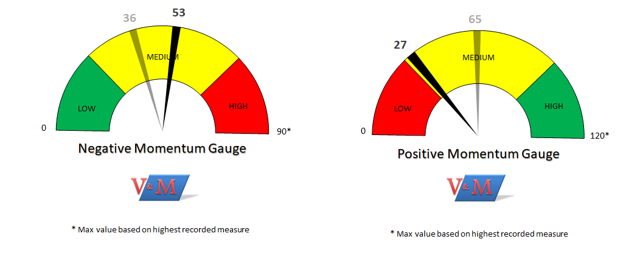 My momentum gauges are based on the count of the momentum stocks screened as either positive accelerating or negative accelerating stocks based on my research algorithm. The combination of the two different types of momentum categories screened by segments 2 and 6 of my algorithm may help validate the quality of the overall market momentum strength.
I am seeing increasing signs of market deterioration that are discussed and highlighted in more detail in the live V&M Chat Room Summary Articles for intraday trading.
One example is the ongoing FANG (Facebook (NASDAQ:FB), Apple (NASDAQ:AAPL), Amazon (NASDAQ:AMZN), Netflix (NASDAQ:NFLX), Alphabet/Google (NASDAQ:GOOGL) (NASDAQ:GOOG)) bull fund (FNGU) deterioration and breakout conditions of the inverse bear fund (FNGD):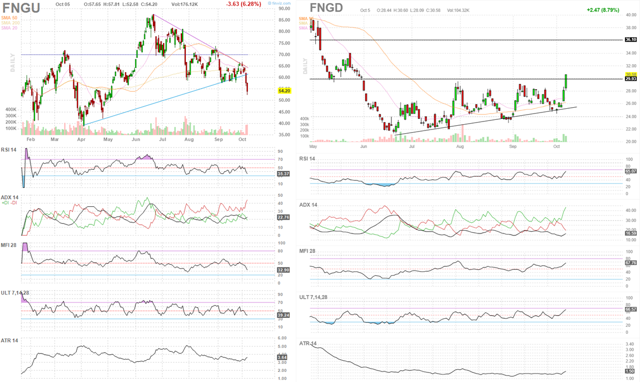 These FANG stocks represent a significant portion of the Nasdaq 100 index and are highly represented in most of the top investment funds. Increasingly adverse performance of these five stocks could have a major impact on the markets. Use caution going into Week 41.
Total Return Chart: +91.90%
The Total Return Chart reflects total return of all stocks in the weekly portfolio.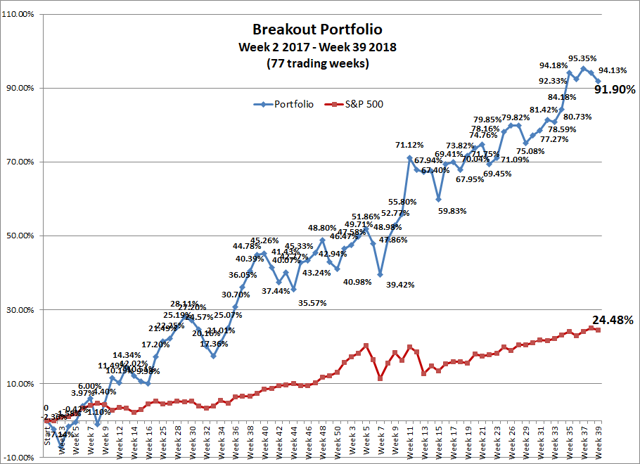 In the last measured Week 39, Farmmi Inc. (FAMI) was the best performer with gains of +11.42% through Thursday the 27th. This week I have selected 8 breakout stocks from the following sectors: 2 basic materials, 2 consumer goods, 3 services, and 1 financial sector stock.
The new selections of positive momentum stocks for this week include:
Amyris Inc. (AMRS) - Basic Materials / Specialty Chemicals
Access National Corp. (ANCX) - Financial / Mid-Atlantic Banks
Caution: These stocks are not necessarily recommended for long-term buy/hold unless you are comfortable with very large price swings. These are the most volatile selections I offer from among all the different Value & Momentum portfolios.
As I continue to observe, strong momentum events usually last from one to three weeks and may encounter some substantial decline before returning again to positive gains. Proposed entry points for each of the selected stocks are as close to the highlighted prices in yellow on the charts at market open.
Breakout Stock Selections for Week 41
Note: All breakout stocks are selected based on my algorithm to increase the frequency of 10% gains within a very short period of time. Price targets are estimated through an unrelated technical charting process for those who are looking for estimated exit points; however, it is possible the momentum in these selections may move well beyond the initial target.
Amyris Inc. - Basic Materials / Specialty Chemicals

Price Target: $9.50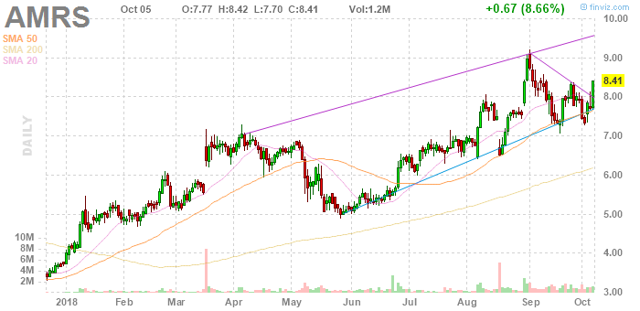 Amyris, Inc. provides various alternatives to a range of petroleum-sourced products worldwide. The company uses its industrial bioscience technology to design microbes, primarily yeast, as well as to convert plant-sourced sugars into renewable ingredients. It produces and sells Biofene that converts to squalane, which is used as an emollient in cosmetics and other personal care products; and natural oils and aroma chemicals for the flavors and fragrances market.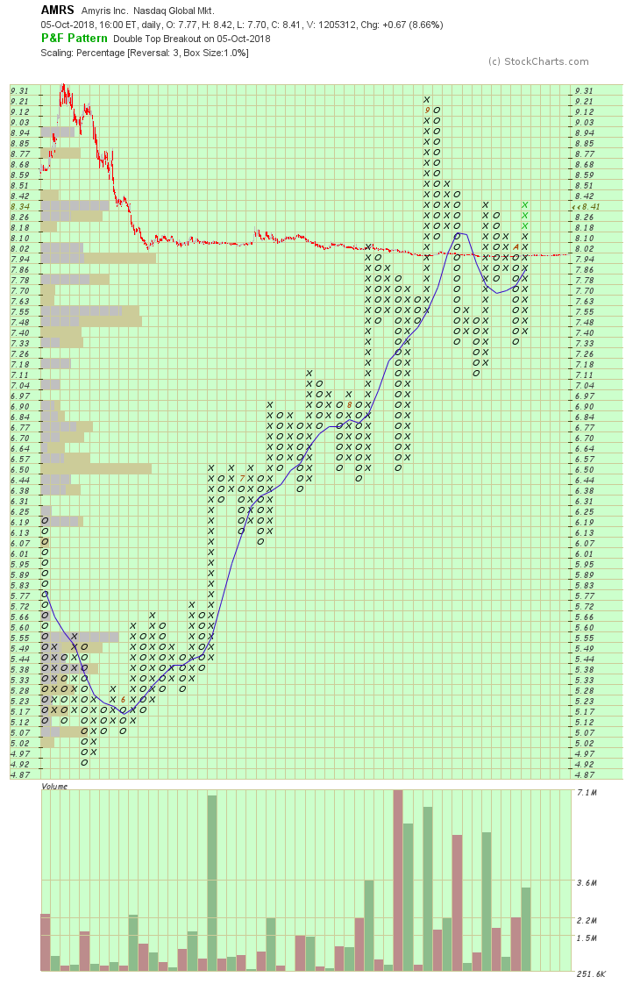 Sample #2: Access National Corp. - Financial / Mid-Atlantic Banks

Price Target: $31.00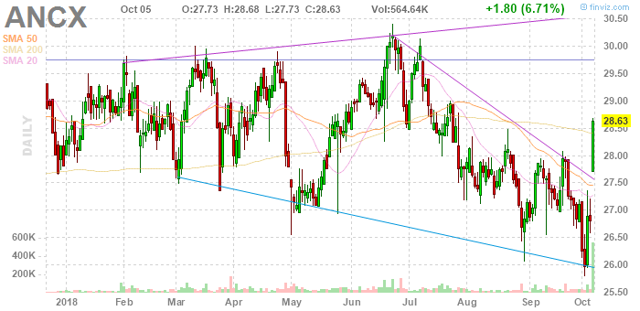 Access National Corporation operates as the bank holding company for Access National Bank that provides credit, deposit, mortgage, and wealth management services to small and medium sized businesses, professionals, and associated individuals primarily in the greater Washington, D.C. Metropolitan Area.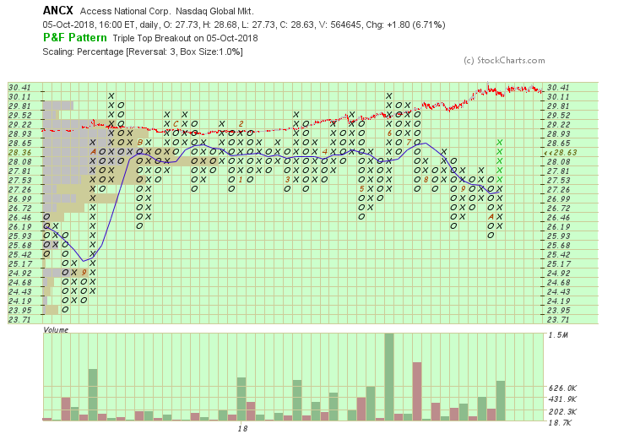 2018 YTD Chart: +50.71%
Cumulative return with 1-week holding period.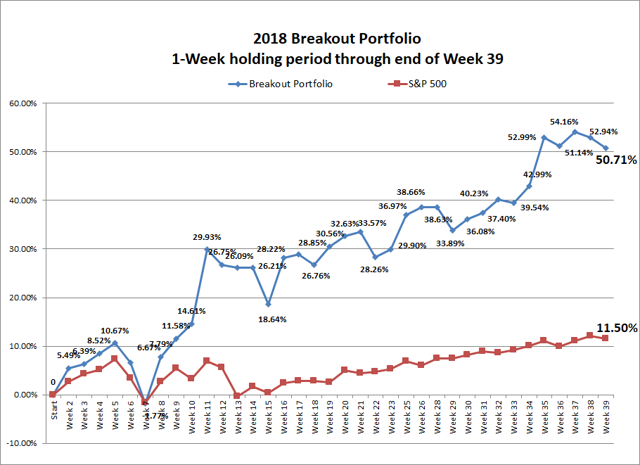 A detailed holding period analysis for Q1 2018 sampled Breakout Stocks is available here for review: Value & Momentum Breakout Stock Returns For Q1 2018
Long-Term Portfolio Returns
As a reminder of the other longer term portfolios being tracked and updated regularly with portfolio spreadsheets listed in the Tools section, here are the returns through Week 40.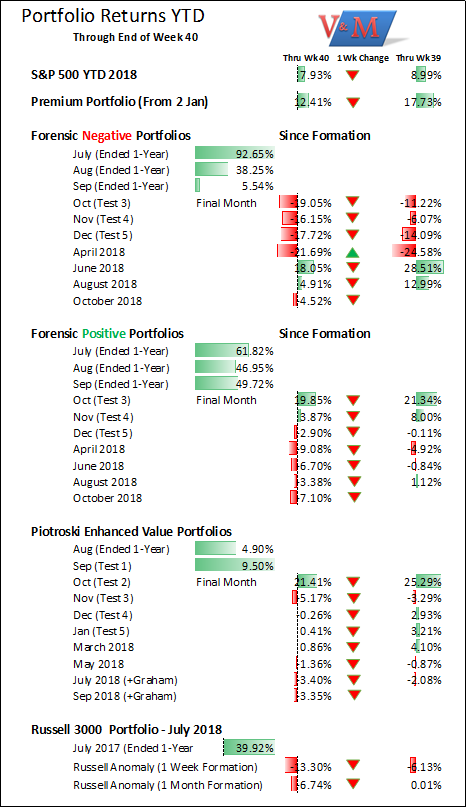 Top BO Gainers last four weeks: Harmonic Inc. (HLIT) +7.36%, Farmmi Inc. +7.55%, Vanda Pharmaceuticals (VNDA) +14.42%, Medallion Financial (MFIN) +12.09%, QEP Resources (QEP) +7.14%, STRATA Skin Sciences (SSKN) +13.99%, VolitionRx Limited (VNRX) +20.17%, Cytokinetics Inc. (CYTK) +9.55%.
Click the "Follow" button at the top of the page to enjoy free updates and select real-time alerts if you want timely updates on the latest stocks and portfolios I offer that are outperforming the S&P 500 in each of their respective time periods.
Be sure to check out my many other free articles here.
To subscribe to Value and Momentum Breakouts, click on the link here.
I think these breakout stocks will serve you well in Week 41 and beyond. I hope you all do well with these stocks and always diversify to minimize some of the market risks.
All the very best and have a great week of trading!
Disclosure: I am/we are long FNGD. I wrote this article myself, and it expresses my own opinions. I am not receiving compensation for it (other than from Seeking Alpha). I have no business relationship with any company whose stock is mentioned in this article.
Editor's Note: This article covers one or more microcap stocks. Please be aware of the risks associated with these stocks.