A week ago, in "Remember The Trade Wars? This Isn't Complicated," I brought you a common sense take on what across-the-board tariffs on Chinese imports would likely mean for corporate bottom lines.
In that post, I cited some simple math from Goldman who, in a note out late last month, posited a worst-case scenario wherein the Trump administration goes "all in," slapping a 25% tariff on $500 billion in Chinese goods. The bank conservatively assumes S&P 500 (SPY) corporations are unable to find substitute suppliers, are unable (or unwilling) to raise costs, economic growth doesn't accelerate and domestic revenues do not rise materially. Again, the point was simply to try and game out what the worst possible outcome would be for U.S. corporate earnings in an all-out trade war between the U.S. and China.
Goldman ultimately concluded that if all of the above conditions are met, S&P 500 earnings growth would flatline in 2019, versus the 7% growth the bank was expecting in the base-case scenario.
As you can probably imagine, the Trump administration wasn't particularly enamored with that. Asked about Goldman's take (which, by the way, I first highlighted here just hours after it was released), Council of Economic Advisers Chairman Kevin Hassett told CNN that in his opinion, the bank's research is politically biased. He also admitted he hadn't read the note in question, but you, dear reader, have (or at least you've read the relevant excerpts) and as I tried to communicate in the first post linked above, there isn't anything "biased" about it.
It's very simple, very straightforward and the bank clearly states that they are attempting to posit a kind of worst-case scenario in the interest of figuring out what would happen if the trade war with China escalates as expected and U.S. corporations have a hard time reworking their supply chains in time and are reluctant to pass higher input costs on to consumers. Do note that both of those assumptions (i.e., that management teams will find it difficult to reformulate their supply chain strategy in the short space of 90 days and will initially be reluctant to raise prices) are entirely realistic.
Anyway, the overarching point in highlighting that analysis last weekend was to point out that the tariffs are likely to manifest themselves in margin pressure for S&P 500 companies due to the fact that imports account for nearly a third of S&P 500 COGS.
This week, there were two notable developments that raise still more questions about the outlook for margins going forward. First, Amazon (NASDAQ:AMZN) raised the minimum wage to $15 for all workers in the U.S. and second, bond yields surged.
As far as the Amazon news goes, the real question is what the company's decision will mean in terms of setting a precedent for other companies. Obviously, Amazon itself will take a margin hit (for whatever it's worth, Goldman estimates the move will shave ~160bps off operating margins next year) and the sheer size of the company means Bezos's decision to lift wages will in and of itself have a small macro impact (on BofAML's math, the move could add ~0.1pp to the MoM growth rate for hourly earnings in November).
But the real question is whether other large U.S. employers will feel compelled to follow Amazon's lead. Jeff Bezos hopes the answer is "yes." Here's what Bezos said following the announcement:
We're excited about this change and encourage our competitors and other large employers to join us.
Another person who is "excited" about this is Democratic Senator Bernie Sanders, who praised Bezos on Tuesday (after spending months criticizing him) and called for corporate leaders across the country to follow Amazon's lead.
This comes at a time when the labor market continues to tighten. Unemployment hit a 48-year low of 3.7% in September and if the old models still worked, that would likely presage a sharp acceleration in wage inflation.
Some economists believe the Phillips curve is not in fact "broken," but rather just "resting" (like the Norwegian Blue). So, I guess the question is this: What happens if/when the historical relationship between unemployment and wage growth suddenly reasserts itself (leading to a "natural" acceleration in wage inflation) at a time when Amazon's decision is putting "unnatural" upward pressure on wages?
At the same time, Democrats have variously criticized corporate management teams for plowing the windfall from the tax cuts into buybacks this year, so you can be absolutely sure that if Republicans lose ground in the midterms, pressure will mount on large U.S. employers to spend more on compensation, capex and R&D.
I don't know about you, but from where I'm sitting, all of that sounds like a perfect storm for wage-related margin pressures.
Meanwhile, bond yields have surged, raising questions about the resiliency of U.S. corporate sector balance sheets in an environment of higher interest costs.
If you've been following along, you know that long end U.S. yields exploded higher this week, with 10-year yields hitting their highest levels since 2011. In the week through Tuesday, specs remained bearish on the long end, building US and WN shorts to fresh records. The TY spec position remains in record short territory as well. Here's an update with the latest CFTC data and the recent back-up in 10-year yields:

(Bloomberg)
Tangentially, I would also note that the yield on the JPMorgan Global Aggregate Bond Index is now at its highest levels since early 2013. What you see in the following chart is, simply put, the global cost of capital rising: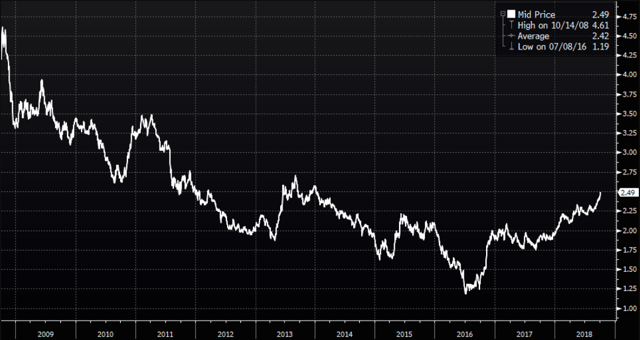 (Bloomberg)
Again, the question here is whether and to what extent this is problematic considering that non-financial corporate debt has risen sharply in the post-crisis years thanks in no small part to accommodative monetary policy driving down the cost of borrowing: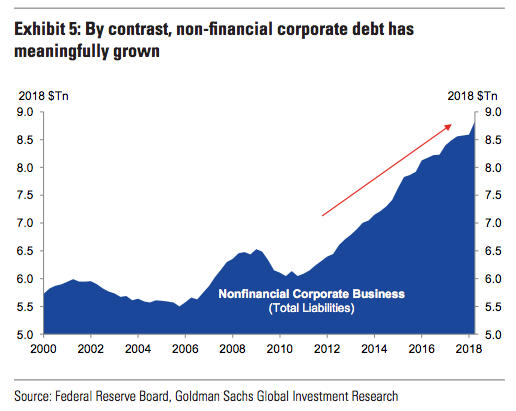 (Goldman)
That looks pretty scary, but as usual, when you break things down and take a sober look at the situation, it's not quite as worrisome as it appears at first glance.
For one thing, the interest coverage ratio for IG issuers is pretty healthy. Although it deteriorated a bit in recent years (it peaked around 2015), it's still solid and, to quote Goldman, "high enough to provide a solid cushion against rising policy rates and long-dated yields."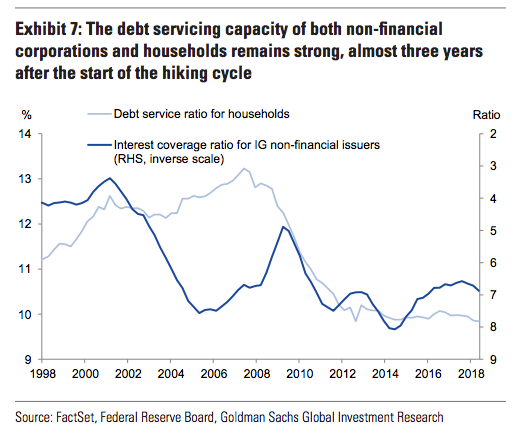 (Goldman)
That said, there's more than a little concern out there about voracious appetite for leveraged loans, which are obviously popular among investors in a rising rate environment. This is now a $1 trillion+ market. The more demand there is, the looser the terms. As the following two charts from Credit Suisse show, cov-lite deals now dominate the market.

(Credit Suisse)
The latest data (through August 31), suggests cov-lite deals now account for something like 80% of all loans outstanding.
I don't want to dive too far down the rabbit hole on this (for those interested, there's more here), but suffice to say that corporate capital structures which rely on floating rate debt are vulnerable to a payment shock now that the LIBOR floors are breached.
Here again, though, things might not be as bad as they seem. The following two charts from Goldman paint a relatively upbeat picture in terms of coverage ratios for high-yield debt and leveraged loans: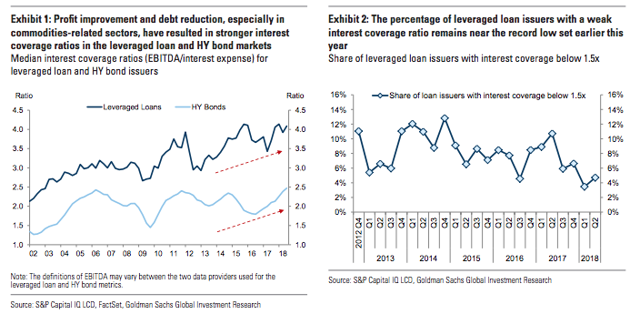 (Goldman)
Stepping back out of the weeds, the overarching point I wanted to make here is that between the likely hit from the tariffs and late-cycle pressures (i.e., wage inflation and rising interest costs), this is probably a good time to start asking questions about the durability of fat margins for the U.S. corporate sector.
One of the main reasons U.S. stocks have remained largely bulletproof in 2018 amid the malaise in ex-U.S. assets is down to record corporate profits. Going forward, it is virtually certain that profit growth will abate - it's just a matter of how dramatic the deceleration will be.
All of the above suggests margins will face a trio of headwinds and the read-through for investors is straightforward: Focus on companies with pricing power (to mitigate the situation should it become necessary to pass on higher input costs to consumers) and strong balance sheets (which will provide a cushion against late-cycle pressures from wage inflation and rising interest costs).
Disclosure: I/we have no positions in any stocks mentioned, and no plans to initiate any positions within the next 72 hours.
I wrote this article myself, and it expresses my own opinions. I am not receiving compensation for it (other than from Seeking Alpha). I have no business relationship with any company whose stock is mentioned in this article.