Midstream and MLPs had their best day in a few months on Monday (AMZ +2.2%). They struggled to hold those gains the rest of the week, but did finish +1.8% vs. last week, in line with the utilities. Utilities followed a different path to +1.8%, selling off early in the week and rallying to close out the week. With interest rates shooting higher, price action for both midstream and utilities action went against traditional expectations, while the S&P 500 (-1%) and REITs (-3% this week) experienced a more conventional selloff.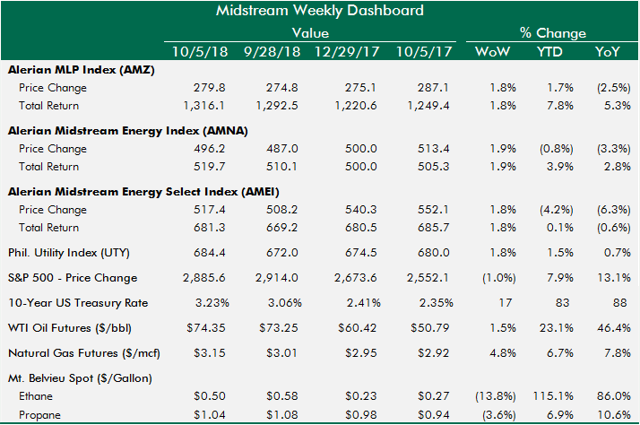 Investors across the market appear to be split between those worried about inflation and those seeking safety in a potential risk-off scenario. If those twin concerns remain en vogue, midstream could be a good place to hide. Midstream stocks have visible growth to fight inflation and should hold up better in a broad market sell-off given attractive relative valuations and sustainable yields (for the most part).
But this week's outperformance wasn't about investors choosing midstream as a safety or inflation play, the real catalyst seemed to be the Calendar. Sentiment was negative into the quarter end and snapped back Monday.
It reminded me of a scene from the 1998 film Truman Show. Near the end of the film, Truman (Jim Carey) is on a sailboat trying to escape the TV show island he's spent his entire life on. Show creator and producer Christoph (played by Ed Harris) tells his junior producer to capsize the little sailboat by turning up the waves and wind. Truman is defiant and yells up at the sky, "Is that all you got?". Christoph keeps escalating waves and wind, until it seems like Truman is just about dead. Then Christoph wavers: "That's Enough". Truman slowly regains consciousness and triumphantly sails to the edge of his fake world and escapes.
Has midstream had enough? Is midstream ready to sustain outperformance through year end and beyond? Or will headwinds like Election Day, zombie MLPs and tax-loss selling hold the sector back? This upcoming earnings season may be the difference maker in either direction.
Winners & Losers
NBLX bounced back hard this week, gaining more than 10% on Monday alone. DCP and others who have significant Colorado operations bounced this week too, as it appears a fresh month brought fresh buyers willing to take the other side of the Colorado regulatory trade. A few others that got caught up in the Colorado short trade didn't bounce quite so hard (TGE, SEMG, NGL come to mind).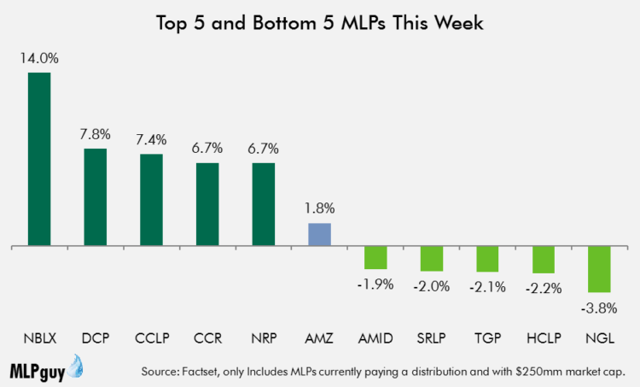 TGP went from first last week to near the bottom this week. NBLX's big week helped it climb out of the bottom 5 YTD. EQM replaced NBLX in the bottom 5, hurt by further challenges on the Mountain Valley Pipeline.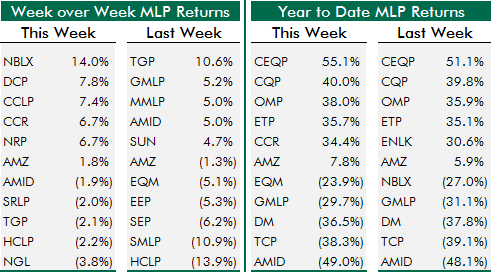 Final note: I had to remove FGP and BKEP from the winners & losers charts, both have less than $250mm in market cap, making them largely irrelevant. FGP was down another 23% this week, and is down 57% this year. BKEP is also down more than 50% YTD.
Midstream Corporations & General Partners
In the GP and midstream corporation group, WGP led the way, benefitting from better Colorado sentiment like the MLPs above. TRGP's parade of analyst upgrades helped it sustain recent strength. ENLC and AMGP traded well, even though neither had simplification news. AMGP has apparently moved the goalpost on its deadline for special committee process resolution.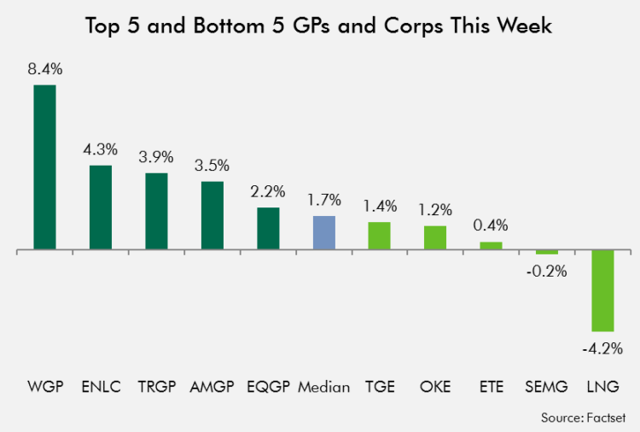 LNG was the only meaningfully negative performer. There was no Cheniere-specific news, but from week to week, it does tend to move on global trade war headlines and maybe was somehow sold just because LNG Canada FID was reached, despite its extremely long lead-time. Cheniere did outperform last week and YTD, so may have just been a source of funds on rotation into other names this week.
WGP went from worst to first this week. OKE underperformed the group for a second straight week. On the YTD leaderboard, TRGP jumped up into the second spot overall.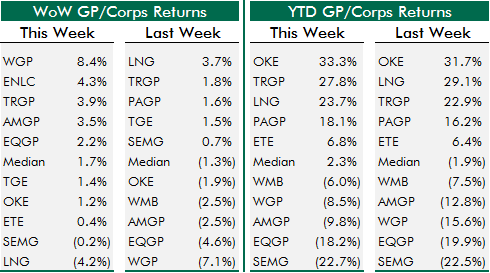 Canadian Midstream
Canadian midstream outperformed the rest of midstream this week. Helped by a flurry of positive headlines, including a rail agreement for a producer that improved Canadian energy sentiment, the new NAFTA agreement, and LNG Canada's official FID. The 3 largest players (ENB, TRP, PPL) all traded well, but Gibson (OTC:GBNXF) outpaced them all.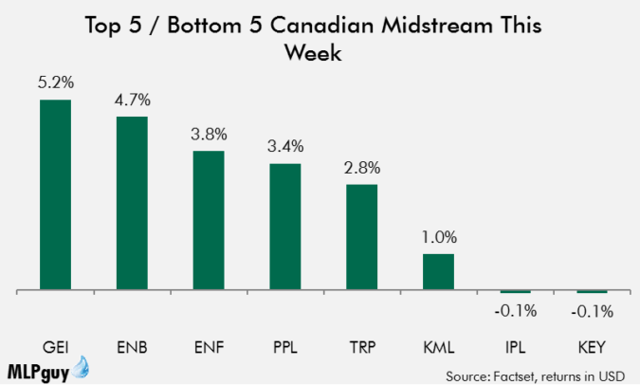 ENB bounced back from being the worst performer last week. Pembina (NYSE:PBA) made it two straight weeks of outperformance, and is now positive YTD. ENB and TRP remain in double-digit negative territory, but are no longer the worst performers in the group, now that Inter Pipeline has taken the bottom spot. Gibson is well out in front at more than 20% total return this year.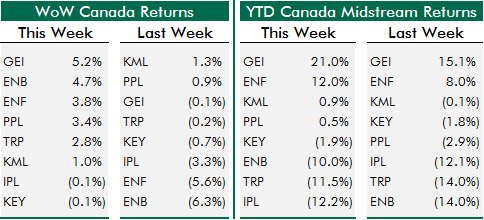 News of the (Midstream) World
Another week of no news on the simplification front. EPD flexed its investment grade muscles to issue $3bn of new senior notes. WMB reached a milestone and officially completed Atlantic Sunrise, while TRP announced its intent to embark on a massive gas pipeline project of its own North of the border. Distribution season kicked off, which means earnings season is nigh with more catalysts on the horizon.
Capital Markets
Growth Projects/M&A
Distribution Announcements