I've trimmed more Apple (AAPL) shares. It was not a massive Fall Harvest but it's generous enough to pay for the gas money, and the full tab for the Bayside Cottage in beautiful Prince Edward Island.
Here's a pic from our trip from Summer of 2018. Beautiful red rocks, red sand beaches with sand dunes that go on for miles.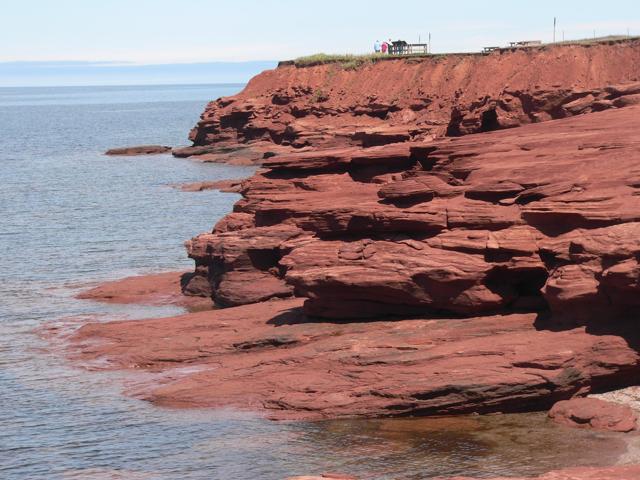 Those homemade dividends 'go well' with some of the recent cash dividends from Telus (TU), Enbridge (ENB), and from the likes of Walmart (WMT), PepsiCo (PEP), Qualcomm (QCOM), 3M (MMM), BlackRock (BLK) and Johnson & Johnson (JNJ). There was even an Apple cash dividend paid in mid August.
My timing was good, or lucky, as I held out the basket and harvested those Apple shares on October 1st (October 1 just felt like and sounded like Fall).
One year chart courtesy of TD Waterhouse.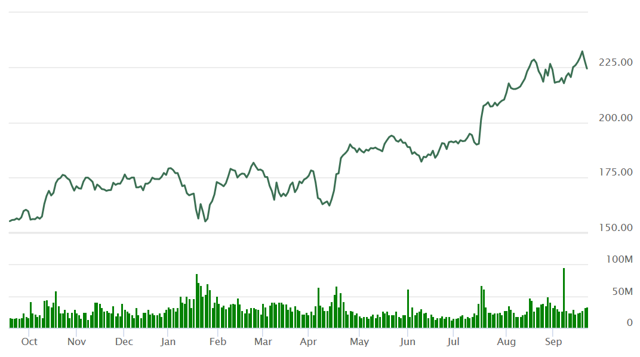 We can see that the harvest took place near the all time high for Apple. The share price has had a slight dip over the last few days. While I reduced my share count slightly, my Apple holding value is very near its all time high for my account. The harvesting is not having a material effect on reducing my retirement account's value. And of course the share harvesting creates considerably more income compared to those cash dividends. Apple is not a big juicy dividend payer. The current dividend yield for Apple is 1.3% according to TD Wealth. The stock price keeps going up, the greater value is wrapped in the shares.
Here's my article Homemade Apple dividends are 100 times bigger than the 'real' dividends. I also had a 'Summer Harvest'.
And for context here's the article surrounding the first time Apple took me to the island.
Here's how a share harvesting scenario might work or look, for a more growth oriented company or index. Of course, we'll use Apple as the example.
Our retiree holds a nice round 100 shares of Apple, yes she is very fortunate.
On January 1, the Apple share price is $170 US, so that retiree has a $17,000 value for her Apple shares. In early June, she sees that Apple has gone on a nice run and she sells 10 shares at $193 creating a homemade dividend of $1,930. She now obviously had 90 shares and an Apple holding value of $17,756.
That modest Apple share harvesting tops up the $1500 of dividends and bond income that came into her portfolio in June, generated from her $500,000 retirement portfolio. This retiree if not yet facing those Required Minimum Distributions. Those monies will also be in addition to her $1500 monthly Social Security payment. That amount is just above the actual national average for monthly Social Security payments.
This retiree now has income for that month of $4930. Of course taxation will come into play, and this is not the total sum available for spending, or after taxes.
And certainly we can't harvest those Apple shares at that level on a monthly basis in a sustainable fashion. The retiree then awaits until early September and harvests more shares at $229. In this case she sells just 7 shares creating a homemade dividend of $1603. Her share count is now 83 shares and she has an Apple portfolio value of $19007.
Obviously the retiree's Apple value in September is some $2000 greater than the value on January 1 of 2018. She has created over $3500 of income from selling shares and her Apple value has increased by nearly 12%. The share harvesting has not impacted her total portfolio value. Of course Apple success is still creating a positive impact on her portfolio value.
Of course the Apple cash dividends are decreased, but in the grand scheme, the cash dividends (for an investor with a modest holding) are immaterial compared to the share harvesting. The greater value created by Apple has been by way of business success that was rewarded by the stock market and is reflected by the share price. The only way to access the greater value that was created by the stock market is to go to that same stock market and sell shares.
And of course the retiree does not have to spend those share-harvest dollars. They might be held in cash or moved to bonds in a portfolio rebalancing exercise. Me, I'm spending them as I am in a unique transition period - my new life work stage. I need the income today. But I may not need that income next year or the following years as I rebuild my self-employment income. And of course we are all snowflakes. Every retirement situation is so unique with individual needs and circumstances.
That portfolio rebalancing is what would take place in a managed portfolio situation. The above Apple event would be at play. Here's my article How Retirees Made It Through the Last Two Recessions. I think it is likely the most important article I have penned for retirees on Seeking Alpha. The article takes a look at two of Vanguard's Balanced Managed Funds and how they would have allowed retirees to breeze through two major market meltdowns.
Those sub-managed Wellington and Wellesley Funds offer a nice mix of 'decent' dividend payers, some generous capital appreciation potential, some international exposure and some price risk support (sequence of returns risk) by way of bonds. It's a simple mix. At play in simple rebalancing would be a combination of share harvesting with the stock sale funds moved to the bond component in rising markets. The fund's bond component value would increase in those periods of rising stock markets. For example …
30% bond component in a $500,000 portfolio is $150,000
30% bond component in a $650,000 portfolio is $195,000
The bond component then provides additional potential price support in the periods of stock market corrections. Generally bonds, especially longer dated bonds and treasuries, go up in price in major market declines.
The same portfolio management technique might be embraced by the self directed investor who hold those Apple shares, or other growth basket of stocks or funds. The investor will harvest those shares (in the good times, making hay while the sun shines) to shore up the bond or cash component in preparation for those stormy or rainy days.
My portfolio manager friends will often tell me that the greatest and most reliable portfolio income for retirees comes by way of greater portfolio growth (risk managed) compared to relying on portfolio income. That said, I understand the attraction and comfort level that comes by way of those big dividends. But as retirees who self-direct our own portfolios we should keep in mind the importance and benefits of that growth component.
Author's note: Thanks for reading. Please always know and invest within your risk tolerance level. Always know all tax implications and consequences. If you liked this article, please hit that "Like" button. If you'd like notices of future articles, click the "Follow" button.
Happy Fall (share harvesting or otherwise).
Dale
Disclosure: I am/we are long BNS, TD, RY, AAPL, NKE, BCE, TU, ENB, TRP, CVS, WBA, MSFT, MMM, CL, JNJ, QCOM, MDT, BRK.B, ABT, PEP, TXN, WMT, UTX, BLK.
I wrote this article myself, and it expresses my own opinions. I am not receiving compensation for it (other than from Seeking Alpha). I have no business relationship with any company whose stock is mentioned in this article.