Investment Thesis
Sprague Resources LP (NYSE:SRLP) quietly provides investors a stable income stream that has steadily increased over time.
All three of its divisions are designed for solid earnings growth, providing the fuel for continued distribution increases or increased coverage, but most likely both.
A Simple Definition
Due to previous confusion, whenever I write concerning immediate income investing, I feel it is necessary to define what I'm speaking of when doing so. I define immediate income investing as: Investing with a taxable account seeking immediate high return via dividends.
Due to this focus, I am not concerned with total return or overly focused on capital appreciation. I am a long-term buy-and-hold investor who is willing to sell if necessary. I often explain you can milk your cows or slaughter them to unlock value - I'd rather milk them.
Business Overview
SRLP is a master limited partnership, or MLP, that issues a K-1 at tax time. This MLP is broken into three divisions: Refined Products, Natural Gas and Materials Handling.
The company has systematically grown in size without being dependent on secondary offerings. However, in mid-2017, SRLP saw its subordinated units converted to normal units on a one-to-one basis, causing a massive amount additional dilution.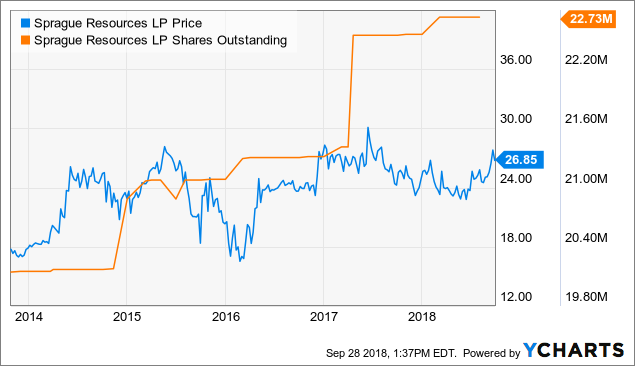 This dilution did not affect SRLP's growth record, it continued to actively acquire accretive deals. We'll cover the effects to the distribution later on, keep reading!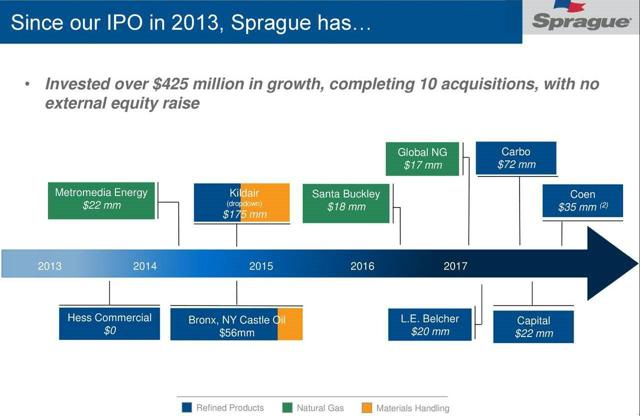 (Source: SRLP Presentation)
Recently, the company has been extremely focused on acquiring projects for its Refined Products division. This makes sense, since currently its revenue is larger than that of the other two divisions put together.
Year over year, all of SRLP's divisions are seeing growth. The refined products division saw 20% growth in its gross adjusted margin from 2017. Natural Gas saw an increase 97% year over year, and finally, Material handling saw an 11% bump.
Furthermore, the total quarter adjusted EBTIDA increased to $9.3 million versus $4.9 million the previous year. Historically, the summer months are the least profitable for SRLP. This seasonality is something management is aware of, and its 2017 acquisitions are attempts to reduce this seasonal effect.
SRLP is not resting on its laurels with regard to the future. The company, this past quarter, actively invested into renewable resource options as well. SRLP installed solar panels atop its petroleum storage, providing it a second means of revenue from the power produced. Furthermore, it initiated trials with New York City to test out biodiesel as a replacement for standard diesel.
I will be the first to acknowledge that these endeavors will most likely not yield high immediate returns, but management is not stuck in a rut and investing solely in its current products but willing to adapt as technology and consumer preferences change.
The Distribution - Growth, Coverage, and Dependability
SRLP is attractive for income investors due to its high yield that is growing.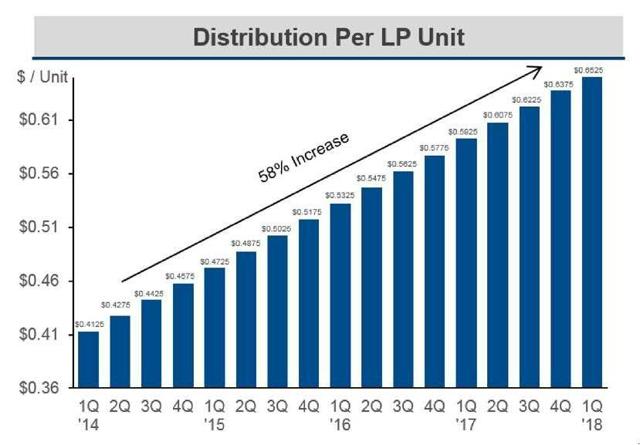 (Source: SRLP Presentation)
Every quarter since 2014, it has raised its distribution. But how well has it covered these distributions, especially with the massive addition of units?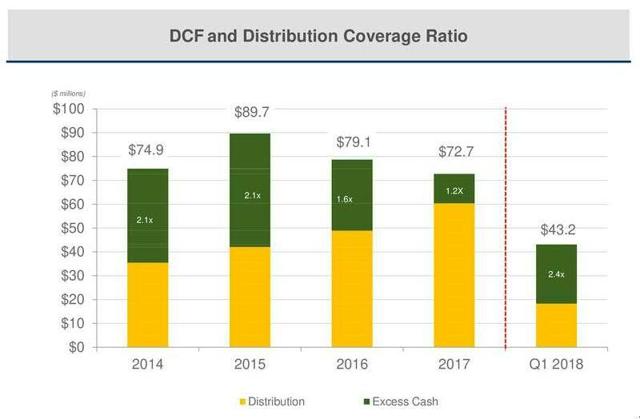 (Source: SRLP Presentation)
SRLP's coverage over the past four years has been solid, considering that the distribution has been raised 16x in that time span and the dilution that occurred early in 2017. The acquisitions that took place in 2017 are starting to pay off, increasing the distribution coverage in the 1st quarter and increasing the coverage in the 2nd quarter. Investors should be aware that the company's coverage for the 2nd quarter is always dismal, and this year is no exception - the coverage improved but was still negative.
Financial Check-Up
SRLP finances its acquisitions via debt. This is something management is proud of but can cause distress to the company. Most MLPs issue additional shares to fund growth - something SRLP has been reluctant to do. This is most likely due to the company's knowledge of the pending conversion of its subordinated shares. 2017 was no exception - SRLP funded its aggressive acquisitions via debt, adding additional interest expenses to its balance sheet. The sole exception in 2017 was its Carbo transaction, which comprised of $31 million in units being issued and the remainder in cash.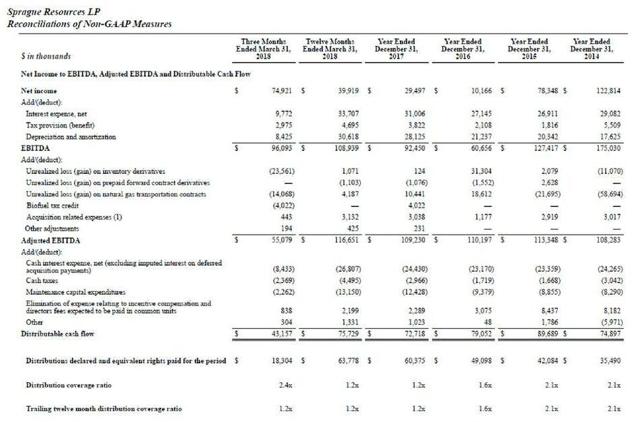 (Source: SRLP Presentation)
SRLP has seen its interest expense increase annually as well as its revenue increase steadily over the past few years. The company has a focused goal to never let its leverage ratio move above 3.5x.

(Source: SRLP Earnings Slides)
At the close of 2017, SRLP was sitting at a leverage ratio moving forward of 3.2x, below its long-term goal. The company has plenty liquidity to cover any short-term falls in coverage. As these new acquisitions start showing their full impact, SRLP's ratio will decrease. I would prefer to see the company focus on reducing its overall debt prior to making any new meaningful acquisitions moving forward.
Investor Takeaway
Investors looking at SRLP are looking at a company that is actively growing and returning wealth to its unit holders. Income investors will get the trifecta here: high yield, solid coverage, and growing payments.
Disclosure: I am/we are long SRLP.
I wrote this article myself, and it expresses my own opinions. I am not receiving compensation for it (other than from Seeking Alpha). I have no business relationship with any company whose stock is mentioned in this article.