As I sit here in a Florida resort with summer coming to a close, I am contemplating what life will be like when my bride and I will be living off of our investments, and more specifically our dividends. It is likely that both of us have many good working years left to increase our nest egg further if we desire, but one thing that is also clear is the snowball effect has taken hold in our portfolios. Each month I add shares of a dividend paying stock and each month the amount of cash that appears in my account grows. I expect this will only accelerate and soon we will be able to spend these dividends rather than buy more stock with them.
To this end, I am adding another section to my monthly update articles. I will calculate the projected yearly income (based on the next 12 months) using only what I know, and only for this portfolio. I will not assume any dividend increases and I will not assume I am adding any more shares of anything, even though I know dividends will be hiked and I will be adding more shares. I will then calculate the amount of annual income that has been added during that month by virtue of those dividend hikes and additional shares. For example, if I add a stock that will pay me $25 per quarter, I will call that $100 of additional annual income added that month. That is $100 more I will receive every year for the rest of my life, if I did my homework correctly, and to me that sounds more fun than simply saying "I bought 14 shares of XYZ corporation for $130 per share." Though I will still report it that way as well. If you have a catchy name better than what I threw together for this new section, lay it on me in the comments section. If I like it well enough I will use it and be happy to give you credit.
So now let's dive into the numbers for August:
August Dividends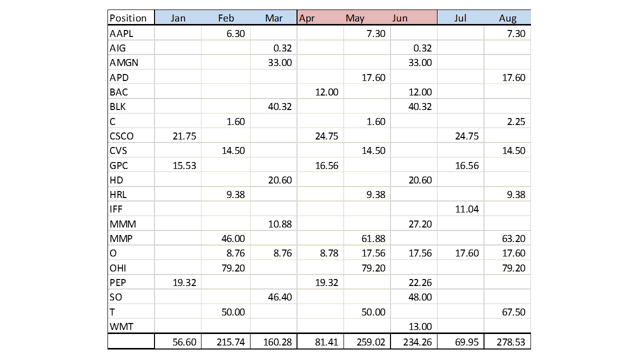 All graphs and charts created by author unless otherwise specified
August was another record month, as $278.53 of dividends rolled into the coffers. This total reflects the increased dividend from Citigroup Inc. (C), an increased payout from Magellan Midstream Partners L.P. (MMP) and the additional dividend on the 35 extra shares of AT&T Inc. (T) that I purchased back in July.
On a month-over-month basis, August 2018 was a much better month than August 2017. And you can see below that it was indeed a record for the Sand in Shoes IRA portfolio.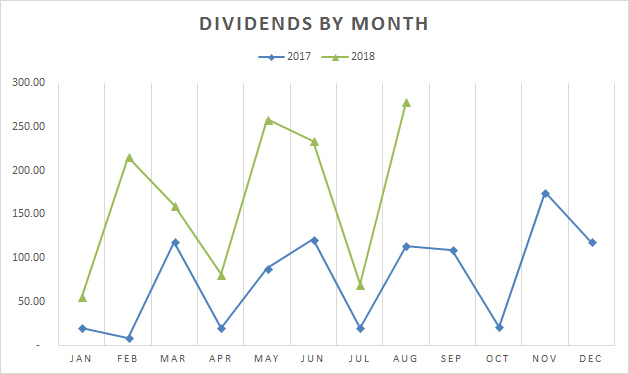 August Performance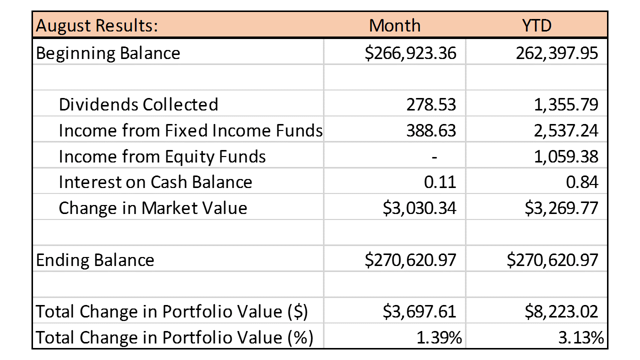 August was one of the better months this year, building on last month's performance with a 1.4% increase in total portfolio value. I am now up over 3% for the year and total cash collected from my stocks and various mutual funds is very close to $5,000 year to date.
The gains were led by Apple Inc. (AAPL) being up almost 20%, CVS Health Corp. (CVS) up 16% and Cisco Systems, Inc. (CSCO) being up 13%. On the downside, Southern Co. (SO) and BlackRock, Inc. (BLK) led the decliners down 9.9% and 4.7%, respectively.
Individual Stocks
Below you can see my individual positions as of August 31, 2018: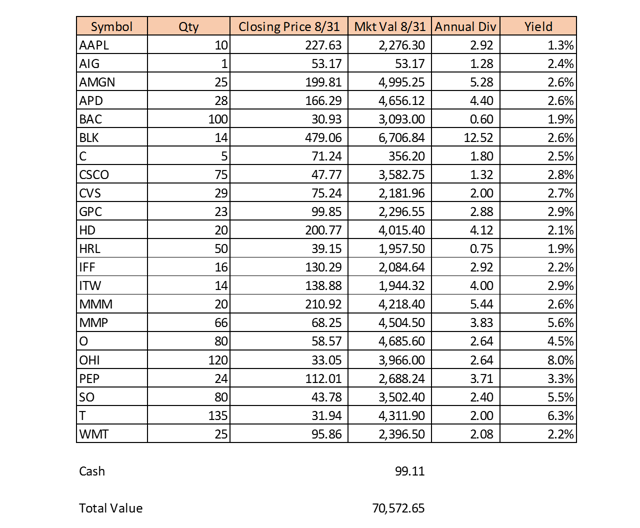 I have three stocks that are below a 2% yield, which I don't like to see as a rule. However, the reason they are all below a 2% yield right now is because they have all performed spectacularly well lately. AAPL is up close to 40% since I purchased the shares in February. I only wish I had purchased a lot more. I like to purchase Hormel Foods Corp. (HRL) when the yield is over 2%, which doesn't happen very often. However, HRL likes to raise its dividend by double-digit percentages and the company is poised to do so again with the next dividend announcement. Bank of America Corp. (BAC) just raised its dividend by 25%; so as mentioned before I will continue to hold that one as well.
Projected Dividends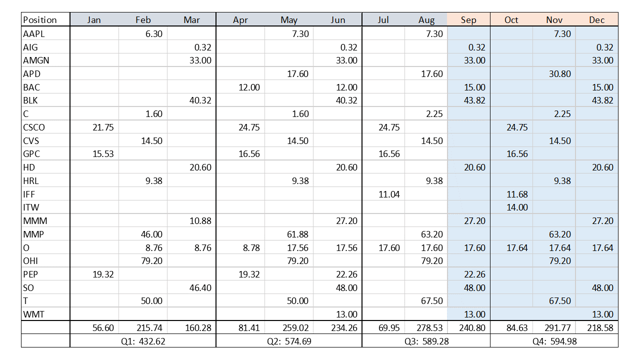 As expected I received a tiny increase to the monthly dividend for Realty Income (O), bumping up my monthly income by $0.04. Nothing to write home about but I'll take it. In October, I will receive my first dividend from my newest stock Illinois Tool Works Inc. (ITW). Total dividend income for the year 2018 is now expected at $2,191.57.
Sector Diversification
| | |
| --- | --- |
| Consumer Discretionary | 8.8% |
| Consumer Staples | 9.8% |
| Energy | 6.3% |
| Financials | 14.2% |
| Healthcare | 10.0% |
| Industrials | 8.6% |
| Materials | 9.4% |
| REIT | 12.1% |
| Technology | 8.2% |
| Telecom | 6.0% |
| Utilities | 6.6% |
| | 100% |
The portfolio remains quite diversified, and my addition of ITW brings the Industrial sector from 6.3% to 8.6%. No sector exceeds 15% and no sector is below 6%. At this point, I will lean towards adding or adding to positions I'm a little light in, like Telecom, Utilities, or Energy but I won't shy away from adding to nearly any sector if the value presents itself.
Asset Allocation of the Portfolio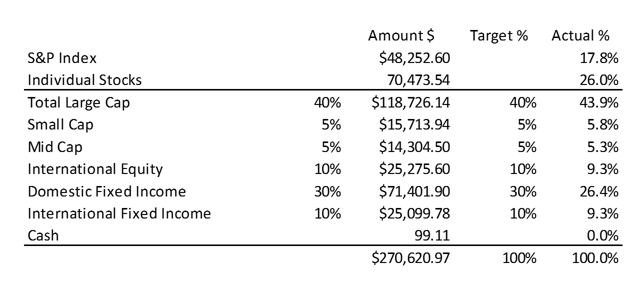 In addition to my fixed income being below target, my international funds - both equity and fixed income - are slipping over the past few months. All of this can be explained mostly by the out-performance of the domestic equities, especially large cap and small cap. My domestic fixed income funds were down for the month by a mere 0.4%. However, small-cap equities were up 4.8% and large-cap equities were up 3.1% for the month.
Sales and Purchases in August
On August 20, I purchased 14 shares of ITW for $139.27 per share. You can take a look at my detailed reasoning for that purchase here. In order to fund this purchase, I had about $900 built up from dividends and fixed income distributions and I sold about $1,150 of my S&P 500 Index Fund.
Forward-Looking Dividend Income
Below you can see my new twelve-month forward-looking dividend projection. This month I added ITW, which added $56 per year to my future retirement income (also, ITW has a 44-year-history of raising its dividend so I expect these $56 to be just a start). My annual income looking ahead to the next 12 months is projected to be $2,468.28. A quick reminder that my goal for about 9 years hence is $10,000 in dividend income per year (details on that here).
Final Thoughts
August was a good month: good dividend income, good total return, growing yearly income - very exciting. I reached a record in dividend income for the month, total return for my portfolio was up 1.4%, and my projected yearly income rose $56.44 since July due to my purchase of ITW and the quarterly dividend raise from O. One new purchase was made, which I like very much already.
I'm very close to $2,500 per year in dividend income and I might add a graph or line chart tracking my "per year" progress next month, we'll see. As dividends are raised, the per year total will increase as well even if I do nothing.
Going forward I am expecting my first $600 dividend quarter in Q4. I think I'll be adding $40-50 per year of dividend income minimum each and every month, so I'm looking at $500-600 more forward dividend income over a year. That does not even count the dividend raises I expect. So by this time next year, probably before, I should be looking at $3,000 in dividend income.
As far as strategy goes, I plan on continuing to add high-quality dividend growth stocks as their valuation intrigues me. Spoiler alert, the utilities sector right now intrigues me and it just so happens that utilities is one of my least represented sectors (just so you don't have to scroll back up its 6.6%). Telecom and Energy are also underrepresented, and all three of these sectors are typically associated with higher yields, so I might reach my $3,000 forward dividend income sooner than a year.
I hope you stay tuned as my wife and I work our way towards the ultimate goal: financial independence! As always, thank you for reading and best of luck to you!
Disclosure: I am/we are long AAPL, AIG, AMGN, APD, BAC, BLK, C, CSCO, CVS, GPC, HD, HRL, IFF, ITW, MMM, MMP, O, OHI, PEP, SO, T, WMT.
I wrote this article myself, and it expresses my own opinions. I am not receiving compensation for it (other than from Seeking Alpha). I have no business relationship with any company whose stock is mentioned in this article.