Later this month, the management team at General Electric (GE) is slated to report financial results for the third quarter of the company's 2018 fiscal year. As we near that time, I thought it important to share with you my thoughts and feelings regarding what, specifically, investors should be out on the look for. What good and bad things will be reported by management, especially now following the removal of CEO John Flannery, a time when the firm has the opportunity, under its new head, H. Lawrence Culp, to report what's called a "kitchen sink" quarter. This is where management can unload all of the negatives as remnants of past management without taking much, if any, of the heat.
Expect a dividend cut
First and foremost, allow me to dive right into the ugly. Investors who have owned shares of General Electric over the past few years know that management has, in the past, resorted to dividend cuts to shore up cash and Mr. Culp will likely be no different in that respect. At this time, the conglomerate pays out $0.48 per share each year, and while that may seem paltry, General Electric's share count implies aggregate annual dividend payments of $4.17 billion. That's a significant amount of capital that could go toward debt reduction, growth, or handling other liabilities like insurance or future pension costs.
My expectation of a dividend cut, very possibly to $0, is not without justification though. As part of its management shake-up earlier this month, the company said that both free cash flow and earnings per share this year would come in below forecasts. This was followed up by rumors that a dividend cut was being considered. In addition, the firm has already hinted that a dividend cut is on the horizon. When management announced plans to restructure the entity by, in part, unloading its Healthcare segment, they said that the dividend would stay in place as-is until that divestiture, after which the business would seek to "right-size" it. All of this past rhetoric, combined with the company's financial condition as it is now, would make me shocked if some sort of action isn't taken on this front.
A tough talk regarding Power
The future for some of General Electric's segments looks bright, but not for all of them. It is well-known by now that the conglomerate's Power segment is broken and investor trust in it is even more-so. Not only is financial performance for the segment likely to disappoint for this quarter, with the first two quarters this year reporting year-over-year sales declines of 14.6%, segment profits down 51.5% over the same timeframe, and management electing to write down substantially all of the segment's $23 billion in goodwill, but the future, as evidenced by the write-down, is likely to be bleak for the foreseeable future.
This leads me to believe that management is extremely likely to have a tough talk regarding the segment during the quarter. At a minimum, I believe it's possible that management will either initiate significant cost-cutting efforts and put into place additional quality-control measures following the revelation last month that some of its turbines have been plagued by oxidation issues. Another possible scenario is the planned sale of some parts of the segment. Already earlier this year we saw management unload the Power segment's Distributed Power operations, so there would be precedent for such a move. My own preferred move by management, though, would be a sale of Power entirely, which as I've written about before, might be able to capture up to $88.80 billion in cash under an optimistic scenario.
Performance revisions are a foregone conclusion
One item that investors can be sure to see relates to management's guidance for General Electric for this year. For much of this year, the company maintained that it would generate between $1 and $1.07 in earnings per share, while Industrial (everything except GE Capital) free cash flow would range between $6 billion and $7 billion. In the firm's second quarter earnings release, management said that results would very likely be toward the low end of this range, but earlier this month, in its announcement that CEO John Flannery had been ousted for current executive Culp, the business stated that results on both fronts would be below guidance.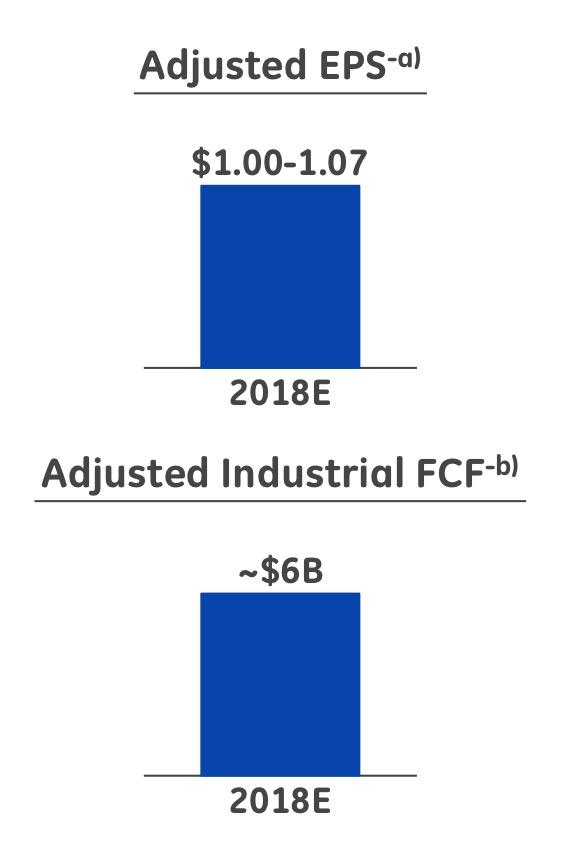 *Taken from General Electric
What kind of performance guidance will General Electric put out there? I honestly can't say because management hasn't, as of the time of this writing, given any indication besides to say that it would be lower. Given the ramifications of an outright lie perpetrated by former CEO Flannery in a scenario where he would have intentionally delayed significant revisions to the downside, I don't think it's probable that Industrial free cash flow would be off by more than $500 million while earnings per share would be off by more than $0.05 (both on the downside), adjusted for one-time charges. Much more than that and investors might have a good legal case against Flannery and the company unless it can be proved that recent changes to General Electric's areas of operations are to blame.
Expect strong results from Aviation
Undoubtedly, the best operating segment under General Electric's roof is Aviation. As you can see in the graph below, sales, segment profits, and the segment profit margin for Aviation has been stellar in recent years. Between 2015 and 2017, for instance, revenue for the segment expanded from $24.66 billion to $27.38 billion. Over this same timeframe, segment profits expanded from $5.51 billion to $6.64 billion, taking the segment's profit margin from 22.3% of sales in 2015 to 24.3% last year.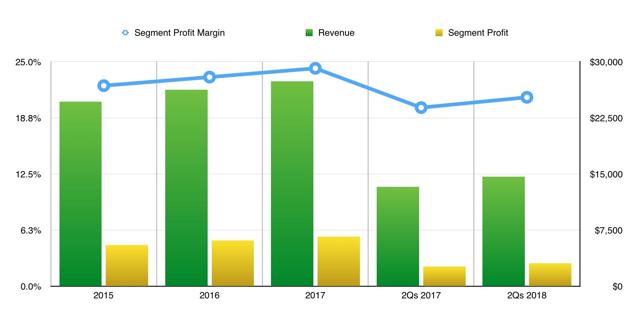 *Created by Author
This year, we have seen this trend continue. In the first two quarters of 2018, revenue for the segment came in at $14.63 billion, 9.9% higher than the $13.31 billion reported for the first two quarters of 2017. As sales grew, so too did profits, expanding from $2.65 billion to $3.08 billion. The strength of this profit increase resulted in margins expanding from 19.9% in the first two quarters of last year to 21% so far this year. As sales continue to expand, General Electric should benefit from economies of scale. So as not to re-hash a prior argument, for more of my thinking regarding General Electric's Aviation segment, I suggest that you read my latest article on its industry and the favorable industry trends it's experiencing.
Takeaway
This quarter, perhaps more than almost any other recent quarter, will be an interesting one for shareholders of General Electric and for various market watchers. Some significant changes are taking place within the business that could dictate what kind of value prospects continue to exist for the firm in the long run. In particular, the company's direction will be controlled a great deal by any changes that might be made regarding its Power segment and by what happens with the dividend (and where, if it's reduced, that capital will be allocated). Though I recognize that risks do exist for investors in the business, particularly risks associated with potentially decades of mismanagement at the highest levels, absent certain risks coming to fruition, there's a lot of upside potential for investors moving forward.
A community of oil and natural gas investors with a hankering for the E&P space:

Crude Value Insights is an exclusive community of investors who have a taste for oil and natural gas firms. Our main interest is on cash flow and the value and growth prospects that generate the strongest potential for investors. You get access to a 50+ stock model account, in-depth cash flow analyses of E&P firms, and a Live Chat where members can share their knowledge and experiences with one another. Sign up now and your first two weeks are free!
Disclosure: I/we have no positions in any stocks mentioned, and no plans to initiate any positions within the next 72 hours.
I wrote this article myself, and it expresses my own opinions. I am not receiving compensation for it (other than from Seeking Alpha). I have no business relationship with any company whose stock is mentioned in this article.