In January 2017, I initiated what evolved to be a smallish position in Johnson Controls International plc (JCI). Routinely, I scale in and out of positions. Therefore, my position was acquired via several 2017 purchases. The investment is down 11%, though the loss has been mitigated by a ~2.5% dividend yield.
It's not been a very good investment while Mr. Market is a-rockin'.
As we approach the upcoming earnings season, I figure it's time to do a little soul searching and determine a forward plan for this laggard holding.
Overarching the situation are several of my "big rules." I tend to stick with a stock unless:
The original investment thesis has been busted;
shares are no longer attractive on valuation as determined by my current FVE (Fair Value Estimate); and
other downside factors now color the investment.
Let's pick these off one at a time.
Original 2017 Investment Thesis
On February 21, 2017, Seeking Alpha published my initial Johnson Controls article. The investment thesis contained therein, word for word, is found below:
The global business climate is improving. This drives industrial growth and related construction activities. Johnson Controls is a worldwide leader in building products and systems (traditional HVAC, "smart" buildings, safety equipment, and integrated infrastructure), and automotive batteries (original equipment and after-market).

Company management outlined an unusually detailed 2017 to 2020 business plan. Post-acquisition / spin-off, the plan premises robust earnings growth, expanding operating margins, and significant incremental cash flow. A full set of milestones and metrics were provided.

Johnson Controls owns a sound balance sheet, expects to earn its profits in cash, and is shareholder-friendly.

Integration risk presents the discount. Management execution will be the catalyst for higher share prices.
For those interested, I followed on with a subsequent Seeking Alpha article about Johnson Controls a little over one year ago. It's found here.
Let's break down the original 2017 premises.
Global Business and Corporate Focus
Since January 2017, the global business climate has improved. The markets/businesses in which JCI operates have been impacted positively by a robust, global economic expansion.
Looking back to December 2016, the company outlined its strategic objectives during an investor conference. These objectives included focusing upon two primary industries: Building Technologies and Power Systems.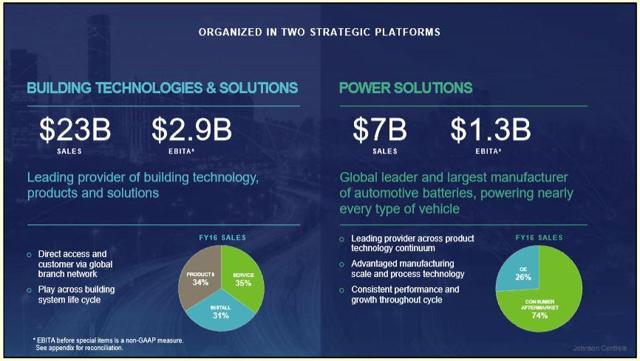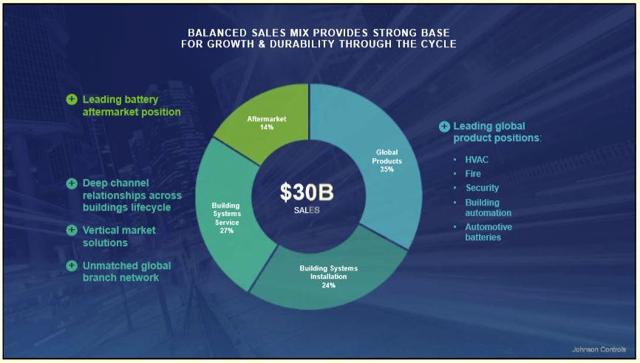 Building Technologies entails comprehensive HVAC and "smart" building and related system controls. Power Systems includes the manufacture of automotive batteries.
2017-2020 Business Plan: Is Management Keeping Its Promises?
At the same investor conference, management offered a detailed multi-year business plan. Among other things, senior leadership set expectations for the following key financial metrics: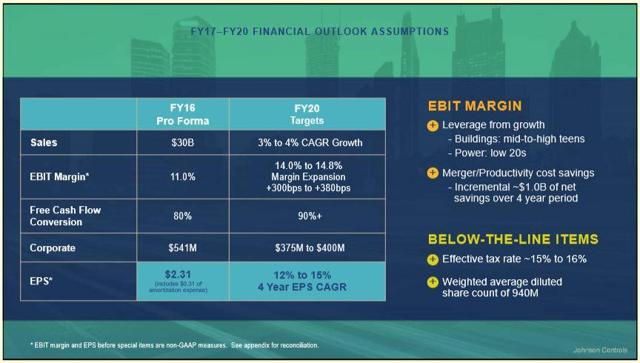 Halfway through the 2017 to 2020 plan, how has management fared versus goals and objectives?
Increase sales 3% to 4% a year
POSSIBLE. In FY 2017, adjusted net sales increased just 2%. Management backed down the FY 2018 forecast to low single digits. Through three quarters, YoY adjusted net sales increased 4.7%. A good FY 4Q could salvage the situation.
Increase EBIT margin from 11% (2016 baseline) to 14.4% (2020 midpoint)
FAILING. 2017 margins improved 90 bps to 11.9%. However, 2018 YTD margins backslid to 11.1%. Earlier in the year, management guided to 12.3%. It seems improbable the company can match 2017 results, let alone meet guidance with one quarter remaining. The upcoming earnings report will provide the punch line.
Improve free cash flow conversion from 80% to 90%
POSSIBLE. In 2017, Johnson Controls missed the mark. A combination of events contributed to the failure, including poor working capital control. Management promised to correct the mistakes, maintaining an 80% conversion rate for the current fiscal year. Through three quarters, the measure clocks in at just 57%. On one hand, historically, the fiscal fourth quarter tends to exhibit strong FCF generation. On the other hand, management includes a number of free cash flow "adjustments" that cloud matters.
Reduce corporate overhead to $375 to $400 million per annum
ON TRACK: Last year, corporate expenses fell 14%. Management forecast another 11% cut in FY 2018. It appears likely the company can complete the year at ~$415 million, thereby making the grade and keeping the 2020 objective intact.
Grow adjusted EPS by 12% to 15% a year
FAILING. 2017 operating EPS tallied $2.60. However, the most recent management forecast indicates FY 2018 will come in at $2.81 (midpoint), suggesting an 8% year-over-year improvement. Even this year's high Street estimate doesn't provide enough juice. Management adjusts GAAP earnings by excluding transaction costs, integration costs, corporate gain-on-sale for the Scott Safety transaction, and some purchase accounting figures.
Does Johnson Controls Own a Sound Balance Sheet, Earn Profits in Cash, and Exhibit Shareholder-Friendly Actions?
Johnson Controls owns a sound balance sheet. After managing several moving parts (purchasing Tyco, selling Adient and Scott Safety), the company is whittling down debt and improving leverage ratios. Current net debt-to-capital is 36%, acceptable for an industrial outfit. Net debt-to-EBITDA is 2.4x, within management's target range. These ratios are expected to see continue improvement. A S&P BBB+ credit rating puts the business solidly in the investment-grade category.
The business earns its profits in cash. Through three quarters in FY 2018, JCI reported $1.39 billion GAAP net income. Operating cash flow (GAAP, unadjusted) is $1.26 billion. I'm willing to give management a pass for 2017. Given major corporate transactions ongoing last year, there were a lot of moving parts and pieces. A long-term look at the business via F.A.S.T. Graphs demonstrates that most of the time Johnson Controls generates cash flow at or greater than earnings.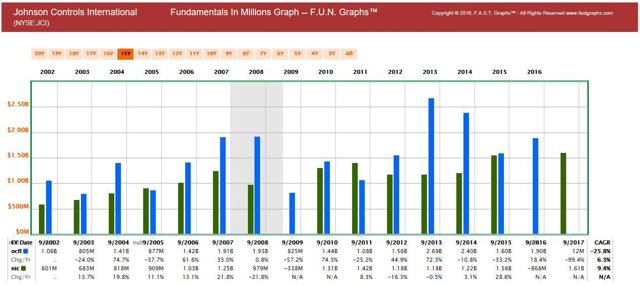 Courtesy of fastgraphs.com
Is the business shareholder-friendly? Looking back to the corporate move to Ireland, and some of the other actions precipitated by ex-CEO Alex Molinaroli, I'd say no. However, Mr. Market (and yours truly) tends to look forward, not into the rear-view mirror.
Current CEO George Oliver has performed acceptably. He was the previous CEO for the Tyco Corporation, and groomed to become Johnson Controls' CEO and chairman after Molinaroli departed. Molinaroli was moved out and Oliver replaced him quite a bit earlier than originally intended. I opine that was a good thing.
In July 2018, JCI elected Ms. Jean S. Blackwell to serve as a director effective immediately. Blackwell previously served as the executive vice president of Corporate Responsibility and chief executive officer of the Cummins Foundation. I saw this as a positive move to strengthen the board.
After increasing the share count in conjunction with the Tyco acquisition, Johnson Controls' management has repurchased shares methodically. Over the past year, the company knocked back total diluted shares outstanding 1.5%.
The company has paid a dividend every year since 1887.
Has Management Leadership and Execution Been a Catalyst?
No. I identified management's ability to execute and ability to set/exceed Street expectations as the primary catalyst relating to future share appreciation. Indeed, back in 2016, Johnson Controls embarked upon a series of major transactions thereby re-imagining the company.
Unfortunately, I cannot give the company a passing mark on this account. True, there have been positives and negatives. To be fair, the jury is still out on a new CEO, his ability to meet objectives, realize proposed merger synergies, and tighten up the business.
Nonetheless, on balance, between the January 2017 and September 2018, management hasn't been an effective catalyst resulting in higher stock prices.
Fair Value Estimate
Let's turn to valuation. Are the shares dear or inexpensive?
F.A.S.T. Graphs is a good place to start an analysis.
First, here's a long-term price and operating earnings chart: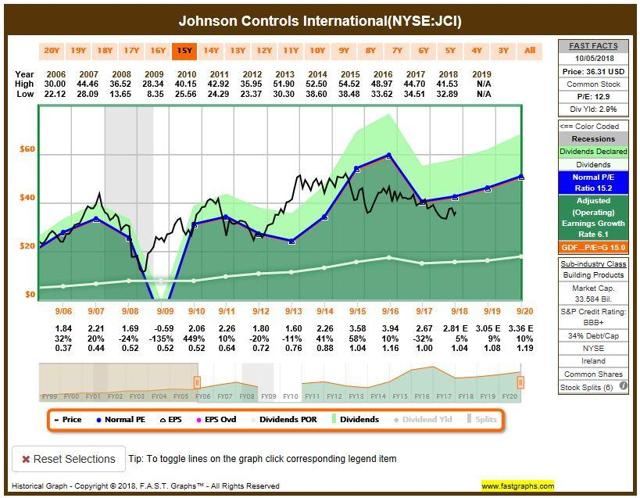 Courtesy of fastgraphs.com
Given the premise "price follows earnings and cash flow," this chart suggests JCI's shares are undervalued. A 15.2x long-term, trimmed P/E ratio isn't excessive. Looking forward, EPS is expected to rise modestly, albeit lower than management's 12% to 15% forecast. The long-term EPS growth rate has been 6.1%; the forward operating EPS growth rate is a bit higher. The dividend brings the current forward yield to a nearly 3%.
If we accept $2.81 EPS will be attained for this fiscal year (ended September 30), applying a 15x multiple indicates a $42 stock. If FY 2019 operating EPS grows 7% to $3.00 a share, shares could be valued at ~$45. Including the $1.04 dividend, that's a pretty good return on a recent $36.31 bid.
Let's turn to another F.A.S.T. Graph: this time plotting price and operating cash flow: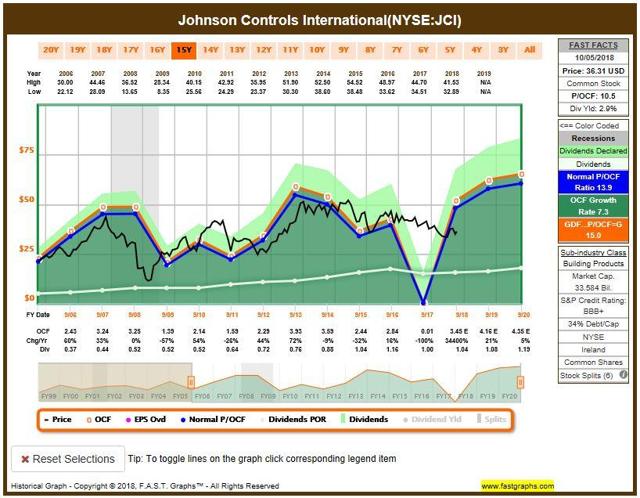 This chart is a good example why F.A.S.T. Graphs are "a tool to think with," and not a stone tablet. Despite a 15-year 13.9x trimmed average P/CF multiple, I contend the figure is just too aggressive. In a late-phase economic cycle, history tells us a 10x to 12x ratio on an industrial stock is more appropriate. Therefore, placing an 11x multiple on FY 2019 cash flow, I see no more than a ~$46 FVE.
For additional background, I include a 15-year F.A.S.T. Graph illustrating price and EBIT. I was interested in this chart because management identifies EBIT and EBIT margin as key financial indicators. So it seems reasonable to include this metric as another price/multiple valuation measure.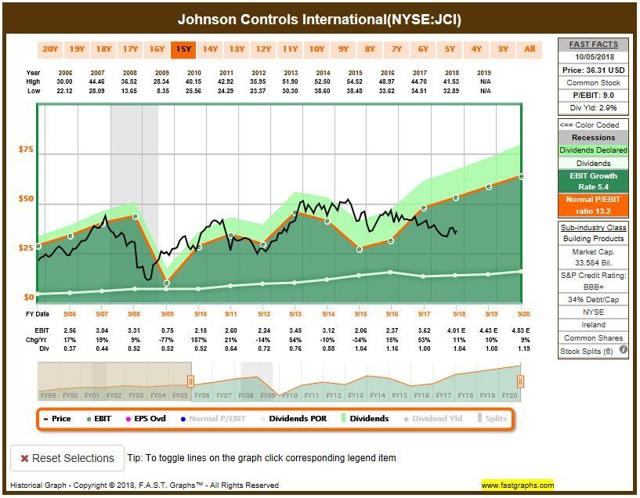 While I believe straight, trimmed average valuations are also too aggressive, they do confirm JCI's shares appear to trade below fair value.
Finally, as a quick check, here's a price-to-sales chart.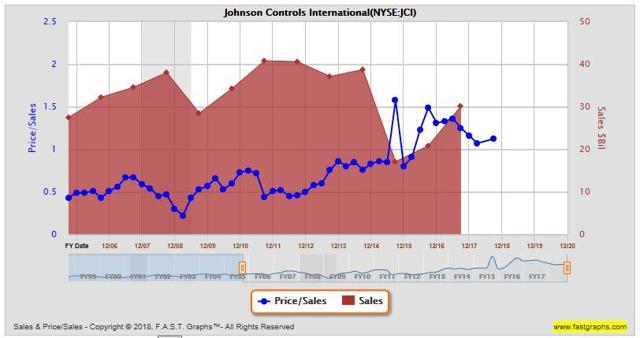 Over the past 15 years, we see the JCI stock now stretching its relative P/S valuation. Currently, the P/S is 1.1x. This marks a trend towards the higher end of the long-term range. The data reinforces my reasoning for pushing down "fair value" P/CF and P/EBIT multiples.
Other Factors
Frankly, Johnson Controls' "other factors" and overall set-up suck.
First, presuming we are in a late-phase economic cycle, by this juncture, most industrial stocks tend to be a lot closer to their peak than trough. If true, Johnson Controls missed the party; the company got caught up in multiple major acquisitions and divestitures instead of enjoying the festivities.
Even if the current up-cycle has another year or so to play out, there's not much time for the stock to garner capital appreciation. Indeed, Mr. Market is pretty good at looking 6 to 12 months out. That means the industrials, including JCI, just don't have a lot of time on the shot clock.
In July, the company entertained four suitors seeking to purchase its Power Solutions business for up to $12 billion. This has the propensity to add a little shine to the situation, but also muddies the water. Management hardly digested one slug of merger/divestitures, and it's looking at another round.
Compounding matters, the Street is sour on the stock. Poor sentiment dogs the shares. Over the past year, several brokerages downgraded JCI. Of the firms listed on finviz.com, just one upgraded it. Here's the summary:

Second, throughout 2018, analysts have been lowering 2019 EPS expectations. At the beginning of this year, the Street expected JCI to earn $3.12 per share in FY 2019. Currently, consensus estimates now call for $3.03. That's still an 8% improvement over management's FY 2018 forecast, but the numbers are moving in the wrong direction. That makes the upcoming management guidance even more important.
Third, the JCI chart doesn't warrant a great deal of excitement. While I favor the fundamentals over the technicals, I do pay attention to what the charts have to say. The related technical studies help show how sentiment and institutional money is playing out.
As a long-term investor, I favor using a long-term picture. Hence, please find below Johnson Controls' 3-year weekly chart.
Johnson Controls : Price, volume, related studies (3-year weekly)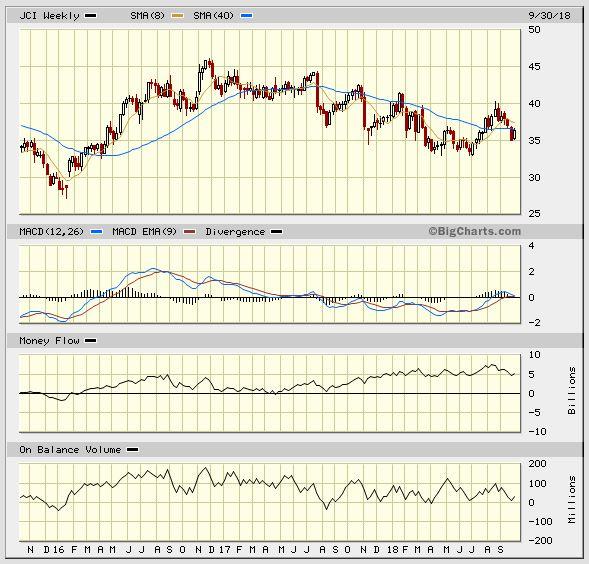 Courtesy of bigcharts.marketwatch.com
There's not much to float your boat.
JCI is trading below both its 8-week and 40-week moving averages. The MACD looks to be rolling over. The MFI isn't bad. On balance, volume appears to be somewhat neutral.
Conclusions
Over the past couple of years, Johnson Controls' stock hasn't played out well. With the benefit of hindsight, a combination of 1) multiple major merger and divestitures, 2) a new CEO, and 3) associated growing pains hamstrung the stock during a period of solid global economic growth. Fundamental performance measures have been mixed, mostly lackluster.
Street sentiment for JCI stock is awful.
Compounding matters, the global economic expansion may be into the late phase of the cycle.
Johnson Controls' senior leadership indicated the U.S./China trade conflict should not affect the company significantly. However, the stronger dollar does pressure earnings.
I believe investors must make a choice: either hang in there with the expectation management will sort things out and get it right, weather potential industry cyclical softness, then come up strong on the other side of the next rebound, or simply bail out and redeploy the capital elsewhere.
Since 1Q 2017, shares are down ~11%; about 2.5 points less on a total return basis if the dividend is included.
Furthermore, the stock looks inexpensive. I can defend JCI as a $45 stock using FY 2019 EPS/cash flow (FY ends September 30), suggesting considerable capital appreciation upside.
Personally, I plan to watch upcoming earnings very closely, attempt to read the tea leaves, and make an informed investment decision. Indeed, I expect management to either provide FY 2019 operational and financial expectations on the upcoming investor conference call, or announce a corporate communication shortly thereafter. This data, plus management's views on the state of global economy, will further assist my decision. It's time for this investor to either decide to hunker down or begin to bail out.
Please do you own careful due diligence before making any investment decision. This article is not a recommendation to buy or sell any stock. Good luck with all your 2018 investments.
Disclosure: I am/we are long JCI.
I wrote this article myself, and it expresses my own opinions. I am not receiving compensation for it (other than from Seeking Alpha). I have no business relationship with any company whose stock is mentioned in this article.