Recently, I was reading "The Little Book of Behavioral Investing" and came across an interesting passage. In Chapter 13 - The Perils Of ADHD Investing - the author talks about the average holding period for a stock on the New York Stock Exchange declining from seven or eight years in the 1950s and 1960s, down to just six months when the book was written (2010).
There were two interesting observations that expanded on this idea. First, if you're holding a stock for just six months, you do not care about the long-term business performance, but instead fixate on the short-term. And second, in the short-term, investor returns are primarily a function of valuation changes. In the long-term, it's the business performance that will ultimately matter.
Intuitively this makes sense, but I wanted a tangible example to see how the numbers play out. For this illustration, let's look at Cincinnati, Ohio-based consumer goods behemoth Procter & Gamble (PG), a firm of considerable stability, despite a slowing business in the last few years.
Here's a look at the company's per share numbers for the last two decades: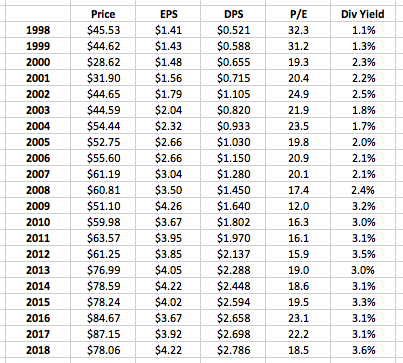 Note that this table reflects fiscal-year numbers ending in June.
There are a number of observations that you glean from this table. For instance, you can see that the share price wiggles about quite a bit, but has generally trended upward over time. The earnings per share have a bit of volatility, but have been strong overall, albeit somewhat stagnant in the last five years or so.
The dividend is the company's "bread and butter" (or perhaps more accurately "Tide and Pampers"), having not only paid but also increased this payment for 62 consecutive years. You can see this marching upward over time in the above table. For those with a sharp eye and a familiarity with this multi-decade increase streak, note that fiscal-year 2002 includes a special dividend.
The P/E ratio has fluctuated a decent amount, but has routinely been in the 16 to 24 times earnings range, absent the Dot Com bubble and last recession. And finally the dividend yield has trended upward, but so too has the payout ratio.
Those are big takeaways that you can get from looking at the raw data. However, it's not as easy to determine the short-term and long-term drivers of overall returns.
This table gives you a better idea: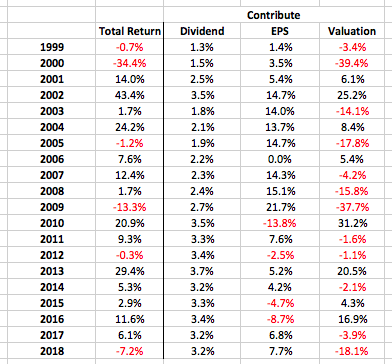 I'll use fiscal-year 2018 as an illustration to explain the table. During fiscal-year 2018, Procter & Gamble paid $2.786 in dividends. Against an $87.15 starting price, that equates to a 3.2% yield. You can see this contribution detailed in the third - "Dividend" - column.
Over this one year period, earnings per share grew from $3.92 to $4.22 or an increase of 7.7%. You can see this contribution noted in the fourth - "EPS" - column.
If the price-to-earnings ratio were to remain the same from the beginning of the period to the end of the period, this would have been your overall return - 7.7% plus 3.2% or ~10.9% total.
However, that was not the case with Procter & Gamble. Instead, the price fell from $87.15 down to $78.06, as the P/E ratio dropped from 22.2 down to 18.5. As such, the total return during fiscal-year 2018 (including dividends) was negative 7.2%. This is noted in the second column - "Total Return."
Finally, the difference between what the return would have been with a constant valuation versus what it actually turned out to be is noted in the fifth and final column "Valuation."
The same process was completed for each of the 20 years listed above. Here too we can make some instructive observations.
Over this entire period, Procter & Gamble generated a total return of about 6.4% per annum. Yet in any given year, an investor's result was apt to vary considerably from this, up or down. You had years of 20%+ and even 40%+ total returns, but also negative -10%+ and -30%+. In total, 14 of the 20 periods had positive results.
Next up is the dividend, which doesn't come close to being volatile. In every single period, 20 out of 20, you have a positive result ranging from +1.3% to +3.7%. The symbol of stability and a good reason so many focus on this aspect instead of short-term price swings.
Third, you can see that earnings per share also vary to a degree, but have a strong positive momentum, especially in the early periods. The contribution from earnings per share was positive in 16 of the 20 years.
Finally, we have the influence of valuation. Despite an ever consistent dividend, and despite a very strong (and largely positive) underlying earnings machine, the value investors were willing to pay still varied dramatically. The valuation "hurt" more than it "helped" turning in a positive influence on just 8 of the 20 occasions.
The most interesting takeaway for me is just how hard it is to be a short-term speculator. Take another look at fiscal years 2003, 2005, 2007, 2008 or 2009. In each of those instances, you had a very solid and growing dividend, along with double-digit earnings growth. And yet the valuation declined (sometimes dramatically) during those years, leading to uninspiring year-over-year results. You could be precisely correct about the business performance, but guess precisely wrong about how others are willing to value those results.
Finally, here's a look at the same information on a 1-, 5-, 10-, 15- and 20-year basis:

You can see that the total return for a profitable firm tends to march upward. Not absolutely, certainly not necessarily on a compound basis, but that's the general trend.
Likewise, as you add more and more dividends, this component keeps contributing more and more return. Earnings per share follow a similar path, albeit with more ups and downs along the way. These components tend to get more important over time.
On the other hand, valuation is much more volatile (in this case negatively) and gets a bit less important over time. Over the longer term, it's going to be the business results that determine the success of your investment. In the short term, changes in valuation are apt to play a much larger role.
Which one you choose to fixate on is a good indicator of whether or not you're investing or speculating. Investors focus on trying to get the "what" correct: in this case long-term earnings growth and piling up dividends. As more time goes by, valuation still matters, but the business performance becomes more and more vital.
Alternatively, speculators are focused on the "when" and for them hopefully quick. With just a quarter or three to see results, it's not business results that matter but how others may perceive these short-term swings. A difficult task, given that you have to be "right" about what other people may or may not be willing to do next week or quarter.
As Ben Graham would have it: "In the short run, the market is a voting machine, but in the long run, it is a weighing machine."
So, are you focusing on the voting or the weighing?
Disclosure: I am/we are long PG.
I wrote this article myself, and it expresses my own opinions. I am not receiving compensation for it (other than from Seeking Alpha). I have no business relationship with any company whose stock is mentioned in this article.