Background
Global bond bubble about to pop or just another "head-fake"? Value of global bonds has dropped by a whopping $880bn this week, most since Nov2016 as US treasury yields spiked w/ the curve strongly steepening after economic data in the region continued to come very strong.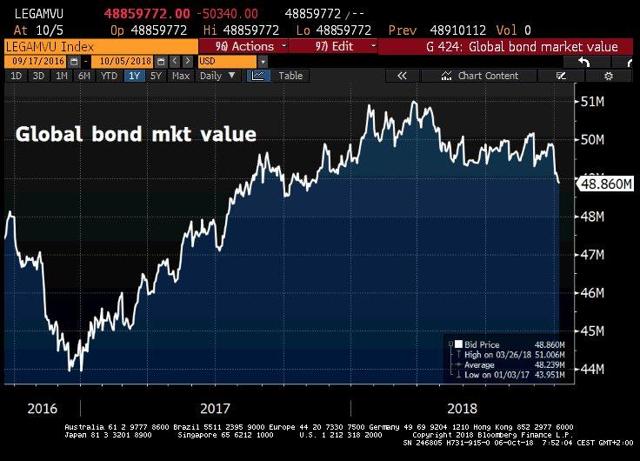 Treasury yield surge is, usually-normally, mostly about supply.
Steven Mnuchin's Treasury debt issuance suggest he plans to borrow $770B in the second half of 2018, a more than 60% increase from the same period last year.
Treasuries selling momentum is unabated as yields extend climb. Even a slide in stocks isn't enough to put the brakes on bond declines.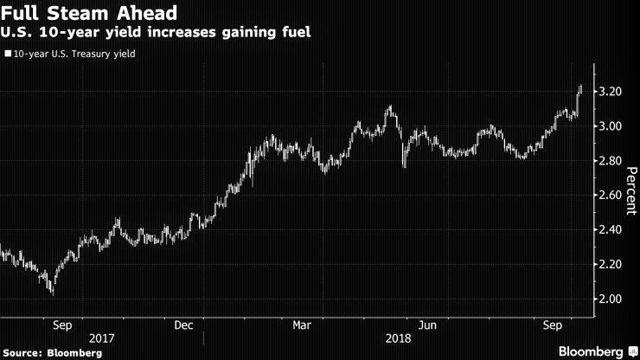 We discussed bonds and fixed-income extensively over the past few weeks, along with detailed-executable suggestions how to adjust your portfolio according to the many risks and moving parts that seem to be all over us. Specifically, we touched upon few very strange/troubling developments:
1. A significant shift in money flows that saw massive amounts going into high-yield (HYG) and massive amounts moving out of long-term Treasuries (TLT)
2. Unjustified-unexplainable shrinking spreads, reaching levels that are too small in both absolute-historical terms, as well as in relative (to the current size of debt) terms.
3. Investing in a fixed-long duration, instead of splitting the the investment into tow parts - a short-term plus a medium-term - that may deliver a higher total return overall.
In this final (hopefully) chapter, we will answer the (perhaps) most important remaining question: What to expect out of bonds (BND, BSV, TIP) going forward? Even if you choose to blindly walk towards the cliff, it's important to understand what you may expect out of investing in bonds these days.
But before doing so, let's rap up with the current main risks thaty investors should be very minded of: i) Duration (tenor risk), ii) Spreads (pricing/margin of safety risk), and iii) Defaults (issuer risk)
That's aside of the obvious suspects like the level of debt in both absolute (total size) and relative (to GDP), deterioration of quality on both rating and covenants fronts, much higher funding/refinancing costs, etc.
Duration
Last week rout saw US investment-grade bonds (LQD, AGG) having their biggest one-day loss since November 2016. A reminder of duration risk....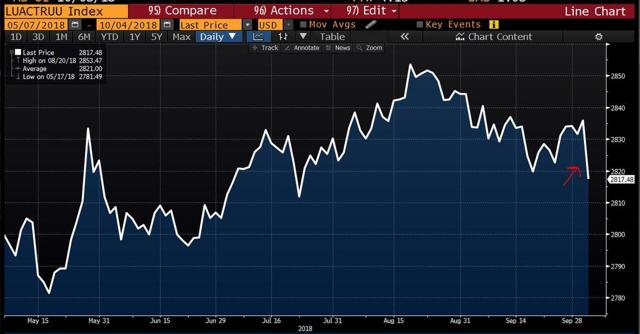 The average maturity of US investment grade bonds is near 11 years, which is about the longest since 2000. This is an important dynamic as longer-term bond yields rise.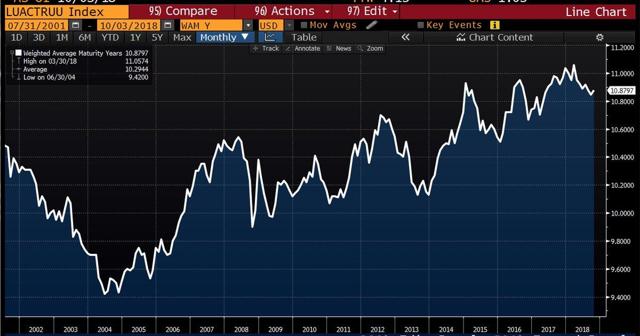 Interestingly, the opposite is true for HY bonds (HYG, JNK, AWF), where the average maturity has steadily declined, according to Bloomberg Barclays data.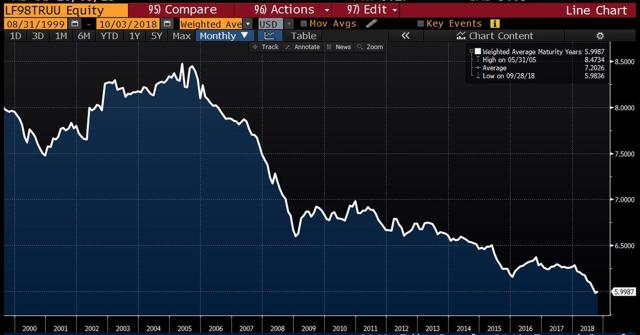 Leveraged loans (BKLN, SRLN, FTSL, BGB, BGX, ARDC) are i) senior, ii) secured, iii) floating rate (in most cases), iv) bank/private loans, with iv) short duration. If you wish to see how this is working out just fine at such a distressed time (for bonds) - take a look at the below chart.
S&P Leveraged Loan Index has closed at an all-time high in 44 out of the last 45 trading days, average bid price above 99 (99th percentile over past 10 years).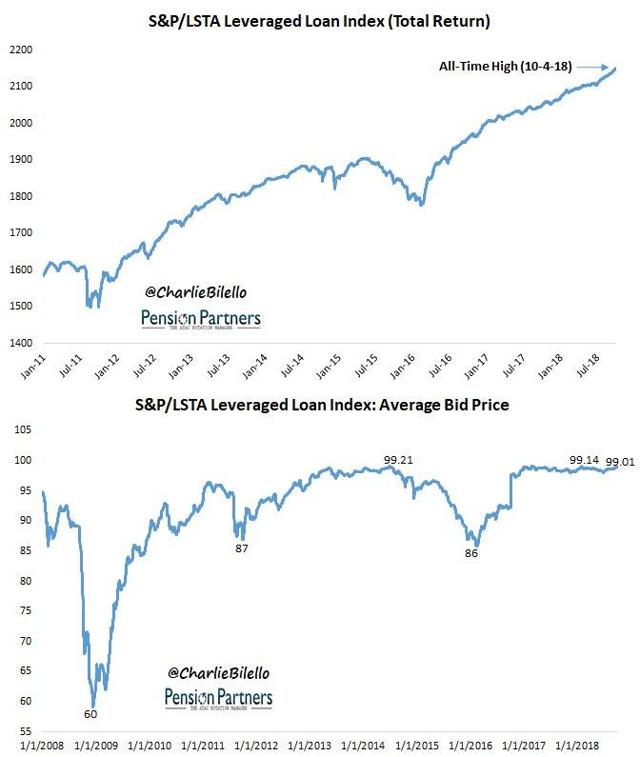 Short duration does make a big difference!
You want more? There you go:
Leveraged Loans (BKLN), Floating rate bonds (FLOT), Short-term Investment Grade (BIL, SHY) and even High-Yield (HYG) are leading the bonds arena YTD.
This is more or less all you need to know/remember from this section. A short and concise recipe for (relative) happiness if you invest in bonds these days.
HYG is (surprisingly) holding up with modest gains, mostly thanks to its relatively low duration
The outlier on this list is the Vanguard Total International Bond ETF (BNDX) that, in-spite of a long 8-year duration, manages to maintain a positive return thus far in 2018.
Short-duration (1-3 month) Treasuries are on pace for their best year since 2007.
US IG bonds (AGG, LQD) on pace for worst year in history.
EM debts (HYEM, EMB, EMLC) and the long-duration Treasuries (TLT, ZROZ) are notably weak.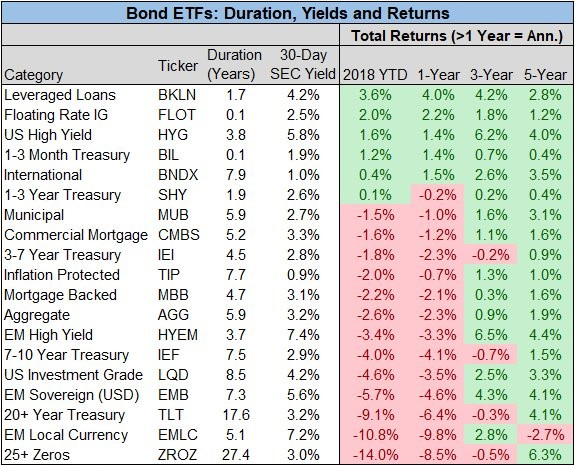 Spreads
In December 2008, the spread between Junk Bonds (HYG, JNK, AWF) and US Treasuries hit a record high of 2,147 bps. Today the spread has narrowed to 316 bps, tightest since July 2007.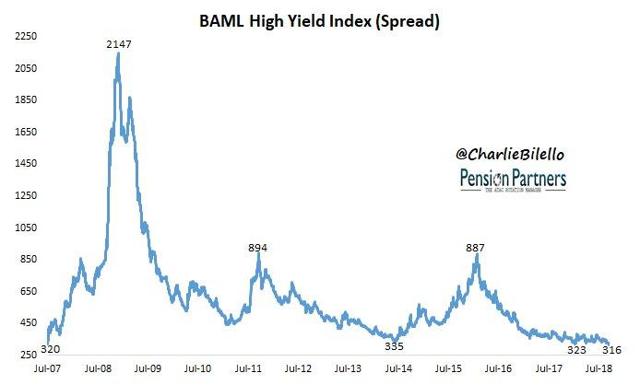 This means that investors are not pricing the risks associated with HY debts correctly. Putting it differently, the margin of safety investors demand is too low and doesn't compensate them enough for the risks they're taking.
Let's look at the same issue/problem from another angle.
Using earnings yield on the S&P 500 as a measure of yield on equities, investors are getting, nowadays, the smallest amount of extra yield to own the index versus US investment-grade debt since 2010.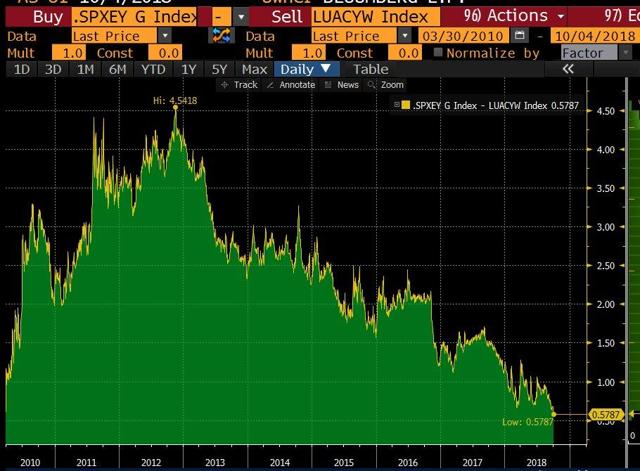 Similarly to the problem with the popular eREITs ETF (VNQ), investors must demand enough spread (margin of safety)!
Default Rates
In its latest global default report, Moody's Investors Service (MCO) - the rating agency - says that global trailing 12-month speculative-grade default rate closed at 2.8% in August, down slightly from 2.9% in July.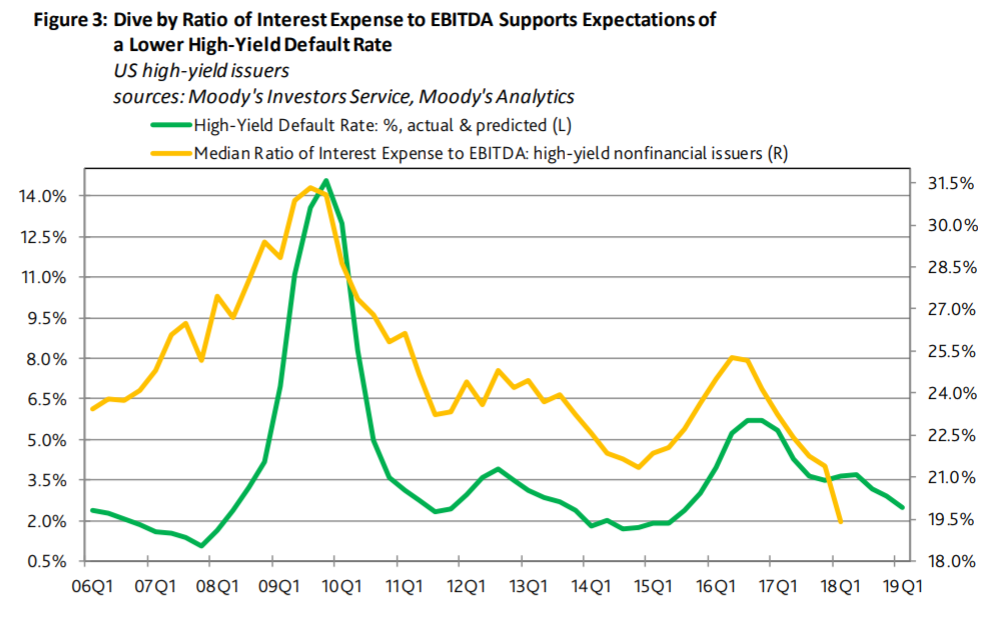 Per Moody's "global spec-grade default rate" most recent report:
Today's low default rate is supported by global economic growth, positive earnings and healthy liquidity and accommodative credit markets," said Sharon Ou, a Moody's Vice President and Senior Credit Officer. "We expect these drivers to remain in place over the next 12 months, pointing to a continuing mild default environment during that time.

Under its base case scenario, Moody's forecasts that the global speculative-grade default rate will finish 2018 at 2.0%, before declining to 1.9% in August 2019. In the US, Moody's expects the default rate to decline to 2.6% at the end of this year from 3.4% currently, while in Europe the agency forecasts it will fall to 1.3% from 2.2% over the same time frame.

Storm clouds are gathering over the medium to long term, however. The rating distribution has deteriorated since 2008, laying the ground for rising defaults when the credit cycle turns, Moody's cautions. At the same time, gradually tightening monetary policy will raise borrowing costs for corporate issuers, putting upward pressure on the global default rate, while trade tensions between the US and China are likely to dampen global economic growth next year.
In 2017, 95 global corporate issuers defaulted – down from 163 defaults in 2016.The decline in defaults accordingly pushed the speculative grade default rate down from 4.2% at the end of 2016 to 2.4% in 2017.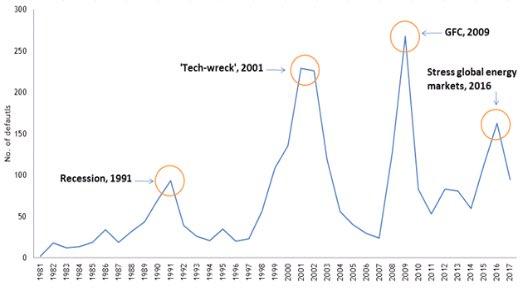 Meanwhile, the default tally for 2018 stood at 51 at the end of August, down from 65 for the same period last year.
Note that there are segments were default rates are already spiking, e.g. the auto industry (CARZ, ADRA, VROM, FGM, XLY, IWS).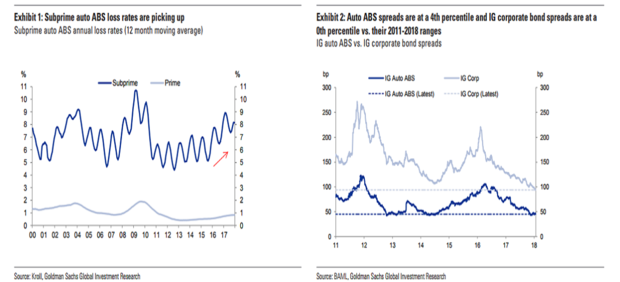 It's important to note that even while it expects the default-rate to decline further, Moody's is already warning from what is going to happen in a matter of months.
First of all, the rating agency expects both default-rates and spreads to bottom in (or no later than) 2019.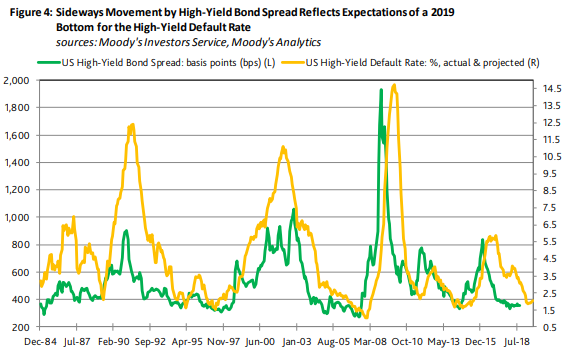 Secondly, look at the divergence between where the level of net corporate debt (to GDP) is to where the default rate is. A correlation of 0.77 suggests that the default rate (green line) is highly likely to rise.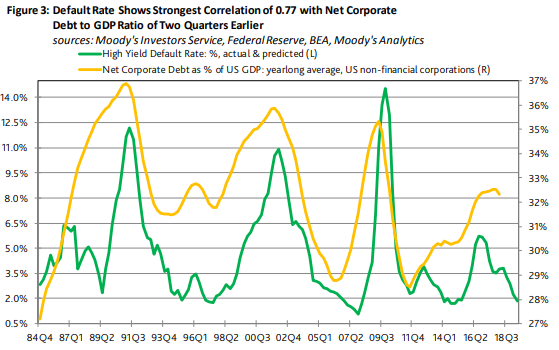 Finally, Goldman Sachs (GS) is reminding us all that speed matters. When rates rise too far, too fast, stocks returns have typically been negative.
What we've seen recently is a quite rare move of 2+ standard deviations above normal rate of change, or ~40bps. The past few days appears to have taken rates over the normal (allowed?) speed limit for most investor's comfort.
So far the S&P 500 only dropped 1%. It can - and probably should - be more.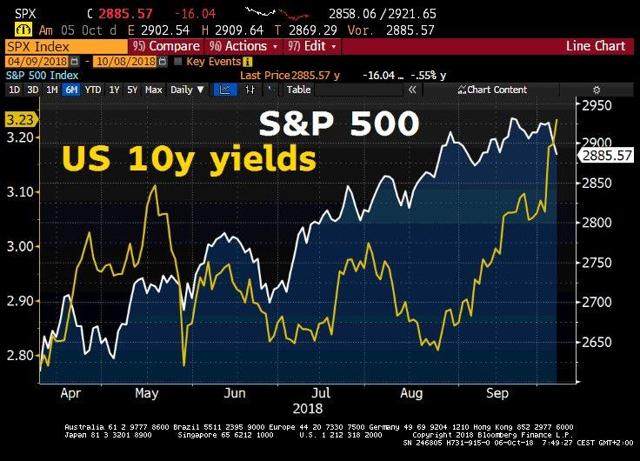 Bottom Line
A new era of rising rates finally dawns on investors. The yield curve is (finally) steepening - perhaps not for too long - as Main Street is so strong that even Wall Street can't stand it.
US unemployment rate is at the lowest since 1969..., Services ISM Index at cycle high..., Even the September car sales are up 2%, better than expected.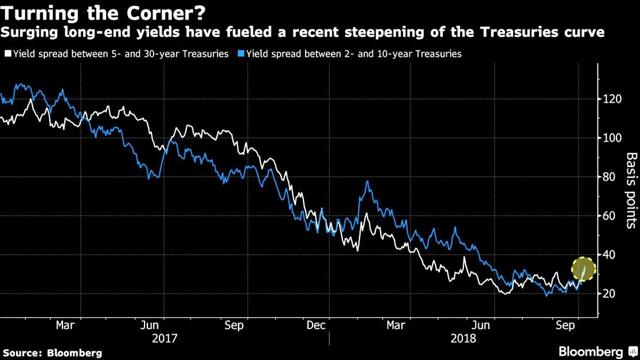 Nevertheless, when it comes to bonds, you can almost be certain that "what you see is what you get". Putting it differently, the yield that you see and buy today is likely to be your annual yield for the life of the bond.
I know, this sounds a bit dumb but that is true not only if you hold the bond to maturity (that's obvious) but also along the way. For long-term bond returns it's pretty straightforward: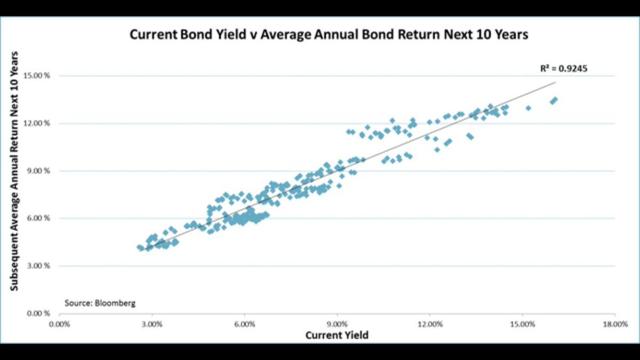 Having said that, the additional-subsequent question is: Are you happy getting only about 1% per annum, for the next 10 years, above the most basic (Fed Funds) rate?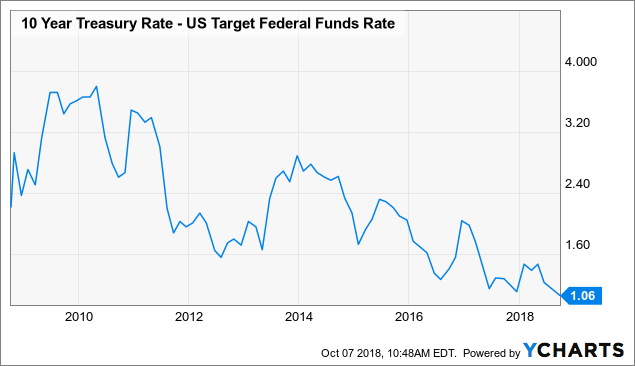 I know I don't!
The time to invest in bonds will come and, as a matter of fact, it may not be that far ahead. However, it certainly not going to be inside 2018 nad perhaps not even in (the most part of) 2019.
Long live the "bond king", who certainly deserves a "Fortune Teller" certificate/designation...!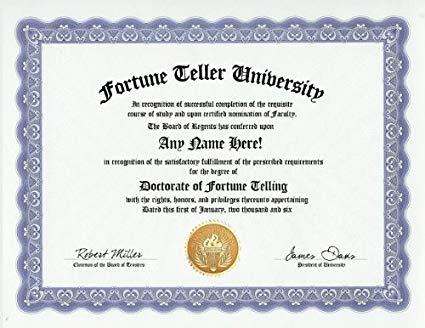 Author's note: Blog post notifications are only being sent to those who follow an author in real time. In order to receive notifications for both articles and blog posts, go to Author Email Alerts, which lists all the authors you follow and turn on "get e-mail alerts" (see below).


The Wheel of FORTUNE is one of SA Marketplace's most comprehensive services. We view our service as a "supermarket of ideas" with an emphasis on risk management and risk-adjusted returns.
We cover all asset-classes: common stocks, preferred shares, public debts, baby bonds, options, currencies, and commodities.
With Trapping Value on-board, you're getting two leading authors for the price of one.
Before committing to the service on a long-term basis, take advantage of the two-week free trial.
Disclosure: I am/we are long BGB, BGX, ARDC.
I wrote this article myself, and it expresses my own opinions. I am not receiving compensation for it (other than from Seeking Alpha). I have no business relationship with any company whose stock is mentioned in this article.