In the first week of October 2018, S&P 500 (Index: SPX) continued to firmly fix their forward-looking focus on 2019-Q1 in setting stock prices.
At least that's our takeaway from observing the trajectory of the S&P 500 against what our dividend futures-based model projects should happen when investors are closely focused on 2019-Q1, as shown on our spaghetti forecast chart.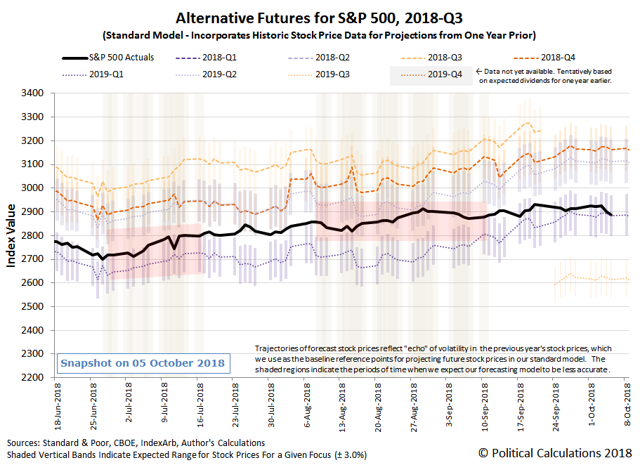 And since the third quarter of 2018 is now long past over, it's time to roll the chart forward to see what our model projects for 2018-Q4...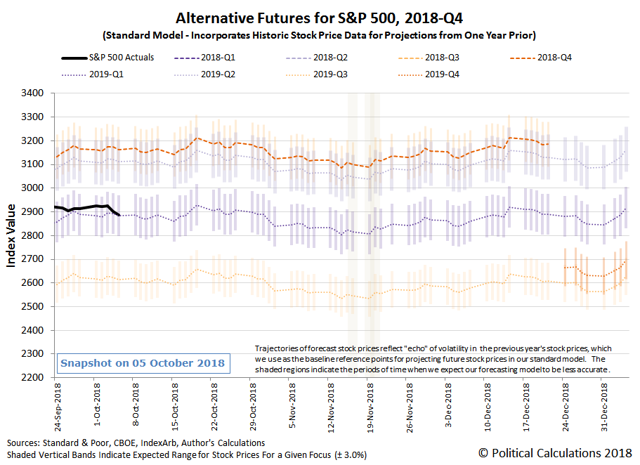 We believe that investors are primarily focusing on 2019-Q1 because of the current uncertainty for whether or not the Fed will hike interest rates in that quarter, where as of Friday, 5 October 2018, the CME Group's FedWatch tool is now indicating a 57.2% probability that the Fed will follow up a quarter point rate hike in December 2018 with another one in March 2019.
That the odds of a 2019-Q1 rate hike are better than even is a relatively development, where there has been a lot of movement in the interest rate futures trading that helps determine the probability in recent weeks. As for what other new information was noteworthy during Week 1 of October 2018, the following list captures the headlines that we believe were most influential.
Monday, 1 October 2018
Tuesday, 2 October 2018
Wednesday, 3 October 2018
Thursday, 4 October 2018
Friday, 5 October 2018
For more of the week's other economics and market-related news, be sure to check out Barry Ritholtz' succinct summary of the week's positives and negatives.