Chevron Corporation (NYSE:CVX) first discovered the Wheatstone gas field off the coast of Western Australia back in 2004. It wasn't until four years later that Chevron Corporation announced plans to begin moving forward with a major liquified natural gas hub in the area. After sanctioning the massive Wheatstone LNG endeavor in September 2011, Chevron Corporation is finally in a position to reap the spoils of this capital-intensive project. Let's dig in.
Upstream overview
There are four offshore natural gas fields that Chevron Corporation and its partners are developing as part of the Wheatstone LNG development. Readers should note that the two most important fields are the Wheatstone and Iago fields, which are set to supply 80% of the project's natural gas needs over its lifetime.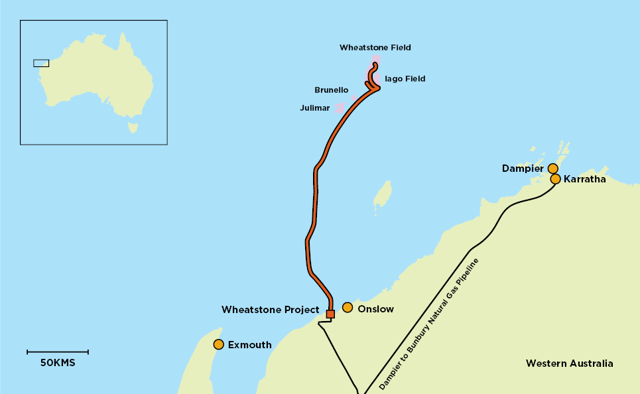 Source: Chevron Corporation
Chevron owns an 80.2% interest in the license that covers the Wheatstone and Iago gas fields and is the operator of the related production facilities. When it comes to the LNG facility and related infrastructure (such as the LNG storage tanks, export facilities, gas plant, and the two LNG trains), these facilities are 64.14% owned and operated by Chevron. Its partners in the LNG facility include KUFPEC (Kuwait's international oil firm, 13.4% economic interest), Woodside Petroleum Limited (OTCPK:WOPEY) (13%), Kyushu Electric Power Company (1.46%), and a fund part owned by JERA (which is owned by various Japanese electric companies).
Woodside Petroleum is the operator of the Julimar and Brunello gas fields, which are the other two offshore fields supplying the Wheatstone venture. The Australian energy company has a 65% stake in both of those fields, and recently embarked on Phase 2 of the Julimar-Brunello development.
Chevron is developing the Wheatstone and Iago gas fields through an offshore production platform that is linked to Western Australia's coastline via a 225-kilometer subsea trunkline. 155 meters of the 225-meter tall (measured from the base to the top of the flare tower) offshore platform sticks out off the water, making this a shallow water endeavor (as compared to deepwater projects in the U.S. Gulf of Mexico or offshore Angola, where those wells are being drilled through 6,000-10,000 feet of water alone). Keep in mind production wells targeting the Wheatstone and Iago fields still had to be drilled through 9,500 feet of the Earth's crust to tap these immense gas resources (the size of which weren't made readily available).
LNG overview
After reaching a final investment decision in 2011, it took six years for the facility to finally be operational. In October 2017, the consortium announced first-LNG had been reached, but it wasn't until several weeks later that the first LNG cargo was exported. First-LNG at Train 2 was reached in the June of this year. It is important to keep in mind that the Wheatstone venture's start-up date was delayed by numerous months as realities on the ground got in the way of (in hindsight) rosy guidance. This is partially why the total development cost of the Wheatstone LNG project was revised upwards to $35 billion from $29 billion originally.
For $35 billion, Chevron and its partners now have two LNG trains up and running (the part of the facility that liquefies the natural gas supplies). At full capacity, those two trains can liquefy and export 8.9 million metric tons of LNG per year. These LNG production levels should stay relatively stable over the coming decades, assuming the consortium continues to invest in the upstream side of this venture.
Upstream investments will require billions in additional capital expenditures as new wells will need to be drilled and additional subsea gathering infrastructure will need to be constructed to tie that output back to the existing production platform. As the economics of these quasi-maintenance investments are quite strong, due to the hardest and most expensive part of this endeavor already being completed, expect those projects to get approved by the consortium.
Chevron is doing more than just supplying international customers with Australian gas supplies. In order to meet Australia's own natural gas needs, the Chevron-led consortium built out a domestic gas plant that is capable of supplying Western Australia with roughly 190 million cubic feet of natural gas per day (200 terajoules equals about 190 MMcf of natural gas). Those gas supplies can be routed to Bunbury through the Dampier-to-Bunbury gas pipeline, which also services volumes from the gas plant at the Gorgon LNG development (another Chevron-led LNG venture in Western Australia).
Condensate is an ultra-light form of crude oil (as measured by the API gravity rating), and starting this year, the Wheatstone venture began exporting condensate (produced from the fields mentioned above) to various international buyers. Those incremental revenue streams are a nice addition to LNG export revenue and revenue generated from domestic gas sales.
When it comes to the ability to market all of this liquefied natural gas production, Chevron's effective marketing team has already secured long-term commitments from numerous Asian customers. The company notes:
"Around 85 percent of our equity LNG from the Wheatstone Project has been committed to buyers in Asia. These agreements include JERA (4.1MTPA), Kyushu Electric (0.7MTPA) and Tohoku Electric (0.9 MTPA). Chevron Australia has also signed an additional SPA with JERA for 0.4 MTPA of LNG from the Wheatstone Project."
Generally speaking, most LNG supply contracts are based on the Brent oil pricing benchmark (usually the average of the rolling three-month Brent price). US LNG exports and the related LNG supply contracts are quite different, but that isn't relevant here.
With Brent rallying, Wheatstone's LNG supply contracts should be quite lucrative. LNG sold on the spot market should also fetch a good price in the current environment as Asian LNG prices are trending around $11 per million British Thermal units, or ~$11 per thousand cubic feet of natural gas. The same goes for condensate exports as well, as the value of those exports are usually based off of a slight discount to dated Brent.
Final thoughts
It is likely that over the coming years, Chevron Corporation and its partners will add additional LNG liquefaction trains to the Wheatstone LNG venture. The original goal called for up to five LNG trains, but of course this all depends on market conditions and the ability for the four offshore gas fields to supply enough gas to the onshore facilities. Chevron Corporation doesn't want to embark on another massive and costly LNG expansion without knowing whether or not it will have an end buyer for those additional exports.
Either way, Chevron Corporation's operating cash flow generation is set to receive an enormous boost over the coming quarters as the Gorgon and Wheatstone LNG ventures start operating at peak capacity in world where Brent is trading in the $80s. As an aside, I've started considering investing in Chevron Corporation due to its impressive asset base and income growth potential. Thanks for reading.
Author's Note: Some of the companies mentioned above don't trade on a major U.S. stock exchange and come with their own unique sets of risks and rewards. Always do your own due diligence before investing.
Disclosure: I/we have no positions in any stocks mentioned, but may initiate a long position in CVX over the next 72 hours.
I wrote this article myself, and it expresses my own opinions. I am not receiving compensation for it (other than from Seeking Alpha). I have no business relationship with any company whose stock is mentioned in this article.