In early 2017, Seeking Alpha often held contests for contributors to generate investing ideas. I found the themes thought-provoking and would gladly participate. In March 2017, the theme was "Looking At 52-Week Highs And Lows". The criteria was simple.
"The subject stock must have hit a 52-week high or low since February 1st, 2017, and must still be near its 52-week high or low (within 10%)."
I realized a stock on my watch list was actually trading in such a tight range that it was both - within 10% of its 52-week high and within 10% of its 52-week low. In August 2016, the high was $27.15 and in February, 2017, the low was $22.60. Thus, to hit both targets, the share price would have to fall between $24.44 and $24.86. The day the contest ended, the share price closed at $24.65, at the exact midpoint. Surely, it was meant to be.
It wasn't. I didn't win. But, I did create a stir with the entry.
The Candidate Company
Protective Insurance (PTVCA, PTVCB), at the time, was Baldwin & Lyons (formerly BWINA, BWINB). By the name, one obviously surmises it is an insurance company. Protective has been, primarily, a niche player in the insurance industry, providing policies to the transportation industry. The company was founded in 1930 by Harry Baldwin. In 1944, he joined forces with Voris Lyons. It was publicly listed in 1969. The name change transpired in August, 2018 when the insurer adopted the name of the company's first subsidiary and dropped the names of the founders.
Note: Through the remainder of the article, I'll refer to the company as Protective even though, for many of the events, it was still Baldwin & Lyons.
Insurance companies generate income in two ways. The first revenue stream is from customers who pay premiums for coverage and the ability to file claims. As premiums accumulate, an insurance company will invest, pay dividends or repurchase shares. Thus, the second stream comes from returns on a company's investment portfolio.
Protective focuses on providing commercial transportation policies and workers' compensation policies. Its investment portfolio is primarily comprised of fixed-income short-term instruments. In recent years, the insurer has started embracing the technology changes emerging in the transportation industry such as crash avoidance and electronic logging. It is also starting to branch beyond the transportation industry. As well, Protective has purposely refocused its investment portfolio on income generation.
A significant percentage of the premiums written at Protective are for coverage of Federal Express (FDX). Protective also provides policies to contracted service providers of Federal Express. At year-end 2017, Protective estimated its "uncollateralized exposure related to FedEx to be as much as 46% (after-tax) of shareholders' equity".
Since the financial crisis of 2008, Protective had been setting a new record each year for gross premiums written.
Source: Author-created from company data
As well, the company had more than doubled its consolidated revenue from approximately $157 million to approximately $319 million by year-end 2016.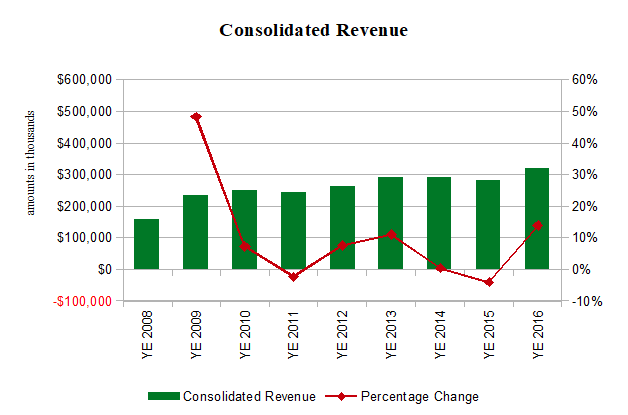 Source: Author-created from company data
Consolidated revenue growth actually did not follow the same trend line as the growth in gross premiums.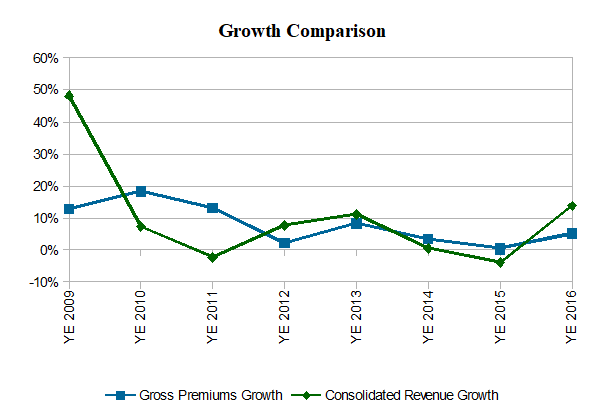 Source: Author-created from company data
The volatility experienced in the first half of this decade was attributed to Protective's participation in and subsequent withdrawal from the property catastrophe reinsurance market. By June 30, 2015, any exposure to catastrophic losses in the property market had expired. In 2015, the insurer also opted to stop offering personal auto policies. By the first quarter of 2016, the company could boast it had generated the best operating results for a first quarter in its history.
Less than two weeks later, the insurer's 51-year veteran Deputy Chairman, Gary Miller, its 35-year veteran CEO, Joseph DeVito, and its 38-year veteran CFO, Patrick Corydon, "retired".
The Back Story
Though the events became public in May, 2016, based on the documentation provided, tension roiled in October 2015.
The fifteen member board of directors, at the time, included brothers, Nathan Shapiro, Norton Shapiro and Robert Shapiro as well as Nathan's son, Steven. Nathan Shapiro is a co-founder of New Vernon Wealth Management. Two directors on Protective's board are also co-founders of New Vernon, Arshad Zakaria and Thomas Patrick. Mr. Patrick serves as Chairman of New Vernon's board.
Nathan Shapiro has been the largest shareholder of Protective's outstanding shares since 1979. In October, 2015, Nathan's son, Steven, was appointed to a new position of Executive Chairman on Protective's board. Hostilities surfaced quickly.
Mr. DeVito's resignation documentation (filed with the SEC) sheds further light on the view of the departing executives.
"The elevation of Steve Shapiro to the position of Executive Chairman and subsequent actions and decisions made by Steve have significantly reduced my authority, and thereby my ability, to properly and appropriately run the company."

"I think I am better qualified to run this company than you and I believe my results prove it. Second, I disagree with the process, compensation and structure of your "New Business Development" unit... Finally, I have heard (from people who should know better than me, including employees and board members) that they have significant concerns regarding related party transactions."
The upheaval was apparently intentional and its orchestration noisy.
"Steve has answered my queries related to this by stating, 'We had to show you who was in charge'."
The people Mr. Shapiro represents are not explicitly named. Mr. DeVito also apparently believed Mr. Shapiro was but a spokesperson.
"Who drove this process? I do not believe it is you. We have our differences but I do not believe you are that type of person."
Disagreements in a board room are to be expected. Two of the New Vernon circle of founders had been impacted directly during the financial crisis. In October 2010, Vanity Fair published an excerpt from the book, The Blundering Herd. The book looks back at the mortgage industry meltdown that triggered the 2008 crisis inclusive of the demise of Merrill Lynch. As it details the rise of E. Stanley O'Neal to the CEO position at Merrill Lynch, familiar names emerge.
"Second, O'Neal simply wasn't willing to wait a few more years to become C.E.O. He was ready now. Before he was named president, he had rivals for the top job. He outmaneuvered them, and then, as president, pushed them aside. His appointment as C.E.O. didn't end the palace intrigue, however. Strangely, though, the next round came not from his enemies in the firm but from two of his closest allies. One was Arshad Zakaria, then 41, the head of global markets and investment banking. The other, Tom Patrick, then 59, had been Merrill's chief financial officer under Komansky. O'Neal had effectively made Patrick his number two, though without the title of president.

Within a matter of months, Patrick began going behind O'Neal's back to the board, pushing board members to insist that O'Neal name a president and promoting Zakaria for the job. (The reason behind Patrick's ploy has always been a mystery, even to people at Merrill.) Although Zakaria did not openly join Patrick's effort, he knew about the lobbying and was lurking in the shadows. At least one board member was ready to do Patrick's bidding.

But then, in July 2003, somebody whispered in O'Neal's ear and told him what was going on. O'Neal responded fiercely. He went to the board, laid out what Patrick and Zakaria were doing, and demanded that the board back him—which it did. He then had Patrick escorted from the building. By early August, Zakaria was gone as well.

Almost every executive associated with Merrill Lynch at the time would later point to these firings as a singularly important event in the O'Neal era—and not for the better. O'Neal had been insular before; he was the kind of man who liked to play golf by himself. Now he became isolated. He had been wary; now he became suspicious of everyone around him. Patrick and Zakaria had been extremely competent executives; he replaced them with more pliable lieutenants."
Pliable lieutenants. What a coincidental phrase. It certainly seems the veteran executives at Protective in 2015 were not being viewed by some on the Board as pliable lieutenants. But, the reality is the world will never know what would have transpired had they been left in charge. Would they have acquiesced to pressures? Would they have stood firm? Speculation can flow and debate could continue evermore that the past would predict the future. But, we, truly, will never know. What we can analyze is what did transpire.
Despite the disgust held by the three veterans, they retired professionally and quickly. The company immediately promoted Randall Birchfield, Executive Vice President of Sales and Underwriting, to the CEO position. Mr. Birchfield had been with Protective since 2013. His career included stretches at Allstate (ALL), Farmers Insurance, American International Group (AIG) and Progressive (PGR). In late August, 2016, Protective named William Vens as its CFO. Mr. Vens had been with Protective since June 2014. Prior to joining Protective, Mr. Vens was at Merrill Lynch.
By May, 2017, neither Mr. Patrick or Mr. Zakaria continued to serve on Protective's Board.
On June 5, 2018, Steven Shapiro resigned from his position as the Executive Chairman and from the Board. Mr. Birchfield, CEO, took the opportunity to frame the changes of the past three years.
"The role of Executive Chairman was established in late 2015 during a period of management transition to help develop a long term strategic plan for the Company. Over the last two years, the management team has successfully created and is executing a plan to grow the business and increase shareholder value. Consequently, the Board has decided to retire the Executive Chairman position and establish a more traditional corporate governance structure."
Mr. Shapiro is once again serving full-time as the Chief Investment Officer at New Vernon Wealth Management.
Stirring Again
In 2017, when I wrote about Protective, the impact from all the commotion in 2016 was still too raw. Empathetic shareholders were not yet ready to ascertain whether the changes were beneficial.
Perhaps, now, it's been long enough.
Protective continues to set a new record each year for premiums written. Based on the value to date, the run rate for 2018 will break through the $600 million mark.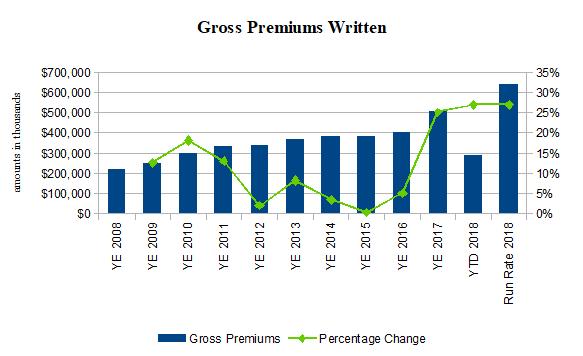 Source: Author-created from company data
Consolidated revenue is growing at the fastest pace of the decade. In the first six months of 2018, consolidated revenue grew over 37% to $224 million compared to the first six months of 2017 at $162 million.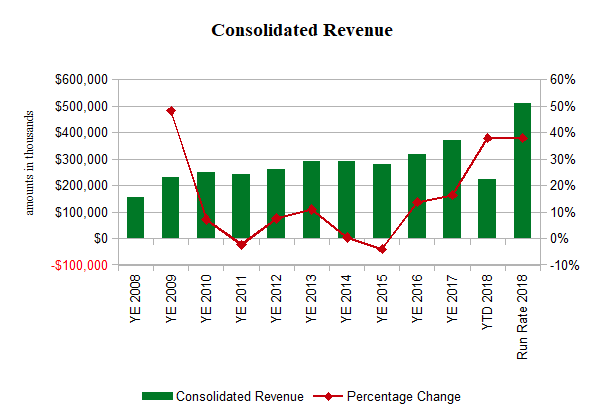 Source: Author-created from company data
Protective's CEO, Mr. Birchfield, shared in the second quarter earnings call (transcript not available on SA) that some of the gain is related to "aggressively taking rate increases across the board in all of our commercial auto products".
Net income of $2.8 million for the first six months of 2018 is not fairly comparable to the loss of $5.6 million in the first six months of 2017. Earnings per share of $0.19 for the first half of 2018 also do not fairly compare to the loss of $0.37 for the first half of 2017. In the second quarter of 2017, Protective opted to strengthen its reserves by $16.6 million for periods 2015 and before.
"As we have identified the need for reserve strengthening, we are decisively addressing it in one quarter. Our reserve strengthening in the second quarter focused on commercial auto-related products and discontinued lines such as professional liability reinsurance and Florida commercial multi-peril policy."
Protective also initiated dividend increases in 2016. For three years, it has bumped its dividend by a penny a quarter when announcing the first payment of the year. At the current rate of $1.12 annually per share, at any price below $28, the yield is above 4%. The next bump would then be expected in February, 2019 and will probably increase to $0.29 quarterly per share.
In August 2017, the insurer reinstated its share repurchase authorization for approximately 2.5 million shares. In December, Protective did buy back nearly 85,000 of its Class B shares.
A glaring concern in the second quarter results was the unrealized loss on equities securities and limited partnership investments. For the first half of 2018, the loss tallies $9.3 million. This compares to a $6 million gain in the first half of 2017. When questioned in the earnings call, Protective suggested the investments were long-term in nature and should not be judged in quarterly time frames.
"Nothing systemic to report to you on, you know, gee, there was, you know, one specific problem that went down by 90% or you know there's an entire asset class or a particular manager that's done something we'd prefer not to do. Just seems to be a matter of timing."
The majority of the unrealized loss, $5.4 million, is attributed to the change in value of Protective's limited partnership investments. As of June 30, 2018, the carrying value of these investments is $65.4 million. The majority of this amount is invested in partnerships affiliated with New Vernon and Nathan Shapiro, Steven Shapiro, Arshad Zakaria and Thomas Patrick.
"The Company has invested in three limited partnerships with an aggregate estimated value of $40,508 at June 30, 2018 that are managed by organizations in which one director of the Company is an executive officer and owner. The Company's ownership interest in these limited partnerships at June 30, 2018 was 6% for New Vernon India Fund, 37% for New Vernon Global Opportunity Fund and 27% for New Vernon Global Opportunity Fund II."
The affiliated limited partnerships were valued at $43.6 million at year-end 2017 and $44 million at year-end 2016.
This investment decision does look bleak so far in 2018. Of the $5.4 million loss, these three funds account for a loss of $3.1 million as their total value is already down 7%. But, it is pertinent to recognize numbers can be misleading. In 2017, although the value at year-end was $43.6 million and appears to have fallen from year-end 2016, the numbers do not reflect $10 million of withdrawals in 2017. As well, the year-end values do not reflect the $9.5 million in gains for 2017. Comparatively, for all of its LP investments, Protective's gains in 2017 totaled $12.5 million.
To circle back, it is certainly not conclusive but it may also not be so coincidental that Steven Shapiro, the Chief Investment Officer at New Vernon, returned to the organization full-time on June 5th to tend to New Vernon's investments.
Protective's Investability
Protective has experienced positive year-over-year growth for ten years in gross premiums written, though sometimes barely. Consolidated revenue has not consistently grown year-over-year but should reflect triple that generated in 2008 by year-end 2018. The insurer is growing its dividend and has the ability to repurchase outstanding shares.
In the 2018 first quarter earnings call, Protective's outlook was optimistic.
"We are seeing our current customer base, our motor carriers that we've had historically for a long time, continuing to grow just based on pure exposure. They are driving more miles, they have more trucks, they carry more shipments."
Furthermore, to its credit, premiums written with clients besides Federal Express are growing which means Protective is lessening its exposure to a single, primary client.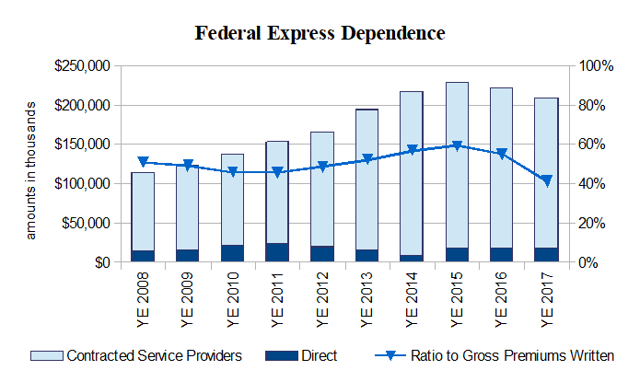 Source: Author-created from company data
Federal Express is "self-insured for costs associated with workers' compensation claims, vehicle accidents and general business liabilities, and benefits paid under employee healthcare and disability programs". FedEx then obtains policies from Protective. Unfortunately, a contributing factor to its lessened exposure is that the premiums written for Federal Express and contracted service providers of FedEx have declined since peaking in 2015. The "loss" in Protective's FedEx-related premiums for 2016 and 2017 compared to 2015 totals $26 million.
Some shareholders speculated a decline might occur when the retirement announcements hit in 2016. Mr. DeVito made it clear he wasn't ready for retirement. Before the summer was over, he, Mr. Miller and Mr. Corydon had formed DMC Insurance, specializing in commercial transportation insurance. Crum & Forster, an insurance company held by Fairfax Financial Holdings (OTCPK:FRFHF), is the underwriting partner for DMC Insurance.
Fairfax Financial Holdings' 2017 annual report specifically attributes its commercial transportation line for a portion of its premiums growth. The difference in net premiums earned by Crum & Forster from 2016 to 2017 totals $108 million.
"The transportation division, under Joe DeVito, continued to ramp up."

"The increase in gross premiums written of 5.8% in 2017 principally reflected growth in the accident and health and commercial transportation lines of business."
Obviously, there is no way to prove the speculation that Protective would lose Federal Express business to a competitor, specifically DMC Insurance. Besides, to date, the difference has been somewhat immaterial. Offsetting Protective's $26 million decline in FedEx premiums was over $166.6 million in gross premiums written throughout 2016 and 2017.
Every incident along the way in Protective's story has, obviously, not been pleasant. Despite all the twists and turns, Protective's share price still trades in a tight range - between $22 and $26.
For the majority of the decade, Protective annually improved its total value creation which is defined as the difference in book value plus dividends paid. Valued strictly on a price-to-book ratio, Protective trades at a discount the majority of the time since peers average a P/B ratio of 1.2.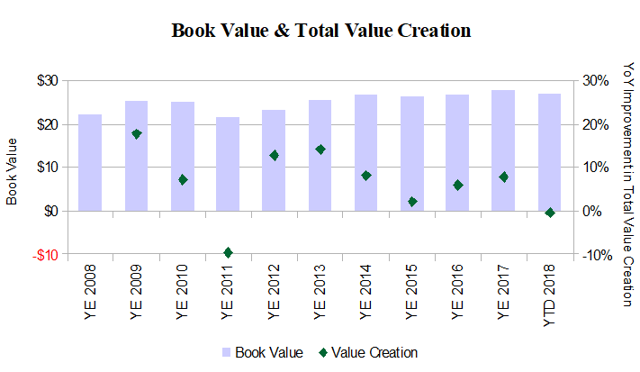 Source: Author-created from company data
However, if the generally-accepted return on equity measure for insurers is employed, Protective would be considered overvalued.
"A general rule of thumb is that a company should trade at one-tenth price-to-book value of its return on equity. Thus, if an insurer earns an industry-standard 10% return on equity, it trades at 1.0x book value."
Based on its current ROE of 6.6%, a fair price-to-book ratio would be 0.66. Therefore, at a book value of $27, a fairly-valued insurer would trade for approximately $18. Protective's ROE is not competitive.
But, improvement to ROE should be the result of Protective executing its growth plan.
"We're on a growth path at this stage in our strategic plan. That growth path comes with near-term penalties with regard to loss ratio. That long-term plan associated with the growth will result in downward pressure on expense ratio and loss ratio. But, that's in future periods to come. So, we have, in the short time or the short period, experiencing those results of trying to grow the business in the face of challenges in the industry."
Considerations
There's little doubt the Shapiro family and New Vernon founders "helped" influence the culture at Protective Insurance the past three years. The crew obviously now feels confident enough to allow the management team in place to execute the strategic plan. Thus, it may well be an opportune time to consider an investment. As the results of the plan unfold, the share price could finally break to the upside of its firmly entrenched range.
But, shareholders should not ignore the familial ties that will certainly continue to exist. In 1992, the Chicago Tribune ran an article about Norton, Nathan and Robert's father, Lester Shapiro. The elder Shapiro bought Emlin Cosmetics in the 60's, built a dedicated customer base and established a small empire. Emlin continues in operation to this day under Robert's leadership. The author of the Trib's article was quite impressed by the dedication to company she witnessed in its employees.
"Company strength seems to stem from a foundation of solid values, treating everyone fairly."
If his three sons follow Papa's lead, a familial influence doesn't have to be a negative factor.
.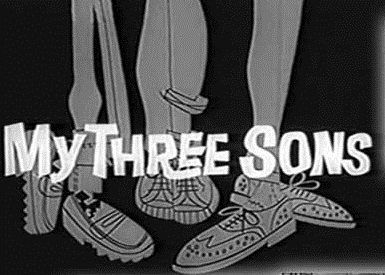 Source
Disclosure: I/we have no positions in any stocks mentioned, and no plans to initiate any positions within the next 72 hours.
I wrote this article myself, and it expresses my own opinions. I am not receiving compensation for it (other than from Seeking Alpha). I have no business relationship with any company whose stock is mentioned in this article.