SpaceX: Elon Musk's Big Ambitions Face Harsh Reality
Summary
SpaceX plans to launch Starlink, a network of satellites to provide broadband Internet to Earth-bound consumers; it projects Starlink revenues will dwarf its launch business within a few years.
SpaceX raised $500 million from investors in April to, among other things, fund Starlink to the launch stage; but the cash appears to be going exclusively to other projects.
CEO Elon Musk's focus on his BFR manned rocket program is claiming all of SpaceX's engineering resources and is projected to cost between $2 billion and $10 billion to complete.
Hiring for Starlink appears to have ceased, while resources are diverted toward BFR; the income potential of manned spaceflight is extremely dubious.
Both Starlink and BFR have questionable economics and might end up as money-losers if they ever get off the ground; for Starlink, that prospect appears increasingly unlikely.
Space Exploration Technologies (SPACE), or SpaceX as it is generally known, has lofty ambitions for transforming the spaceflight industry. The brainchild of Tesla (TSLA) CEO Elon Musk, SpaceX has led a pack of hungry startups eager to shake up a moribund sector and usher in a new Space Age.
But SpaceX is no longer a startup. Indeed, it claims one of the largest valuations of any private company: $27.5 billion. That valuation has been fueled in part by the success of SpaceX's efforts to create cheaper, but still reliable, rockets. But the satellite launch business, where SpaceX has cut its teeth, is getting increasingly competitive.
Even dominating the growing space launch sector would not likely be enough to fund SpaceX's plans. To justify its valuation, as well as fund Elon's overpowering dream of manned spaceflight and interplanetary exploration, SpaceX has another program in mind: Starlink.
Starlink is a proposed constellation of Internet satellites SpaceX plans to launch within the next couple years and is supposed to swiftly become a source of massive revenues for the company.
There is just one problem: It looks like the Starlink story is already falling apart.
Let's discuss what has been happening with Starlink and why its precarious future could spell serious trouble for SpaceX.
Failure to Launch
SpaceX has made its mark already in the field of commercial space launches. As a low-cost alternative to existing private launch providers, such as the United Launch Alliance ("ULA"), SpaceX has carved out a niche for itself. It is an important position, since it is SpaceX's sole source of income other than capital markets.
While its exact finances cannot be known due to its status as a private company, SpaceX has made numerous allusions to being cash flow positive, if only breakeven, thanks to its launch business. Unfortunately, it is a very precarious business from a demand standpoint. If everything goes according to schedule, SpaceX will perform 28 launches by in 2018. That might be enough to claim a profit for the year. Yet it expects to make only 18 launches in 2019. That is a far cry from the company's repeated enthusiastic predictions of nigh-exponential growth in demand for its space launch services. And, it puts at risk the sky-high valuation it already claims.
Furthermore, despite its innovative efforts to shake up the launch business, its position in the industry remains precarious. Older competitors like ULA are playing catchup even as new players enter the field. The Space Launch System, a rocket program in its final stages of development and assembly, has Boeing (BA) as its driving force. Meanwhile, Blue Origin, the passion project of Amazon (AMZN) founder and CEO Jeff Bezos, is ramping up and has just struck a deal to build a new spaceflight center in Florida.
The satellite launch business, even if it experiences spectacular secular growth in the coming decades as SpaceX predicts, will become increasingly commoditized. That means little room for profit for a niche player like SpaceX, let alone the sort of cash it needs to fuel its other, far loftier ambitions.
A Corporate Constellation
Starlink has been at the heart of SpaceX's stated growth strategy for several years. The plan is to launch the satellite network in just the next couple years (which is already a delay from its original timeline). The company has estimated that, by 2025, Starlink would have 40 million subscribers generating $30 billion in annual revenues.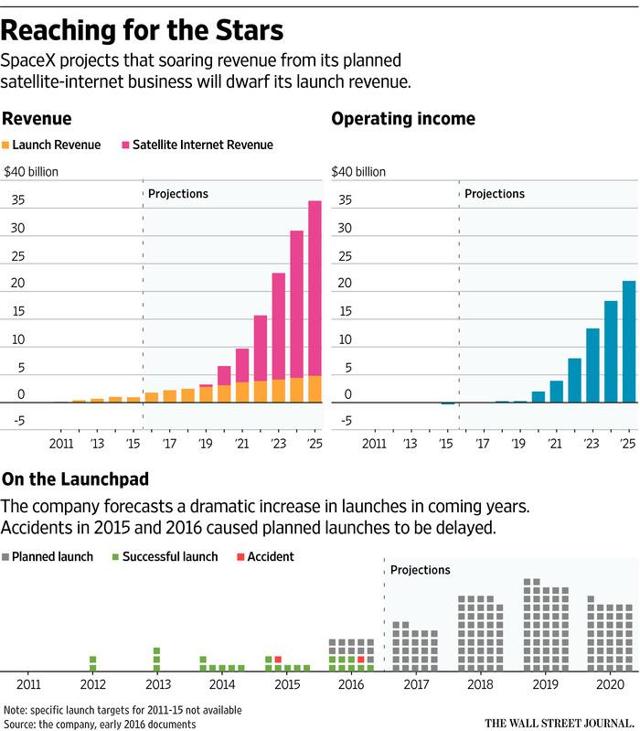 Source: The Wall Street Journal
To fund the development and initial launch of Starlink, SpaceX raised $500 million from investors in April. While the raise was ostensibly to fund the company's various projects, it was clear that Starlink would be a priority, since it would be the primary revenue driver for years to come. In March 2018, Elon stated that all of the company's engineering resources were being poured into its next - and biggest - rocket: the Big Falcon Rocket, or BFR.
The BFR is a key part of SpaceX's vision, since it is meant to be the conveyance for future astronauts. It is understandable that SpaceX would find itself stretched resource-wise, given the BFR's aggressive development timeline, which calls for a manned orbital launch in 2020. Thus, it makes sense that SpaceX would raise further outside capital to fund its other ambitious projects like Starlink.
Yet, despite being the supposed lynchpin of SpaceX's growth story, there are recent signs that Starlink has been put on the back-burner in favor of the BFR.
Up in Fairydust
The fate of Starlink has come increasingly into question, especially as Elon & Co. have lately begun an even more aggressive publicity effort for their manned spaceflight program. At an event on September 17th, which included new renders of the BFR, Elon stated that the vast majority of engineering resources were still going toward the rocket development program and would receive virtually all resources from the end of 2019.
With the cost of developing the BFR and upper-stage spaceships slated to cost somewhere between $2 billion and $10 billion, it appears to be a case of prioritization of limited resources. While demand for SpaceX equity is undoubtedly high and could likely raise billions of dollars in an IPO, even a $5 billion raise would represent significant dilution and might be insufficient to serve the needs of the BFR program development alone.
Choosing the BFR over Starlink may simply be a necessity. And, the choice appears to be clear at this point. For example, the company has reportedly reduced hiring by 55%. As part of that reduction, new positions for Starlink satellite development disappeared almost entirely. Hardly the sign of a program in rapid development.
With limited resources and manpower, SpaceX appears to have chosen the BFR and manned spaceflight over the Starlink system.
Weighing the Options
From a purely cost and logistics perspective, this makes a degree of sense. Manned rockets and spacecraft are known quantities, and the overall development process is widely understood. A $10 billion, or even $5 billion, development price-tag still sounds hard to swallow, but it may not be as costly or laborious overall as trying to launch the 800 or so satellites necessary to begin service, let alone the more than 4,000 satellites needed to reach the level of broadband coverage Elon has claimed the Starlink system will provide. With its annual launches measured in the dozens, the conducting hundreds within a span of a few years always seemed fanciful, especially given the persistent delays to the launch of even a couple test satellites.
But, taking a long-term view of SpaceX and how it is presently being valued by investors and the private capital market, the choice of the BFR over Starlink is interesting and ought to be disconcerting to shareholders. Starlink was supposed to be pumping cash into SpaceX within the decade. That does not seem likely now. Meanwhile, the value of the BFR, other than as a launch vehicle in an increasingly competitive and commoditized, is highly questionable.
Space tourism has a patchy track record and highly questionable economics. SpaceX COO Gwynne Shotwell has put a brave spin on the idea, talking about "7 billion potential payloads". But the cost of a ticket into orbit is going to be an extreme luxury even if the operational costs are cut by an order of magnitude. The current SpaceX valuation already assumes the business has something close to infinite scalability. The scope for growing a space tourism service to such a level looks even more fanciful than launching a constellation of hundreds of broadband satellites.
Investor's Eye View
So, where does that leave us?
Well, whether it is Starlink or the BFR or both, SpaceX looks like it has a huge amount of work to do to turn them into reality. In the meantime, shareholders and potential investors might be well advised to take a closer look at SpaceX's plans, its projections, and its concrete plans for making its dreams a reality.
It is going to cost a mountain of cash that SpaceX currently does not have to make its vision happen. And, we are skeptical it will be able to obtain that cash, by any means.
This article was written by
Investment professional specializing in deep value opportunities, growth plays, special situations (long + short) across a range of asset classes and industries.Current Role(s): President, Almington Capital Merchant Bankers; Chief Investment Officer, The Cannabis Capital Group.Asset Classes: publicly traded securities (stocks + fixed income), private equity, real estate, venture capital, cannabis, fintech.https://subscriptions.seekingalpha.com/lp_premium_beat_the_market_4/?source=affiliate:42612986Education: MA, Trinity College Dublin (economics + philosophy); Diploma (finance), London School of Economics & Political Science; MBA, University of Oxford.
Analyst's Disclosure: I am/we are short TSLA. I wrote this article myself, and it expresses my own opinions. I am not receiving compensation for it (other than from Seeking Alpha). I have no business relationship with any company whose stock is mentioned in this article.
Seeking Alpha's Disclosure: Past performance is no guarantee of future results. No recommendation or advice is being given as to whether any investment is suitable for a particular investor. Any views or opinions expressed above may not reflect those of Seeking Alpha as a whole. Seeking Alpha is not a licensed securities dealer, broker or US investment adviser or investment bank. Our analysts are third party authors that include both professional investors and individual investors who may not be licensed or certified by any institute or regulatory body.