A different picture of muni market weakness vs. 2005.
The municipal bond market has been recently pressured by rising U.S. interest rates, fueled in large part by the Federal Reserve's tightening of monetary policy.
At its latest meeting, the Fed's Open Market Committee (FOMC) elected to raise the target range for the federal funds rate to 2.0-2.25%, on the back of positive momentum in the domestic labor market and inflation near the central bank's 2% objective.
Further evidence of a strengthening jobs market included ADP's September data, which exceeded most analysts' expectations, as well as the U.S. Labor Department's latest weekly unemployment insurance claims.
The yield on the 10-year U.S. Treasury note climbed past the 3.2% mark Wednesday – reaching a level not seen since 2011 – and was still hovering in that area in Thursday's late morning trading activity.
Why the risk aversion?
Although the U.S. economy has shown solid signs of strength, investors Thursday appeared to be generally exercising a modest degree of caution ahead of the September nonfarm payrolls report, amid ongoing global event risks, including U.S.-China trade tensions, emerging market currency weakness, mounting household debt and rising oil costs.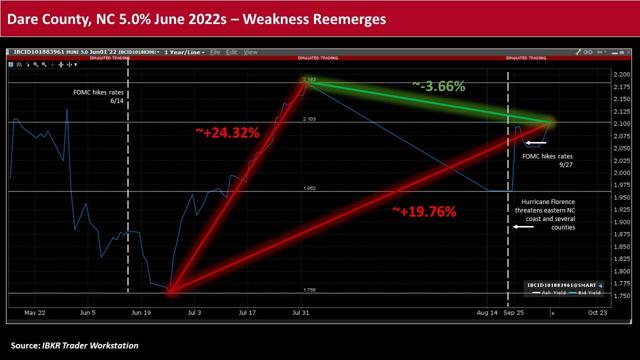 Sentiment among municipal bond investors in particular seems to have soured recently, with Lipper U.S. Fund Flows posting net outflows from muni bond funds of over US$200m in the week ending September 26, with analysts at Janney Montgomery pointing to the 30-year AAA benchmark, which finished Wednesday 6bps higher at 3.23% - the highest level since the late 2016 post-election sell-off.
Against this backdrop, North Carolina-based municipal bonds have generally declined in value, amid the higher U.S. interest rates, as well as damages wrought by Hurricane Florence.
Although some investors may find similarities to the Federal Reserve's rate hike in September 2005, which followed Hurricane Katrina, certain munis in the current market seem to be responding in a different fashion.
The MFS North Carolina Municipal Bond Fund Class A (MSNCX), for example, has shed a little more than 3.4% since its 52-week NAV high set in mid-October 2017, with much of the recent losses having occurred during Hurricane Florence.
By contrast, Hurricane Katrina appeared to pose little impact on the muni bond market – even in directly affected areas.
In 2005, the Nuveen Louisiana Municipal Bond Fund's (FTLAX) NAV fell around 2.1% from August to September, while the Federal Reserve had also elected at that time to raise interest rates.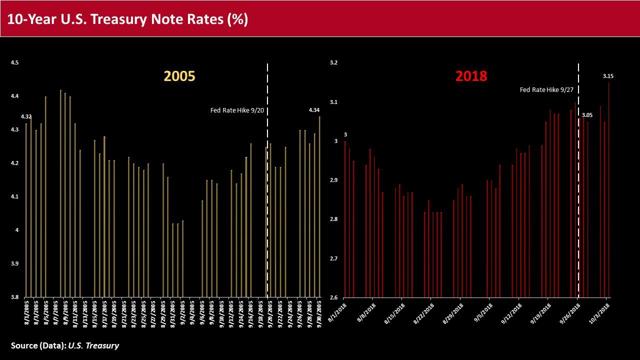 Storm effects
North Carolina's overall job landscape also seems to have been hurt by Hurricane Florence, while conditions across several counties across the eastern part of the state remain under assessment.
Although the national jobs numbers drew a rosy picture of the U.S. employment situation, the Labor Department highlighted that the largest increases in initial claims for the week ending September 22 came from North Carolina (+7,910).
Irregularities
Although clear figures for Hurricane Florence's damages to the state have yet to materialize, some analysts think the amount may be close to US$50bn, according to North Carolina Justice Center budget & tax director Alexandra Sirota and policy analyst Brian Kennedy.
Sirota and Kennedy cited Moody's Analytics, which placed overall recovery costs at between US$17bn-US$22bn, along with additional economic losses at US$38bn-US$50bn. Furthermore, agricultural losses in North Carolina alone total at least US$1bn. They added the storm could cost the state more than Hurricane Matthew, which landed in North Carolina in October 2016.
However, it seems not all areas affected by Hurricane Florence in North Carolina have suffered the same level of severity.
Moody's Investors Service analyst Tiphany Lee-Allen recently noted that the county of New Hanover, North Carolina maintains a "solid" financial profile, despite the "varying degrees of damage and disruption" it incurred from the storm. She said while the county may face challenges related to unbudgeted public safety and cleanup costs, it has sufficient operating flexibility to mitigate near-term cost spikes.
Lee-Allen also noted that the U.S. government's long record of support for disaster relief enhances local government credit quality.
In late September, Moody's assigned its pristine 'Aaa' credit rating to US$67.1m of New Hanover County General Obligation School Bonds, Series 2018. The ratings agency also affirmed the 'Aaa' rating on the county's outstanding US$314m in General Obligation Bonds, with a stable outlook.
Meanwhile, other counties have seen higher yields over the course of the hurricane, and as interest rates have risen.
Dare County's 5.0% Limited Obligation bonds due June 2022, for instance, have experienced increasingly higher yields over the past year.
Short shelf life
While interest rates may generally continue to promote weakness for munis, some strategists think any downturn due to adverse storm-related effects are likely to be short-lived.
Analysts Joshua Levine and Thomas Raleigh at New Jersey-based asset manager Lord Abbett recently noted that municipalities hit by natural disasters will "often see spending drop off in the immediate term, while businesses are closed and individuals are assessing damages."
Levine and Raleigh noted that following Hurricane Katrina, which hit the U.S. Gulf Coast in August 2005 – causing well over US$100bn in damages – sales tax revenue in New Orleans fell by 24% during 2004–05. However, over the following three years, sales taxes grew by 7%, 8%, and 3%, even with a population that was 47%, 54%, and 61% of the prior highs due to storm-related displacement. This represents a 35% increase in sales taxes per capita due to recovery-related spending.
In 2005, the FOMC, led by chair Alan Greenspan, had also decided at its September meeting to raise its target for the federal funds rate by 25bps to 3.75%.
The Fed justified the move by noting that the "unfortunate developments" related to Katrina posed increased uncertainty about near-term economic performance, but did not "pose a more persistent threat." The FOMC added that "monetary policy accommodation, coupled with robust underlying growth in productivity," had been providing ongoing support to economic activity.
While the elements of monetary policy, upbeat economy and inclement weather seem similar to 2005, the current backdrop of headwinds, including outflows, event risks, weakness in certain issues, as well as amid a seemingly endless barrage of taxable corporate debt offerings, muni investors in the post-2008 crisis environment seem to be responding with somewhat more weakness.
Note: This material was originally published on IBKR Traders' Insight on October 5, 2018.
The analysis in this material is provided for information only and is not and should not be construed as an offer to sell or the solicitation of an offer to buy any security. To the extent that this material discusses general market activity, industry or sector trends or other broad-based economic or political conditions, it should not be construed as research or investment advice. To the extent that it includes references to specific securities, commodities, currencies, or other instruments, those references do not constitute a recommendation by IB to buy, sell or hold such investments. This material does not and is not intended to take into account the particular financial conditions, investment objectives or requirements of individual customers. Before acting on this material, you should consider whether it is suitable for your particular circumstances and, as necessary, seek professional advice.
Disclosure: I/we have no positions in any stocks mentioned, and no plans to initiate any positions within the next 72 hours. Business relationship disclosure: I am receiving compensation from my employer to produce this material.