Author's note: This is our weekly commentary that goes out every Sunday evening to our members. We are posting it publicly this one time only. It is setup with a macro 'week in review' as well as a closed-end fund segment. We also have some additional analysis near the end on various topics.
This week was one that can be characterized by a return of the bond vigilantes. The Dow Jones index remained unchanged but the S&P 500 fell by about 0.80%. The Nasdaq was one of the big losers falling over 3% as tech got crushed. The other was the Russell 2000 (small caps) which fell by 3.5%.
The big story was the jump in bond yields over the week taking out the March 2018 highs of 3.10% on the 10-year. The interest rate story dominated the headlines and macro narrative. What sparked the sell off in bonds remains in question. It is clear that this sell off is different than the one in January/February which had an inflationary catalyst.
This selloff was more for the "good" than the "bad". When we talked about jump in yields back at the start of the year, it was because of rising inflation expectations. This time around, wage inflation remains tepid and CPI well grounded, though rising.
The five-year, five-year, remains in the same trajectory that it has been for most of the year and ended at 2.26%, still below where it was in February.

(Source: FRED Database)
Same with the ten-year breakeven inflation rate at 2.16%:

(Source: FRED Database)
Clearly inflation is not the driver for this selloff.
The most likely reason and the one we continue to see in the financial news media is that this is a "growth selloff." In other words, economic growth is and remains strong (strongest of the last half decade or more), and is likely going to cause the Fed to act more aggressively. We are also likely seeing some supply - demand imbalance as new issuance explodes due to the deficit while demand could be on the wane as foreigners either slow their purchases or even become net sellers.
Economic growth can cause higher rates. The economy has ratcheted higher this year and could have two quarters of 4%+ growth with well above 3% growth for the year. This really separates the U.S. from the rest of the world ("ROW") which has seen some slowing, especially in emerging markets.
Additionally, other countries are the third largest holders of U.S. debt. Over the last several years, most have been selling those positions for fiscal and sometimes, political reasons.
A non-inflation induced jump in rates is MUCH MORE preferable for CEF holders than an inflation-based one (similar to what we saw earlier this year). We think investors should welcome some degree of higher rates in closed-end funds as the steepening yield curve should relieve some of the pressure on distribution while also allowing for maturing or called issues to be reinvested at better rates.
The top sectors on the week were financials, industrials and utilities. The last is typically not a sector you would see on the top performers list when rates jump.
As for the dollar which remains a key variable to watch, we agree 100% with this statement from Janus Henderson (hat tip Gil Weinreich):
The United States looks like the most attractive country to invest in today, and we have grave concerns that that will not be the case at some point next year, maybe early, maybe mid- to second half of 2019. I would think that the dollar goes weaker. What had been in the favor of the U.S. - relative growth rate, inflation, productivity differentials - will decline and the fiscal situation will deteriorate materially. I think that it is not out of the realm of possibility that at some point the discussion begins to re-emerge regarding the credit quality of the United States and whether a potential downgrade is something that is going to be considered by the rating agencies." (Janus Henderson Investors)
This could be the worst year for the bond market in many many decades. The Barclay's U.S. Aggregate (AGG) is closing in on -3% YTD, which would be the worst year for bonds since WWII. Yes, a -3% year would be the worst year for the bond market in over 70 years- a level that can be achieved in one day in the stock market.
The problem with the AGG is that it is nearly half treasuries. That produces a duration effect when rates rise. The image below shows the ten-year rate (in black) and the 2018 YTD total return for the index. You can clearly see they are mirror images of each other.
From Charlie Biellelo: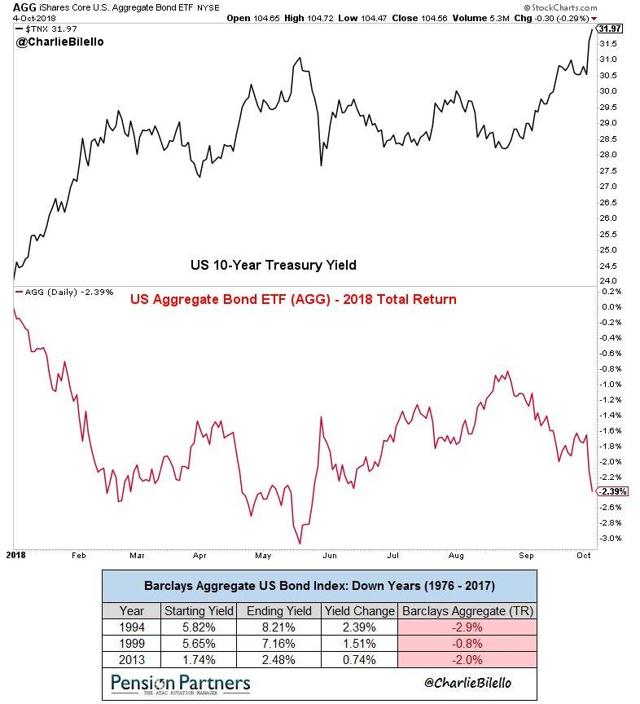 Closed-End Fund Analysis
Distribution Decrease
We also saw three special distributions announced from Blackrock.
IPO/N-2
Nuveen High Income 2023 Target Term (JHAA): The fund filed an N-2 for an IPO on Sept 21st. The public offering price is $10 and the fund will liquidate in 2023 at $9.85.
CEF Commentary
We FINALLY saw the hiccup to the discounts in our market especially in the PIMCO funds which have basically gone up unabated for more than 6 months. The chart below shows the NAV which has been in what we would call a slight upward trend for the last year. But while price was close to NAV about a year ago, it quickly 'blew out' when rates moved higher in January and February. The shares traded at an 8% discount- hard to imagine just a few days ago.
The chart of PIMCO Dynamic Credit and Mortgage (PCI):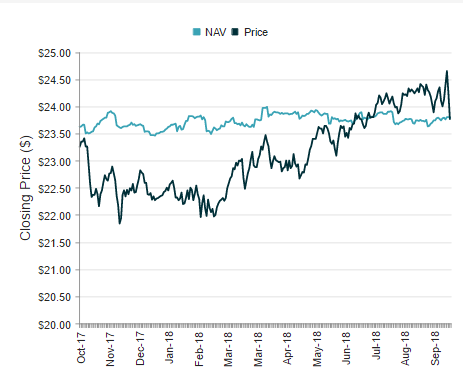 (Source: CEFConnect.com)
Since early February, the discount has been closing and finally hit a premium (something we predicted a couple of years ago) and then kept going. The shares hit a 3.5% premium about a week ago before the start of this rate scare.
This "scare" used to happen much more often for more reasons. We can recall for most of the post-recession period this sort of 'scare' occurring about every 3-4 months, sometimes more. There would be a myriad of reasons including rates, post recession hangover, oil, political, and distribution cut potentials. On August 1 of last year, the PIMCO funds got clobbered when an SA article plus some rumors on the internet caused a distribution cut scare.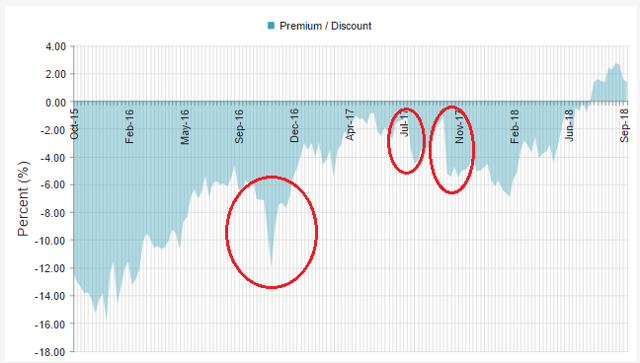 (Source: CEFConnect)
It is interesting that only PCI/PDI saw the most substantial selling pressure when much higher premiums RCS, PHK, and PTY, were down less so.
We would also note that the fundamentals remain solid. This is NOT a high yield selloff. In fact, high yield spreads remain within a couple of bps above their post-recession 'tights' at just 3.29% (this refers to the additional yield on top of the same maturity treasury, the average high yield bond trades).
In muniland, which you would think would get hit the hardest from rising rates, the "mub", iShares National Muni ETF (MUB) fell 77 bps. Compare that to the VanEck Vectors CEF Muni Income ETF (XMPT), an ETF of muni CEFs, which fell over 2.8%.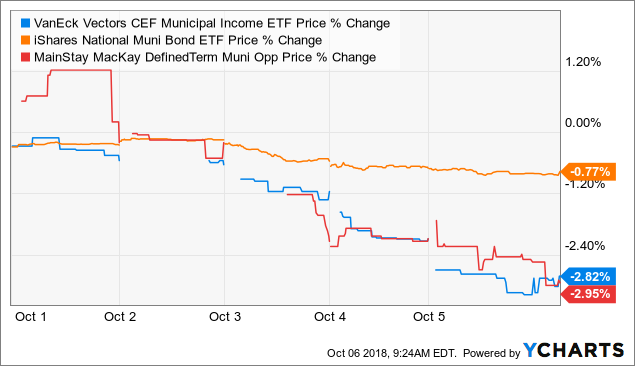 The only defense for these situations is to either sell it all right away (at the risk of being wrong) or stick it out, which can be nerve-wracking for some (see section below). The 'hiccups' that we often refer to typically last about 3 days. Friday was day 3. This one seems a bit more sharp given the rise in rates and the levels of discounts for some of the popular CEFs (including PCI/PDI).
(Please read this next section twice!)
But members and investors need to ask themselves why they own these instruments in the first place. These are income securities generating in the neighborhood of long-term equity returns, ~8.3%. That comes all in cash on a monthly recurring basis. That should be good enough for most people. No need for capital appreciation or to care about the fluctuations around par.
Many investors, including myself, like to think of bond CEFs as preferred stocks that trade around $25, and that we're only in for the dividend. The price fluctuations do not matter to me as long as I believe the distribution remains solid. In other words, the share price is meaningless once I have my established position except for reinvestment purposes.
And sometimes, we get a "special" Christmas bonus at the end of the year which we expect again this year.
My main problem is that most brokerages do not show 'total return' but instead 'capital loss/gain' on their dashboards, which doesn't include the distributions. We wrote about this issue here. The bulk of the return from any bond CEF is from the cash distribution/income, not from capital appreciation. The fact that brokerages rarely show total return helps push investors toward more of a trader mindset.
The images below is something we showed a few weeks ago but we want to show again for the new members (h/t Williemoe). You can clearly see how the distributions over time overwhelm the fluctuations in price.
(Source: Stockcharts)
The massive takeaway from the two charts is how the decline in '15 and '16 was far less severe than it appeared thanks to the monthly payments investors received. However, as we've noted many times, most brokerages simply report "capital gain/loss" instead of total gain or loss. In other words, the return without the distribution. Given that the distribution is likely more than 100% of the total return of our holdings, removing them simply distorts the performance. We will be putting out a short article detailing this problem early this week.
We have owned PDI since nearly its inception. The price has fluctuated roughly between $24 to $34, back to $24, and then back up to $34. But all that time it has been paying out approximately $0.22 per share. Over the last five years, the average annual return has been 16.75% with approximately 10% of that from the distributions.
To me, the share price is just an opportunity to reinvest some pooled cash distributions. In all likelihood, we would never sell our current 10% allocation unless something truly better came along. Over the last nearly two decades of using these things, we've come to almost ignore these 5% moves in price. They almost seem meaningless to me because we would likely never be sellers as long as it continues to churn out 8.5%+ cash flow.
Recent CEF Volatility Presents Buying Opportunities
This is the change in price and NAVs on Thursday when the 10-year jumped from about 3.05% to 3.15% breaking the prior interim high set back in March of 3.10%. When rates jump, as they did back in February, we can then analyze the movement in the NAV to see which funds are more insulated against higher rates than others.
Here is a partial list of funds, some of which are Core holdings, others are tactical and others still are peripheral/optional substitutions. This is a great way to identify opportunities for funds that have sold off in the panic.

(Source: Author's Calculation)
Most of the floating rate funds saw little to no movement in their NAVs, but discounts did widen between 1% and 2%. While recently added Nuveen Short Duration (JSD) has run already, there are other options to consider. Instead, look at Nuveen Floating Rate Opps (JRO) which continues to trade at a very wide discount compared to historical average. Even better may be Blackstone/GSO L/S Credit (BGX) which you will recall we swapped into a couple of weeks ago.
We also still like here:
Selling Out of FMI International (FMIYX)
Adding MFS International Diversification (MDIJX)(MDIDX)
If you recall, our rationale for owning FMI International was that, in addition to their skill in selecting individual equities, they kept a dollar hedge on. That meant that as the dollar rose, you didn't 'lose' on currency. That has helped the fund significantly this year as the dollar has risen sharply by over 200 bps.
A fund to consider if the MFS International Diversification fund (MDIIX). This is a fund-of-funds ("FOFs") from Boston-based MFS. One of the negatives that we typically see with FOFs is another layer of fees. The fund company will charge the normal fund fees on the funds held plus a FOF fee. MFS does not do this - a rarity in the space.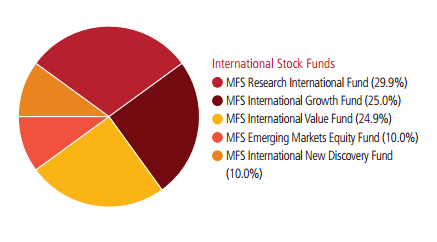 (Source: MFS)
The fund does not hedge the dollar on any of the underlying funds and gets you a one-top fund for significant international exposure.
This fund is a top performer leveraging a couple of the top international funds that they run. In the Morningstar image below, the one-, three-, five-, and 10-year numbers all rank in the top decile in terms of performance.

(Source: Mornignstar)
Comments on REITs
We were on the fence about downgrading REITs in the October letter, but decided against... We should have. In any case, the higher rates are starting to effect real estate more broadly than late last year and earlier this year. When we look at REITs, we like to look at the quality of the balance sheet, the dividend coverage, the potential dividend growth, and the yield of the shares compared to the most equivalent credit quality grade index.
We still really like commercial REITs as the fundamentals remain solid. As job growth continues to chug along resulting in demand for all facets of real estate sectors. We should see low single digit rent growth despite the fact that we've seen a wave of new supply come on to the market. That should start to subside next year.
In general, the same store NOI growth should increase going into 2019. FFO growth is also set to accelerate to over 4% from less than 3% this year. We still like the retail, health care (MOBs) and even some of the residential REITs the best. We are still staying away from the office sector. The retail space is still trading at large discounts thanks to the Amazon effect. High quality retail REITs remain on our radar including KIMCO Realty (KIM) and Simon Property (SPG), the latter got upgraded on Friday resulting in the shares gaining growth.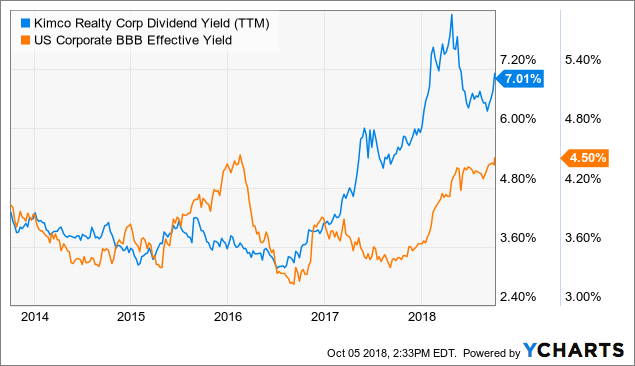 We didn't buy any REITs last week and may jump into a couple next week, especially KIMCO Realty which is still just below $16. I'm also watching DOC and MPW which didn't fall much last week. Kimco preferreds are also falling back below par and becoming interesting.
Cambria Tail Risk (TAIL)
We noted a few months ago how to use put options to hedge your portfolio. In that concept, there is an ETF that does just this. They buy out-of-the-money puts on U.S market indices. The fund was launched in April of 2017 and has just 16 holdings. Most of which are put options on the S&P 500 at various strike prices and expirations. The bulk of the assets though are held in 10-year treasuries maturing in 2027.
The Cambria Tail Risk ETF (TAIL) utilizes a quantitative approach to actively manage a portfolio of put options purchased on the U.S. stock market. TAIL's strategy is inherently defensive. Research performed by Cambria suggests that, historically, a portfolio of puts purchased on the broad market can help to protect and diversify a traditional long-only portfolio from market downturns.
The ETF seeks to mitigate significant downside market risk. The Fund intends to invest in a portfolio of "out of the money" put options purchased on the U.S. stock market. TAIL strategy offers the potential advantage of buying more puts when volatility is low and fewer puts when volatility is high. While a portion of the fund's assets will be invested in the basket of long put option premiums, the majority of fund assets will be invested in intermediate term US Treasuries. As the fund is designed to be a hedge against market declines and rising volatility, Cambria expects the fund to produce negative returns in most years with rising markets or declining volatility.

(Source: Cambria)
You can see by the returns during a bull market, the hedge on the S&P 500 will cost you about 10% of what you place into it. In other words, if you have a $100,000 portfolio and you put 20% in this fund to hedge 20% of your portfolio, the resulting 10% decline if the market were to increase further would cost you about $2,000 or 2% of the portfolio's value.
Nuveen Emerging Markets Debt 2022 Target Term
We received a bunch of questions on this fund. Typically when we do so it is because another service may have discussed it either from the long or short side.
It is a target term meaning it liquidates at a certain price (not guaranteed) at a certain date (typically guaranteed). The fund will liquidate at NAV in December 2022. From the website:
Fund description

The Fund seeks to provide a high level of current income and return the original $9.85 net asset value per common share on or about December 1, 2022.*

The Fund invests at least 80% of its Managed Assets in emerging market debt securities and may invest without limit in investment grade securities and securities rated below investment grade (BB+/ Ba1 or lower). However, the Fund invests no more than 10% of its Managed Assets in securities rated below B-/B3 or that are unrated but judged by the managers to be of comparable quality. The Fund invests 100% of its Managed Assets in U.S. dollar denominated securities. No more than 25% is invested in securities of issuers located in a single country. In seeking to return the original NAV on or about December 1, 2022, the Fund intends to utilize various portfolio and cash flow management techniques, including setting aside a portion of its net investment income, possibly retaining gains and limiting the longest effective maturity on any holding to no later than June 1, 2023. This Fund uses leverage.
*The objective to return the Fund's Original NAV is not an express or implied guarantee obligation of the Fund.
The problem with the fund is that the NAV is well below the target term price of $9.85, currently at $8.70. The fund is at an attractive discount but we think not for the risk. The risk here is:
The fund managers simply give up on their intention of returning the original NAV (which at this point seems probable given they are $1.15 below that target).
That the distribution is chopped significantly in order to hoard net investment income ("NII") and prop up the NAV.
In either case, it is not ideal for shareholders. For investors that are just in it 'for a trade' meaning they are looking for a reversion of the discount to the mean, that is certainly a way to play it. However, we would not want to play this as a traditional target term liquidation play.
If you want that, we would recommend Invesco High Income 2024 (IHTA) which is trading at a 6.6% discount and liquidates in 2024 at $9.85. The NAV is currently $9.95 implying less of a chance of a distribution cut to bolster the NAV.
Yield Hunting: Take Advantage Of Our Free Trial While It Lasts
Alpha Gen Capital started Yield Hunting in April 2016 with one purpose in mind: to find yield in a yieldless world. While some subscriptions services will find yield at any cost, we pride ourselves on the fact that our core portfolio can generate a roughly 8% yield while exposing investors to one-third the risk of the S&P 500. Our goal is to construct a "low-maintenance portfolio" with a yield in excess of 8% on a tax-equivalent basis with capital gain optionality.
We utilize fixed-income CEFs, munis, baby bonds, among other investment vehicles to generate income, while mitigating the risk on the downside from adverse and identifiable risks. For safe and reliable income streams, check out our unique marketplace service. It is a great compliment to dividend growth (DGI) investing.
Our free trial program will end October 10. Try it free with no risk - subscribe today!
Disclosure: I am/we are long CORE AND PERIPHERAL. I wrote this article myself, and it expresses my own opinions. I am not receiving compensation for it (other than from Seeking Alpha). I have no business relationship with any company whose stock is mentioned in this article.