Summary
Believe it or not but the YTD -3% for investment-grade bonds is enough to make 2018 the worst year on record.
Nevertheless, we need to put things in the right perspectives.
The high-yield space really looks like it's completely disconnected from current fundamentals and trends.
Add to that a huge - and increasing - debt wall and you've got yourself a recipe for a credit disaster.
All your life people will tell you things. And most of the time, probably 95% of the time, what they'll tell you will be wrong. - Michael Crichton, regarding advice
Speaking of bad/contradicting advice...
On one hand, we have many companies buying back their own stocks. On the other hand, at the very same time, we see executives at those very-same companies doing the exact opposite: dumping their shares at record clip.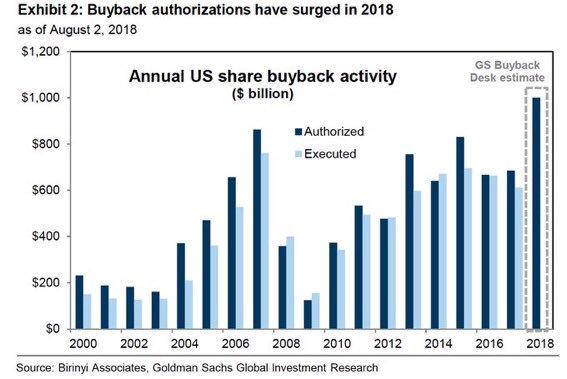 Insiders have sold $10.3B worth of stock in August alone! That's the highest amount of selling in the month of August over the past 10 years.
In this article, I'll try to provide you with a much clear, straightforward, non-contradicting advice.
With less than three months to go till year-end, US investment-grade bonds (AGG, LQD) are on pace for their worst year in history (using AGG for the below chart).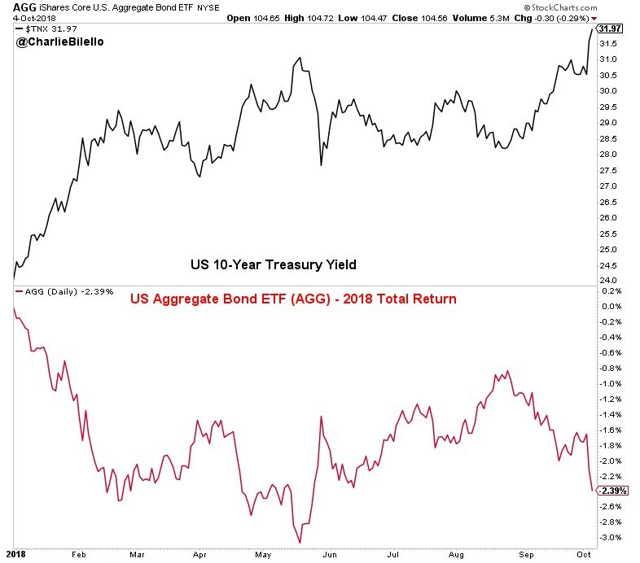 Yes, -3% would be the worst year ever (data back to 1976).
Well, I guess that we need to put things into the right perspectives here:
1. That's the worst year out of only three down years in total since 1976.

Source: @charliebilello
2. What bonds lose in their worst year (out of a 43-year period), stocks (SPY, QQQ, DIA, IWM) can lose in a single trading day.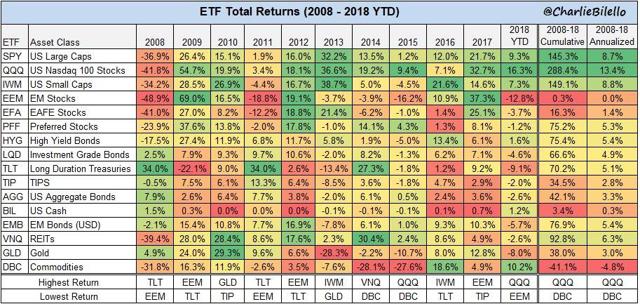 Above: Asset Class ETF Returns Since 2008. Note the most frequent appearances (on both highest and lowest returns) of Emerging Markets (EEM), with 6 appearances overall, and long-term US Treasuries (TLT), with 5 appearances overall.
Nonetheless, it's the tech sector (QQQ) that wins on both YTD and multi-year basis, and commodities (DBC) that loses on both time-frames, on the other hand.
3. Interest rates remain extremely low when you look at a chart showing over 5000 years of interest rates.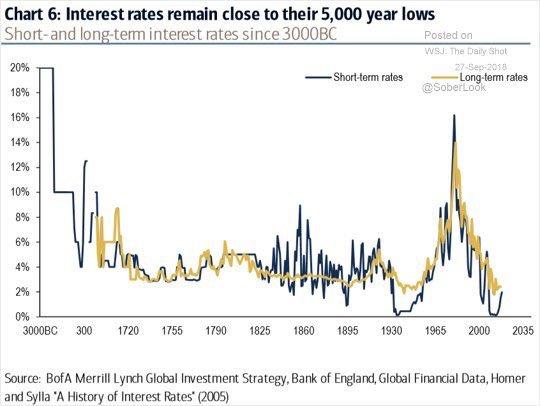 Taking into consideration i) the debt wall that many corporations are facing...,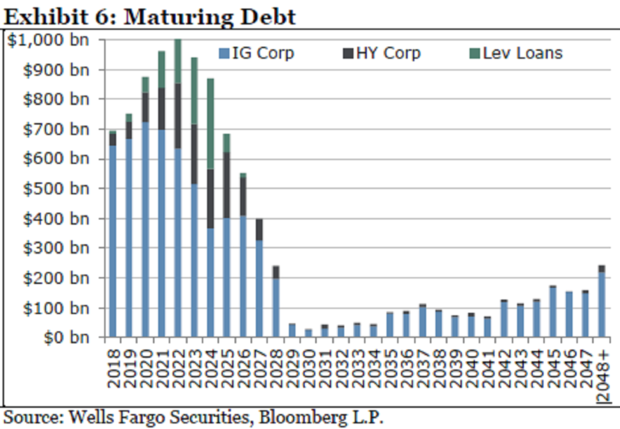 ... ii) a debt size that reflects a near-doubling spike since the beginning of the current decade...,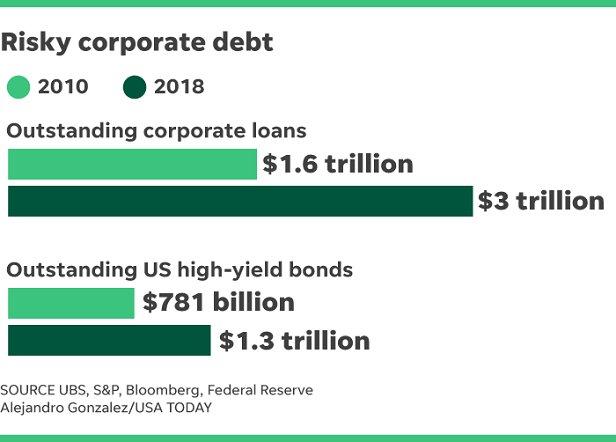 ... and iii) the extremely low spreads across the high yield space (HYG, JNK, AWF)...,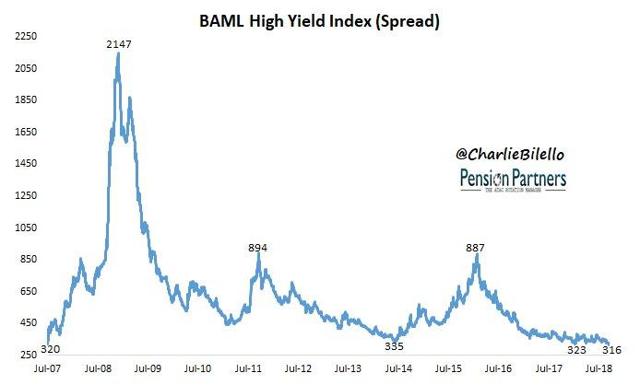 ... it's safe to assume that high-yield bonds have plenty of room to weaken from here, especially since it's crystal clear that spreads are way behind the Fed Funds rate (as evident by the below chart).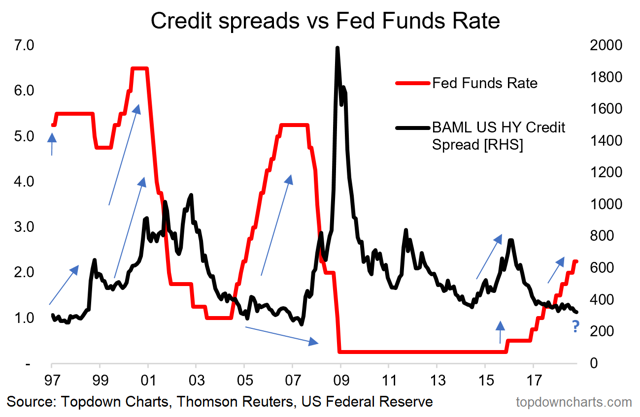 Therefore, we are reiterating our previous calls to move out of the way of the "runaway train", generally speaking, and to avoid bonds with medium-long duration specifically.
Author's note: Blog post notifications are only being sent to those who follow an author in real time. In order to receive notifications for both articles and blog posts, go to Author Email Alerts, which lists all the authors you follow, and turn on "get e-mail alerts" (see below).


The Wheel of FORTUNE is one of SA Marketplace's most comprehensive services. We view our service as a "supermarket of ideas" with an emphasis on risk management and risk-adjusted returns.
We cover all asset-classes: common stocks, preferred shares, public debts, baby bonds, options, currencies, and commodities.
With Trapping Value on-board, you're getting two leading authors for the price of one.
Before committing to the service on a long-term basis, take advantage of the two-week free trial.
Disclosure: I/we have no positions in any stocks mentioned, and no plans to initiate any positions within the next 72 hours. I wrote this article myself, and it expresses my own opinions. I am not receiving compensation for it (other than from Seeking Alpha). I have no business relationship with any company whose stock is mentioned in this article.