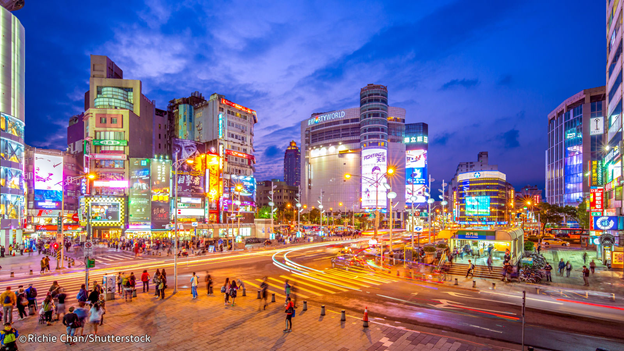 Emerging markets have been one of the worst performing asset classes year-to-date, down nearly 12%, and over 20% since their January peak. The drivers of this poor performance include the strengthening U.S. dollar/weakening local currencies, growth concerns, and geopolitical risks. The recent turbulence in Turkey and Argentina has exacerbated the concerns in emerging markets, although both countries are relatively small components of the index. That being said, the weakening of the lira and peso, in conjunction with plunging stock prices in those markets, has certainly rattled some investors. Making matters worse for emerging markets are the accelerating economic growth, rising interest rates, and a strengthening dollar that have made investments in the U.S. relatively more attractive. This is particularly true when considering the risks and volatility generally associated with emerging markets. These dynamics have caused capital to flow from those markets to the U.S. Additionally, rising debt levels in emerging countries denominated in U.S. dollars or euros, and ongoing trade disputes, have also thrown a wet blanket on emerging market stocks.
The graph below illustrates the downturn, highlighting the performance of the five largest constituents in the MSCI Emerging Markets Index. Clearly, performance has varied from one country to another with Taiwan slipping just into negative territory from a total return perspective. South Africa has been the largest laggard, falling by nearly 28% so far this year.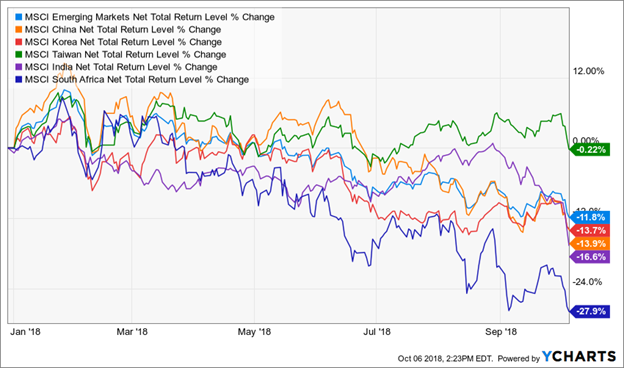 So, with all the recent pain, should investors abandon the emerging markets and seek comfort and perceived safety in dollar-denominated assets in the U.S.? Although that would be the easy thing to do, long-term investors should maintain or initiate positions in emerging markets, both in equities and in fixed income. For better or for worse during the short-term, emerging markets enhance portfolio diversification while providing exposure to the wealth creation and growth of the middle class in countries around the world. Has investing in emerging markets been a bumpy ride? Sure, you only need to look at the table below provided by JPMorgan (JPM) to see that. It seems like emerging markets are either at the top or the bottom of the stack and to make matters worse, it is completely unpredictable from one year to the next. However, over the sample period shown, emerging markets have outperformed the other asset classes on an annualized basis. But as we all know (or should know by now), past performance is not indicative of future results.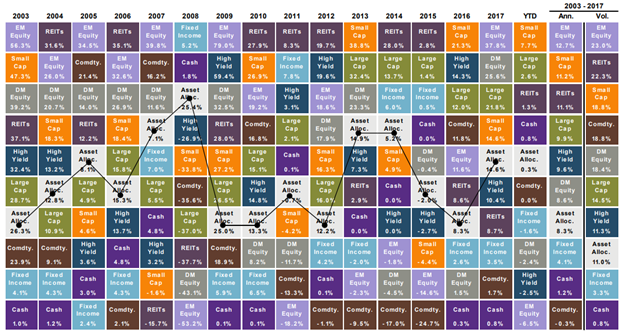 Dollar Impact
The strengthening of the U.S. dollar relative to other world currencies has certainly created a headwind for returns of securities traded in foreign markets. This impact is expected given that American investors look at returns in dollar terms, not from the perspective of the local currency. In other words, an investor who owned shares in a Turkish company may have recently experienced a negative investment return despite relative strength of the underlying investment. Look at the chart below to see the relationship between the U.S. dollar and emerging market stocks returns. Although not always obvious over longer periods due to the higher growth rates in emerging markets, over shorter periods of time, there is a pronounced inverse relationship between the U.S. dollar and performance of emerging market stocks.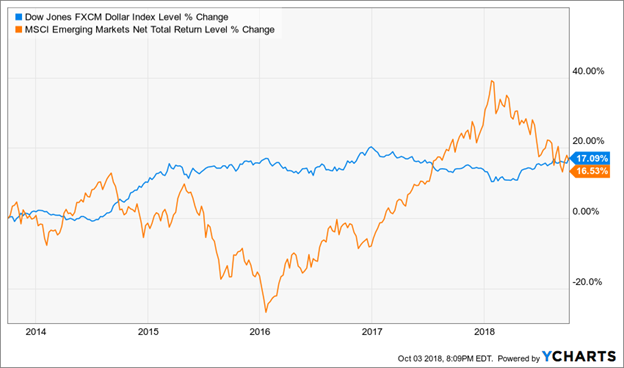 Economic Growth
While fluctuations in foreign exchange, geopolitical concerns, and headlines often dictate short-term movements in asset prices, long-term trends in economic growth ultimately drive prices higher. The chart below shows the close relationship between GDP growth in emerging markets and stock returns.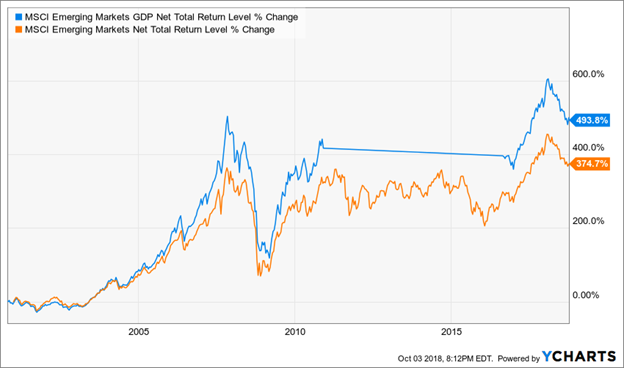 Capturing the Value of Rapid Emerging Market Growth
The appeal of investing in emerging markets is the opportunity to capture the faster economic growth than what is experienced in developed markets. This faster growth is driven by the rising consumer and middle class that is a consequence of the transition from agricultural to manufacturing-based economies. However, investing in emerging market index funds often does not fully capture this value driver due to their methodologies. The iShares MSCI Emerging Markets ETF (EEM), for example, is a market cap weighted index fund that is allocated more than 30% to China.
The fund is also dominated by large-cap information technology names as well as financial institutions. Although this is not bad in or of itself, it limits the exposure to geographies, industries, and companies that are directly benefiting from the rising standard of living of individuals in developing countries, the primary investment thesis for the asset class.
Long-term investors are better served by taking a more methodical and disciplined approach that doesn't simply focus on market cap. This will help avoid making large allocations to China and South Korea and particularly to the largest companies within those countries. By focusing on the smaller end of the market, investors can avoid over-allocating to financials, commodity-based business, export-driven business, and quasi-government organizations that are often plagued by corruption and governance issues.
The focus, particularly within equities, should be on smaller firms that sell into local economies. This allows investors to ride the rising incomes and living standards of local citizens as well as insulating them from the impact of trade disputes and foreign exchange effects.
Emerging Equities
While the information technology companies in China, South Korea, and Taiwan may be attractive based on their growth across global markets, they are sensitive to many of the same drivers that impact developed market stocks. One possible exception is Alibaba (BABA), which is both highly profitable and fast-growing, with approximately 90% of revenue generated within the Chinese market. The caveat with Alibaba is that its size in terms of market cap likely causes index funds to own a large amount while crowding out other, possibly faster growing, albeit smaller, companies. Conversely, financials, commodity/export driven companies are also disproportionately represented in index funds. These include firms like Vale (VALE), China Construction Bank (OTCPK:CICHY) or Hong Kong (939-HK), and CNOOC Ltd. (CEO).
There are alternatives to buying into inexpensive, yet inefficient index ETFs, both in equities and fixed income. Given the nature of these markets, emerging market investments can benefit from some active, or at least rules-based, management. For example, we currently use the DFA Emerging Markets Small Cap (DEMSX) mutual fund available through advisors on the DFA platform. The fund leverages the same factor tilts as DFA's other equity funds. Specifically, the fund tilts toward the companies that are more profitable, exhibit value attributes, and are smaller in terms of market cap. To be consistent with the idea that the greatest growth, and therefore greatest value to investors, is found within smaller companies, the Wasatch Emerging Markets Small Cap (WAEMX) offers a relatively concentrated portfolio that has large overweight positions to consumer-driven companies and underweight positions to financial services and energy. The allocation to technology is significant, but still below that of the index.
Of course, if you are not concerned with country or industry allocation, and simply want low-cost emerging market exposure, there are alternatives to the iShares MSCI Emerging Markets ETF, which charges 69 basis points. The Schwab Emerging Markets Equity ETF (SCHE) is a highly diversified portfolio of over 900 stocks with an expense ratio of 13 basis points. The Vanguard FTSE Emerging Markets Index Fund ETF (VWO), which costs 14 basis points, is even more diversified with over 4,000 individual positions. Again, these two ETFs will provide broad exposure to emerging markets albeit on a market cap weighted basis.
Benefit from Bonds
Bonds held in both developed and emerging markets can also generate attractive real returns during periods of a weakening currency and rising inflation in the U.S. Using active management in this space is most appropriate given the importance of understanding local markets and credit quality when evaluating potential investments.
The Eaton Vance Emerging Markets Local Income (EEIAX) allows investors to gain exposure to local currency emerging market bonds with a 30-Day SEC Yield of 6.3% and average credit quality of BB. The fund's largest holdings are spread across the Dominican Republic, South Africa, Mexico, Uruguay, and numerous other developing countries. The expense ratio is relatively high compared to typical equity funds and passive strategies, but the professional management, exposure to the asset class, and absolute return mandates justify the cost.
A less expensive option is the Hartford Emerging Markets Local Debt (HLDYX), which also has average credit quality of BB and 30-Day SEC Yield of 5.8%. The fund has exposure to some developed markets as well as the U.S. in addition to emerging market bonds in local currency. The top three country exposures are currently South Africa, Mexico, and the U.S. Other countries include Hong Kong, Chile, and the United Arab Emirates.
The chart below shows that emerging market debt has also performed poorly year-to-date.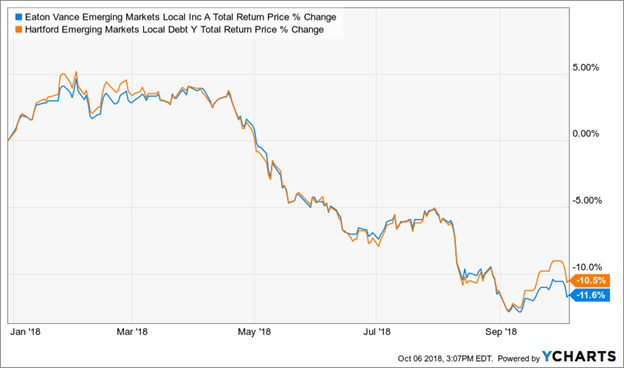 Final Thoughts
The ideas I described above can be interpreted as somewhat contrarian given the recent poor performance across emerging market equities and debt. The idea is to maintain or initiate exposure to these assets despite recent performance in order to benefit from the long-term growth of these markets. The drivers of recent performance, namely U.S. dollar strengthening and trade disputes, are unlikely to persist long-term. However, the rapid growth and development of these markets are likely to persist. The recent downturn provides an attractive entry point to gain exposure, or at least an opportunity to re-balance to restore target allocations to the space.
Using the above strategies should be looked at within the broader context of the global financial markets and sized appropriately. Any overweight or underweight position needs to be considered carefully to understand its impact on long-term total returns. I look forward to your feedback and answering your questions in the comment section below.
Disclaimer
Please remember that past performance may not be indicative of future results. Different types of investments involve varying degrees of risk, and there can be no assurance that the future performance of any specific investment, investment strategy, or product (including the investments and/or investment strategies recommended or undertaken by Mosaic Advisors ("Mosaic"), including the author, or any non-investment related content, made reference to directly or indirectly in this commentary will be profitable, equal any corresponding indicated historical performance level, be suitable for your portfolio or individual situation or prove successful. Due to various factors, including changing market conditions and/or applicable laws, the content may no longer be reflective of current opinions or positions. Moreover, you should not assume that any discussion or information contained in this commentary serves as the receipt of, or as a substitute for, personalized investment advice from Mosaic or the author. Mosaic is neither a law firm nor a certified public accounting firm and no portion of the commentary content should be construed as legal or accounting advice. A copy of the Mosaic's current written disclosure Brochure discussing our advisory services and fees continues to remain available upon request.
Disclosure: I am/we are long DEMSX.
I wrote this article myself, and it expresses my own opinions. I am not receiving compensation for it (other than from Seeking Alpha). I have no business relationship with any company whose stock is mentioned in this article.
Editor's Note: This article discusses one or more securities that do not trade on a major U.S. exchange. Please be aware of the risks associated with these stocks.