Is Wirecard Still A Buy At The Current Price?
Includes:
ADYYF
by: Christoph Liu
Summary
Wirecard AG is profitable and fast-growing.
The company has recently replaced Commerzbank AG as member of German DAX index.
The market for online and mobile payment solution has huge growth potential.
However it is also highly competitive.
A considerable growth is necessary to merely justify the current price level.
Wirecard AG (OTCPK:WRCDF) was one of the best-performing German stocks of the year so far. This lead has also lead to the Company being included in German blue chip index DAX replacing outgoing Commerzbank (OTCPK:CRZBY). Although time and time again the stock suffered several backdrops and was temporarily among the most-shorted German stocks it seems to know but one direction recently: up. The company is growing at a fast pace and is highly profitable. Wirecard offers a wide range services to its customers such as payment processing, numerous kinds of white label solutions ranging from customer- and credit-cards to mobile card-readers and communication services such as callcenters. The subsidiary Wirecard Bank AG has a German banking license enabling the group to offer a further range of solutions, for example it holds a number acquiring and issuing licenses. Wirecard also operates "boon", a mobile payment application directed at consumers.
The company has indeed come a long way from its beginnings as a payment processor for the shadier corners of the then new internet. Despite its profitability and rapid growth, however, one might wonder wether Wirecard is still a stock to buy at the current price level (the current p/e ratio is well above 70).
Financials
Wirecard has been growing considerably in recent years in terms of both revenue and EBITDA. Another important metric is the development of transaction volume (i.e. the total amount of payments processed). The graphic below shows the pace of Wirecard's growth in the five most recent full year periods (2013, 2014, 2015, 2016 and 2017).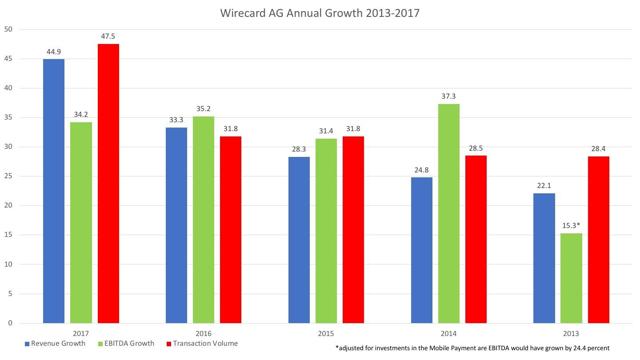 Wirecard accelerated its growth in the first half of 2018.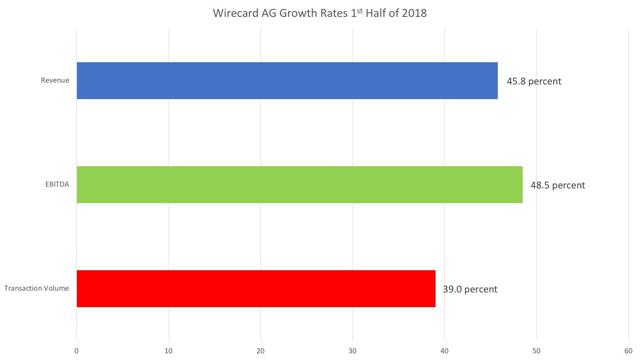 Wirecard breaks up its revenue into the segments Payment Processing and Risk Management, Acquiring and Issuing, Call Center and Communication Services and Consolidation. A little over two thirds of Wirecard's 2017 revenue was generated by the payment processing and risk management, close to another third by acquiring and issuing. The callcenter operations are comparably irrelevant.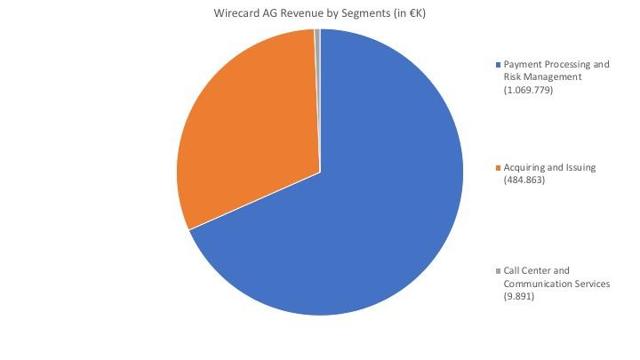 Please note: I excluded consolidation in the above graphic, as, naturally, it is a negative number.
The payment processing and risk management segment does also have the highest margin. As the half year report for the first half of 2018 shows, the payment processing and risk management segment is not only by far the biggest source of revenue but also the fastest growing.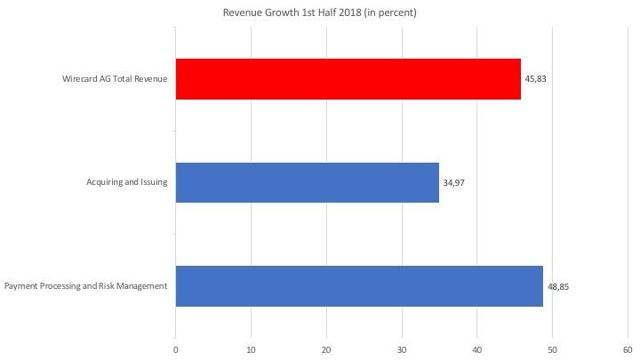 The company reported an EBITDA of €245.4m for the first half of 2018 (first half 2017: €176.5m) and €412.6m for the full year 2017. The EBITDA-margin for the first half of 2018 was 27.3 percent (full year 2017: 27.7 percent).
Wirecard grows both organically and by means of acquisitions. For instance the company reported an organic revenue growth of 24.7 percent for 2017 compared with 44.9 percent overall growth (Wirecard does not provide organic growth figures for other years).
For the full year 2018 the management forecasts and EBITDA in the range of €530m to €560m (which would imply a growth of between 28.45 percent and 35.72 percent).
A Market With Huge Future Potential...
The market for mobile and online payment-solutions is without any doubt one that will continue to grow at a considerable pace. This is fueled by macro trends like a growing global middle-class and the seemingly inevitable rise of online shopping. Naturally this presents companies operating in this market with huge growth perspective. Notably, Wirecard has shown its ability to grow both organically and by acquisitions in the past. As an established player with solid financials and an experienced leadership-team Wirecard seems on track to achieve further growth in both revenue and profit in such environment.
...But Also With Considerable Competition
Nonetheless, Wirecard is not the only company in this market. There is a large number of competitors. While payment service providers like Wirecard and similar companies might have replaced classic acquirers to a considerable extent, they do not differ from one another really much in terms of their range and quality of services. However the more standardized a product or service becomes, the more important of a factor the price will be. Especially in the B2B-segment, as decisions tend to be more rationally motivated here compared to the consumer segment. White label products of all kinds are near impossible to differentiate via a brand name (after all that's what white label is all about, isn't it?). Now here comes the problem with that: As probably you would have guessed already, price-sensitive, highly competitive markets are a natural enemy of high margins.
Dutch Adyen NV (OTCPK:ADYYF) possibly is the company most similar to Wirecard. While they do offer a similar range of services, they differ in terms of their geographical markets and their customers. Both companies' largest market is Europe. While, however, Adyen generates roughly a third of its revenue on the American market, Wirecard is particularly present in Asia. Also, while Adyen specializes in bigger businesses as their customers. Consequently, Wirecard has a far greater number of individual customers yet a far lower revenue per customer.
What is striking is, that Adyen was able to achieve close to a third of Wirecard's EBIT (1st half 2018: Adyen €70.3m; Wirecard €245.4m) with just a fraction of employees (768 compared with 4,989 employees on average). My theory is that this is a result of Adyen's more specialized customer portfolio with fewer but larger clients. Naturally, it requires a far greater number of employees to acquire and manage a larger number of clients of vastly different sizes. This is also reflected by the respective transaction volumes. Adyen does have a considerably larger transaction volume (2017: Wirecard €91bn; Adyen €108bn) but Wirecard's is currently growing at a faster pace (1st half 2018 Wirecard +48.8 percent; Adyen +43.1 percent).
Revenue on the other hand is sort of a mirror image: substantially larger at Wirecard (1st half 2018: Wirecard €897.6m, Adyen €156.4m) growing faster at Adyen (1st half 2018 +67.3 percent; Wirecard +45.8 percent). I believe this to be a reflection of Adyens aggressive pricing strategy in order to acquire large corporate customers.
Wirecard's EBITDA-margin for the first half of 2018 reached 27.3 percent. This is down from 27.7 percent and down from 29.9 percent in 2016. While this might seem rather insignificant, it does show that margins have already begun to continually decrease. Of course the rapid growth is a utmostly reasonable explanation for this. On the other hand Adyen was able grow revenue even faster while at the same time increasing EBITDA-margins. As Wirecard is less specialized and thus working with higher expenditures it might come into a position where it will be at a certain disadvantage compared with more cost-efficient competitors.
In this piece I compared Wirecard primarily with Adyen. However, there are also other competitors such as Worlpay, Inc. (NYSE:WP), FirstData Corp. (NYSE:FDC) or Worldline (OTC:WRDLY) to name but a few. Furthermore, new rivals could arise in the form of finch-start-ups as well as "traditional" financial sector companies developing their own solutions. Therefore I believe that it should not simply be seen as a given that Wirecard will be able to keep up the pace of its growth and the level of its margins forever.
Irregularities?
A further risk in the short-term are the allegations of misconduct and irregularities against Wirecard which from time to time have been emerging. For instance there have been accusations of money laundering, facilitating illegal gambling and corruption. The company has also been accused of manipulating its balance sheet. I will not go into detail, as those seem to have been mere rumors and the -sometimes obscure- figures behind them regularly failed to deliver prove of their allegations. There has even been an investigation of potential market manipulation by German prosecutors. However, regardless of whether they were objectively justified or not, those rumors have frequently caused substantial share price drops for Wirecard. Taking into considerations the past of the company (which in some regard makes it an "easy target"), I do believe that investors should be aware of the risk associated with the possibility of further allegations.
Conclusion
Wirecard is certainly a decent business in a growing market. The company's market position seems favorable and its financials are solid. It is nonetheless far from a cheap valuation. Exceptional growth will already be needed to justify the current price level. Taking into consideration the competitive nature of the market for payment solutions it is not guaranteed that Wirecard will be able to grow at this pace forever and it is certainly possible, that margins will come under pressure.
Investors who are shareholders already do own a piece of what might -by acquisitions or organically- become one of the most valuable houses in the financial sector. But as I pointed out, this is not guaranteed. I am somewhat confident that Wirecard is on track to achieve results that will justify its price level within a medium time horizon. But I am not nearly as convinced that it will be able to provide even further growth potential than what is already priced in.
If however there should be a dip in Wirecard's stock price it could very well be a good opportunity to buy a fast-growing and profitable business at a -then- reasonable price.
Disclaimer: All research contained in this article was done with utmost care. However, I cannot guarantee accuracy. Every reader is advised to conduct his own due diligence and research.
All graphics contained in this article have been created by me using Microsoft Powerpoint.
Disclosure: I/we have no positions in any stocks mentioned, and no plans to initiate any positions within the next 72 hours. I wrote this article myself, and it expresses my own opinions. I am not receiving compensation for it (other than from Seeking Alpha). I have no business relationship with any company whose stock is mentioned in this article.