TransEnterix (TRXC) is a medical device company pioneering the use of robotics to advance minimally invasive surgery. The Senhance Surgical Robotic system addresses clinical and economic challenges associated with laparoscopic and robotic operations throughout healthcare systems globally. The Senhance Robotic system incorporates haptic feedback and eye sensing camera control for the surgeon while performing surgeries with minimally invasive incisions which increase healing for patients who undergo laparoscopic surgeries. The use of Robotics is becoming more common in surgeries and this is a trend that I do not believe will reverse. Eventually the days of surgeons performing procedures on patients with just their hands will be obsolete. TransEnterix has a product that can help revolutionize the medical field while increasing the level of care delivered to patients. This company has a trifecta on their hands including advancing the medical field, improving patient care and delivering large profits for shareholders.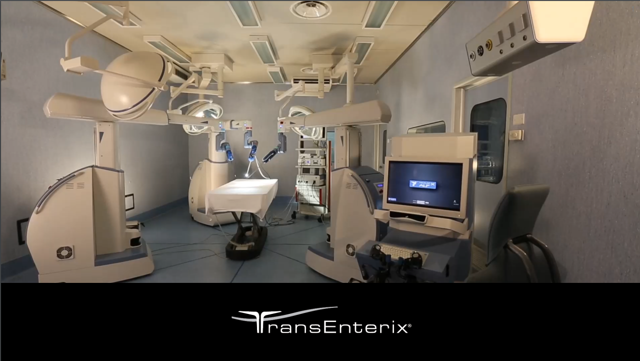 (Source: TransEnterix Presentation)
Pre-release update for Q3
TRXC provided a corporate update on October 1st, 2018 a little more than a month before their scheduled earnings call. TRXC sold four Senhance Surgical Systems in the third quarter. In the United States the University of Pittsburgh Medical Center purchased a Senhance system to be utilized at the Magee-Women's Hospital in Pittsburgh. The Magee center provides specialty services with a focus on gynecologic and obstetric services. The University of Pittsburgh Medical Center is a $19 billion integrated nonprofit health enterprise which has over 80,000 employees, 35 hospitals, 8,000 licensed beds, 600 clinical locations including outpatient sites and doctors offices and a 3.4 million-member health insurance division.
The other three units were sold in Europe, the Middle East and Africa. One unit was sold to Maxima Medical Center in Veldhoven, Netherlands. Maxima is a member of a cooperative association of the 20 largest Dutch teaching hospitals that work together in areas of education and quality control, to guarantee the best level of healthcare. The remaining two units were sold to distributors one of which was a demonstration unit which will be used to support territory marketing and regulatory initiatives.
On September 23rd, 2018 TRXC announced it had entered into an agreement to acquire all of the assets of MST Medical Surgery Technologies Ltd. (MST) which is an Israel medical technology company. MST is a leader in surgical technology having developed a software-based image and analytics platform which is powered by advanced visualization, scene recognition, artificial intelligence, machine learning and data analytics. Acquiring MST will allow TRXC to implement their intellectual property (IP) portfolio and utilize MST's R&D team to deliver digital laparoscopy. This will allow TRXC to increase control in the surgical environment and reduce surgical variability.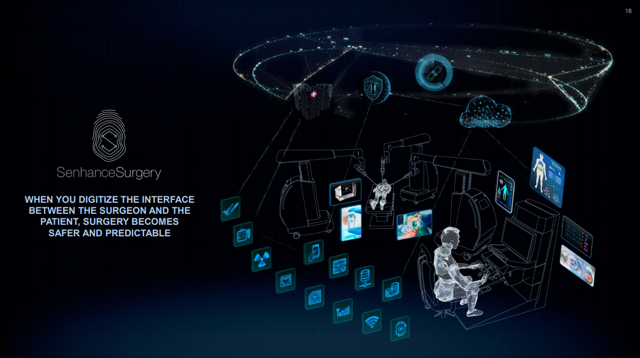 (Source: TRXC Acquisition of MST Medical Surgery Technologies Ltd)
Why TransEnterix is the company to bet on
In October of 2017, TransEnterix announced FDA 510(K) clearance for the Senhance Surgical Robotic System. This clearance made the Senhance Surgical Robotic System become the first new market entrant into the field of abdominal surgical robotics since 2000. The system builds on the foundation of laparoscopy and features the security of haptic feedback and eye-sensing camera control for the first time in a robotic surgery platform. The Senhance Surgical Robotic System utilized an open architecture, which allows hospitals and surgeons to leverage existing technology investments within the operating room ecosystem. The system is specifically engineered to manage operative costs effectively, making robotic surgery cost-effective on a per-procedure basis using fully reusable instruments.
The initial addressable procedure that the Senhance Surgical Robotic System was FDA approved for was for Gynecologic Colorectal procedures which was estimated at 1.5 million procedures per year. In May of 2018 the FDA cleared TransEnterix' s 510(K) for the Senhance Surgical Robotic System to be used for inguinal hernia and cholecystectomy surgery as well. Studies have estimated that 1.2 million laparoscopic cholecystectomies (gallbladder removal procedures) and 760,000 inguinal hernia surgeries are performed within the United States on a yearly basis. This expanded the addressable procedures for the Senhance Surgical Robotic System to over 3 million annual procedures.
In the first quarter of 2018 TransEnterix received the Taiwan Food and Drug Administrations approval for the Senhance system also. Clinical cases within Japans healthcare system have received positive feedback from clinicians. Japan is the second largest market for robotic surgeries being the United States which makes this approval critical to the future growth of the organization.
The Senhance Surgical Robotic System was purchased by The Florida Hospital Orlando Campus and LSU Health
The Florida Hospital Orlando Campus is the home of the first commercially purchased Senhance Surgical Robotic System in the United States. Florida Hospital is a member of Adventist Health System, which operates 45 hospitals in 9 states. There are over 5 million patients treated throughout this system annually. Florida Hospital is on the cutting edge of healthcare practices as it is home to the Florida Hospital Institute for Surgical Advancement, the Florida Hospital Nicholson Center and the Global Robotics Institute. The Florida Hospital Nicholson Center is a facility specializing in training surgeons from around the globe on the latest surgical technology and techniques. The Global Robotics Institute is a world leader in the robotic-assisted treatment of prostate cancer.
Dr. Steve Eubanks surgeon and Executive Medical Director for the Institute for Surgical Advancement at Florida Hospital stated "The digital operating room of the future has arrived, and our surgeons will continue to be leaders in applying robotic technology, like the Senhance, to benefit our patients across a full range of procedures and specialties," and "Our team of clinicians selected the Senhance Surgical System to further our minimally invasive offerings. We believe this robotic system will support our surgeons in maximizing their precision and control during procedures while minimizing costs."
LSU Health at the end of May 2018 completed their purchase of the Senhance Surgical Robotic System and it will be installed at the University Medical Center New Orleans. UMC New Orleans is home to the Reverend Avery C. Alexander Academic Research Hospital with an academic medical center partnership with LSU Health New Orleans, Tulane University School of Medicine and other local colleges and universities. UMC New Orleans will be a center for clinical excellence utilizing the Senhance Surgical System in general, colorectal and gynecologic surgery.
"LSU Health New Orleans and University Medical Center New Orleans see the Senhance Surgical System as an important and necessary advance in surgical care," said Dr. Guy Orangio FACS, FASCRS, Chief Section of Colorectal Surgery at LSU Health New Orleans, and President of the American Society of Colon and Rectal Surgeons. "This new robotic system brings enabling technology with haptic feedback and innovative surgeon camera control while minimizing costs and maintaining existing efficiencies."
"Patients are seeking minimally invasive options that utilize the most advanced technology to treat gynecologic conditions," said Dr. Lisa M. Peacock, Chairperson of the Department of Obstetrics and Gynecology, and Section Head and Program Director of Female Pelvic Medicine and Reconstructive Surgery at LSU Health New Orleans. " As an academic medical center, we believe this new robotic surgical platform will play an important role in our continued leadership in surgical teaching, research, and providing excellent patient care."
TransEnterix announces a groundbreaking FDA 510(K) submission for 3mm Senhance Instruments which if approved will revolutionize robotic assisted surgeries
In June 2018 TransEnterix filed a FDA 510(K) submission for additional Senhance System instruments which included 3mm diameter instruments. TransEnterix is the first company to file for 3mm instruments with the FDA and the only company to gain FDA approval in this industry since 2000. If the FDA approves this 510(K) it would allow the Senhance machine to be used for micro laparoscopic surgeries. Surgeons would have the ability to make tiny incisions which are deemed virtually scarless for patients. Currently laparoscopic surgeries performed in the EU and US are performed by incisions of about 7MM-6MM incisions. TransEnterix has an FDA 510(K) submission for 3MM instruments which would significantly decrease the diameter of an incision as well as increase healing time for a patient undergoing laparoscopic surgery. TRXC anticipates that they will receive FDA 510(K) clearance for their expanded instrument set which includes 3mm diameter instruments by the end of 2018.
Dr. Steven D. McCarus, MD, FACOG, Chief of Gynecologic Surgery at Florida Hospital Celebration Health has spoken on this topic saying "Micro laparoscopy is the current frontier in the process of reducing invasiveness, pain, scarring and opioid use post-surgery," and "With Senhance, robotic micro laparoscopic surgery is a reality, bringing precision, control and sensitive force feedback to the use of these tiny surgical instruments. Surgeons have not had the ability to use such small instruments with a robotic surgical platform before, and this offers patients an attractive, virtually scarless approach to many surgeries."
Financial health and a growing industry
In the corporate update from October 1st 2018 TRXC had preliminary unaudited cash and cash equivalents as of September 30th of approximately $82 million. TRXC anticipates that they have sufficient cash levels to fund their business through 2020 as they continue to grow their business. TRXC is starting to gain steam with four sales of the Senhance system in Q2 and at least four sales in Q3. The cash on hand does not include future sales or reoccurring revenue from Senhance instruments and supplies.
The addressable abdominal surgical robotics market is estimated to grow from $2.9 billion in 2017 to $15.8 billion in 2023. This is just a short-term picture as more machines are introduced into hospitals and surgeons make the transition to operating with robotic assistance. The addressable market has a high probability to continue its upward trajectory well past 2023.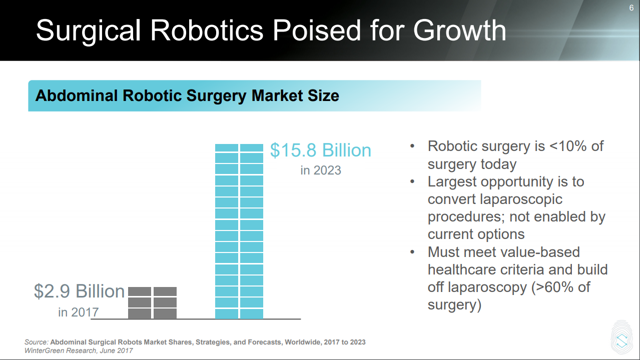 (Source: TRXC JP Morgan Healthcare Conference)
Final Thoughts
With the Senhance System being sold to large health systems such as LSU Health, The Florida Hospital Orlando Campus and the University of Pittsburgh Medical Center the party is just getting started. These hospital systems have the capacity and means to purchase more Senhance systems and place them throughout their footprint. More medical students and graduates conducting their residencies will be trained on these systems and eventually robotic assisted surgery could become the norm.
I believe TRXC will continue to grow their business and I can see their market cap exceeding $10 billion. A valuation of $10.2 billion would put the share price at $48.69 which is roughly a 900% increase. Currently TRXC has a market cap of $1.134 Billion and their shares closed at $5.41. With the recent news of Medtronic's (MDT) acquisition of Mazor Robotics (MZOR) to grow further in the field of robotic spine surgery it isn't outside the realm of possibilities that a larger suiter acquires TRXC for similar reasons. I have been a shareholder since 3/28/17 and I believe that TRXC is a winner and shareholders can see huge gains if they play the long game.
Disclosure: I am/we are long TRXC.
I wrote this article myself, and it expresses my own opinions. I am not receiving compensation for it (other than from Seeking Alpha). I have no business relationship with any company whose stock is mentioned in this article.
Editor's Note: This article covers one or more stocks trading at less than $1 per share and/or with less than a $100 million market cap. Please be aware of the risks associated with these stocks.