As I contemplate lacing up my running shoes tonight in effort number 218 of my adult life (roughly) to "get back in shape" I am reminded of the line "it's a marathon, not a sprint". Sadly, for several reasons, that line seems perfect for this monthly update. Allow me to explain.
What does that saying mean? Well, one possible interpretation is that in order to create a retirement portfolio in this manner (dividend growth investing) you must do it slowly over a long period of time. World class marathoners run a marathon in about 2 hours. Most people take twice as long, and the average finishing time is roughly 4.5 hours. Creating a retirement portfolio using dividend growth stocks is not a "get rich quick" strategy. It takes a long time, it is a "get rich slowly" strategy if you will, but I do think that get rich you will if you follow this strategy and do a good job.
You may have gathered that running is my exercise of choice when it comes to losing weight or getting in shape. I've been running (off and on as you also may have gathered) for 30+ years and I've never gotten close to a marathon. So another interpretation of the marathon and sprint saying is that marathons are hard. REALLY hard. I've only managed to run a half marathon, once, and that was hard.
A sprint is easy. A 100 meter dash is over in less than 10 seconds in the Olympics. I'm not saying being a world class sprinter is easy, but pretty much anyone that can run and is in reasonable shape can run 100 meters rather quickly, maybe in 20-30 seconds.
So getting rich, and retiring well, is REALLY hard and takes a long time. I'm not trying to depress you, I swear, but as much fun as I'm having doing this it is not easy.
One final comparison. The actual day of the marathon is the culmination of months and probably years of training. Very few people can go from couch potato to marathon runner in fewer than 6 months. Most people don't even think about that, they have been running for years and decide "hey, I think I'll try a marathon" and even then have to train for months and months to go run for four straight hours. Retiring with a dividend growth portfolio is similar to this. The finished product, a stock portfolio with 30-35 stocks that is throwing off a couple thousand dollars a month in dividends, is not built overnight. It takes decades for nearly all of us to put together a portfolio that looks like that. Not only that, there are often times injuries while you're training (dividend cuts) that you have to overcome. You can be cruising along in your training, and all of a sudden a vacation comes along and before you know it you haven't run in a week and you have lost ground. Running a marathon takes dedication and you likely are going to have to make adjustments on your way to race day.
So getting rich and retiring well on dividends is REALLY hard, takes dedication, forces you to make adjustments, and takes a long time. In these ways, building a dividend growth portfolio is very much like running a marathon.
That said, September was a very busy month for the Soule family and I didn't do ANYTHING in my portfolio this month. No transactions. So I did not add any shares of any stocks, did not add any new positions, and I don't believe there were any dividend increase announcements. However, even though I didn't do a thing for an entire month, I did continue to receive my dividends that my previous hard work purchased for me.
So with that rather lengthy introduction, let's get into the numbers.
September Dividends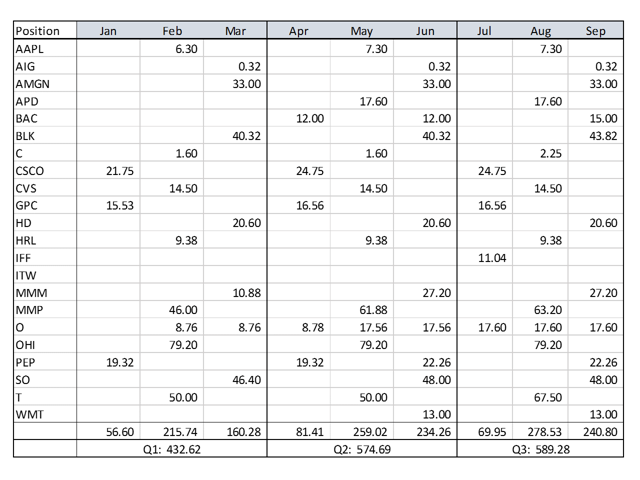 All graphs and charts created by author unless otherwise specified
So despite my inaction we collected $240.80 in dividends in the month of September. The third quarter was very close to $600, a number I expect will be eclipsed in the fourth quarter. This month more than doubled last September's total of $109.53 as you can see below.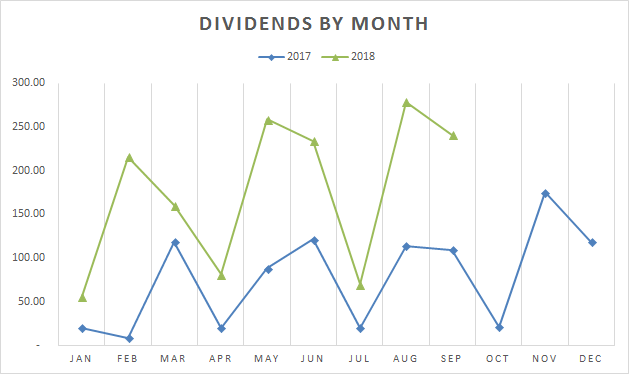 September Performance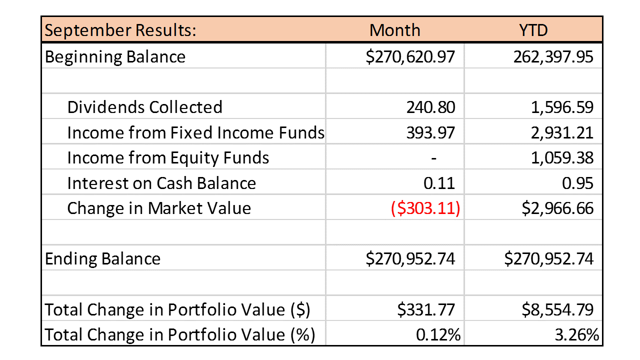 Well, while I was out not much changed from a total return perspective. The portfolio was up, though very slightly, for a third straight month. That's nice. The slight dip in market value was more than made up for with the dividends and fixed income distributions.
AT&T Inc (T) finally seems to be rebounding and was up 5.1% for the month. Amgen Inc (AMGN) was up 3.7% and International Flavors & Fragrances Inc (IFF) was up 6.8%. My financial stocks and REITs took it on the chin, and the small cap and mid cap funds finally had a down month.
Individual Stocks
The following table shows you the stocks in the portfolio as of September 28, 2018: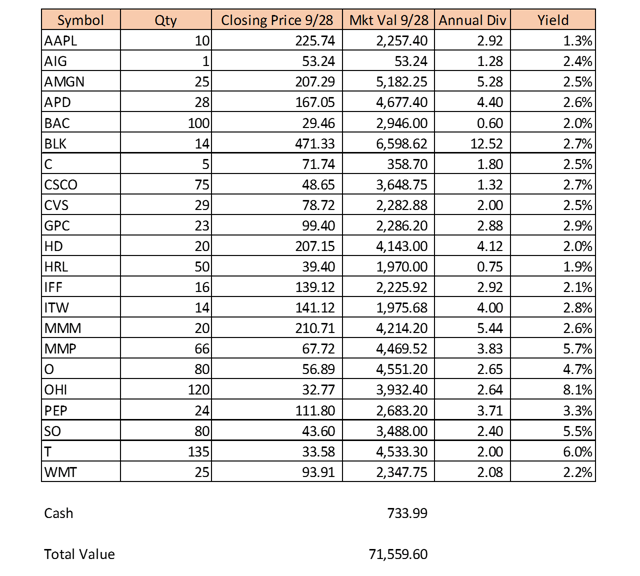 As of the end of September my portfolio dividend yield stood at 3.5%. Most of these stocks either have high yields or grow their dividends quickly. One name stands out as I look down the list, and that is CVS Health Corp (CVS) which has been paying the same $0.50 per share since January of 2017, ever since the Aetna Inc (AET) merger was announced. CVS has had a good run the past couple of months and it might be time to review this position again to see how they are progressing with their debt reduction plan. The merger should close sometime in Q4, so maybe at that point we'll review this holding.
Projected Dividends
And here are the projected dividends for the remainder of 2018.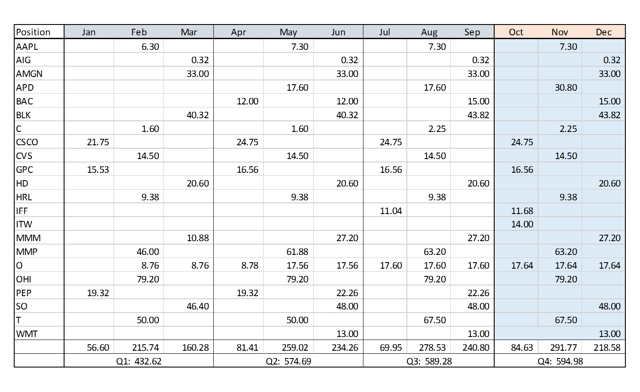 No change from last month so I'm not going to say much about this. If I add a position in October, which I 100% plan on doing, I do expect to see Q4 pop above $600 in dividends which would be a first. Stay tuned.
Sector Diversification
| | |
| --- | --- |
| Consumer Discrectionary | 9.1% |
| Consumer Staples | 9.9% |
| Energy | 6.3% |
| Financials | 14.1% |
| Health Care | 10.5% |
| Industrials | 8.7% |
| Materials | 9.7% |
| REIT | 12.0% |
| Technology | 8.3% |
| Telecom | 6.4% |
| Utilities | 4.9% |
| | 100% |
As you can see there is only one sector below 5% now, and that is the utilities sector. Southern Co (SO) was relatively flat during September and the growth of some other stocks via price appreciation and the addition of another industrial stock in August dropped utilities below 5%. So I'll be looking to add capital to the utilities sector very soon.
Energy and Telecom are the other two sectors where I'll be looking to add some capital since those are the only other two below 8%.
Asset Allocation of the Portfolio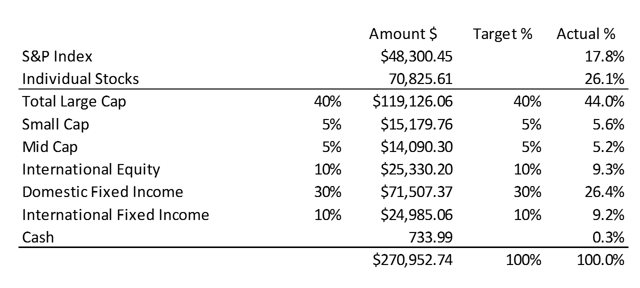 There was very little change here as well. As mentioned, my small and mid-cap equity funds fell back to earth a little bit and so their percentages dropped a little closer to my targets. My domestic fixed income funds actually increased in value, but only slightly, so no change to the 26.4% number. I would like to see that number much closer to my target of 30%. I haven't addressed it yet, maybe in October.
Sales and Purchases in September
None (if that wasn't clear yet). Sorry. This won't be blank next month, I promise.
Forward Looking Dividends
This month would also be the same as last month since there were no additions and no dividend hikes. I'm not going to add that table in here because it would really add nothing. The dividends expected for the next twelve months using nothing but today's knowledge remain steady at $2,468.28. I would expect that to exceed $2,500 following my next purchase in October and I will try to add a line graph that shows my progress. No need to add a line graph with a perfectly flat line and two data points however.
Final Thoughts
So it is time to get back to my training. I need to research my next addition and start once again adding $40, $50, $60 or more in annual dividend income to my future each and every month.
It is comforting, however, to have made no moves in this portfolio - heck, I barely even logged on - and still receive over $600 in dividends and distributions. To date I have taken in almost $5,600 in dividends and fixed income and equity fund distributions. That is almost the exact value of my Magellan Midstream Partners LP (MMP) and Realty Income Corp (O) positions, which together add over $450 of annual income (and growing). This is the power of compounding and my portfolio has definitely started benefiting from that power.
Going forward I will be looking to add stocks in the following sectors: Utilities sector first, and then telecom and energy not necessarily in that order. The utilities sector has under performed the S&P 500 lately so there should be some names to scoop up. My favorite utilities stock, SO, is near 52 week lows. Already though it is almost 5% of my total overall stock portfolio so I think I will add a new utilities stock. Similarly in both the telecom sector and energy sector I only have a single position and so T and MMP each make up over 6% of my stock portfolio. I'd prefer more diversification than that so when the time comes to add to my energy and telecom position it probably won't be more MMP and T.
I'm looking forward to getting my head back in the game. I'm also looking forward to lacing up my running shoes and shedding some of this unsightly belly fat, though I did enjoy putting it there if we're being honest. I can't wait to project my $600 fourth quarter and a little later to see my projected forward dividend income reach and exceed $3,000 for the next 12 months.
Thank you for reading, and as always best of luck!
Disclosure: I am/we are long AAPL, AIG, AMGN, APD, BAC, BLK, C, CSCO, CVS, GPC, HD, HRL, IFF, ITW, MMM, MMP, O, OHI, PEP, SO, T, WMT. I wrote this article myself, and it expresses my own opinions. I am not receiving compensation for it (other than from Seeking Alpha). I have no business relationship with any company whose stock is mentioned in this article.