Welcome to our Weekly Cannabis Report, a reliable source for investors to receive the latest developments and analysis in the cannabis sector.
Trading Summary
All three marijuana ETFs traded lower last week. The Horizons Marijuana Life Sciences Index ETF (OTC:HMLSF) closed down 3.5%. The Horizons Emerging Marijuana Growers Index ETF (OTCPK:HZEMF) that tracks smaller growers closed down 2.3%. ETFMG Alternative Harvest ETF (MJ) fell 3.1%.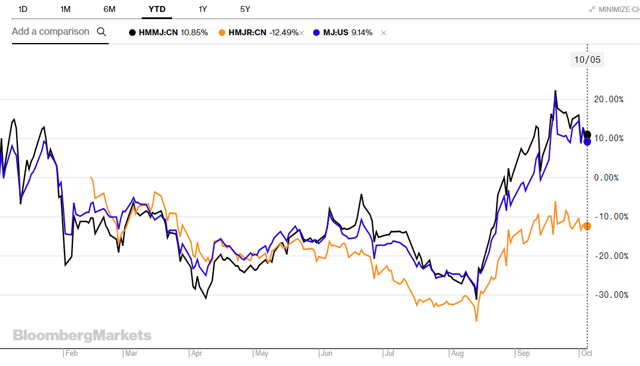 The large-cap group traded lower to kick off October. Aurora (OTCQX:ACBFF) and Tilray (TLRY) were the only stocks that ended the week positive. Canopy (CGC) fell 2.4%, Aphria (OTCQB:APHQF) fell 9.4%, Cronos (CRON) fell 12.1%, HEXO (OTCPK:HYYDF) fell 3.2%, and Green Organic Dutchman (OTCQX:TGODF) fell 11.7%. CannTrust (OTC:CNTTF) also fell 5.4% despite several positive news. The large-cap group still produced some of the best YTD performances as September was an exceptionally strong month.
In the mid-cap space, notable movers include Canopy Rivers (OTCPK:CNPOF) which continued its slide with a 15.4% drop last week, after dropping 18.1% the prior week. TerrAscend (OTC:TRSSF) continued to soar with a 24.9% gain on top of prior week's 26% gain. Organigram (OTCQX:OGRMF) bucked the trend with an 8.0% gain and we believe it is a stock that continues to be overlooked by the market. Namaste (OTCQB:NXTTF) fell 18.4% after Citron published a second short report. Village Farms (OTCQX:VFFIF) dropped another 6.0% which is consistent with our cautious stance on the stock. Khiron Life Sciences (OTCQB:KHRNF) is a new name we added to our watchlist and we will initiate our coverage with a detailed analysis this week.
Among U.S. cannabis stocks, Liberty Health (OTCQX:LHSIF) was flat, iAnthus (OTCQX:ITHUF) fell 5.0%, MedMen (OTCQB:MMNFF) rose 10.9% after increasing its term loan to C$100 million, Green Thumb (OTCQX:GTBIF) fell 8.7%, Golden Leaf (OTCQB:GLDFF) rose 1.9%, MPX (OTCQB:MPXEF) fell 8.1%, and Sunniva (OTCQX:SNNVF) continue to drift sideways with a 5.9% loss. We also added Trulieve (OTCPK:TCNNF) to our list and will publish our initiating coverage report this week. The U.S. stocks as a whole have performed strongly and we are excited to see more companies going public in Canada such as Acreage Holdings.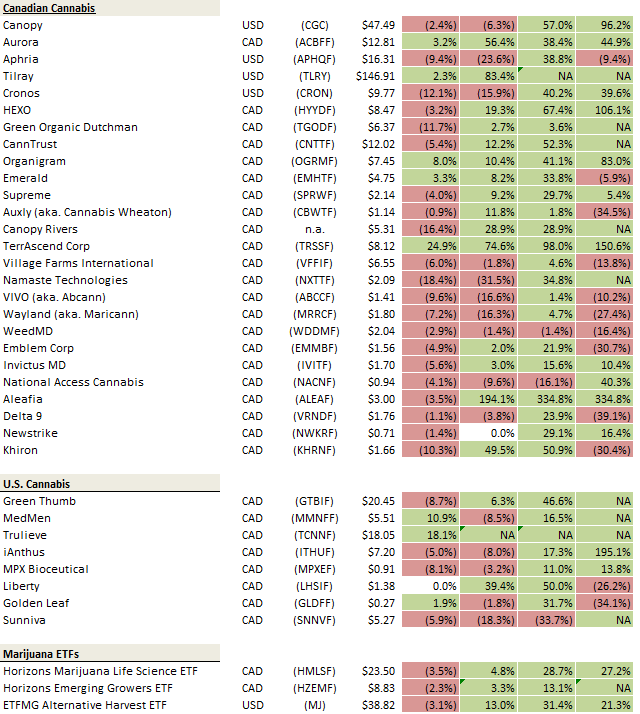 Sector Update
Trulieve Rose 200% since IPO
Trulieve is another U.S. cannabis company that listed on the CSE on September 25, 2018. Trulieve operates a vertically-integrated cannabis business in Florida only. The company received the first medical dispensary license in 2015 and has since grown to a total of 16 stores across the state. The company reported 2018 Q2 revenue of $23.3 million and EBITDA of $14.3 million, an achievement that is rarely seen in the cannabis sector. The stock also has a strong following on social media which contributed to its strong performance in the last two weeks, as the stock has also gained more than 200% since its IPO at C$6.0 per share. However, we recognize the limited growth opportunities in Florida and Trulieve faces several challenges in its pursuit of expansion into other states. We will publish a detailed discussion of the company this week, stay tuned.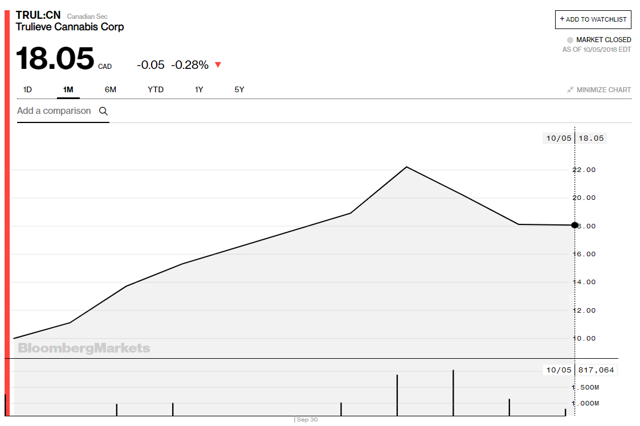 Is Hexo For Sale?
Hexo has been our favorite stock since early 2018 and it has produced impressive returns for shareholders, more than doubling its share price in September. Since the activist investor came out pushing for a sale, there has been constant talk of Hexo becoming a potential takeover target by the larger cannabis firms as discussed in our article "When Activist Shows Up At Your Door". Last week, a Bloomberg article cited the activist, Riposte Capital, in saying that some major cannabis firms have started looking at Hexo as a potential target after the firm published its activist letter. We think Hexo has a solid business strategy and is in no rush to shop itself. Shareholders are most likely better rewarded through the continuous value creation activist led by the current management. The activist's short-term view of monetization is not optimal given the likely premium that Hexo could receive. Given Hexo's size, there will also be a very limited number of potential buyers. Aurora might have a hard time digesting another large acquisition after CanniMed and MedReleaf. Canopy has not expressed interest in acquiring another producer since the Mettrum deal in December 2016. Aphria is probably the most likely acquirer, and we think it would be a great opportunity for both firms to reach scale and become the undisputed top three cannabis firm in Canada. We will provide a detailed analysis on this topic this week.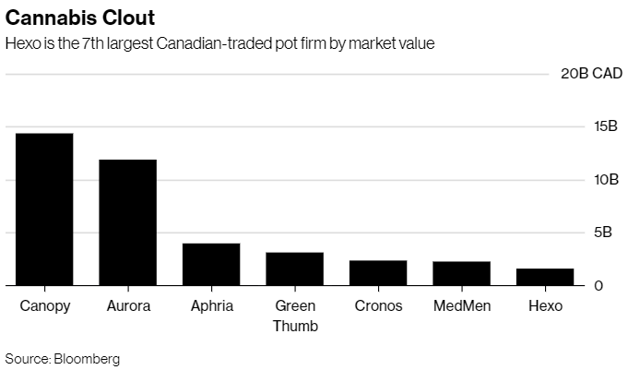 Other Notable Movers
Last Words
The cannabis sector took a break last week after a hot month in September. Most stocks have run up around 100% since just the end of August when Constellation (STZ) kicked off the party with a $4 billion investment into Canopy. Just to show you how fast and dramatic things have changed, take a look at our Weekly Report published on August 15 with the title "Delay In Ontario Causes Selloff". Then, one week later we published our weekly report "Christmas Came Early" and that marks the official beginning of the current bull market in the cannabis sector. As we take a breather after a massive September, it is time to review your portfolio and rebalance your cannabis holdings based on the returns so far. Names that have run up so much that we see limited near-term upside include Canopy, Tilray, Cronos, and Green Organic Dutchman. We like Aphria, Aurora, Hexo, CannTrust, and the U.S. cannabis group with a basket approach.
Author's note: "Follow us" to stay informed of the latest development and best ideas in the cannabis sector. We provide the most in-depth and comprehensive cannabis coverage on Seeking Alpha.
Disclosure: I/we have no positions in any stocks mentioned, and no plans to initiate any positions within the next 72 hours.
I wrote this article myself, and it expresses my own opinions. I am not receiving compensation for it (other than from Seeking Alpha). I have no business relationship with any company whose stock is mentioned in this article.
Editor's Note: This article covers one or more microcap stocks. Please be aware of the risks associated with these stocks.