User Exodus?
While the insider stock sales and general executive turnover have indeed reduced my confidence in Facebook, the real reason that I'm becoming less optimistic is the new statistics from Pew Research, that show that Facebook isn't as sticky as many of us longs had previously thought. The data displayed the following:
54% of the US adults surveyed reported that they had adjusted their privacy settings in the last 12 months.
42% of the US adults surveyed reported that they had taken a break from checking Facebook for more than several weeks.
26% of the US adults surveyed reported that they had completely deleted their Facebook accounts.
74% of the US adults surveyed reported that they did at least one of these three things.
This is indeed worrying as the backbone of Facebook's entire current business is not Instagram, WhatsApp, or Oculus. It is the older core Facebook audience. If users are abandoning the app in droves, then I can see why investors would be skeptical of Facebook as an investment. I'm particularly focused on younger Generation Z users that seem to be the only demographic that is systematically leaving the Facebook platform. eMarketer is a great source of user data trends and estimates. Here is what they are saying:
US Facebook users to hit 169.5 million at 2018's end up 0.9% Y/Y.
By 2022, Snapchat will add 1.2 million new 12-17 year old users, while Facebook will lose 2.2 million in this same age demographic by 2022.
Facebook will lose 600K 12-17 year old users this year, with the number declining to just 9.3 million by 2022.
So while Facebook may be integrating the Stories feature into their core platform, it isn't helping Facebook retain young users, at least not meaningfully.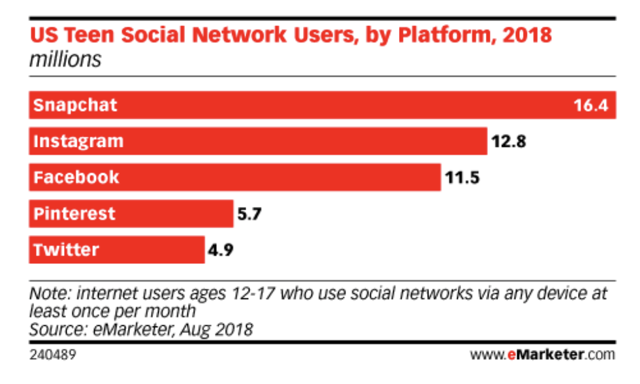 (source: eMarketer)
Among millennials, Facebook is the largest social network with 58.5 million users expected to use Facebook this year. Instagram is expected to rank in second place with 43.3 million users. Millennials are by far the most lucrative demographic in the advertising market right now, with them dictating future purchasing trends in the next few years. They also have the ability to make purchasing decisions for themselves, whereas Generation Z users are economically reliant on their parents to buy the goods advertised on social media.
So while older users are still engaged, Facebook just doesn't seem to be "cool" enough with the teens and eventually the millennials to the point where users are just leaving the platform.

(source: Wikipedia)
Platform Degradation & Headline Risk
Ever since the Cambridge Analytica scandal, Facebook's reputation in the public eye has been eroding. It also doesn't help that Facebook and many others in technology are facing issues in conservative censorship, fake news, election meddling, anti-trust regulation, and more recently data privacy concerns. Facebook recently disclosed the hacking of 50 million accounts, though this recent hack will have negligible if not zero impact on Facebook's revenue. All of these headline risks create a bearish story around Facebook in the media, but as Facebook's Q2 operating margin guidance showed, the company is dedicated to ridding these problems from the platform while still marinating domination in the internet advertising market. The increased CapEx and security costs reflect management's drive to better the overall user experience, which should be a positive long-term tailwind on the stock. These PR issues will have a minimal long-term affect on the share price and for the business in general. And while more "scandals" come out regarding misuse of the Facebook platform, these announcements will most likely drive few users away from the platform. The key catalyst for a loss in the user base is more of a problem with the interpretation of the Facebook platform. Things like a new feature that disrupts the platforms ease-of-use, or the cancellation of a much loved part of the site.
Executive Departures
Facebook has lost many executives in 2018. This is a key element of the bear thesis. Bears believe that the executive turnover shows that insiders are not confident in the future of the company. And to an extent, I agree. If Facebook is such a lucrative and high growth operation, why is it that nine major company executives, including the company's corporate attorney have left Facebook in 2018 alone. Well, to answer that question, we have to look at the role these executives served in the company. Then we should address potential catalysts for the departures.
| | | |
| --- | --- | --- |
| Name | Executive Role | Duration (time spent at Facebook in years) |
| Jan Koum | WhatsApp Co-Founder | 4 |
| Elliot Schrage | Head of Communications and Public Policy | 10 |
| Colin Stretch | Head of Legal Department @ Facebook | 8 |
| Alex Stamos | Chief Security Officer | 3 |
| Dan Rose | VP of Partnerships (one of Facebook's earliest executives) | 12 |
| Kevin Systrom | Instagram Co-Founder | 6 |
| Mike Krieger | Instagram Co-Founder | 6 |
| Alex Hardiman | Head of News | 2 |
As you can see, three of the eight executives listed here were founders of subsidiary companies underneath Facebook. And while all three of them left the company, RBC Capital analyst Mark Mahaney rightfully pointed out that six years is a lot of time for co-founders of a subsidiary company after being acquired. The executive departures at Instagram is a big nothing-burger, as Facebook was beginning to infringe on these co-founders creative independence. As Facebook began to receive more public scrutiny over their policy towards users and advertisers, the company had to focus more on platform security. This meant that Facebook had to take a more authoritative stance with the heads of these subsidiary platforms, infringing on the founder's ability to remain "independent". With Jan Koum specifically, he said that he was leaving Facebook to "do things outside of technology". He, like other billionaires wanted to spend less time on work at Facebook, and spend more time working on collecting cars and playing ultimate frisbee specifically.
Then there are individuals like Elliot Schrage and Dan Rose specifically that left Facebook to spend more time with their families. These two specifically had been at Facebook more a decade or more. Facebook has had many more pressing problems in the past that would warrant a stepping away from the company than the current events transpiring.
Alex Hardiman and Alex Stamos left Facebook to pursue other opportunities, with Hardiman now working at The Atlantic and Alex Stamos teaching at Stanford University. These are people that believed in Facebook's overall vision, but found better opportunities to advance that passion and careers elsewhere. I personally can't speak to the departure of Colin Stretch, but I know that none of the eight executives that have departed had any grudges against Facebook's management or company in general.
Overall though, Facebook truly incentivizes talent, with median salaries at roughly $240,000 per year.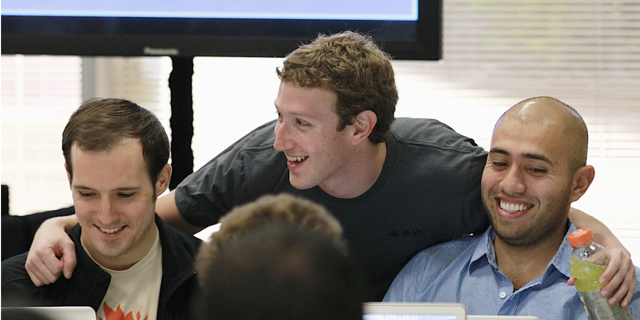 (source: Business Insider)
There is no other large technology company that has salaries at the level that Facebook has. Additionally, it is almost like a cult of personality around founders in Silicon Valley, with Mark Zuckerberg being the poster child. So overall, while some Facebook executives have left the company, Facebook is still creating innovation with the talent they attract.
The Real Risk - Margin Contraction
Thus far, I have tried to lay out why one may be bearish on Facebook's business prospects. Issues regarding platform degradation, executive turnover, and a teen/millennial exodus are real, but they all pale in comparison to the margin contraction risk. While I am optimistic on Facebook's business, management has guided for long-term operating margins in the mid 30% area. As I will show you later, I am estimating that Facebook's operating margin falls from 46% to 40.9% from 2018 to 2019, in a steadily declining trend to 38.8% in 2022. I'm expecting gross margins to dip from 84% to 83.5% from 2018 to 2019, before steadily declining to 79.5% in 2022. As I mentioned earlier, Facebook has guided for long-term operating margins in the mid 30% level. The reason for the discrepancy between my operating margin estimates and management's guide is boiled down to my revenue estimates. I'm forecasting growth in Facebook's revenue from $56 billion in 2018 to ~$130 billion in 2022, growing at an overall rate of 132% over five years. This draws striking contrasts to my OpEx estimates of $25.8 billion in 2018 and $50.5 billion in 2022, an overall growth rate of 96%.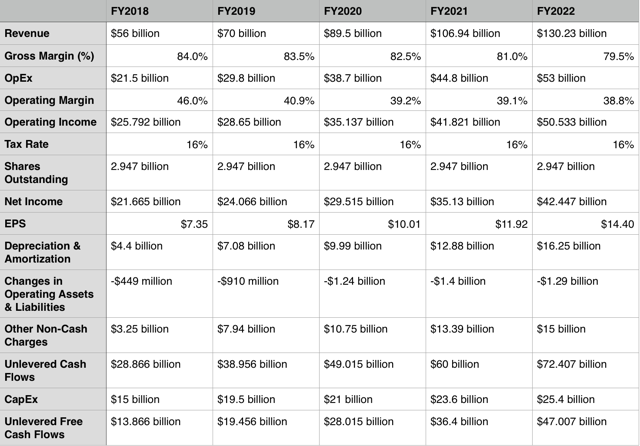 (source: My estimates)
As you can see, my operating margin estimate never contracts to this mid 30% level, but revenue CAGR is ~18.4%.
A Leader In A $270 Billion Market
Facebook and Google operate as the duopoly of internet advertising. And while Facebook is coming under controversy, there has not been a mass advertiser exodus from the platform. I am not saying that advertisers have not left the platform, I'm just saying that very few of their advertisers have left the platform yet. According to Statista, the global internet advertising market is worth $270 billion in 2018, growing to $335 billion in 2020. Facebook is a crucial part of small, medium, and large businesses advertisement portfolio. Not only are over ~1.5 billion people using Facebook daily with solid income streams, but advertisers know precisely who they are advertising to. What do I mean? While Facebook frequently comes under scrutiny for their data collection methods, the backbone of the advertising industry is targeting. And while Facebook has failed to clarify the terms and services of their data privacy policy, what does one expect from an advertising firm? The name of the game is data, and Facebook is very good at using the data they collect on their users from the site to show accurate advertisements.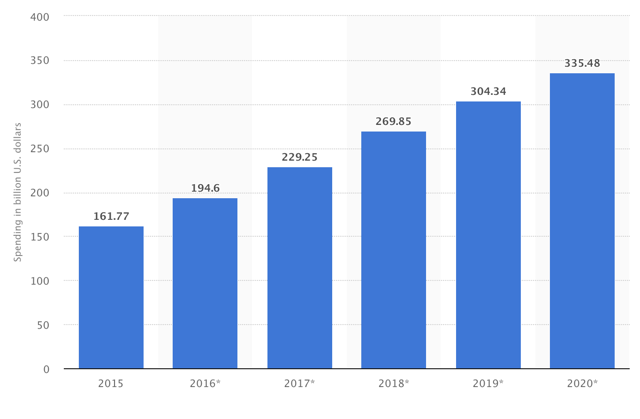 (source: Statista)
And while, in my opinion, the core Facebook platform will lose market share to competitors like Amazon, Twitter, Google, and to a lesser extent Snap, even their own Instagram, the market is large enough for multiple players. If Facebook has smaller market share in a much larger overall market, that should be interpreted as a positive.
One of the central bear arguments that Pivotal Research has on Facebook is that the market's growth is going to be cut down by further regulations of platforms like Facebook and Google. Pivotal has said that they believe that internet advertising can grow in the low-teens Y/Y sustainably before tailing off. Okay, and even then though, Facebook will have an ability to hold or even gain market share (think Instagram) in a massive market.
And it isn't like the advertising market is dry of technological innovations to go about advertising. Formats like stories and technologies like augmented reality and artificial intelligence, two of Facebook's heaviest investments, can show that the market has significant room for growth over the next many years. The real problem that bears have with Facebook, is the fact that regulation comes in two forms: Overstepping regulation, or not at all. As scandals continue to mount, the risk that regulation hits Facebook hard increases. But I already believe that management has priced that into the revenues. Facebook's management is making sure that if regulation does negatively afflict their revenues, then that will already be priced into both their revenue and margin guidance. Facebook has historically guided conservatively, and this time will most likely be no different. This way, even if regulations heat up, Facebook will not need to revise it's guidance downwards.
Still A Growth Company
While core Facebook is the bread-and-butter of Facebook, it is quickly maturing. The data from eMarketer shows that Generation Z users and millennials overall are expected to leave the Facebook core platform, for platforms like Instagram and Snapchat. Users are expected to leave Facebook, as it has lost its "cool factor". However, Facebook has plenty of organic growth ahead of it with their subsidiary apps and features underneath the platform. I'll break each one down individually:
Instagram
WhatsApp/Messenger
IGTV/Facebook Watch
eCommerce/VR/AI
Instagram
While Facebook's core platform is maturing, Instagram will probably more than offset any user declines. Instagram is yet to meaningfully capitalize on their highly active and growing user base. Right now, Instagram has 1 billion MAUs up 25% from the 800 million mark achieved in September of last year. This growth will continue as Instagram picks up lost young users from core Facebook, takes users from Snapchat, and taps into new social media users.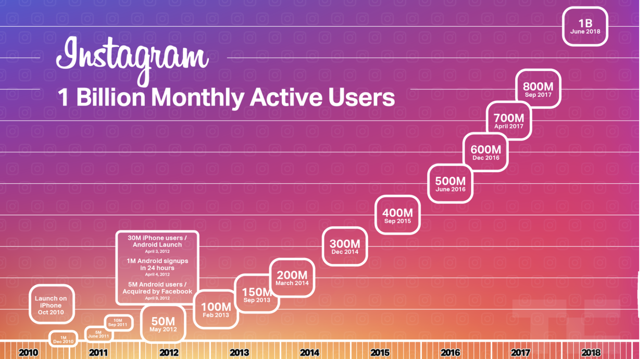 (source: TechCrunch)
If we apply the same growth rates to their DAU number which was 500 million in September of last year, than Instagram has 625 million DAUs, more than three times as many DAUs as Snapchat. And Instagram is bucking the social media trend, by displaying rapid sequential user growth that is set to continue. If Instagram's ARPU level is equal to that of Snapchat's, then an annualized ARPU rate is ~$6. On 625 million DAUs, Instagram's 2018 revenue comes out at $3.75 billion. And that is measure against Snapchat's shrinking less engaged user base.
It is well known on Wall Street that Instagram is profiting at the demise of smaller competitor Snapchat. For the first time ever, Snap recorded a sequential loss in DAUs, with Snapchat losing 3 million users in Q2, a ~1.6% decline sequentially.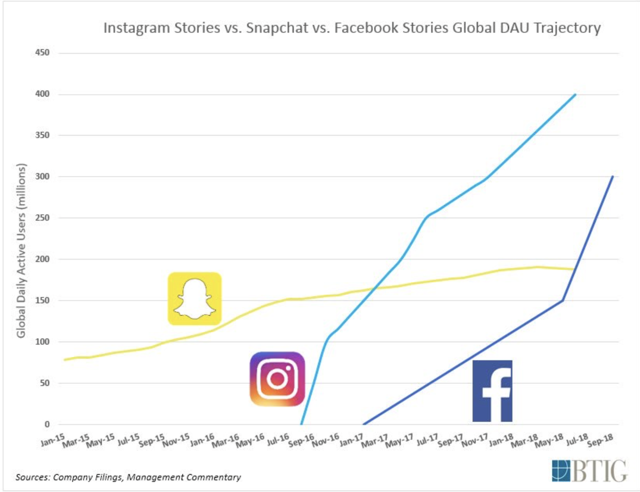 (source: BTIG)
As the chart above shows, Instagram Stories, a direct copy of Snapchat's Stories product is now more popular than the original. The problem for Snapchat is that none of their key products like Snap Maps or Stories are protected legally from Instagram. Basically, as Snap pours hundreds of millions of dollars into R&D every year, Instagram can literally copy all the hit features Snapchat creates, and take users away from Snapchat. And while some may see this as immoral and even deceptive, Snapchat made the extremely foolish decision of not legally protecting any product innovations. Additionally, there is nothing truly proprietary about the products Snapchat has created for its user base.
There is no doubt about it: Facebook's growth narrative lies with Instagram. If Instagram has any material roadblocks, the Facebook bull thesis could come tumbling down. But as long as Instagram continues to growth their user base, and keep up their monetization efforts, Instagram's growth will more than offset any maturity from the core Facebook platform.
WhatsApp/Messenger
Right now, Facebook is yet to meaningfully monetize its messaging platforms WhatsApp and Facebook Messenger. WhatsApp has 1.5 billion MAUs, while Messenger has 1.3 billion MAUs. These are massive audiences, but there is one problem with these audiences. They are much more difficult to monetize, as you would have to invade a chat feed to display advertisements, something that would more than likely annoy users. However, Facebook has made significant progress in monetizing their user base outside of advertisements. Some bears make the point that Facebook is a one-trick pony, with their revenues coming almost exclusively from advertising on their various social media platforms. However, Facebook is now branching out of just internet advertising particularly within their messaging apps. WhatsApp for example could run some form of advertisements on their WhatsApp Status, an interesting take on a Stories-esque feature. Additionally, Facebook's Messenger app is sending credit notifications direct to certain users, another avenue for Messenger monetization.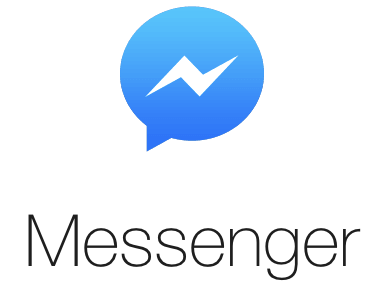 (source: Messenger)
If Facebook gets creative with it, then maybe Messenger/WhatsApp can have paid tiers. After all, if Facebook makes $2-$3 annually on a per user basis for both Messenger and WhatsApp, that could translate into $5.6-$8.4 billion in revenue in the long-term. And while that kind of revenue is far off, we should take into consideration the long-term impact of WhatsApp/Messenger on the overall Facebook business when valuing the stock.
IGTV/Facebook Watch
IGTV and Facebook Watch are more like Facebook dabbling in original content (Facebook Watch) and trying to compete with YouTube (IGTV). These bets may not pay off in the long run, as Facebook Watch is, like Stories, a product that is meant to boost engagement on the core Facebook platform rather than being a standalone revenue stream for the company. IGTV is Instagram's way of pushing into a mobile oriented version of YouTube. So instead of creating a formal YouTube video with tools that you would ordinarily have to buy individually (camera, lighting, etc.), IGTV would bundle this "tool kit" into the IGTV camera. It is a mobile version of YouTube with the Instagram brand on it. And while it will not move the needle on revenues in the short-term, and perhaps even the long-term, it will help create a suite of Facebook related social products alongside the important ones (Instagram, Facebook, WhatsApp) that helps Facebook build back its truly degrading brand. Let's face it, Congress and many Americans don't like Facebook right now. Creating technological innovation and fixing previous mistakes may be the only way for Facebook to repair its brand image.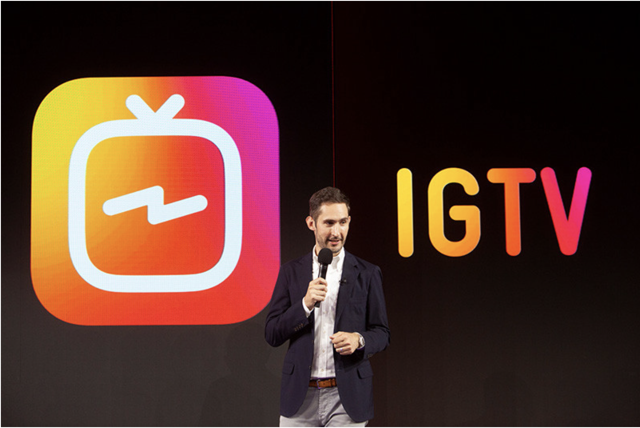 (source: IGTV/Instagram)
eCommerce/VR/AI
These three categories seem to be Facebook's way out of the one-trick pony status, and into a more diversified and growing revenue stream. The first category I would like to talk about is virtual reality.
Oculus/VR: The virtual and augmented reality market is expected to grow from a $27 billion this year to ~$209 billion in 2022, a CAGR of ~50%. And while companies like Lenovo, HTC, Microsoft, and Sony, among many others, are competing with Facebook, the market is large enough to be a long-term growth avenue for Facebook. Not only will VR revolutionize the gaming markets, but social media interactions can be taken to a whole new level with virtual reality. In 2017, Oculus shipped only 700K Oculus units. Assuming an ASP of $300-$400, Oculus only did $210-$280 million. According to Statista, Oculus is expected to ship 1 million units in 2018, representing revenues of $300-$400 million in 2018 revenues. So while Oculus won't generate any meaningful revenues now, or even in the next many years, it is nice to have an almost moonshot bet in the background.
eCommerce: eCommerce via Instagram is where I really see the new revenue diversification within Facebook. I estimated earlier that Instagram has 625 million DAUs. The key demographic within these DAUs is the millennial demographic, which also happens to be one of, if not the most targeted advertising and commerce age groups on the market. Right now, you can buy products via Instagram in six or seven clicks. But once Instagram makes the purchasing process frictionless (one or two clicks), they will become an eCommerce giant, taking market share away from Amazon. The beautiful thing about Instagram though, is that they don't need to go out and get new partners in the commerce business. They already have these partners in their ad business. If you think about it, millennials and Generation Z folk spend a lot of their digital lives on Instagram. Adding a new digital feature to the Instagram portfolio may eventually establish Instagram as the "one stop shop" for technology heavy users digital needs. This would be the model:
| | | | | |
| --- | --- | --- | --- | --- |
| % of DAUs Using eCommerce | Money Spent On Platform Per User | GMV | Take Rate | Revenue |
| 15% (~94 million people) | $200/year (vs Amazon's $1,200) | $18.8 billion | 12.5% | $2.35 billion |
| 20% (~125 million) | $400/year (vs Amazon's $1,200) | $50 billion | 12.5% | $6.25 billion |
| 25% (~156 million) | $600/year (vs Amazon's $1,200) | $93.6 billion | 12.5% | $11.7 billion |
| 30% (~187 million) | $800/year (vs Amazon's $1,200) | $149.6 billion | 12.5% | $18.7 billion |
| 35% (~219 million) | $1,200/year (vs Amazon's $1,200) | $262.8 billion | 12.5% | ~$32.8 billion |
If Instagram can do mobile eCommerce right, then it could be a very lucrative business for Facebook overall. According to Sheryl Sandberg on the Q2 conference call, Instagram has 25 million businesses have Instagram accounts, 2 million of which are advertisers. 80% of Instagram users follow at least one business on Instagram.
AI: CEO Mark Zuckerberg has long been an advocate and supporter of increased AI in our digital community, and Facebook has been heavily invested in the AI boom. Thus far, despite Facebook's heavy investments in AI infrastructure, they are yet to meaningfully monetize their tools. But within Facebook, utilizing AI can dramatically reduce OpEx as AI can exist within platform cleanup and security roles. One of the key reasons that Facebook's operating margins are expected to contract is because of Facebook's intense hiring of new staff to better secure the overall platform. If AI can consistently accomplish the same tasks within Facebook that humans can, OpEx growth can be toned down. Forget about the commercial use of Facebook's AI tools for a second. Think about how Facebook can use AI to perform the same tasks that humans perform with more efficiency at a lower cost.
Extraordinary Financials
Facebook right now has some of the best financials in technology, with ~$42 billion in cash and zero debt. If Facebook ever needs to invest heavily, not only could they use the cash on their books, but take out tens of billions in debt or convertible debt to fund ongoing growth.
And while it is more likely that Facebook would take on debt to invest in the business, the purpose of me talking about Facebook financials wasn't to spur a capital returns or investment discussion, but a discussion about Facebook's safety net. I don't believe that Facebook would use its cash flow to give back to investors, but rather sits on a safety cushion in case the economy goes bad. To have zero debt and $42 billion in cash allows for much more freedom at the company, and is not priced into the current valuation of the business.
Valuation
If you want to value Facebook on a more rudimentary basis, then lets use a PEG ratio. Right now, I'm modeling $56 billion in revenue this year and $70 billion next year, a 25% Y/Y growth rate. A "fair" PEG ratio of 1 brings us to ~$184, a ~17% upside from the current share price. Personally, I prefer using a DCF valuation to build fair value for Facebook. Here are my business targets for Facebook: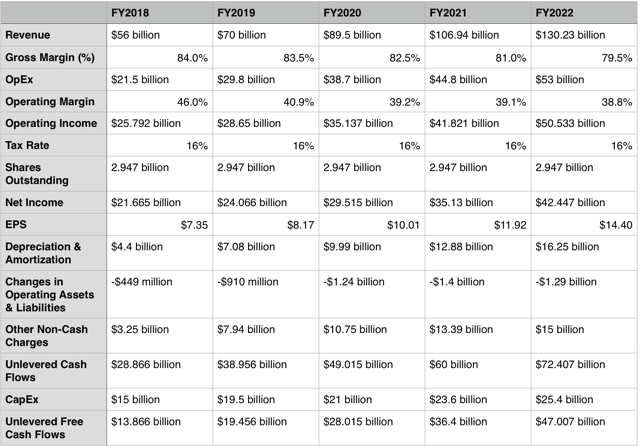 (source: My estimates)
Here is Facebook's WACC: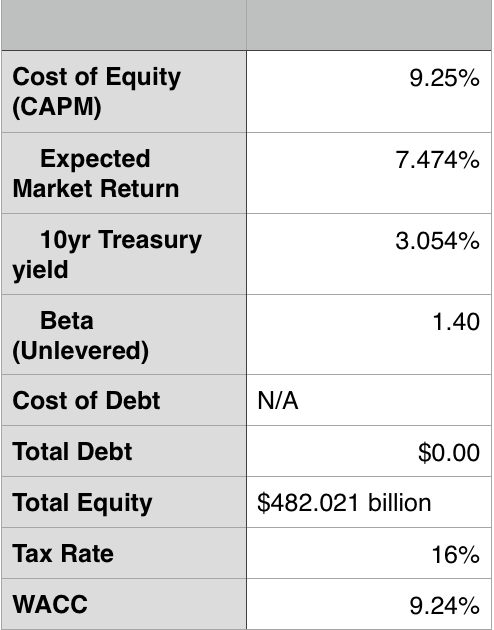 (source: My estimates)
I use a terminal growth rate of 3%. This valuation brings me to a terminal value of $775,916.83 million. This valuation brings me to an enterprise value of $605,042.79 million. Then you add in the cash reserves of $42.32 billion. Because there is no debt to subtract, the fair market capitalization is $647,362.79 million. On 2,947 million shares, Facebook's fair value is $219.67, ~$220.
Conclusion
Facebook is a growth company trading as a value stock. Investors need to recognize the risks associated with Facebook, but shouldn't discount the future growth prospects of Instagram, AI, eCommerce, and WhatsApp/Messenger. All in all, Facebook has roughly 40% according to my DCF model.
Disclosure: I am/we are long FB.
I wrote this article myself, and it expresses my own opinions. I am not receiving compensation for it (other than from Seeking Alpha). I have no business relationship with any company whose stock is mentioned in this article.
Additional disclosure: I am not a financial adviser. This is not financial advice. Please do your own due diligence before initiating positions in any of the securities mentioned. Please do your own research or consult a registered investment advisor (RIA) before purchasing any of the securities mentioned.