Stitch Fix (SFIX) is bringing personal styling services to the app economy. As a new customer, you answer a detailed Style Quiz, either through the website or the highly rated mobile app (4.6 stars and 5K reviews on iOS).
A personal stylist - with the help of a personalization algorithm - curates a "fix," which is a package with five items likely to suit your taste based on your quiz answers. You only pay a $20 styling fee that applies toward anything you keep. And if you keep all five items, you get a 25% discount.
The stock had been one of the best performers of 2018, up more than 100% from January to mid-September. Following a 50% drop over the past month, SFIX is now back to its early 2018 level.
Q4 earnings report was released last week, showing slowing revenue growth (25% yoy, down from 30% the previous quarter). In response, short-term investors and momentum traders ran for the hills.
Everybody loves a steep discount, especially in the apparel industry. Yet, for some reason, investors tend to shy away from a stock that has just dropped significantly from its all-time high.
The reality is, Stitch Fix - the business - just had a pretty fantastic FY18, with a 26% revenue growth, improved operating margin (3.5% vs. 3.3% in 2017) and Free Cash Flow that more than doubled, from +$22M in FY17 to +$56M in FY18.
Let's review why Stitch Fix at a 50% discount is a buying opportunity.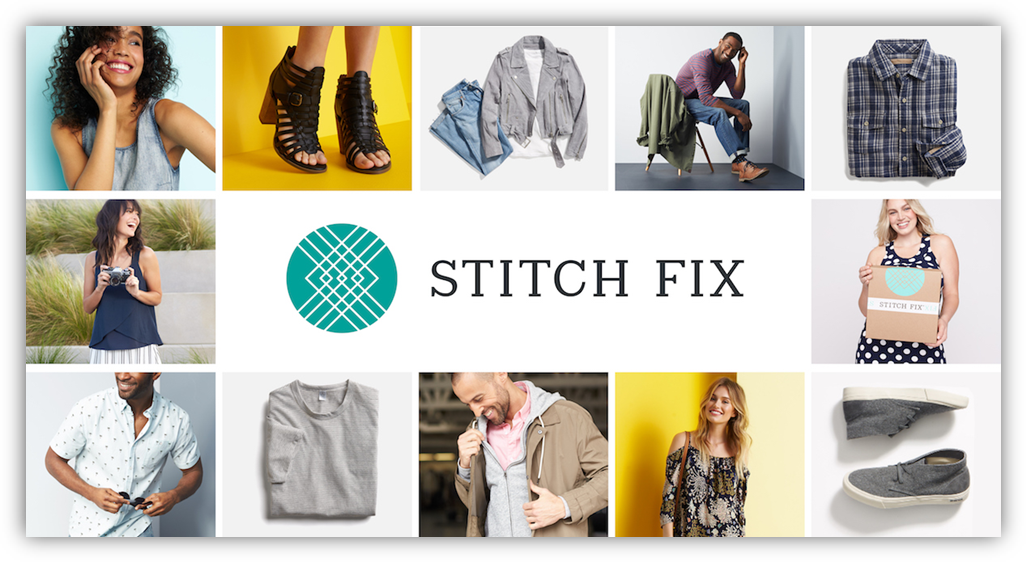 Source: www.stitchfix.com
It's all about the data
The data is the most important aspect of Stitch Fix's business. As explained in the S-1 prospectus:
The vast majority of our client data is provided directly and explicitly by the client, rather than inferred, scraped or obtained from other sources. We also gather extensive merchandise data, such as inseam, pocket shape, silhouette, and fit. This large and growing data set provides the foundation for proprietary algorithms that we use throughout our business, including those that predict purchase behavior, forecast demand, optimize inventory and enable us to design new apparel."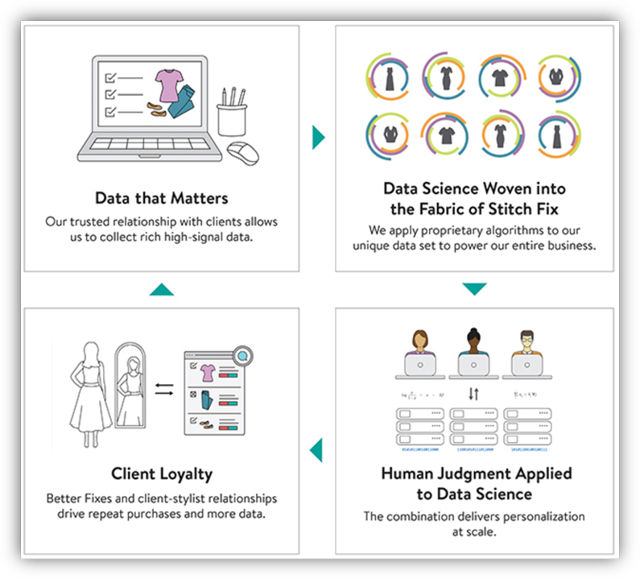 Source: S-1 Prospectus
The company offers a fantastic breakdown of its algorithms and how "Data Science is woven into the fabric of Stitch Fix." You can read about it here.
Stitch Fix's proprietary algorithms not only improve its user spend and retention but also improves the efficiency of its supply chain, as illustrated by its increasing operating profit ever since going public.
The company can improve its operations and business through machine learning and expand to new segments equipped with this knowledge. It offers to Stitch Fix the optionality that the greatest businesses are made off. It's easy to imagine how Stitch Fix could expand its Data Science expertise to segments beyond apparel with their existing user base such as bedding and bath, linens, or home improvement.
More importantly, with a subscription model, Stitch Fix has a recurring revenue scheme with the value of its user base growing over time thanks to the data it provides. It seems unreasonable to value such a business model like any other apparel retailer. Stitch Fix is now valued at about 2 times yearly sales despite a healthy balance sheet.
Monetization with room to grow
With 2.7 million clients and $1.2 billion revenue, Stitch Fix is capturing less than $450 per active client in FY18.
It's easy to see the room for upside given that:
2.7 million subscribers are still very small for a mainstream service that has yet to expand internationally
The average American spends $1,700 on clothes yearly, but if you look at women's fashion alone, the average rises to $4,800 yearly.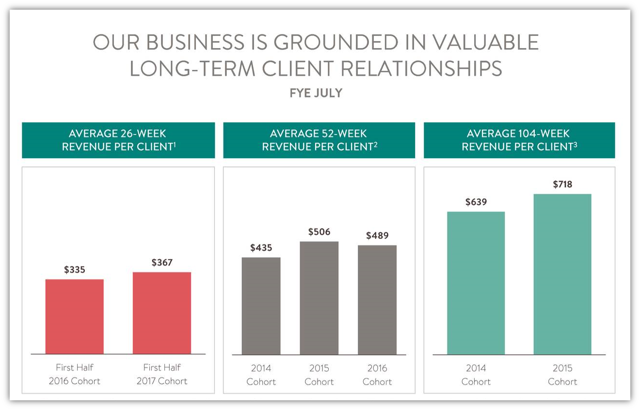 Source: Stitch Fix Q4 results earnings call slides
Founder-CEO Katrina Lake broke down the three pillars of growth of the company as follows:
Increase Wallet Share of existing clients (via new products like yearly commitment and extras like intimates or socks)
Serving new clients (the untapped market is gigantic given the low cost of the service)
New categories, product types or geographies (most recently with kids and the expansion to the UK)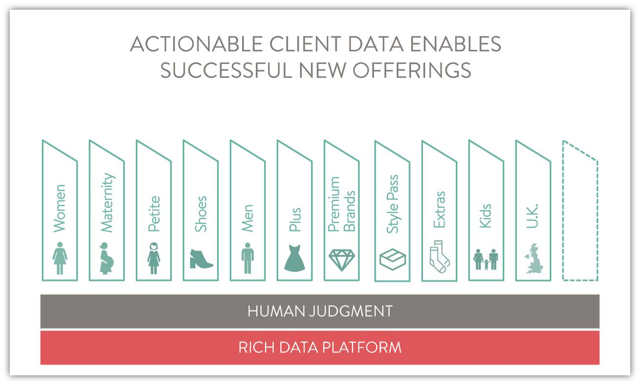 Source: Stitch Fix Q4 results earnings call slides
Reviewing the trifecta of a strong subscription business:
Acquisition has been very impressive so far with less than 8% of revenue spent toward advertising and the company reaching 2.7 million subscribers.
Monetization is strong and improving over time with $450+ per client as explained above, with wallet share improving with the most recent cohorts.
Retention remains a big unknown and is not disclosed in detail by management. In its S-1, the company said:
In 2016 and 2017, our repeat rate was 83% and 86%, respectively. We define repeat rate for a given period as the percentage of net revenue, excluding the impact of styling fees, sales tax, refunds, gift cards, referral credits and clearance sales, in that period recognized from clients who have ever previously checked out a Fix."
These rates can be considered decent when you factor the low cost of acquisition and the nature of the business. The KPI that matters the most is the overall revenue per client over time rather than the retention rate in and of itself. Management explains:
We believe that client apparel purchasing can be "lumpy," where clients initially stock up and fill their closets and then slow their purchasing. While a client exhibiting this behavior would spend less in a subsequent period, we believe that serving our clients on their natural purchasing cadence, rather than forcing more spend, fosters the valuable, long-term client relationships we seek to cultivate."
The devil wears Prada... and is in the details
Short-term speculators or momentum traders have bailed - as illustrated by the 50% drop of the share price back to its early 2018 level - despite an overall strong performance of the company over this past year.
The reason why it is such a great opportunity for those with a long-term view is that many investors look too closely at the details. They focus on quarter-on-quarter growth or the subscriber addition over the last three months alone to decide if the company is a good prospect. In my view, they are simply missing the bigger picture.
If you have a decade-long view like me, a slower growth than expected by a few percentage points should not concern you. Instead, management's announcement to expand Stitch Fix to the UK, marking the beginning of its international endeavors, is an additional reason to rejoice at the prospect of the company reaching an international aura.
Valuation now attractive
With a $2.6 billion market cap, the company is now valued at 2.1 x Sales and 46 x Free Cash Flow based on FY18 performance.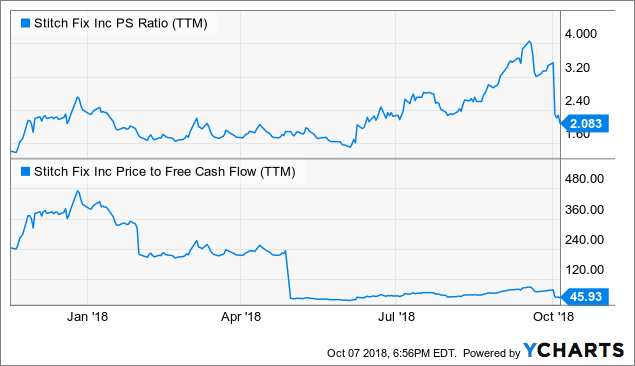 The company achieved a staggering 1,576% revenue growth over the last five years. Katrina Lake turned the business from $73 million revenue and loss-making in FY14 to $1.2 billion revenue and profitable in FY18.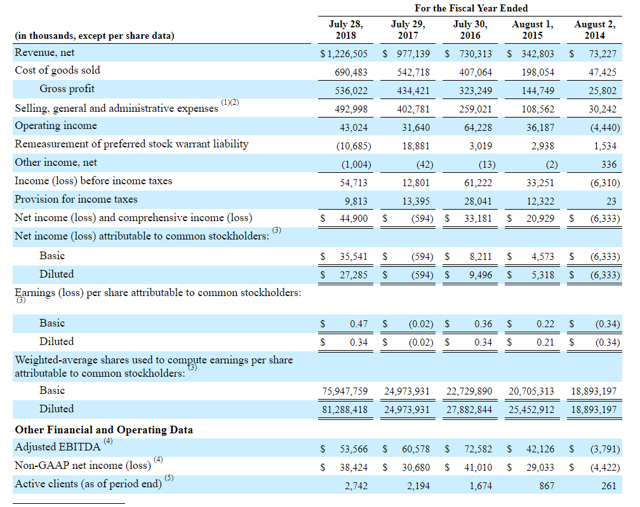 Source: Stitch Fix Form 10-K Q4 FY18
Once you take a step back from the most recent quarter and put the performance of the company in perspective with a look at the last five years, it is hard to deny how impressive the journey has been.
The company has been ramping up its SG&A and advertising expense reasonably, resulting in a maintained operating profit since FY15.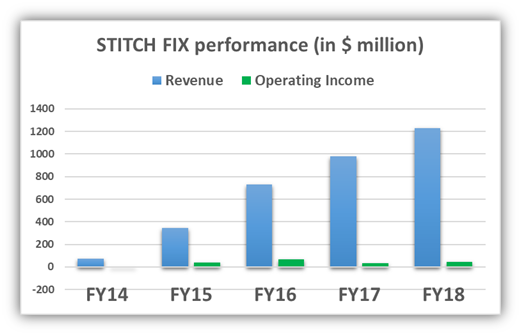 Source: Form 10-K Q4 FY18. Chart prepared by the author.
Similarly, the company has only raised $46 million of VC funds, which illustrates how Katrina Lake has been able to grow her company without requesting unnecessary funds that could have diluted her stake (and those of existing shareholders).
Volatility is your friend
Benjamin Graham is one of Warren Buffet's mentors and arguably the father of value investing. He explained the following concept:
In the short run, the market is a voting machine but in the long run, it is a weighing machine."
In the short run, the market is tallying up which firms are considered popular and unpopular. But in the long run, the market is assessing the substance of a company. What matters over time is a company's actual underlying business performance and not the investing public's fickle opinion about its prospects.
For Stitch Fix, the valuation got ahead of itself during 2018, and the story of the company still depends on management's execution in the coming years.
But while SFIX - the stock - just got slammed, Stitch Fix - the business - is still on a very clear trajectory, with increased wallet share, untapped segments, and territories.
I have invested similarly in the past, starting or increasing a position taking advantage of a market overreaction following an earnings report coming under Wall Street's expectations: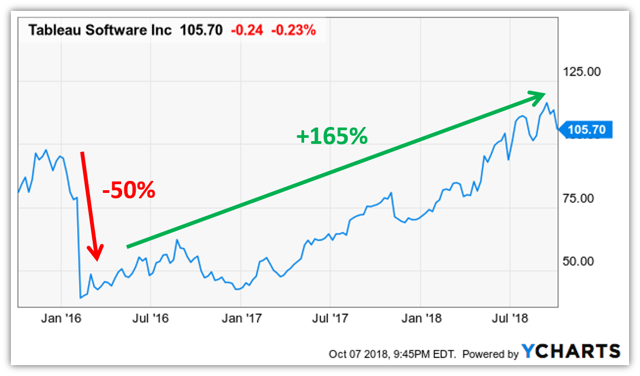 What are the risks?
The market can be tough for subscription-box companies. And the example of Blue Apron (APRN) always comes to mind. While Blue Apron and Stitch Fix are in completely different industries, many analysts are pointing out the limited profitability potential of subscription delivery services. But let's be clear: Blue Apron has never been a play in Data Science, Artificial Intelligence and Machine Learning. Stitch Fix is building experience, competence and knowledge in these three areas.
Future growth will come at a cost - marketing costs to attract new users or R&D costs to keep improving its proprietary algorithms. Advertising expenses have increased steadily over the last four years, reaching 8% in 2018. The long-term projection is around 10% once the company starts implementing brand marketing initiatives and targets new territories.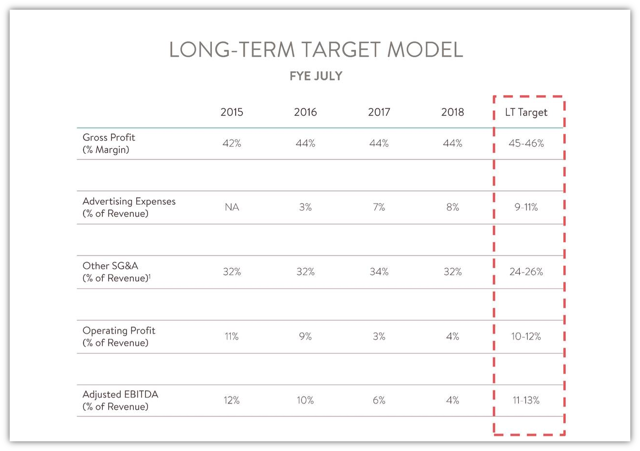 Source: Stitch Fix Q4 results earnings call slides
There is also the elephant in the room: Amazon (AMZN) has launched a service called Prime Wardrobe. It allows prime members to try apparel at no cost and return for free if they don't like the product. Customers are charged only if they keep the product. The service doesn't offer any personal styling service, so it is hard at this stage to know to what extent it competes directly with Stitch Fix's core business.
Nordstrom (JWN) is also offering a similar service called Trunk Club.
Given the increasing competition, Stitch Fix's management cannot rest on its laurels. The edge they are currently building through data collection and algorithms improvement will be key to create a real durable moat around its business.
Conclusion
Katrina Lake is an ambitious CEO, willing to disrupt an entire industry. Her service is highly reviewed and expanding quarter after quarter, with new segments continuously explored.
I'm excited to see how the story unfolds for Stitch Fix. At current valuation and given the scope the company could reach in the years to come with a broader user base, increased wallet share and new segments, I see the potential reward far outweighing the downside risk.
Investors taking advantage of the 50% discount on the shares will probably be very happy they did a few years from now. I believe this is the entry point many have been waiting for.
In other news, I just shared with my community my monthly high-conviction idea!
My vision is mainly focused on the inexorable rise of the App Economy, the range of economic activity surrounding mobile applications. I make high-conviction bets in individual companies with a decade-long time horizon.
If you are a like-minded investor eager to find a community to share and discuss ideas with, please consider joining the App Economy Portfolio.
The service unlocks access to my real-money portfolio tracker, live alerts on trades, monthly high-conviction, and timely investment ideas.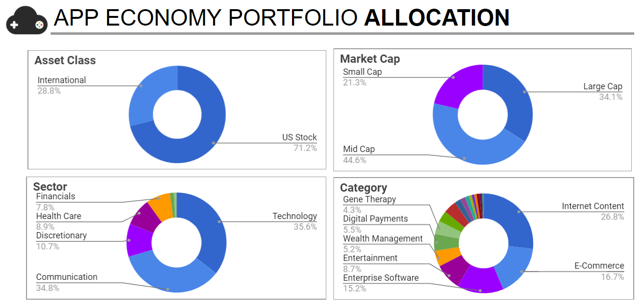 Disclosure: I am/we are long SFIX, AMZN.
I wrote this article myself, and it expresses my own opinions. I am not receiving compensation for it (other than from Seeking Alpha). I have no business relationship with any company whose stock is mentioned in this article.