Investment Objective And Strategy
The fund aims to outperform the MSCI Emerging Market Index on a total return basis, while generating a yield of about 4%.
AEF invests in a diversified portfolio of companies that meet their long-term quality criteria. They look for companies with high sustainable dividend yields or those with strong growth prospects and high future income potential. Modest leverage of about 10% of net assets is used to enhance the portfolio yield.
Here are seven reasons why a long-term investor could buy AEF now:
Reason #1: The Emerging Markets CAPE Numbers Are Very Favorable
The CAPE (Cyclically Adjusted Price-to-Earnings Ratio) for any equity market is the current equity index price divided by the past ten years of inflation-adjusted earnings. CAPE was first discussed by Graham and Dodd in 1934, but the concept was later popularized by Professor Robert Shiller who won a Nobel Prize. The CAPE index is not very useful as a short-term trading tool, but it has been shown to have predictive value for longer-term predictions of ten years or longer.
The current CAPE value for the S&P 500 is currently around 30 which is much higher than its long-term average of around 17. Shiller suggested that a good way to estimate future long-term real returns is to compute 1/CAPE which is the Cyclically Adjusted Earnings Yield which is currently about 3.3% for the S&P 500 which is below long-term averages.
But the CAPE analysis for the emerging markets is a different story. The current CAPE value for the Emerging Markets index is around 14. So the Cyclically Adjusted Earnings Yield = 1/14 or about 7.1%. Note that this is a real return estimate, so inflation would be added to compute the expected nominal return.
To learn more about the CAPE index, check out the Wikipedia page. There is also a Seeking Alpha author, Norbert Keimling, who has published an interesting research paper about using the CAPE index.
Reason #2: Favorable Demographics
Most of the developed world will have to deal with aging societies. But emerging markets have a big demographic advantage, with growing working-age populations.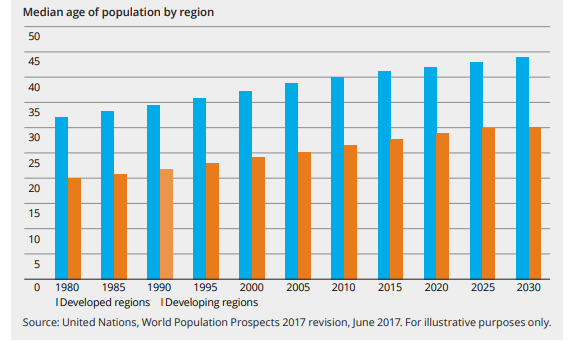 Reason #3: Greater Spending Power
Led by China and India, a wealthier emerging markets middle class and more urbanization should increase global spending for many years to come.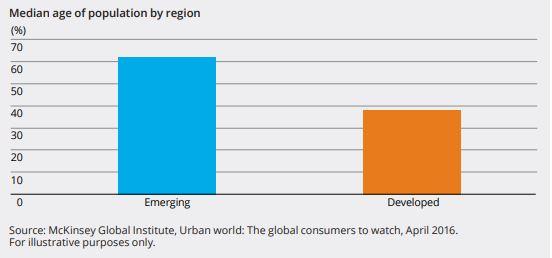 Reason #4: Share Buybacks
As part of a Standstill Agreement with activist firm City of London, AEF has established a target discount policy. The Fund is committed to repurchase shares in the open market when the Fund's shares trade at a discount of 10% or more to NAV.
The Fund has started to publish a monthly report of share buyback activity which has been averaging over 200,000 shares a month so far. The positive NAV impact is computed each month.

Reason #5: A 15% Tender Offer is Quite Likely To Occur Within the Next Year
After the 8-way fund re-organization in April, AEF conducted a large tender offer where they purchased 32% of the fund's assets at 99% of NAV and they also paid out a $0.882 distribution in cash.
But as part of the new targeted discount policy, the Fund has promised to undertake at least one more 15% tender offer if the average discount exceeds 11% of NAV over any rolling 12-month period starting on April 30, 2018 and ending on December 31, 2019.
Over the last three months, the discount has been well above 12%, so there is an excellent chance that the additional 15% tender offer will occur sometime next year. Of course, if the discount were to suddenly narrow below 10%, the tender offer threshold may not be reached next year, but that is not such a bad outcome if you purchased the fund at a 14% discount.
Reason #6: Expense Ratio Has Been Lowered
As part of the fund merger, the Fund's investment adviser announced they will waive fees and/or reimburse expenses to the extent necessary so that the Fund's total baseline expense ratio does not exceed 1.20% for two years from April 30, 2018.
The expense ratio is incorrect and overstated on the major closed-end fund websites. For example, cefconnect reports a baseline expense ratio of 2.00% (instead of the correct value of 1.20%). This will probably not be fixed until the next shareholder report is published.
Reason #7: The Multi-Fund Merger Has Produced An Attractive Discount To NAV
When closed-end fund mergers occur, you often get a temporary widening in the discount of the combined fund. One reason this may occur, is that some investors who previously owned a single country fund want to keep that allocation, so they sell AEF and look to replace it with a single country ETF. This process takes some time to play out, since some less active investors may not have been aware of the fund merger until well after the merger actually occurred.
This process can produce a good buying opportunity while the investor shareholder base is changing from investors who want a single country fund to investors who want to own a more diversified emerging market fund. My experience has been that once the change in the shareholder base is completed, there is usually a bounce-back in the price and a reduction in the discount to more normal levels. With AEF, you not only have this effect, but several other catalysts listed above which should help reduce the discount over the next year or so.

Sector Allocation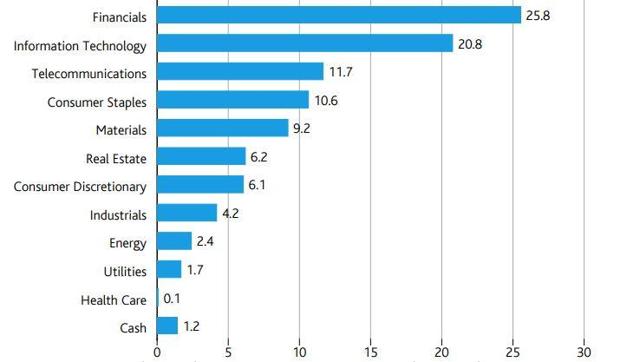 Geographic Exposure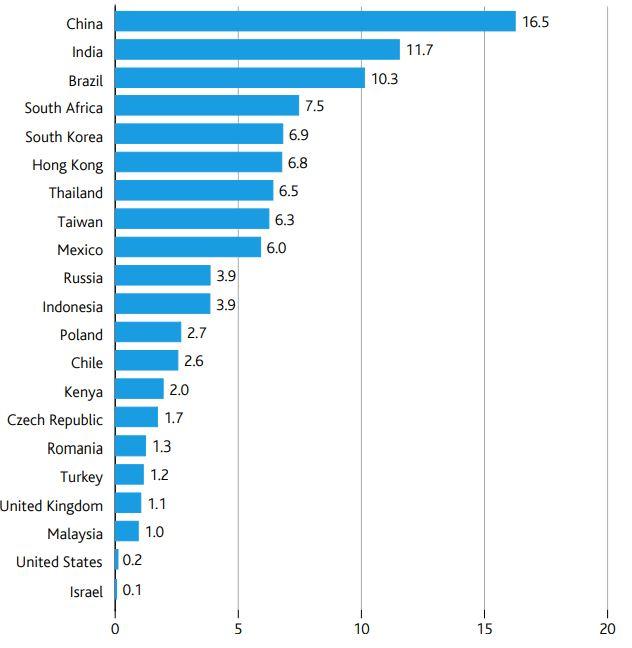 One-Year Discount History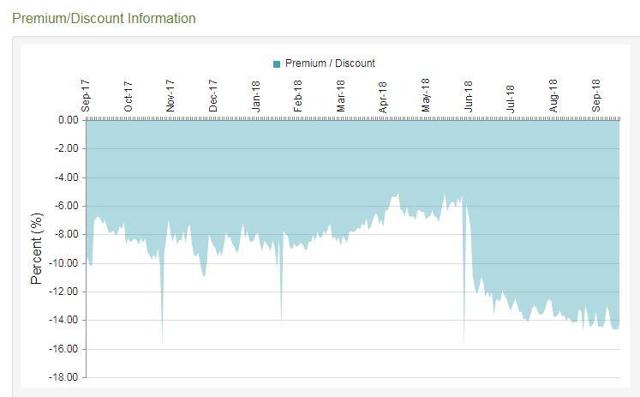 Fund Performance
In most of my closed-end fund reports, I include a review of past performance. But I thought this would be highly misleading for AEF, since its fund history prior to April 2017 is for the Chile Fund (CH). For all practical purposes, AEF is really a brand new emerging market closed-end fund starting in April 2017.
Investment Management Process
Make disciplined buy/sell decisions and use price volatility to take profits and add to positions as appropriate.
Bottom-up investment style: Focus on quality companies with good growth potential, irrespective of benchmarks.
First-hand research: Use locally-based teams and always meet company management before deciding whether to invest.
Focus on governance: Behave as company owners, meeting boards and management to steer improvements.
Team approach: They do not have "star managers."
Long-term thinking: The average holding period for a company is eight years. This keeps turnover costs down.
Aberdeen Emerging Markets Equity Income Fund (AEF)
Pays Irregular Distributions
Total Assets= $485 Million
Last Distribution= $0.882 in June, 2018
Last Year Annual Distribution (Market) Rate= 7.22%
Baseline Expense ratio= 1.20%
Discount to NAV= -14.16%
Portfolio Turnover rate= 7%
Average Daily Volume= 160,000
Average Dollar Volume= $1,050,000
No leverage used
Summary
The discount to NAV as of Sept. 28 is -14.16% which is less than the 52-week average discount of -9.53%. The 3-month discount Z-score is -0.80, which means that the discount to NAV is about one standard deviation below the average discount over the last three months. On an absolute basis, AEF looks cheap here.
I believe that AEF currently provides a good way to gain exposure to a well-diversified portfolio of emerging market stocks at a nice discount. There are also several catalysts in place described above to narrow the discount over the next year or so.
AEF is fairly liquid and easy to purchase. The bid-ask spread usually only a penny with decent size on both the bid and the ask. You usually get decent price improvement on smaller market orders of less than 1,000 shares.
Because of tax-loss selling, there may be further short-term weakness in AEF. For this reason, I would recommend scaling in, if you trade commission free or with very low commissions. For example, if your goal is to buy 3,000 shares, you might buy 500 shares now and another 500 shares every few weeks between now and year-end.
============================================
Marketplace Service For Those Hunting For Yield
In April 2016, we launched our marketplace service Yield Hunting: Alternative Income Investing dedicated to yield/income investors who wish to avoid the froth associated with most of the equity market.
George Spritzer's top investment ideas are being featured on Alpha Gen Capital's "Yield Hunting" marketplace service. The goal of the offering is to provide a "low-maintenance portfolio" with a yield in excess of 8% on a tax-equivalent basis with capital gain optionality. The core portfolio has generated a high-single-digit yield, while taking approximately half the risk of the S&P 500 on price and one-third on NAV. For safe and reliable income streams, check out our unique marketplace service.
Disclosure: I am/we are long AEF.
I wrote this article myself, and it expresses my own opinions. I am not receiving compensation for it (other than from Seeking Alpha). I have no business relationship with any company whose stock is mentioned in this article.