Welcome to the Don't Forget About Me Edition of Oil Markets Daily!
The consensus has materially flipped from "lower for longer" oil bear thesis to "oh my god, Iran will send oil to $100" in just less than 12 months. With the media attention increasingly focused on Iran and its potential crude export losses, most have seemingly stopped looking at Venezuela, where production and exports are inevitably expected to keep trending lower.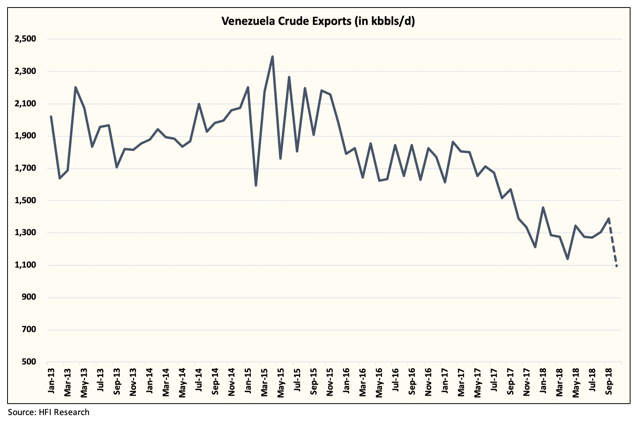 What's interesting about Venezuela though is that since May 2018, crude exports have managed to stay flat around ~1.3 million b/d. A combination of inventory destocking and lower-than-usual refinery throughput likely explained the higher than production crude exports, but that was never expected to last going forward.
Platts and Argus's latest OPEC production survey shows Venezuela's oil production to be around ~1.2 million b/d, and this figure is expected to head to ~1 million b/d by year-end.
If Venezuela's production loss continues, we will see it in the crude exports first, and October is looking quite depressed for the battered OPEC member.
With Venezuela's crude exports dominated by heavy oil barrels, the reduction in Venezuela's crude exports and losses from US sanctions on Iran could send heavy sour barrels even higher. We are seeing a bigger mismatch in crude quality in the market as medium sour grade crude has soared in value over the last month in part due to elevated buying from Chinese teapot refineries. But this also boils down to a bigger issue which is that most of the supply growth in the market today is concentrated in light sweet crude which is what US shale is producing.
Anas Alhajji, who has been a big advocate for the increasing crude quality difference issue, continues to point to the increasing crude quality mismatch taking place in the market:
This is one of the many reasons why we are bullish on Canadian heavy oil producers as Canada is the only country outside of OPEC that's growing heavy oil. With Venezuela and Mexico in decline, the crude quality discrepancy will grow bigger, and this will translate into better pricing once Canada's current near-term takeaway capacity bottleneck alleviates.
Conclusion
With the entire oil community fixated on Iran, it's important to remember that Venezuela's oil production and exports will continue to decline, leaving a gap open for crude quality issues down the road. We expect Venezuela's oil production to head below 1 million b/d by year-end and its crude exports to average ~900k b/d by year-end. This will equate to another 400k b/d loss from the September export figures, which the market will increasingly look to Saudi to replace.
Author's Note: Thank you for reading this article. If you found this article insightful, please leave a "Like" below.
If you are currently invested in energy stocks and need clarity on the direction of the oil markets, we think you should give HFI Research premium a try. We have provided much-needed clarity for our subscribers during periods of uncertainty.
We are now offering a 2-week free trial. Come and see for yourself why we are the 4th most subscribed premium service on Seeking Alpha, see here for more info.
Disclosure: I/we have no positions in any stocks mentioned, and no plans to initiate any positions within the next 72 hours.
I wrote this article myself, and it expresses my own opinions. I am not receiving compensation for it (other than from Seeking Alpha). I have no business relationship with any company whose stock is mentioned in this article.