Finding Value
If you are a value investor, like we are over at Value Investor's Edge, something to hunt for are discounted assets which have very promising forecasts.
These forecasts can be based on several things, such as projected increases in charter rates, growing SnP (sales and purchase) interest, or simply a recovery in value after an asset class has fallen too far to the downside.
These changes in value can impact a company's NAV, which is a key metric for shipping investment analysis.
But what is NAV and why does it matter in shipping? The following two sections are from the introduction of J Mintzmyers primer on understanding NAV in shipping markets. A must read in my humble opinion.
What is NAV?

Net Asset Value, or "NAV," is the real-time estimated valuation of a company's net worth. Although NAV isn't quite the same as 'tangible book value' or 'liquidation value,' both of those are similar types of numbers.

The primary difference between tangible book and NAV is that NAV can include adjustments for charter contracts (i.e. adj. NAV), joint ventures, or project investments. Liquidation value is often very similar to NAV, but would likely include an additional discount to adjust for the difficulties of selling a large fleet or winding down other projects.

NAV vs. Book Value

NAV is also often confused with 'book value,' but book values are often misleading and usually irrelevant for shipping investments. Book values are simply accounting placeholders that reflect the original purchase price of a vessel minus accumulated depreciation. If vessels were purchased in strong markets and conditions have since deteriorated, book values can often far overstate the actual value of these vessels. In such a situation, retail investors who are utilizing screeners can be sucked into shipping stocks with outrageously low price-to-book ("P/B") ratios. Even though the stock might trade at 0.5x book or lower, in reality, the company's NAV could even be negative. It's possible to see a company with a positive book value of several hundred million declare bankruptcy in extreme circumstances.
However, it's important to note that the example that J provides above can also go the opposite way, where vessels purchased in weak markets can see significant valuation gains once the market recovers. Or that current book value, after a long and deeply depressed market, would reflect that current state and not take into account an improving environment. This is one way we can identify (and have profited from) deep value in the shipping sector.
Forecasts
First let's start with the obvious question. What assets are projected to gain the most over the coming year?
On October 3rd, VesselsValue came out with a very important forecast for value investors citing their picks for the Top 5 Asset Plays. VesselsValue is the leading shipping valuation company, and their data has been a cornerstone in many of Value Investor's Edge's biggest successes.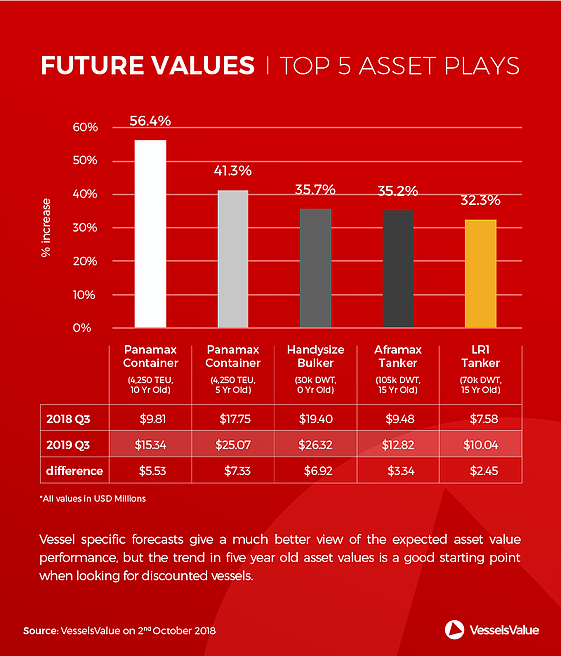 Source: VesselsValue
Court Smith of VV summarizes the reasoning behind these picks:
Handysize Bulkers – Lagging other bulker segments, but ton mile demand for these units remains on a gradual upwards slope.

Panamax Container Vessels – The removal of a significant number of older ships has preserved the value of prime age and fuel-efficient vessels.

LR1 Tankers – The large clean product tanker segment has seen a tough market environment over the past several years due to the large growth in vessel supply.

Aframax Tankers – Aframaxes have suffered from changes in trade patterns, but remain the workhorses of the crude tanker fleet, and the average age of the fleet on the water remains high. Rates should recover as older units come out of service, preserving the value of a five-year-old ship.
He goes on to conclude that "tankers offer the most promising investment overall, as most large crude tankers still have significant upside remaining based on an analysis of expected market trends over the next several years. However, opportunities abound in other vessel classes as well."
So now we know what to look for. However, pouring over fleet profiles for dozens upon dozens of shipping firms to find the right fleet composition in order to capitalize on this forecast is a daunting task.
Fortunately, ShipBrief (J Mintzmyer's and James Catlin's latest venture which was launched on October 4th) has done the work for us.
Fleet Profiles
Let's use the rest of this report to examine the Panamax containers since they were projected to gain the most.
For those that follow my work the selection of the Panamax class should come as no surprise. On May 10th I issued a report which noted that a bifurcated market had developed in the container shipping segment. The larger ULCV's were doomed to a horribly bearish outlook, while the smaller classes were projected to shake off the recent bear market and begin an upwards climb in both charter rates and asset values.
The class cited in that report to experience major gains were Panamax vessels. The short story is that the advent of ULCV's created a cascading effect among the global fleet which put pressure on all classes across the board. This came around the same time as the opening of the new Panama Canal locks which were able to accommodate the larger Neo-Panamax or Post-Panamax vessels, which presented far more attractive economies of scale compared to the Panamax class.
This left the Panamax class, which was once the workhorse of the container shipping market, in a very tough spot. As employment opportunities dried up, owners faced the music and began sending younger and younger Panamax vessels to the scrapyard, some as young as seven years old.
But I concluded, "there are indications that perhaps the market may have overshot when it comes to how many of these smaller vessels were removed from service." This has absolutely been the case and with an orderbook of just four vessels for the entire class, representing 0.6% of the fleet, vessel supply will stay tight over the next couple years at least.
Now that we know the logic behind this call out of VesselsValue, which echos my own research, let's turn to the companies that might benefit from this recovery.
The first is Navios Maritime Containers (NMCI), which has been making preparations for a US listing. This is a firm we have been watching closely over at Value Investor's Edge for quite some time in anticipation of this public offering.
The following tables, taken from ShipBrief's Analytics section show the composition of the fleet.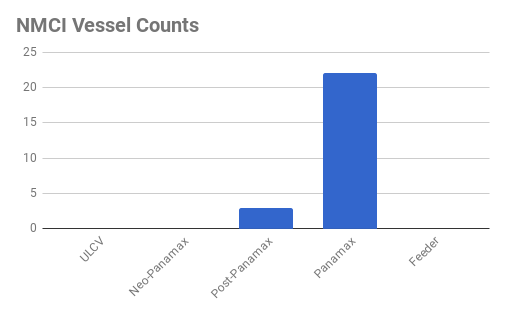 Source: ShipBrief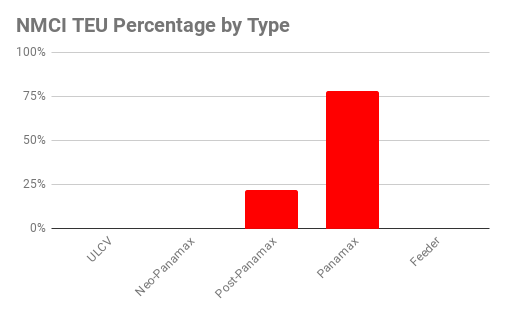 Source: ShipBrief
Currently, NMCI has 26 live vessels with 23 of those being the Panamax class.
Furthermore, these vessels were all purchased during a historic downturn for the container segment at "fire sale" prices.
Their first purchase of 14 vessels represented a total purchase price of $118.0 million. This block of vessels averaged 9.7 years of age as of the completed transaction date, August 7th, 2017. This puts them right in the sweet spot as 10 year old Panamax vessels are set to be the biggest winners according to VesselsValue over the coming year.
The projected asset value gains come on top of an approximate $20 million in valuation increases already over the past year. This figure doesn't take into account the accretive charters which were attached to some of these vessels.
Let's take a quick look at some other companies in the container segment to see exactly how they might fare.
Seaspan (SSW) is a popular name and one of the largest container shippers in the world.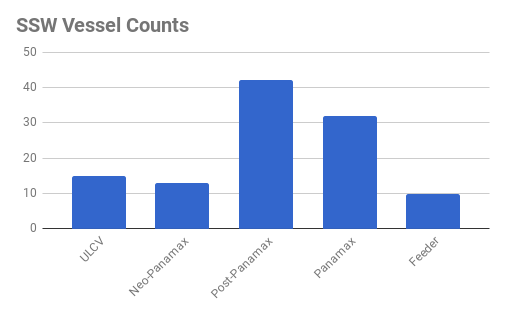 Source: ShipBrief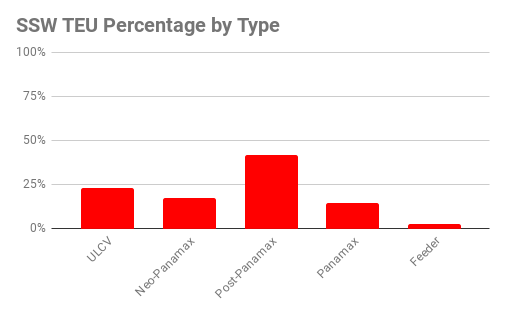 Source: ShipBrief
Seaspan looks to be in a fair position to capitalize off this trend. The approximate age of their Panamax fleet comes in at 11 years, which, once again, is right in the sweet spot for potential asset value gains. But we also note that there is a fair amount of larger tonnage, which may be slightly hindered due to continuing cascading from the ULCV market and an escalating trade war.
Finally, let's look at a snapshot of Global Ship Lease (GSL) which isn't as popular but might be gaining a bit of traction if the forecast out of VesselsValue comes to fruition.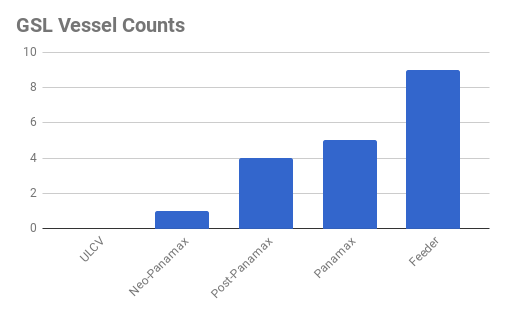 Source: ShipBrief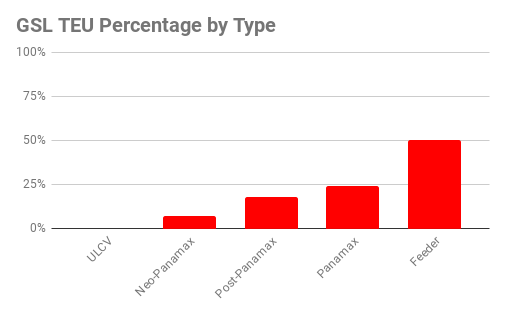 Source: ShipBrief
The average age of their Panamax vessels comes in at 11 years. But what we also notice is that they have a high degree of concentration in the feeder class as well. Turning back to my May report I noted that the feeder class was also showing some promising signs. Though the feeders weren't listed on VV's top 5 asset plays, I suspect they will benefit from a thin orderbook and improving sentiment. Finally, Global Ship Lease has relatively little exposure to larger classes.
So if we had to make a decision between GSL and NMCI, what would it be? Well, value investors might want to look at a few key metrics which are readily available on Value Investor's Edge; that of Price to NAV, Debt to Assets, and finally leverage.
NMCI sports a P/NAV of 0.86, D/A of 44%, and finally Leverage of 44%. It's worth pointing out the NMCI has the second lowest P/NAV among US listed companies. GSL on the other hand shows a P/NAV of 1.73, a D/A of 83%, and Leverage of 92%.
These metrics alone spell out a clear winner for those seeking value, not to mention the ability to increase leverage in an improving market.
Conclusion
Of course, there are other container shipping companies such as Diana Containerships Inc., Danaos Corporation, Costamare, Euroseas, Etc. whose fleet profiles can be found at both Value Investor's Edge and ShipBrief. But the point here is that a simple piece of analysis can turn into a powerful investment tool, with the right resources available.
Here we focused on the Panamax container prospects, but according to VesselsValue opportunities abound in other areas of the market, with tankers presenting possibly the "most promising investment overall", according to Court Smith.
We'll close here with two final charts from the tanker segment, those of Tsakos Energy Navigation (TNP).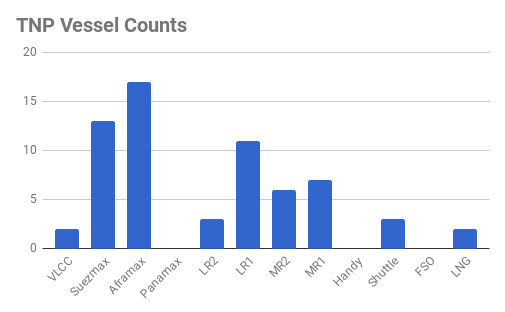 Source: ShipBrief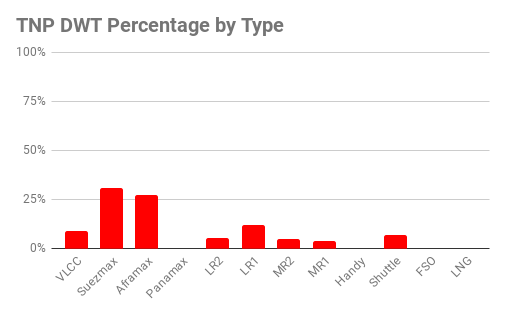 Source: ShipBrief
Tsakos has a fair amount of exposure to both the Aframax and LR1 class. However, the Aframax fleet is relatively young, coming in at about 5 years of age. But the LR1 fleet is a bit closer to that sweet spot of 15 years, coming in at 9 years of age.
One quick glance at the Value Investor's Edge analytics page shows TNP has the second lowest P/NAV among all US listed companies, at 0.84.
Information like this can help investors identify asset value plays, which feeds into NAV (once again different from book value), which as we know now is a key component in what value investment professionals look for when deciding where to put their money.
Disclosure: I/we have no positions in any stocks mentioned, and no plans to initiate any positions within the next 72 hours. I wrote this article myself, and it expresses my own opinions. I am not receiving compensation for it (other than from Seeking Alpha). I have no business relationship with any company whose stock is mentioned in this article.
Editor's Note: This article covers one or more microcap stocks. Please be aware of the risks associated with these stocks.