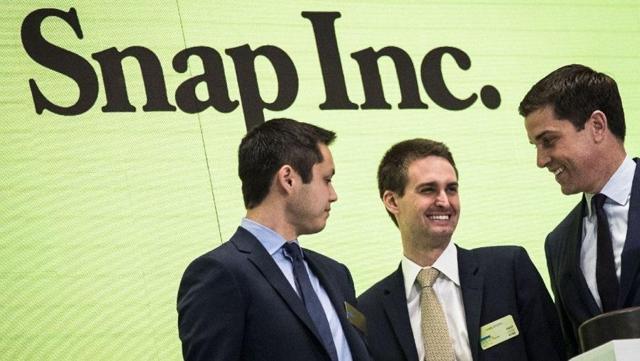 Snapchat co-founders Bobby Murphy and Evan Spiegel at the NYSE. Source: Hollywood Reporter
Snapchat (SNAP) has dominated the financial news cycle. The stock hit a 52-week low last week and is off over 50% Y/Y. Investors seem to question the growth rates of certain social media companies and their valuations. A leaked memo from Snapchat CEO Evan Spiegel outlined new strategic goals. Below I will parse through key points of the memo and what they potentially mean for investors.
Snapchat Rushed Its Redesign
Snapchat: There were, of course, some downsides to moving as quickly as a cheetah. We rushed our redesign, solving one problem but creating many others. In the wild, cheetahs can only run so fast for so long (around 30 seconds). Then they stop, rest, and take time to reassess their environment. We learned that moving really fast can help move us in the right direction, but we also need to take the time to rest and reassess ...

By launching our redesign quickly, and separating social from media, we got ahead of the existential crisis faced by many platforms today. We led the way in our industry by curating broadcast content, and separating Friends from professional content creators. Unfortunately, we didn't give ourselves enough time to continue iterating and testing the redesign with a smaller percentage of our community. As a result, we had to continue our iterations after we launched, causing a lot of frustration for our community.
My Interpretation:
In Q4 2017 (around the time the redesign was in process), Snapchat had over 180 million daily active users ("DAUs") that were growing by double digits. The size and growth of its DAUs were impressive. However, if it's not broke, then why fix it? I always felt that in separating the "social" from the "media," Snapchat CEO Evan Spiegel risked upsetting the company's user base if the change did not go well. Now Spiegel is admitting the company moved too quickly with the redesign and did not give itself enough time to test it "with a smaller percentage of the community."
My interpretation is that the company could have sought feedback from a small sample size of users and responded to that feedback prior to springing the full changes on its 180 million user base. This sounds like a big mistake that could have potentially been avoided with the proper planning. If the company compromised its core product value by hampering users' communication speed and making it difficult for them to find the right people to talk to, then it may not be an easy fix.
In Q2, Snapchat's DAUs fell 2% from lower frequency of use due to the disruption of the redesign. Winning back lost DAUs could take a few quarters, if at all. A point of contention for SNAP bulls is that DAUs appear to have plateaued. If they fall again in Q3, then the stock could tumble and it may be difficult to win back investors until the company actually delivers double-digit growth in DAUs again.
Make Snapchat The Fastest Way To Communicate
Snapchat: Snapchat gained initial traction because it has the fastest way to share a moment. With Snapchat, you can say in one tap of the camera button what might take 10 minutes to type on a smartphone keyboard... We've achieved that speed structurally, by opening directly into the camera. We've made Snapchat even faster by designing a camera button that takes an image with one tap, and a video when you hold the button, this time switching modes...

Every product we have ever created was built on top of this communication behavior. Stories were invented as a way to communicate with many friends all at once, not just one or two at a time ... Because Snapchat was the fastest way to communicate, it allowed us to build the Stories business by converting a small percentage of the personal communication on our service into broadcast communication.
My Interpretation:
Speed may be a differentiating factor for Snapchat's management team, but Facebook's (FB) Instagram has incorporated some of the features Snapchat sees as a competitive advantage. Snapchat needs to take its concept from a cool toy to a tool that helps people market their businesses, grow their brands, and make money. Social media is a powerful tool for celebrities to interact directly with fans. Media outlets can also get news on celebrities without contacting them directly or going through publicist. If media outlets want to know what a certain celebrity feels about the stock market, politics, or even Snapchat's new redesign, they can retrieve information from that celebrity's social media page.
In this gig economy, influencers and potential influencers want to make money. To do so they need to constantly sell and market. For instance, I run a quarterly speaker series about the U.S. economy. I recently spoke to some college students about the best way to get the word out about the event. I told them I was on Twitter (TWTR), Facebook, and YouTube. They were incredulous that I was not on Instagram and demanded that I join. The discussion practically turned into a public relations forum for the wonders of Instagram. They did not mention Snapchat once. I was cranky about having to manage another social media account, but I joined Instagram within a week of that conversation.
Most of the viral videos - from new dance crazes or a celebrity rant - I am aware of are happening on Instagram. Artists, celebrities, and content creators are getting exposure and actually making money from these platforms. The term "Stunting for the gram" - doing the most for exposure on Instagram - has become part of urban vernacular.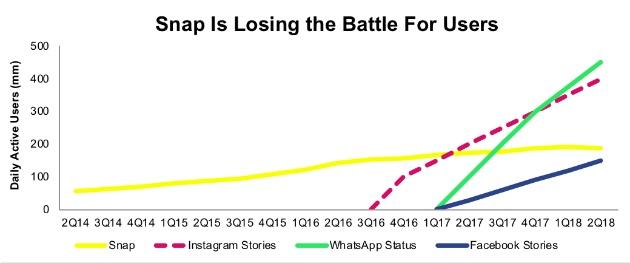 Source: David Trainer SNAP Seeking Alpha Article September 19, 2018
It is no wonder that Snapchat is losing the battle for new users to Instagram. While Snapchat's user base appears to have plateaued, the user bases of Instagram and WhatsApp have taken off. Spiegel can blame part of the recent decline in DAUs on the redesign, but it is difficult to ignore the rapid growth of these other two platforms.
The company says it is working on a design for Discover, which shows content from professional media companies and celebrities. It had better hurry up because Instagram seems to be the new platform for celebrities to share pictures, videos, and connect with fans and influencers. There has to be a reason for users to stay engaged with Snapchat. The next step for Snapchat is to connect influencers and content creators with celebrities and help these content creators make money.
Snapchat Wants Full Year Profitability By 2019
Snapchat: Our 2019 stretch output goal will be an acceleration in revenue growth and full year free cash flow and profitability. With profitability comes increased autonomy and freedom to operate our business in the long term best interest of our community without the pressure of needing to raise additional capital ...

There are three primary ways that we are working on growing revenue: 1) Increasing DAU and engagement, 2) Improving measurement and optimization and 3) Increasing the number of active advertisers.
My Interpretation:
Full-year profitability by 2019 sounds like happy talk at this point. In Q2 2018, the company had revenue of $262 million and cost of revenue of $192 million. Revenue less cost of revenue was about $71 million, not nearly enough to cover the $428 million Snapchat spent on R&D and SG&A. The company would need to substantially bring these costs down in order to meet the $71 million it generates after taking into account for cost of sales. SG&A was about $225 million. The company could potentially reduce these costs if it got celebrities and content creators to promote the platform more. R&D of $203 million could be more difficult to control since Snapchat appears to constantly innovate and try new features.
The company's average revenue per user ("ARPU") of $1.40 was up 33% Y/Y, while cost of revenue per user ("CoRPU") of $1.02 rose only 16%. The net amount of $0.38 was not nearly enough to cover R&D and SG&A which were a combined (excluding depreciation and amortization expense) $2.16 per user. It would be an understatement to say the company must rapidly increase DAUs or ARPU. It could be difficult to grow DAUs in the face of competition from Instagram and WhatsApp. Older users generate higher revenue per user; however, until they can make money from Snapchat, I do not see them switching from other social media platforms.
Spiegel's memo and his admission to the challenges facing Snapchat come as the company just reached a 52-week low and is well off its IPO price. SNAP has a market capitalization of nearly $10 billion. What it is actually worth is anybody's guess. I do not believe the business model actually works and the company has not provided any evidence to the contrary.
Snapchat does not make money and it is hemorrhaging cash; the company has burned over $550 million in cash over the past year. Even if Snapchat stopped the decline in DAUs and grew ARPU, there is no guarantee it would actually turn a profit or justify its $10 billion market capitalization.
Conclusion
Over next few quarters, I envision a further decline in DAUs and more cash burn for SNAP. The stock will likely fall further while management attempts to prove the business model works. SNAP remains a sell.
Disclosure: I am/we are short SNAP.
I wrote this article myself, and it expresses my own opinions. I am not receiving compensation for it (other than from Seeking Alpha). I have no business relationship with any company whose stock is mentioned in this article.