Target (TGT) has now broken through its 50-day moving average of around $85.27 as it finished the trading week at $84.52. The sustained move down in shares of Target last week coincided with the weakness in the S&P 500. We are still unsure whether the S&P is dropping down into a daily or intermediate cycle low. Rising bond yields definitely seem to be taking their toll.
What we do know is that Target appears to have formed a head-and-shoulder reversal pattern, so lower prices may be on the cards temporarily. Target's shares really do not have a strong support until around the $76 level, which is a 10%+ drop from the current share price.
A company such as Target would always interest our portfolio if the risk/reward setup was skewed in our favor. It is a proven dividend aristocrat and has been able to maintain a strong balance sheet through the years. In fact, despite the very aggressive move-up in shares since last year, an argument could be made that the stock is still not that expensive from an earnings standpoint. Currently Target trades with an earnings multiple of just under 15, but its long-term historic price-to-earnings ratio is around 17.46 (calculated over the past 33 years).
We have consistently stated that Target's sizable store base is its biggest weapon against the biggest disrupting influence retail has probably ever seen in Amazon (NASDAQ:AMZN). However, Target will need to continue reinventing itself. Here are the areas we feel it needs to improve on before we would entertain any thoughts of scaling into a long position.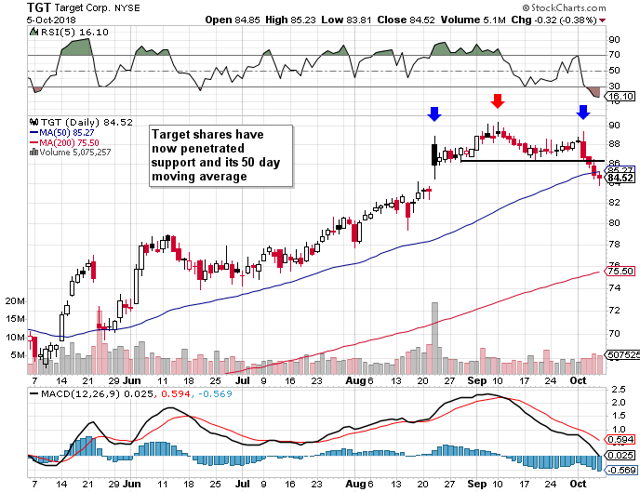 We are not seeing enough growth in Target's digital channels compared to competition such as Walmart (NYSE:WMT). Mobile commerce will be the next channel that leads the way in the next wave of digital growth. Although Target has seen results from re-designing its stores, we feel that not enough resources have been put to use to expand its digital services. Management has decided to go ahead with its plan of opening 30 to 50 smaller format stores per year in an effort to keep competition at bay. We do not see a huge problem with its store base. The problem we see is in management's ability to leverage those stores.
Online e-commerce sales are growing much faster than offline sales to the degree that by 2020, digital sales are expected to be growing six times faster than their conventional counterparts. With around $4 billion of sales coming through this channel (out of a total kitty of $73+ billion), Target needs to be doing more in this area against encroaching competition.
Speaking of e-commerce, we have little doubt that grocery will be a huge hit online going forward. With people working longer and with last mile delivery services improving by the week, we estimate that online grocery will grow much faster than broad online retail. Here again, we feel Target is at a disadvantage compared to the likes of Costco (NASDAQ:COST). As shoppers move online, it is going to be so much easier for customers to compare fares from competing retailers. Furthermore, whoever gets the grocery business will in all likelihood get the rest of the retail shop due to rewards, loyalty programs, etc. Target has its own Red Card to reward customer loyalty, but we do not see penetration here growing meaningfully at present as customers switch to the digital channel. We know that the "shopping experience" becomes less prevalent in an economic downturn. Target needs to get used to the fact that many of its customers sooner or later will switch to online channels when buying.
In the fierce competitive world of dividend growth investing, we feel Target has to do more with respect to rewarding shareholders. For years, I was a huge Target advocate due to the fact that its dividend growth rates were well above average in this sector. In fact, its 10- and 5-year dividend growth rate averages stand at 18.5% and 13.2% respectively. However, recent dividend hikes have left a lot to be desired. The present quarterly payout is $0.64, which is a 3.2% dividend increase on the previous $0.62 number. As mentioned earlier with respect to bond yields, we now have a 10-year Treasury yield of 3.23%. Target's present dividend yield is just under 3%. There is some viable competition on the scene now for income-oriented investors. If yields on certain stocks don't stack up, investors will waste no time in moving their funds to either fixed income alternatives or other dividend companies which are paying out higher yields or are growing their payouts faster.
To sum up, although Target has improved its e-commerce services, it still has a lot more to do. Customers always become more sensitive to price in a recession, and we foresee a huge uptrend in online shopping once a contraction begins. Target's Red Card offering is still too much tailored to getting customers in-store. Furthermore, dividend growth rates have slowed significantly over the past few years. We maintain that the company should be able to leverage its stores better by aggressively turning them into fulfillment centers and curb pick-up points. Up to this point, despite the run-up in the shares, we feel Target has plenty more to do.
Disclosure: I/we have no positions in any stocks mentioned, and no plans to initiate any positions within the next 72 hours.
I wrote this article myself, and it expresses my own opinions. I am not receiving compensation for it (other than from Seeking Alpha). I have no business relationship with any company whose stock is mentioned in this article.