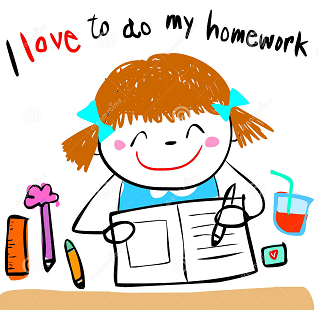 Readers will find us dutifully doing as we are told in this week's
Resource Sector Digest.
(Vol. 124 - October 7, 2018)
Brought to you by Itinerant and The Investment Doctor.
In case you missed out on previous editions of this newsletter, simply click here, here or here to catch up.
Setting The Scene
According to this article Osisko Gold Royalties (OR) "is failing the FCF test" after allegedly booking "negative FCF of $22.9 million". We strongly disagree, for the reasons outlined in the following.
Here is a copy of the relevant sections from the company's Q2 Cash Flow Statement for further reference, with some emphasis added by your humble scribe: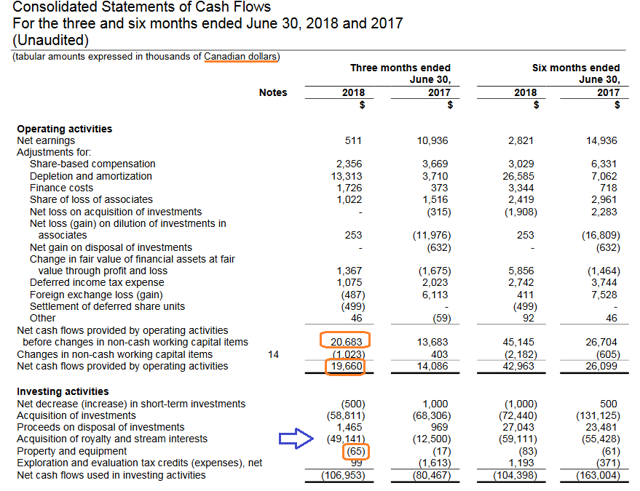 (Source: Osisko Gold Royalties Q2 financial report)
Let's keep it simple and go with the following definition: FCF is operating cash flow (or OCF) minus capital expenditures (or capex) -- as quoted straight from Seeking Alpha's "Best Practices For Free Cash Flow Analysis".
Depending on which view one takes on non-cash working capital items, the relevant OCF for the second quarter was either C$20.7M or C$19.7M. We prefer to ignore these oftentimes noisy working capital items and tend to use the former of the two numbers. And in our view, this number is already very close to the FCF mark since Osisko spent only a near-negligible amount of C$0.065M in capex during the quarter. (Contributing line items marked in orange above.)
Our number for the FCF in Q2 is therefore a positive C$20.6M, or a soundly positive $16.1M when denominated in US Dollars.
That number paints a significantly different picture than alluded to in said article, and one can rightfully ask where the discrepancy might come from - as we have in the respective comment section. Lacking a reply we are left speculating, and in doing so, we suspect that our fellow author has made another deduction to arrive at "his" FCF number of "negative $22.9": namely a deduction of the $49.1M in "Acquisitions of royalty and stream interests" (blue arrow above), as this would result in a negative FCF number of -C$28.5M, or the quoted negative -$23M in the US denomination.
Which leads to the question of whether or not royalty acquisition should be included in the FCF calculation for streaming and royalty plays? And here we turn again to Seeking Alpha's "Best Practices For Free Cash Flow Analysis" and quote the following:
It is generally a good idea to exclude acquisitions and only consider "normal" capex (typically presented as purchases of property and equipment) to get a more accurate picture of normalized FCF.
There are a couple of caveats to this statement mentioned in said Best Practices document, but we argue none of them applies in the present case of royalty companies.
In the case of Osisko this view on cash flow from acquisitions is further illustrated by a transaction about to take place within the next 90 days. Pretium Resources (PVG) has elected to re-purchase its stream on the Brucejack mine, and Osisko will receive 118.5M payment in return (50% of the total re-purchase price of $237M). Osisko will book this cash in-flow under Investing Activities. And just like payments for stream acquisitions, this cash in-flow should not be considered when calculating the FCF for the quarter. Streams and royalties are investments for Osisko and shouldn't feature in FCF calculations - irrespective if they are acquired or divested.
In fact, most of the larger royalty and streaming companies have minimal capex needs, and therefore OCF oftentimes more or less equals FCF. With two notable exceptions:
Some royalty interests are funneled through special purpose companies, which in turn pay distributions or dividends to their owners. The Voisey's Bay royalty held by Altius Minerals (OTCPK:ATUSF) and Royal Gold (RGLD) is an example for such a construct; or Silverback Ltd which owns the gold stream from the New Luika gold mine and in which Metalla Royalty and Streaming (OTCQX:MTAFF) holds a 15% stake; or the proceeds that will eventually flow from the JV company recently formed by Franco-Nevada (FNV) and Continental Resources (CLR). The distributions or dividends from such special purpose companies tend to show up under Investing Cash Flows on the royalty companies' cash flow statements. However, by their true nature, they are cash flows from operations and consequently need to be considered when calculating the FCF.
Some (aspiring) royalty companies originate from project generator businesses, and may still be developing some of these projects to groom them for future farm-outs. The associated capex needs are proportionately higher in these cases than for the larger peers and typically have an impact on free cash flow. Take Ely Gold Royalties (OTCQB:ELYGF) for example, or EMX Royalties (EMX) -- both are collecting royalties, yet both still book negative cash flows from operations at this point in time as both are still investing in their project portfolio with intentions to attract partners for a farm-out and royalty creation.
Osisko passes the FCF test with flying colors as far as we are concerned.
Actionable Ideas
The Doc argues that Woodside Petroleum (OTCPK:WOPEF, OTCPK:WOPEY) is hands-down the best way to benefit from an LNG boom. Here is why.
Americas Silver (USAS) is buying Pershing Gold (PGLC) in an all-script deal. Closure is expected in Q1 2019, and the arbitrage is 7.3% at the time of writing.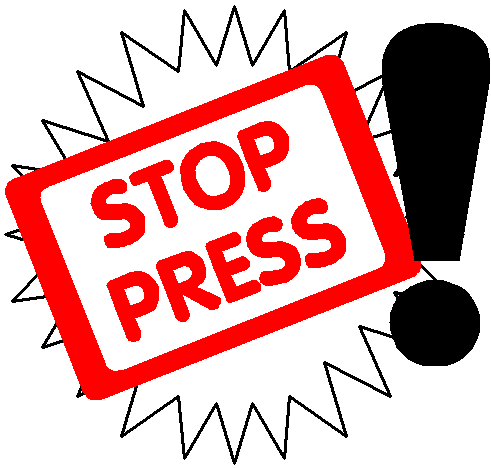 News Release of the Week
News release of the week goes to Cameco (CCJ) for winning the court case against the Canada Revenue Agency. It appears the company's dealings have been in full compliance with Canadian laws for the tax years 2003-2006 after all, and Cameco believes that there is no material difference regarding its tax payments for other years that have been questioned. The CRA has 90 days to appeal the finding, but markets are already removing the overhang associated with this case.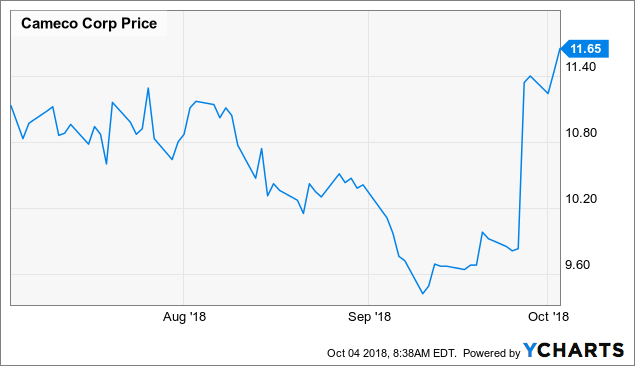 Drill Result Summary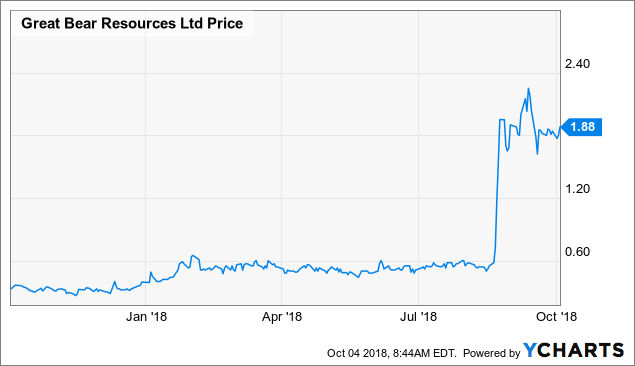 Wheelings and Dealings
B2Gold (BTG) has re-paid its $259M convertible note, and is planning to exit 2018 with $500M in debt - $200M less than at the start of the year. The Fekola mine is clearly having a positive impact on the company's cash flow generation capability.
Liberty Gold (OTCPK:LGDTF) continues to be able to access capital, and has just closed a C$11.6M placement with units selling at C$0.40 a piece - that's two loony-cents down from the previous placement in January.
Pretium Resources (PVG) has received a commitment letter to re-finance the $423M construction facility with two new debt facilities totaling $480M. Conditions for the new debt have not been given in any detail yet, but a good portion of the debt will probably be used to finance the stream re-purchase from Osisko discussed earlier in this piece.
BHP Billiton (BHP) and JV partner VALE (VALE) have moved one step further towards settling the damages caused by the 2015 dam failure at the Samarco iron ore mine in Brazil. According to various media reports, the Renova foundation will be distributing $1.5B in compensation in months ahead.
UR-Energy (URG) had to go back to the market in order to make ends meet. The $10M placement has closed with shares selling at $0.82, with half-warrants thrown in for good measure.
Other News
Copper Mountain (OTCPK:CPPMF) was apparently pleased to release results from a feasibility study for the Eva copper project in Queensland, Australia. The company used rather optimistic metal price assumptions, and came up with an NPV(8%) of $256M -- significantly less than the required initial capex of $350M. The company is currently weighing up funding options for the project.
RNC Minerals (OTCQX:RNKLF) continues to benefit from the discovery of a bonanza-grade Fathers Day gold vein at its Beta Hunt mine in Western Australia. Only a few weeks ago this company was being suffocated by its debt, but now the balance sheet is about to turn net-cash positive thanks to the discovery.
Denison Mines (DNN) announced results of a PFS conducted for its Wheeler River uranium project in the Eastern Athabasca basin. The latest version of this project proposes the use of ISR mining methods, leading to significant improvements in project economics. We are looking forward to the full document which will be filed within 45 days of the news release. Meanwhile, the market has clearly jumped to favorable conclusions.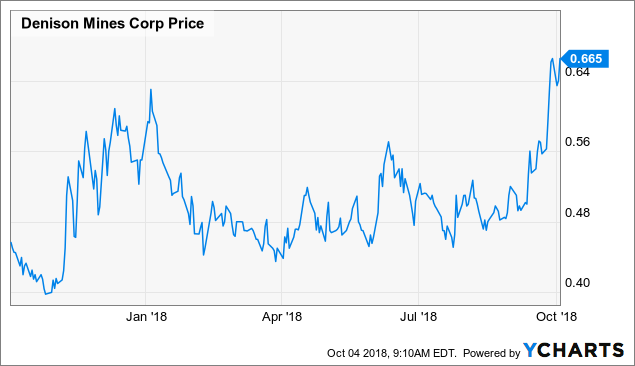 Ivanhoe Mines (OTCQX:IVPAF) announced yet another major discovery on its Kamoa-Kakula land package in the DRC. Some 50 holes have been completed so far, and a maiden resource estimate for this deposit is scheduled before the end of the present quarter.
Trevali Mining (OTCQX:TREVF) has halted operations at Santander due to a road blockade by members of the local community. Alleged failure to comply with certain community investment agreements was at the heart of the protest. Trevali rejected the allegations.
First Quantum Minerals (OTCPK:FQVLF) has come under pressure in Panama where a court ruling has cast a shadow on the company's rights to the land on which the Cobre Panama mine is being constructed. The legalities seem complex, and we will probably hear more on the topic in coming weeks. Franco-Nevada (FNV) could also be affected as it holds a gold stream on the project. Further trouble for First Quantum is originating from Tanzania where a proposed new tax regime is set to cause some financial pain, with details outlined here. The market has shrugged off these developments so far.
And with this last chart we bid our farewell, as always in great hope to see youse all again when we muster the energy to compile the next issue of this newsletter.
And Before We Go...
Please consider a subscription to Itinerant's Musings, with exclusive access to our small and mid-cap ideas, a lively community, regular commentary and outlook on metal prices. We'd love to have you on board.
Disclosure: I am/we are long TREVF. I wrote this article myself, and it expresses my own opinions. I am not receiving compensation for it (other than from Seeking Alpha). I have no business relationship with any company whose stock is mentioned in this article.
Editor's Note: This article covers one or more microcap stocks. Please be aware of the risks associated with these stocks.