Week by week, the obstacles standing in the way of a gold turnaround are being removed by the vagaries of the financial market. Only one major hurdle remains for gold to clear before its runway is fully cleared, namely the U.S. dollar. As we'll discuss here, lingering dollar strength is keeping gold prices subdued and will likely limit gold's gains which I anticipate for October. However, gold's near-term path of least resistance remains up in the immediate term and the gold bulls are still in a good position to fully regain control of the yellow metal.
For all the bearish sentiment still surrounding the yellow metal, gold has done a remarkably good job of at least maintaining support above its August low. In what was a turbulent week of most assets, gold finished higher last week after the U.S. employment report for September was weaker than the consensus expectation. Meanwhile, a continued sell-off in global equities and U.S. Treasury bonds served to somewhat increase gold's safe haven appeal. Spot gold closed the first week of October at $1,202 after gaining around 0.8 percent last week, its best showing since the week of Aug. 24.
On Friday, the U.S. nonfarm payrolls report for September showed that jobs increased by 134,000 jobs last month, the lowest number in a year. However, the Labor Department's monthly employment report also showed that unemployment fell to a 50-year low while wages steadily rose. Many on Wall Street have interpreted this as a signal that inflation pressures are gradually rising. This in turn could be used by the Federal Reserve to justify stated intention of steadily increasing the benchmark interest rate increases in the coming months. Gold investors mulled over the implications of this data and apparently decided it was of no significance for the metal's immediate-term (1-4 week) outlook. Instead, all eyes were on a much bigger concern.
The concern in question is the latest trend in U.S. Treasury yields, which is indeed a more immediate factor influencing gold demand. Specifically, spiking bond yields have temporarily eliminated one of gold's biggest competitors for safe haven money. With government and corporate bond prices collapsing, investors no longer have the debt market to turn to during times of global turmoil. The spike in longer-term bond yields can is perhaps best illustrated by the CBOE 10-Year Treasury Note Yield Index (TNX), below. With yields rallying in a vertical fashion, investors have a strong incentive to liquidate rate-sensitive securities, which in turn has created a temporary downside bias for the U.S. stock market. That leaves gold as one of the most conspicuous choices for safety conscious investors.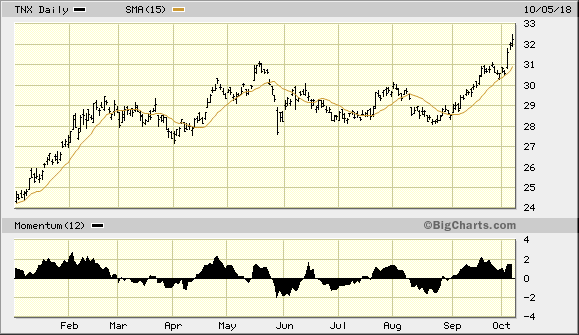 Source: BigCharts
Notwithstanding the lack of competition from the bond market, there is still one major obstacle standing in the bulls' path as they try to take control of gold's short-term trend. The problem I'm referring to is the lingering strength in the U.S. dollar index (DXY). Global investors still need a place to park their money as they continue to liquidate emerging market equities and bonds. Here is what the DXY graph looks like as of Oct. 5. As you can see, DXY remains in a confirmed intermediate-term rising trend above its psychologically significant 50-day moving average. DXY closed yet another week above the 50-day MA, which technically keeps the interim upward trend in the dollar intact.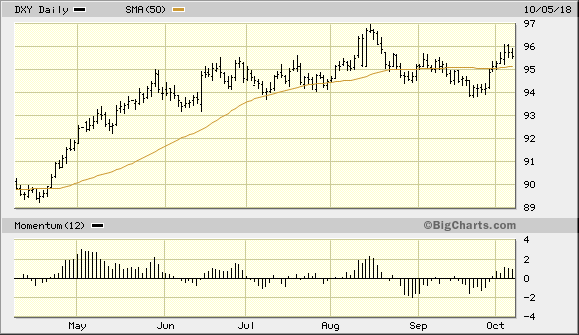 Source: BigCharts
What's more, the dollar/gold ratio is still confirming that the dollar remains in a position of strength versus gold. The dollar/gold ratio is a valuable tool which not only reflects the dollar's relative strength or weakness compared with gold, but also is used by many institutional money managers to make informed decisions about where to allocate funds. With this ratio (below) currently above its 50-day moving average, the clear message is that safety still lies with holding more cash than gold. Until the dollar/gold ratio reverses its rising trend and falls decisively under the 50-day MA on a weekly closing basis, investors would do well to follow the lead of the smart money and avoiding major commitments to gold for now.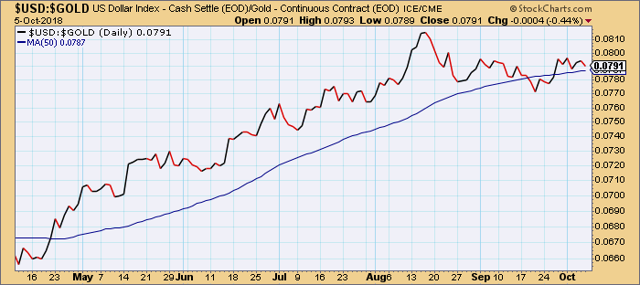 Source: StockCharts
While many analysts and investors believe gold is "cheap" and attractive based on value considerations, the continued strength in the U.S. dollar will remain a headwind for a major gold rally. Until the dollar significantly weakens, gold's currency component will prevent a powerful short-covering rally and could keep the metal locked in a tight range between roughly the $1,175 and $1,225 levels for a while. Speculators may be tempted to do some nibbling at these levels, but until gold fulfills the requirements of an immediate-term bottom per the rules of my trading discipline, I'm not formally recommending new long positions in the metal.
In the meantime while the bulls are waiting for dollar to weaken, gold is at least establishing a potentially strong base from which it can eventually launch a short-covering rally. The iShares Gold Trust (IAU), my favorite gold trading vehicle, has been bottoming for the last seven weeks and has even established its first higher low since the decline started back in April. While this is no guarantee that the latest turnaround attempt will be successful, it does make it easier for the bulls to get a foothold on the metal.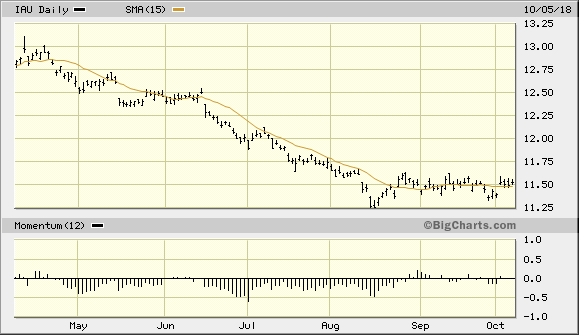 Source: BigCharts
To summarize, the prospects for a gold turnaround in October remain strong based on the absence of competition from the stock and bond markets. The only major factor overhanging the near-term gold outlook is the metal's currency component based on the strong U.S. dollar. Once the dollar/gold ratio reverses its rising trend, however, we'll have the final signal that gold is finally ripe for a meaningful rally. Meanwhile, the huge amount of short interest hanging over the gold market should make it easier for gold bulls to take control of the market once the dollar breaks decisively breaks under its 50-day moving average.
On a strategic note, IAU should ideally close above the $11.60 level (the late August high) to confirm an immediate-term bottom and tell us that the bulls have finally seized control. This would complete an immediate-term bottom and allow for us to initiate a new speculative long position. For now I recommend that investors remain in cash.
Disclosure: I/we have no positions in any stocks mentioned, but may initiate a long position in IAU over the next 72 hours. I wrote this article myself, and it expresses my own opinions. I am not receiving compensation for it (other than from Seeking Alpha). I have no business relationship with any company whose stock is mentioned in this article.