Things in this market can turn on a dime. That is certainly the case for retailer Stitch Fix (SFIX), which in recent months saw its shares nearly triple in value only to be sliced in half as seen below. Shares fell after the recent earnings report and have continued falling since, which I believe presents a buying opportunity for long-term investors.

(Source: Yahoo Finance)
In just the third report since going public, the company narrowly missed on the top line for the first time, but beat on the bottom line yet again. Revenues were up more than 23% over the prior-year period, and unlike a lot of new names that seem to be in favor with the millennial crowd, Stitch Fix is actually profitable. The company just finished its fiscal 2018 period with net revenues of more than $1.2 billion and a profit of almost $45 million. A summary of key results can be found in the graphic below.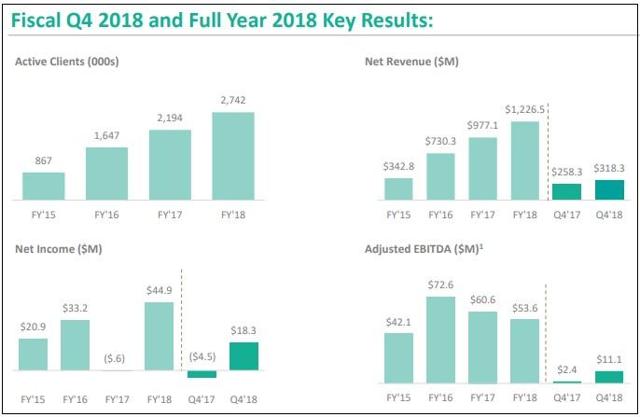 (Source: Company Q4 investor letter, seen here)
In the latest quarter, the company expanded its addressable market by launching an offering aimed at kids, as well as growing its women's inventory base at the lower end and in the premium segment. At the end of the current fiscal year, the company will launch in the UK, which will bring in plenty of new clients as well as revenue. It would not surprise me to see additional markets launched over the next couple of years.
While gross margins decreased for the year and operating expenses rose a little faster than revenues, the company is finally starting to scale up. That meant operating income rose for the fiscal year. When combined with a re-measurement of the preferred stock liability plus lower taxes, that drove the nice net income swing. Free cash flow also jumped, and the balance sheet is obviously stronger after the IPO during the fiscal year.
Because of the IPO as well as profitability driving cash flow, the company can make the necessary investments to continue driving growth. The UK expansion will obviously be the big ticket item to watch, but of course expanding product selection in the US to grow the client base is important. When I first researched the name back in March, Street estimates for the current year were $1.44 billion for revenues and EPS of $0.08. Those numbers now stand at $1.51 billion and $0.15, respectively, certainly heading in the right direction.
Now if you want to argue that the stock rallied too fast when it soared to more than $50, I wouldn't disagree. However, Stitch Fix has now lost more than 50% in just a couple of weeks, now trading at just 1.7 times this year's expected sales. Most specialty retailers trade between 1 and 3 times sales, but you could argue that Stitch Fix's higher growth rate should mean a higher valuation. In fact, as the estimates page linked above shows, the average Street price target is $37.22, more than 42.7% upside from current levels.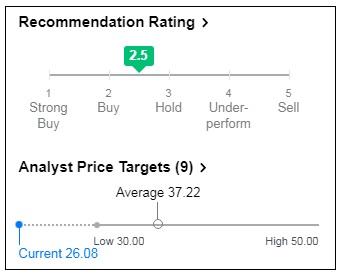 After falling more than 50% from their recent high, I believe shares of Stitch Fix are worth a look. The specialty retailer is growing its client base and revenues quite nicely, while also being able to turn a profit and deliver positive free cash flow. With a strong balance sheet fueling the next leg of expansion, the name is poised to continue growing with a very reasonable valuation.
Author's additional disclosure: Investors are always reminded that before making any investment, you should do your own proper due diligence on any name directly or indirectly mentioned in this article. Investors should also consider seeking advice from a broker or financial adviser before making any investment decisions. Any material in this article should be considered general information, and not relied on as a formal investment recommendation.
Disclosure: I/we have no positions in any stocks mentioned, and no plans to initiate any positions within the next 72 hours.
I wrote this article myself, and it expresses my own opinions. I am not receiving compensation for it (other than from Seeking Alpha). I have no business relationship with any company whose stock is mentioned in this article.