President Donald Trump is expected to announce the lifting of the summer ban on E15 (15 vol%) blends of ethanol with gasoline during a Tuesday visit to Iowa, according to Reuters. The announcement comes at a time when the White House has lost important political support in the Midwestern swing states due to the lower soybean prices that have been one result of the Trump administration's trade war with China. While the White House's trade policy has had less of an impact on ethanol producers, companies such as Aemetis (AMTX), Green Plains (GPRE) and its logistics MLP Green Plains Partners (GPP), Pacific Ethanol (PEIX), and REX American Resources (REX) have struggled through an extended period of low demand that has been a major consequence of the Trump administration's separate decision to weaken the U.S. biofuels blending mandate (see figure for the share price performance of major ethanol producers since early 2017). The E15 announcement is part of a compromise between merchant refiners and ethanol producers that the White House has been mooting since last spring as a means of responding to refiners' lobbying efforts while shoring up votes in the Midwest. Investors should not, however, expect it to provide much relief to ethanol producers' share prices.
The E15 announcement stems from the decision by the Trump administration, through the U.S. Environmental Protection Agency [EPA], this summer to reduce the volume of biofuels that must be blended with refined fuels prior to retail under the country's revised Renewable Fuel Standard [RFS2]. U.S. merchant refiners have long argued that they incur high compliance costs under the mandate and have waged a lobbying campaign to have it weakened or even eliminated since early 2013. They found a sympathetic ear in the Trump administration after the White House named famed activist investor and refinery owner Carl Icahn as a special adviser to President Trump. That appointment ultimately led to the EPA's policy of awarding so-called "hardship waivers" to many profitable refiners that reduce their compliance burdens under the mandate.
This de facto reduction to the mandate's blending volumes has caused the price of the mandate's compliance credits, Renewable Identification Numbers, to crash (see figure) as the weighted average RIN price has lost 80% of its value since August 2017. Each RIN is only generated when a corresponding gallon of qualifying biofuel is produced, so low RIN prices have the effect of reducing U.S. demand for biofuel, other things being equal. Unsurprisingly, the sharp decline to RIN prices has coincided with a divergence between ethanol and gasoline prices that has caused producers of the former to largely miss out on last year's rally to the latter.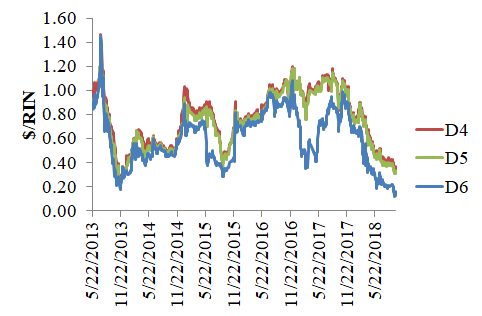 Source: EcoEngineers (2018).
The White House's decision to allow E15 sales to occur year-round is set against this backdrop. Most ethanol consumed in the U.S. comes in the form of a 10 vol% blend with gasoline known as E10, although some is consumed in blends of above 55 vol% (so-called E85) for use in flex-fuel vehicles. In 2011, the EPA cleared ethanol blends of up to 15 vol% for use in most unmodified vehicles manufactured after 2001 in a safety decision that was sharply disputed by refiners and the AAA. An important exception to this approval was that E15 could not be sold in most of the country between June 1 and September 15, however, due to concerns about smog formation resulting from the behavior of volatile organic compounds in the summer heat.
E15 has proven to be unpopular with consumers and, by extension, retailers over the subsequent seven years since the EPA first permitted E15's part-time use in unmodified vehicles. In Iowa, for example, a sparsely-populated state that is the country's largest producer of both corn and ethanol, E15 sales were 36% lower than E85 sales, despite not requiring the latter's specially-modified vehicles, a full five years after the EPA allowed E15 sales. The Renewable Fuels Association estimates that 90 million gallons of E15 containing an average ethanol content of 14.5 vol%, or 13 million gallons of ethanol in the form of E15, were sold nationwide in 2016. In that same year, the U.S. produced 15.3 billion gallons of ethanol, meaning that only a very tiny fraction of total ethanol production was consumed in the form of E15 for the most recent year in which data is available.
Some industry analysts have argued that the Trump administration's decision to permit E15 sales during the summer will cause ethanol blending to rise sharply, with the most optimistic estimates predicting a 50% increase from current volumes. The real impact will depend on why E15 consumption has been restrained to date, however. E15 sales volumes will only undergo a rapid increase following the Trump administration's proposed change if consumption has been low due to retailers' unwillingness to sell a blend that is only legal for eight months of the year. If, on the other hand, E15 sales have been low because of consumer concerns about the blend causing damage to their vehicles, then the ability to buy it year-round will have little impact on consumption. In either case, today's low RIN prices will do little to incentivize the increased ethanol blending that will be permitted by the new E15 rule.
Investors should therefore not expect ethanol producers' earnings to experience much in the way of a near-term benefit due to the Trump administration's E15 announcement. E15 has made little headway in Iowa despite that state's fuel market being characterized by comparatively low ethanol prices relative to those of gasoline. This makes it unlikely that fuel retailers nationwide, many of whom pay substantially higher prices for ethanol than their peers in Iowa do, will rapidly expand the availability of E15 at their stations, especially with RIN prices being as low as they currently are. This could change, of course, in the event that gasoline prices rebound to the highs last seen in 2007 and 2008, but the U.S. Energy Information Administration attributes a very low probability to such an outcome (see figure). A weak and uncertain blending mandate rather than a lack of year-round E15 sales is likely the real cause of U.S. ethanol producers' continued poor operating environment.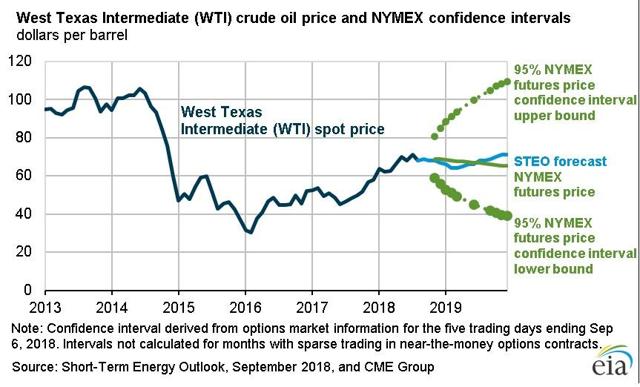 Source: EIA (2018).
Disclosure: I/we have no positions in any stocks mentioned, and no plans to initiate any positions within the next 72 hours. I wrote this article myself, and it expresses my own opinions. I am not receiving compensation for it (other than from Seeking Alpha). I have no business relationship with any company whose stock is mentioned in this article.
Editor's Note: This article covers one or more microcap stocks. Please be aware of the risks associated with these stocks.