This is an update after our initial report from last week. PYX stock is up 50% in a matter of trading days since we first weighed in on the name. While we cannot take credit for market prices, we believe PYX remains substantially undervalued with multiple fundamental shots on goal. Perhaps even more importantly, PYX stock has several favorable technical characteristics that make it an attractive stock to buy, and these technical characteristics will be the focus of this report.
It should be no secret to active market participants that the US equity market has rewarded momentum stocks over small cap value stocks for a quite a while now, accurately depicted by the following relative performance chart of the iShares Momentum Factor USA ETF (MTUM) vs. the Russell 2000 Value index (IWN).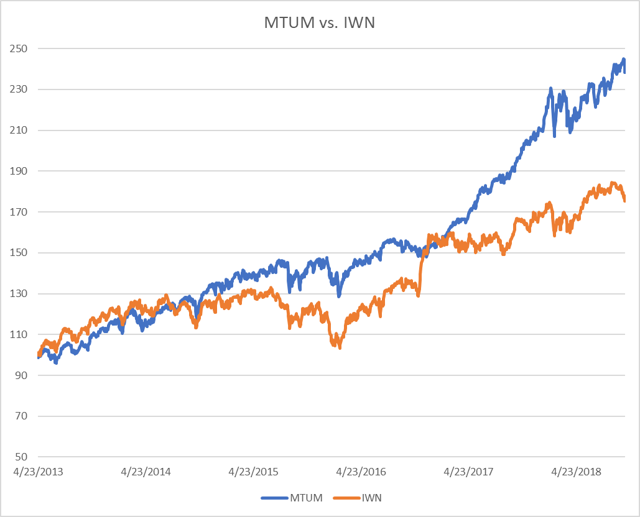 Historically, PYX has been a sleepy value stock that got little respect from the market as shares traded at a recent pre-cannabis valuation of just ~5x EBITDA for its mature, stable tobacco leaf business. This valuation was frankly too low for PYX's core legacy business, and we believe the valuation should have been closer to 8-9x EBITDA. In our last report, we said that at 9x the high end of our EBITDA estimate, PYX's legacy business could be worth as much as $80 a share alone. This valuation does not include any of the expected growth in cannabis products. Including cannabis, we estimate the shares are worth between $315 and $431 per share.
Given the company's move into cannabis, PYX is no longer a value stock, it has become a momentum stock as the market begins to discount significant growth in revenue and EBITDA.
One of the least well understood aspects of the PYX story is the incredibly thin float of shares available for purchase for new investors. It should be noted that PYX has a fully diluted share count of just 9.8m shares, over 5m of which are closely held by long-term funds, insiders, and passive ETFs. We believe the number of shares held by PYX top 10 shareholders creates a dynamic that is likely to result in a much higher stock price for PYX from a purely technical perspective as there are simply not enough supply shares to meet the strong demand from the market.
Specifically, the top 10 shareholders of PYX have essentially cornered the market for shares in the name: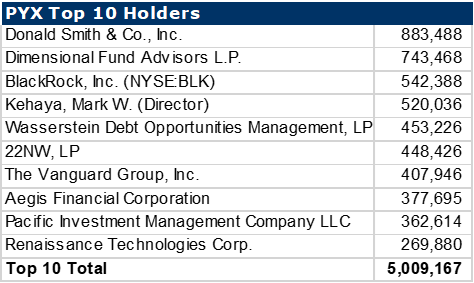 Source: Public SEC Filings
These shareholders have been long-term in nature and have for the most part not sold shares even as the price has increased. For example, the largest shareholder of PYX, Donald Smith & Co., has owned close to 900,000 shares since late 2013 with minimal activity in the stock since then. Three of the top 10 shareholders are passive investors with ETF products – Dimensional Fund Advisors, BlackRock, and The Vanguard Group. These holders collectively own ~1.7m shares, or 17% of shares outstanding and will likely not sell their stock as long as PYX remains a constituent of the Russell 2000 index (PYX was recently added to the R2K and based on a market capitalization of ~$350m is well within the necessary market cap range to remain a constituent).
Below is a chart of the top 10 holders of PYX since the end of 2013. The percentage owned by these funds was ~70% at the time. Today it stands at a still very healthy ~55%. Given the limited activity these funds have shown in trading the stock (many are passive and don't actively manage their positions at all), the actual float available at PYX is less than 5m shares, in our estimate.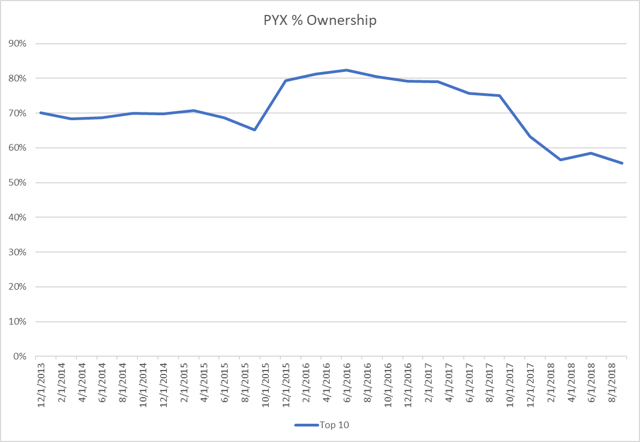 Source: Cap IQ
Furthermore, we attended the PYX analyst day in New York on September 12th where we had a chance to speak with other large shareholders of the stock. We obviously don't know what these shareholders plan to do in the future with their shares, but historically they have been inactive in the stock, and our impressions from conversations at the analyst day were the following:
The large PYX shareholders know this company extremely well and have been following PYX for many years on average.
Based on our conversations at the analyst day, these shareholders are enthusiastic about the One Tomorrow transformation and believe they are sitting on a gold mine in the form of PYX stock.
The bottom line is that the historic inactivity of large PYX shareholders has created a very tight float of available shares, and in our view, the float will remain tight.
Anecdotally, we can tell you the analyst day was standing room only as the number of people attending apparently exceeded the company's estimates, leading to a venue that was too small for the crowd. We believe many of these investors were new to the story and may be trying to build positions now against an increasingly challenging float dynamic, seemingly having to bid the shares higher in response. If new investors want to own PYX shares, they will likely have to pay up dearly for them.
Additionally, insiders own a healthy ~810,000 shares, or ~8% of total shares outstanding, based on recent filing data. Director Mark Kehaya alone owns 520,036 shares, or roughly 5% of PYX stock, and in our view is unlikely to sell his PYX stock at the current valuation. Looking at his history, Mark has been a PYX shareholder since 2005 (since he became a director) with a steadily increasing share count in the stock over the last 13 years.
Lastly, short interest has recently increased in PYX.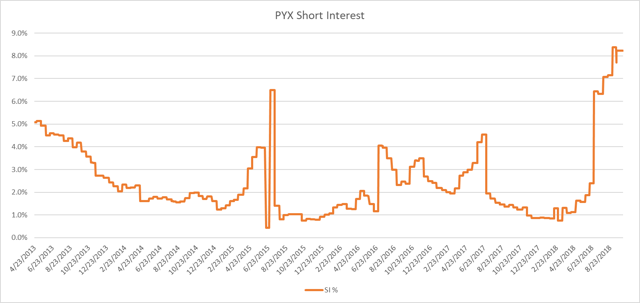 Source: Cap IQ
The chart looks choppy because short interest data is reported in two-week intervals, not daily like a standard price chart. The short interest in PYX currently stands at a little more than 800,000 shares, or ~8% of shares outstanding. This is not a very high short interest stock but it is high relative to the float, standing at ~20% of <5m shares not held by the top 10 holders.
We believe this short interest is likely accounted for by credit funds hedging out exposure by being long PYX bonds and short PYX equity ahead of the company's expected bond refinancing that will occur in the next 12-18 months. PYX bonds have recently traded to near par after trading in the 80s as the market has realized this is a high-quality credit with a strong balance sheet and growing EBITDA. If we are correct about the short interest being attributable to bond holders, the short interest is less a call on the company's fundamentals and more likely simply a way for credit funds to manage exposure to the market via a hedged position. That said, this has become an incredibly expensive hedge in recent weeks as shorts have been blown out on their positions. Given the very thin float of PYX combined with strong forecasts for continued EBITDA growth, we believe the short interest in PYX will approach zero in the near future if / as these credit funds unwind their positions. If we are correct about that, any remaining shorts will need to scramble to cover their shares despite the previously limited supply of shares available, which we believe could support additional price gains in PYX stock.
It is also possible that the short interest could be from market participants other than bond holders, in which case we think the short interest will "definitely" unwind – there is simply no reason to be short a thin float momentum stock that is slated to have rapidly growing EBITDA. Given the dramatic multi-year growth in EBITDA that we expect, we believe PYX has to be one of the worst shorts someone could choose in small caps.
So where does that leave PYX? The stock recently cleared an important technical hurdle at $30 and the next technical stop is $40. After that, based on our view of the stock's technicals, we believe $100 is in play, possibly by the end of 2018 as market recognition grows for the company's extreme degree of undervaluation. At $100, PYX would still only be trading at ~1/3rd of the low end of our expected value.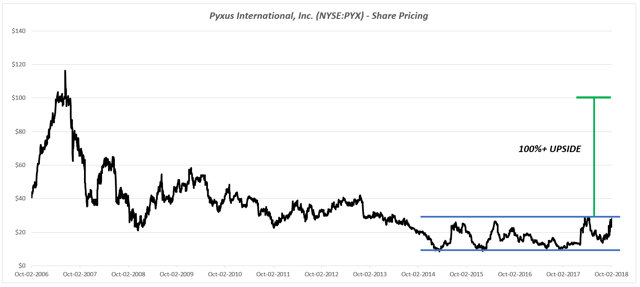 The point is this: The demand for PYX shares is likely to remain high and there simply aren't enough shares to go around. In our last report, we estimated that PYX is worth between $315 and $431. We continue to believe PYX is substantially undervalued and is a strong buy. Our near-term target is $100 per share based on technical analysis, representing 100%+ upside.
Disclosure: I am/we are long PYX.
I wrote this article myself, and it expresses my own opinions. I am not receiving compensation for it. I have no business relationship with any company whose stock is mentioned in this article.