On October 17th, after the market closes, the online retail company eBay (EBAY) will report earnings for its fiscal third quarter. Shares of the company have been on a severe downtrend since the beginning of the year. Since the beginning of February, traders traded EBAY down from $46.99, its 52-week high, to its current price around $32.30, its 52-week low. Investors will be looking to see if the stock can reverse and rally if fundamentals improve. However, the company needs to find a way to successfully implement its business model in a relatively expansive macroeconomic environment.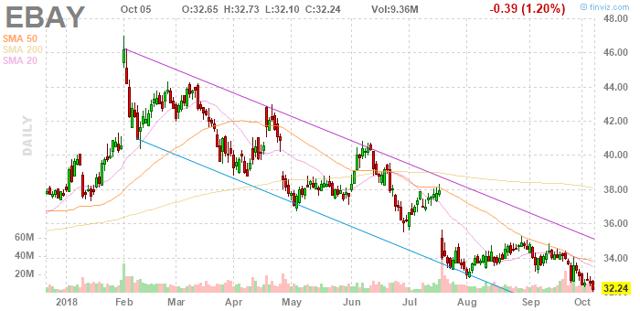 From Finviz.com
While EBAY has done little to impress Wall Street with its earnings numbers, it hasn't necessarily disappointed it either. Five out of the eight last earnings per share numbers have been in line with Wall Street estimates, and the other three numbers were only one or two pennies above expectations. On the revenue side, EBAY saw year-over-year growth of 9.1 percent and 12.2 percent in the last two quarters, but both numbers weren't large enough to beat Wall Street expectations. It seems EBAY has done just enough to get by, and that has investors looking for other stocks that are exceeding expectations in a healthy economy.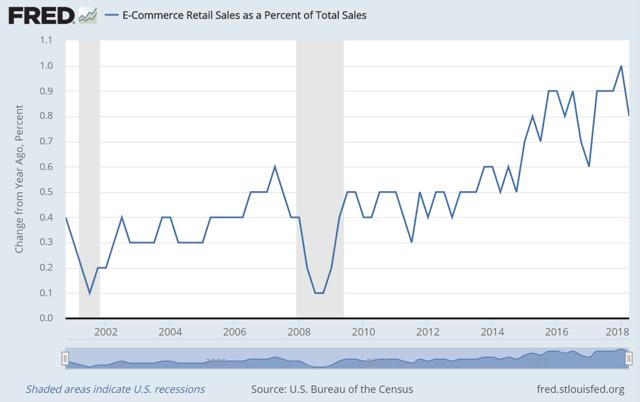 From FRED
An investor looking at the macroeconomic movements in the economy would expect an online retailer like EBAY to be thriving. Consumer confidence is at all-time highs based on the University of Michigan consumer sentiment survey. A large part of that has to do with tax cuts introduced almost a year ago that are supposed to expand consumer discretionary spending. More specifically in the retail industry, the growth of e-commerce retail sales market share is accelerating consistently. EBAY has the platform and the reputation to take advantage of these trends, but it can't seem to deliver impressive results.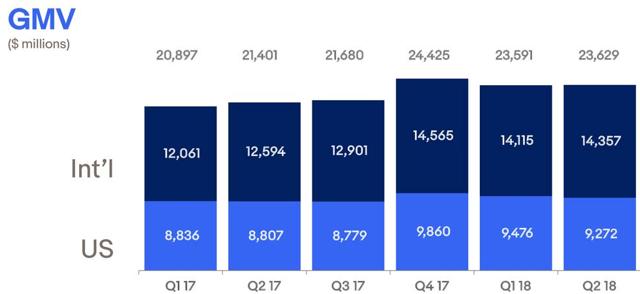 From Q2 slides
Despite revenue being higher, EBAY reported that its gross merchandise volume (GMV) did grow at all year-over-year. U.S. GMV actually fell slightly only being offset by a slightly higher international GMV. Looking at trailing 12-month active buyers, EBAY managed to keep up its 4 percent growth rate from the previous quarter (down from 5 percent in every 2017 quarter), but only with the help of the acquisition of Japanese business Giosis. The core numbers look mediocre even though the company reported a decent year-over-year sales growth of 9.1 percent. Meanwhile, its largest online competitor, Amazon (AMZN) saw sales grow 39.4 percent with profit nearly doubling.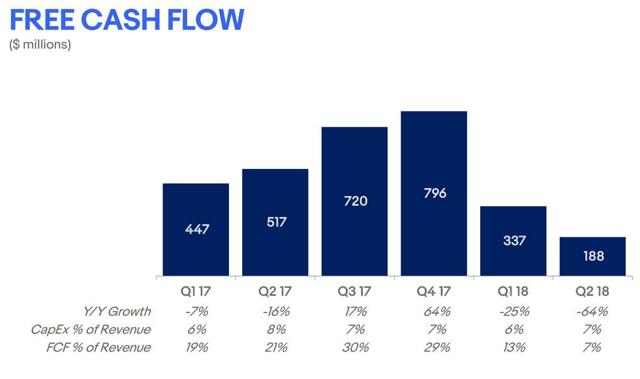 From Q2 slides
EBAY's problem definitely isn't generating cash from operations. Even though the last two quarters of 2018 saw significantly lower cash flows (due to tax payments), the company is consistently converting 20 percent of revenue to free cash. This seems optimistic at first, but EBAY is an internet services company trying to survive in an industry that demands high rates of returns and plenty of growth. Returning $1.0 billion to shareholders through stock repurchases suggests that EBAY's management does not think it can spur growth by spending cash. While that's not always the solution, management's only attempts at improvements are being applied to a new "managed payment service" and a new "advertising campaign" according to the previous quarter's conference call.
While $8.6 billion sits as cash and investments on EBAY's assets side, the company also boasts about $9.3 billion worth of long-term debt. Over $1.5 billion of that will become current liabilities in 2019 as those senior notes will be due. Assuming EBAY plans on continuing its $1 billion share repurchase programs every quarter, about $5.5 billion will be tied up in possible commitments in the next year. When that time comes, investors will see whether EBAY wants to take its competition seriously and plan on getting into the mergers and acquisitions market (as that seems like its only play at high growth again). On the other hand, rising rates puts a dampener on any taking on large amounts of debt in the future especially if active users and GMV growth start to flatten.
EBAY won't just flatten on its own though; it will have help from the many internet retailers that have already staked out large market share positions. Amazon and Alibaba (BABA) are the two of the most popular web services in the world and lead the internet retail industry in the two largest economies in the world. EBAY, in fact, had a recent clash with AMZN as it accused its competitor of "trying to poach sellers" for its own platform according to MarketWatch.
EBAY has its work cut out for it. Management has to deal with core fundamentals that don't signal robust growth. Large debts require it to stay cash conservative, especially if the company plans on continuing its share repurchase programs. Meanwhile, competition rages on in key markets where EBAY has shown it has relatively little success in generating fast growth. The upcoming earnings report will probably be mediocre once again, and therefore, buying before it should be avoided as the risks are high.
Disclosure: I/we have no positions in any stocks mentioned, and no plans to initiate any positions within the next 72 hours.
I wrote this article myself, and it expresses my own opinions. I am not receiving compensation for it (other than from Seeking Alpha). I have no business relationship with any company whose stock is mentioned in this article.