Overview
Jack Henry & Associates (JKHY) has been one of the top performing stocks since this current bull market started. On the surface, there are a couple of industry concerns regarding Jack Henry, such as financial institution risks, bank consolidation, and insourcing. However, Jack Henry has maintained their ability to continue to generate revenue growth, even while the customer base is decreasing.
Below, I will outline Jack Henry's business model and their plan to tackle some of the negative industry conditions heading their way. Then I will connect operating performance and valuation to analyze how their stock growth relates to their earnings growth potential.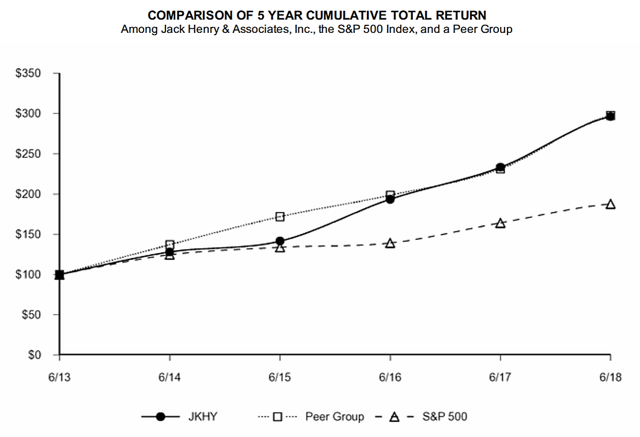 Source: Jack Henry IR
Business Model
The big question for Jack Henry is whether they can maintain their growth while the number of potential customers decrease each year.

Source: Jack Henry IR
Similar to many software companies, revenue growth has been driven by cloud adoption. In the last quarter, revenue increased by 8.7%, with cloud revenue growing at 10%. Cloud services are offered as an outsourced solution for banks, with Jack Henry supplying the cloud enterprise software and data centers. In the last earnings call, CFO Kevin Williams noted:
" … if you just look at our outsourcing services which is, obviously, all of our data centers in cloud services, they grew consistently in Q4. Just like for the year, Q4, they grew about 11% for the year. Our outsourcing and cloud service group, 10%. So, that continues to be the very large driver of our overall revenue growth."
Growth for Jack Henry, and other software companies, are typically derived from two sources: customer acquisition and expanded offerings. Jack Henry relies on the latter, with a caveat. Jack Henry outsourcing services generate more revenue, so they're also growing by converting current insourced customers to outsourced ones. Below is management's explanation from the last earnings call:
"So, I highlighted in my opening comments that we booked 24, what we call, in-to-outs. So, those are in-house customers that are moving to outsourcing. So, that was in the quarter. And I also highlighted in the press release that of the new core signings that we had, almost all of them signed up as outsource customers. So, we continue to see that trend toward outsourcing in general."
This is interesting to note, especially with reports that banks are focusing more on insourcing their IT, led by JPMorgan Chase's (JPM) hefty technology spend. Although outsourcing spend may be decreasing across the industry, this is biased based on the large banks shifting toward insourcing. As the industry increases their spend in technology, Jack Henry will be able to generate more revenue per customer as they offer new services for small banks to compete with larger banks in terms of technology.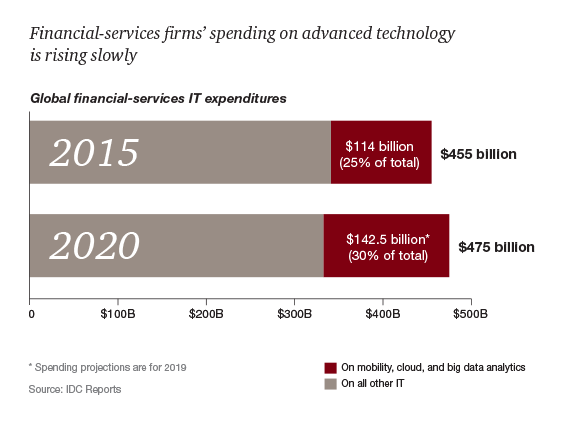 Source: PwC (link here)
Jack Henry also benefits from recurring revenue, but the nature of their business makes recurring revenue slightly different from other software firms. From their 10-K:
"The majority of our revenue is derived from recurring electronic payment solutions and outsourcing services that both generally have contract terms of five years or greater, and support and services provided to our in-house customers that are typically on a one-year contract."
Five-year contracts are a major competitive advantage, as Jack Henry can easily take advantage of the high switching costs and vendor lock-in benefits associated with this. Jack Henry also has a healthy backlog with more outsourcing contracts on the horizon, as explained from the 10-K:
"Backlog as of June 30, 2018 totaled $676.2 million, consisting of contracts signed for future delivery of software, hardware, and implementation services (in-house backlog) of approximately $76.3 million, and $599.9 million for outsourcing services. Approximately $464.0 million of the outsourcing services backlog as of June 30, 2018, is not expected to be realized during fiscal 2019 due to the long-term nature of our outsourcing contracts."
Recession concerns related to the financial industry shouldn't be passed down to Jack Henry either. Throughout the crisis, Jack Henry was able to post respectable numbers, despite their client base consisting of financial institutions.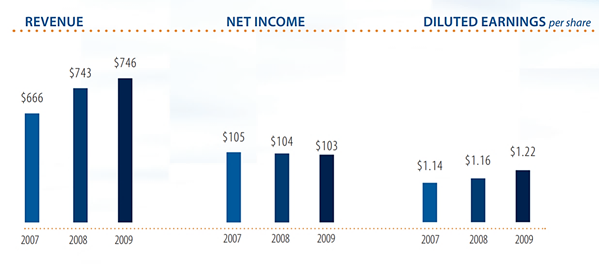 Source: Jack Henry IR
Another interesting factor is the amount of banking mergers in the last crisis. One of the bearish concerns regarding Jack Henry is bank consolidation. However, mergers decreased after the last crisis, and combined with their long term contracts, Jack Henry shouldn't be seen as having extra recession risk due to their customer base. Typical risks, such as their decreasing customer base, reliance on innovation and acquisitions for growth, and the increasing disparity between mega banks and small banks, remain.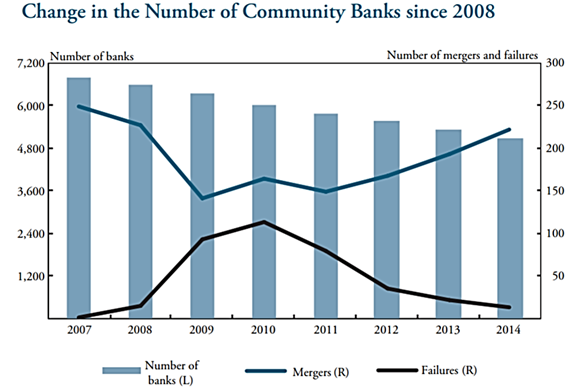 Source: Kansas City Federal Reserve (report here)
Operating Performance
Before diving into their rising valuation, it's important to note how their operating performance metrics have been increasing as well. Below is chart from Morningstar covering their returns and margins: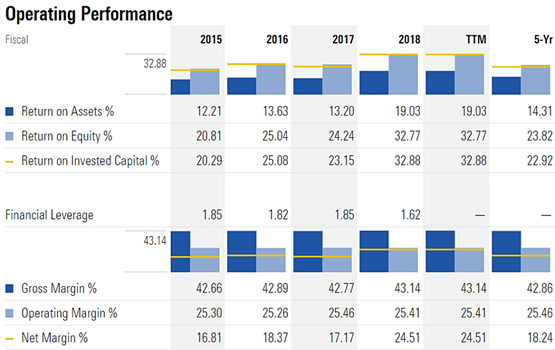 Source: Morningstar (link here)
Jack Henry has been investing heavily in R&D to produce new offerings for cloud services and outsourced customers. Despite this, gross margin and net margin have both been increasing, while operating margin has remained steady. The greatest change however is in return on invested capital. ROIC has increased by over 60% since 2015, and their current 32.88% mark is exemplary.
Rise in margins has contributed greatly to their stock appreciation, as top line growth doesn't exceed 10%.

Source: Jack Henry IR
Top line growth was slightly above 7% and EPS grew by almost 50%. Bottom line growth can be attributed to the higher margins associated with their software and cloud offerings, as these solutions tend to have high (above 70%) gross margins. Although 50% EPS growth may be the exception rather than the norm, it's easy to see margin growth potential for Jack Henry as more customers outsource the IT and take advantage of the cloud offerings.
Dividends also increased by 15%, and although they aren't an investment for income investors, their double-digit dividend growth also should cause the valuation to rise slightly.
Valuation
The main concern regarding Jack Henry is with the valuation. By almost all metrics, Jack Henry is trading higher than historical levels. The charts below are taken from Seeking Alpha.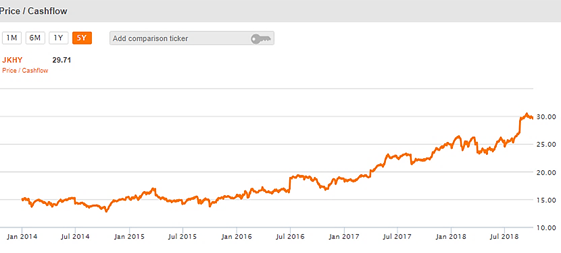 First up, the P/CF has doubled during the last five years. The recent push from around 25 to 30 P/CF can be attributed to the last earnings report, where they had a big earnings beat. Regardless, P/CF valuation is concerning.
EBITDA also has not caught up to the current price as well, as share appreciation outgrew EBITDA as well as cash flow. Going to the top line, EV/sales had a similar rise as well. However, not all valuation metrics are completely bearish.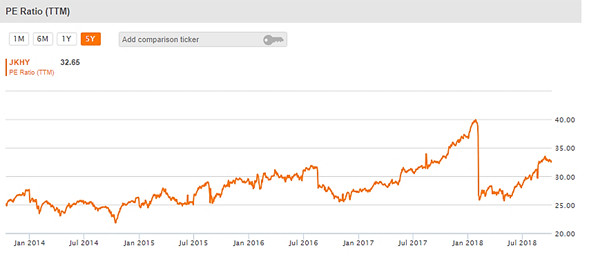 As mentioned before, Jack Henry's latest price hike can be attributed to the massive earnings beat. However, they're now trading above a 30 P/E, when typically they trade between a 25 to 30 P/E. However, P/E is still reasonable considering the rise in net margin and ROIC.
It would be easy to state Jack Henry as overvalued and be done. However, the business model might be able to make up for the high valuation in the coming years. While a short-term drop in share price might occur, the overall shift in cloud computing and outsourcing are very promising for Jack Henry.
Small banks have been struggling with technology offerings. With fintech companies disrupting payments, lending, and P2P, small banks and credit unions have lagged behind. This provides a strong growth driver for Jack Henry, as they have plenty of software and tech offerings to sell to these small banks. However, small banks typically lag behind big banks, which lag behind tech firms when it comes to the innovation curve. With small banks typically representing the late majority in terms of innovation, Jack Henry still has plenty of room for growth.
Higher valuation metrics aren't a negative sign, as the operating performance also increased. With cloud and outsourcing taking up more revenue, their margins should continue to increase as well. And with cloud and data centers both growing above double digits, there's plenty of opportunities to excite investors. However, it must be measured against the risk exposure associated with this change, as Jack Henry will need to rely on innovation or acquisitions to provide new offerings, all while the total potential customer base decreases yearly.
Investor Takeaway
For investors, the question will be whether the operating performance justifies the increased valuation metrics. Net margin and ROIC growth has led to an incredible year for earnings growth. However, Jack Henry will have to rely on expanding their offerings and moving financial institutions to cloud architectures in order to maintain the growth. Meanwhile, the number of small banks continue to decrease.
Small banks have been under pressure due to fintech offerings and large banks having better technology. Jack Henry provides services to help these small banks better compete, and Jack Henry's growth will be based on how aggressive small banks are at adopting new technology for their processing systems. However, the continued decrease of credit unions and small banks, and Jack Henry's current position of around 20% market share (1,060 out of 5,630 small financial institutions) in a high switching cost/vendor lock-in environment represent negative industry conditions, and should be considered along with the rise in operating performance.
Disclaimer: The above references an opinion and is for information purposes only. This information is general in nature and has not taken into account your personal financial position or objectives. It is not intended to be investment advice. Seek a duly licensed professional for investment advice. Past performance is not an indicator of future performance.
Disclosure: I/we have no positions in any stocks mentioned, and no plans to initiate any positions within the next 72 hours.
I wrote this article myself, and it expresses my own opinions. I am not receiving compensation for it (other than from Seeking Alpha). I have no business relationship with any company whose stock is mentioned in this article.