I recently penned When Do You Harvest Apple Shares? In The Fall Of Course.
In that article I outlined how I have been harvesting or pruning Apple (AAPL) shares to fund certain events in my life now that I have left full-time work and have entered my new life work stage. My income is minimal, and I need the portfolio to step up and fill the gap. I have been making hay while the sun shines and once again, Apple shares (in concert with portfolio income) will take me to the Island - Prince Edward Island.
In the Apple share harvesting article linked to above, the comment section revealed a few investors who questioned what might happen when you 'run out of shares.' Certainly, I would agree that my own Apple share sales have been quite aggressive - I am making some serious hay by way of a sun that is shining as bright as ever. But in a 'normal' retirement environment the share harvesting might be quite modest.
For example: 2.5% yield + 1.5% share harvest value = 4%.
This is the approach or income-producing mechanism that would be followed if one took the Vanguard Wellington portfolio construction 'style.' The Vanguard Managed Portfolios, Wellington (VWELX) and Wellesley (VWINX) would have allowed retirees to breeze through the last two major market corrections, with a very generous inflation-adjusted spend rate.
The Balanced Growth modelled Wellington fund will combine US and International developed market stocks at 70% with a bond component in the area of 30%. Those stocks are not selected to chase yield. There is a nice mix of growth and dividend growth. The bond yield from the fund is currently in the area of 3.5%. The stock yield is in the area of 2.7%. There is obviously not enough income in the portfolio to fund a 4-4.5% spend rate. Share harvesting is required. In a mutual fund scenario, of course, the retiree would sell units that would in effect, reduce their share count ownership.
Here are the top current holdings for the Wellington Fund.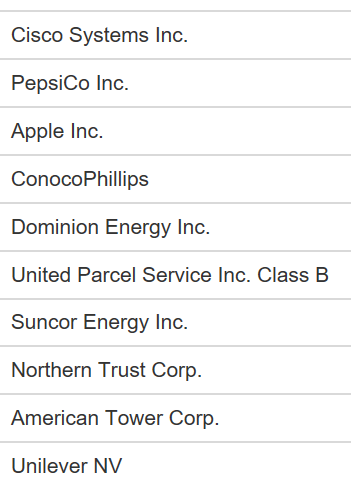 There is a nice mix of growth and dividends and dividend growth. If I run the top 20 holdings on Portfoliovisualizer.com, I see dividend growth at 14% and the yield at 2.7%.
And of course, in the Wellington holdings you'll see my Apple in addition to Microsoft (MSFT), Texas Instruments (TXN), BlackRock (BLK), some of my Canadian holdings and many more of the Dividend Achievers (VIG) that we hold in our retirement accounts. For retirees, I feel that the Achievers, Aristocrats (NOBL) and the Wellington and Wellesley funds are a wonderful place to either skim or look for 'retirement stocks.' When a retiree is not constrained to an income model, it opens up the universe of stocks that might allow greater growth potential and greater diversification (risk management).
And out of curiosity, here's what happens when we run the top 20 holdings of the Wellington fund vs the S&P 500 (IVV). Portfolio 1 is the top 20. The period is January of 2017 through to end of September 2018. Yes, there is some potential here for survivorship bias within the top 20 holdings. That said, the top 20 list includes the familiar names that I've seen hanging around the Vanguard funds for quite some time.

And back to that share harvesting requirement to pick up the income slack in a portfolio that might only throw off 3% income or less. We'll use a constituent for the Wellington fund and my wife's retirement account - Texas Instruments. TXN can work as a proxy for the growth-oriented component of a retiree's portfolio.
This is a wonderful growth story with respect to share price appreciation and dividend growth. That said, the generous TXN total return has not been as generous as that of Apple.
Let's use Texas Instruments to create a 4.5% total income contribution to the retirement portfolio.
Portfolio Visualizer shows a starting 3% yield for Texas Instruments in 2016. TD Waterhouse shows me that same yield (2.98%) available today.
For demonstration purposes, we'll allow our retiree to hold a $50,000 value of Texas Instruments in January of 2016.
The share price on January 4 of 2016 was $32 requiring a total of 1562 shares (rounded). Once again the dividend yield on that start day is 3%, the income delivered into the portfolio is $1500. To create or deliver that initial 4.5% of $2,250 we need to find another $750.
So we sell 24 shares to create that income. The retiree now has a share count of 1533.
Dividends $1500 + Shares $750 = $2250
While the share harvesting represents 33% of the income creation, the share count was only reduced by 1.9%. And that earnings value can be quickly restored.
And also from TD Waterhouse reports …
Though EPS growth at TXN is improving, it is still below the industry average. The most recent EPS was $4.36, an increase of 9.07% over the previous year.
In the current environment your ownership of the earnings might be replenished and then some, even after 2 quarters. That retiree has reduced her share count, but her ownership of the profits has increased 'nicely.' See Warren Buffett's writings on this subject.
In the end, over the long run, the portfolio success will come back to that underlying business success - the measure of increasing revenues and cash flows and earnings.
That value can be returned to you by way of dividends and/or share harvesting. Of course, share buybacks also increase your ownership of that profit machine.
And here's the beauty of a dividend growth stock or portfolio. That dividend growth in combination with a rising share price will greatly and quickly reduce the number of shares required to harvest to create that income. From Seeking Alpha, here's the TXN summary.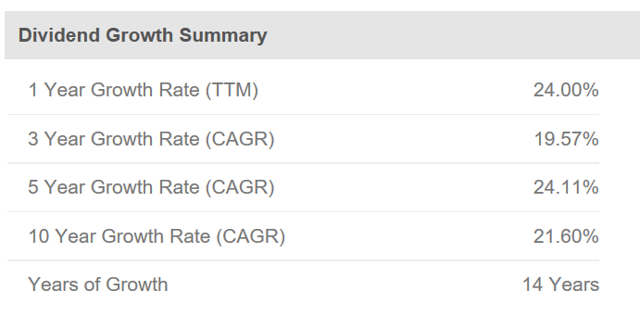 The CAGR for the share price has also been above 20%. Moving forward we'll assign TXN a hypothetical 20% dividend growth rate and a 20% share price appreciation scenario. And we'll increase the spending needs by 3% for inflation, requiring $2318 from the TXN dividend plus share harvest bounty.
With dividend growth factored in, the share count now throws off $1800 requiring just $518 to be created from the share harvesting. The amount required from the share harvesting has actually decreased by $232.
With a 20% share price appreciation and a share price of $38.40 we now only need to sell 14 shares in year 2, 2017. Our share count is now reduced to 1519.
Our required share sales have actually declined YOY from 24 shares to 14 shares.
Our portfolio value would have increased to over $58,000.
Our share count has decreased by 2.8%.
There is nothing in the scenario to suggest share 'depletion.'
And in the above, and admittedly very advantageous, scenario we can see that the dividend growth rate will quite quickly eliminate the need for share harvesting. Here's the 5-year yield on cost chart for TXN. Granted the chart below would reflect the full share count, not the slightly reduced share count. But it is overwhelming in the degree that that dividend growth can potentially reduce and then eliminate the need to harvest shares.
5-year YOC.

Of course, if you have a lower yield of 2% or 2.5% you will need a longer runway for the dividend growth to cover for share harvesting needs.
A retiree today might be able to create that dividend growth portfolio in that 3% current yield (spend rate of assets) range. The Vanguard High Dividend Yield (VYM) offers a current yield of 2.9% with a very solid (recent) dividend growth history. VYM's dividend growth would have closed the income gap, but not as quickly as the more growth-oriented TXN demonstration.
iShares Select Dividend ETF (DVY) offers a more generous current 3.2% yield and solid recent dividend growth history. This would have worked well in the last several years.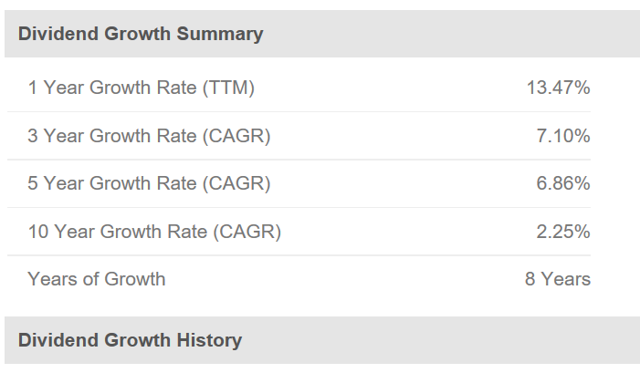 But of course, there's that risk to income and risk to share prices that can greatly affect our sequence of returns risk. Here's the dividend history for DVY.

The more generous dividend payers got hit 'a little harder' than the lower yielding Dividend Achievers landscape. VYM also experienced that reduced income. Beyond dividend growth stocks, higher income assets including REITs were hit 'even harder' in the last recession. See CVY.
Once again, the Vanguard Managed Portfolios worked so well through 2 recessions due in part to the bond component. Bonds can go up in price during major market meltdowns, and longer term treasuries have 'done their thing' in every recession. The bonds might then be a target for sale or unit harvesting, reducing the need to sell stocks.
We do need to pay special attention to risks. The above TXN demonstration takes place while the sun shines but it is more than relevant nonetheless. The growth allows us to greatly prosper in those good times. Depending on how you self-direct your portfolio, you would have the potential to use even more exaggerated share harvesting to shore up that cash and bond component. You would have the option to use that growth to reduce the sequence of returns risk.
In periods when the sun shines, the more growth-oriented model can help us live a more prosperous retirement and the approach can also allow us to prepare for the storms.
Dividend growth and share price growth are more than a powerful one-two punch.
Author's note: Thanks for reading. Please always know and invest within your risk tolerance level. Always know all tax implications and consequences. If you liked this article, please hit that "Like" button. If you'd like notices of future articles, click the "Follow" button.
Happy Fall (share harvesting or otherwise).
Dale
Disclosure: I am/we are long BNS, TD, RY, AAPL, NKE, BCE, TU, ENB, TRP, CVS, WBA, MSFT, MMM, CL, JNJ, QCOM, MDT, BRK.B, ABT, PEP, TXN, WMT, UTX, BLK.
I wrote this article myself, and it expresses my own opinions. I am not receiving compensation for it (other than from Seeking Alpha). I have no business relationship with any company whose stock is mentioned in this article.