The Austin Chalk formation has increasingly been a core focus in the Eagle Ford region in South Texas (the Eagle Ford shale formation and the Austin Chalk formation are the bedrocks of oil & gas development activity in the area), but a new AC development region has entered the fold. Numerous upstream operators have acquired large leaseholds across acres thought to be productive for the Austin Chalk play in Louisiana, and energy investors should take note. Austin Chalk well economics in South Texas are clearly in the Tier 1 category, so any emerging play with a chance to replicate that success needs to be kept on your radar. For starters, take a look at Marathon Oil Corporation (NYSE:MRO), which just acquired a large position in the emerging play during the first half of 2018 on the cheap. Let's dig in.
Overview
During the first half of 2018, Marathon Oil Corporation spent $250 million "predominantly on leasing in the emerging Austin Chalk play in Louisiana." This gave Marathon Oil a ~240,000 net acre leasehold position in Louisiana, which is centered around Rapides, Allen, Evangeline, St. Landry, and Avoyelles parishes in Central Louisiana. Note that this position was acquired for just under $900 per net acre (for a total spend of ~$216 million), with the remaining expenditures going towards related activities.
Management expects Marathon Oil will spend an additional $100 million to $150 million during the second half of 2018 on the Louisiana Austin Chalk play. This is going towards the company's first exploration well on that acreage, additional leasing activities, and a multi-client 3D seismic mapping survey that will cover 400 square miles of the play.
Seismic mapping activities will be paired up against data acquired from its exploratory well to get an idea of the resource potential this emerging play might hold. Of course, far more wells are needed to truly get an idea of the productivity and ultimately the economic value Austin Chalk wells could yield, but every emerging play has to start somewhere.
It won't be until 2019 that Marathon Oil Corporation will get the data from its first exploratory well and the seismic mapping survey. On Marathon Oil's Q2 2018 conference call, management noted:
"Very, very early days here. We're looking to spud the initial well in later this year. Meaningful results are going to be later in 2019. Clearly, this is an exploration play, and I want to remind everyone of that. So, it's going to take us a bit of time to get our arms around what the data is really telling us. And it is going to be a relatively limited data set even at that point in time. In parallel, we're also participating in a multi-client seismic survey, which is also going to support whatever well results we get. So, the integration of all of that data is ultimately what will decide whether or not this is something that we want to take into more of a development mode."
Past activity
According to the state of Louisiana's Department of Natural Resources website, there are at least 57 producing wells already tapping the Austin Chalk. 23 of those wells are in Avoyelles Parish, 13 are in Sabine Parish, nine are in Evangeline Parish, six are in Vernon Parish, five are in St. Landry Parish, and one is in Allen Parish. Marathon Oil Corporation could in theory utilize this data to help determine where to drill and if shifting to full-field development is going to be viable, but generally speaking, upstream operators don't like to release well data from emerging plays to the public for competitive reasons.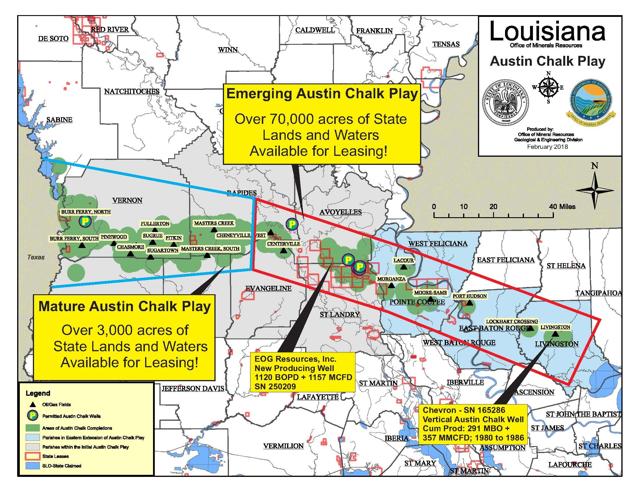 Source: Louisiana's Department of Natural Resources
As you can see in the map above, Marathon Oil's acreage position is smack down in the middle of the trend that stretches across Louisiana. The picture below isn't great, but it showcases where Marathon Oil has built up its Louisiana Austin Chalk position.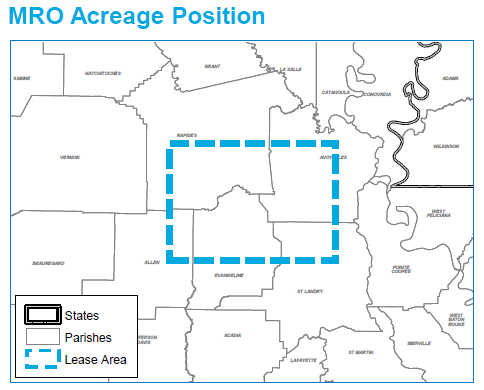 Source: Marathon Oil Corporation
Back in the 1990s, there was a modest amount of conventional Austin Chalk development in Louisiana, which means there is some existing midstream infrastructure in place. Not a whole lot, but enough to build a base for an emerging play. It is also likely a good chunk of those 57 producing wells targeting the Austin Chalk were drilled two decades ago, but that production data is still useful.
What makes the Austin Chalk appealing from a realization perspective is that wells targeting the play are supposed to have a high oil, condensate, and natural gas liquids cut. Keep in mind this depends largely on what part of the formation the upstream operator is developing, as the production cut of horizontal wells that are hydraulically fractured changes across the play.
Due to this region's proximity to the Gulf Coast, oil/condensate sales should realize prices based on the Louisiana Light Sweet benchmark. Note that LLS is trading at a $5-8/barrel premium to West Texas Intermediate pricing as LLS is heavily influenced by Brent. Farther out, if this play does turn out to offer real development opportunities, it most likely won't be stymied by the bottlenecks currently facing Permian players. In particular, a lack of pipeline takeaway capacity and huge differentials to WTI.
Final thoughts
Marathon Oil Corporation is making the right call by moving into Louisiana's Austin Chalk early on. True, this could end up being an opportunity that ultimately doesn't pan out. However, EOG Resources Inc. (NYSE:EOG) and ConocoPhillips (NYSE:COP) have also both moved into the play, which in many ways validates Marathon Oil Corporation's decision. If those top tier upstream operators are willing to bet millions upon millions on the emerging opportunity, then there just might be some real upside here.
While all three firms have been tight-lipped when it comes to operational updates, what is known is that EOG Resources has already completed one successful well in the play. The Eagle Ranch 14-1H well posted an initial peak production rate of 1,120 barrels of oil per day and 1.157 MMcf/d of natural gas (I assume on a two-stream basis), which was completed in September 2017.
To be fair, these are very early days indeed and nothing is for certain. I intend on watching this play closely over the coming quarters, and if things pan out favorably, I would expect there to be substantially more operational updates to pour over by the middle of next year. Thanks for reading.
Disclosure: I/we have no positions in any stocks mentioned, and no plans to initiate any positions within the next 72 hours.
I wrote this article myself, and it expresses my own opinions. I am not receiving compensation for it (other than from Seeking Alpha). I have no business relationship with any company whose stock is mentioned in this article.