I have been vacationing in Portugal for the last two weeks and was hearing only hints of the turmoil striking the U.S. bond market in recent days. The yield on the benchmark 10-year nominal Treasury, for example, jumped from 2.88% on September 6 to 3.23% at the market close on Friday, October 5.
That's a leap of 35 basis points, fairly remarkable in a month. I also noticed that the TIP ETF - which holds the full range of Treasury Inflation-Protected Securities - finally dipped below $110, which in the past I have considered a "buy" target. (I'm no longer so sure about that, because of distortions from the flat yield curve.)
Higher bond yields mean lower bond prices, and that's bad news for bond-fund investors. Here are the one-month results for bond ETFs holding medium-term Treasurys (down 1.0%), total bond market (down 1.5%), TIPS (down 1.8%), and long-term Treasurys (down 5.7%):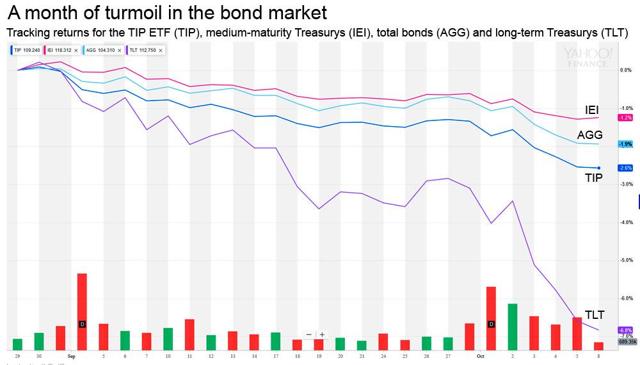 However, for buy-and-hold investors in bonds and bank CDs, higher yields may bring some happiness: Finally, we are seeing higher yields for our maturing investments. It has been a long time since we have been able to get even 3% for a safe, stable investment.
So I was wondering: Where are the buying opportunities out there? Are banks now going to step up - finally - with higher yields for insured accounts? Are nominal Treasury yields also reaching interesting levels?
My interest was perked by an email I received from a North Carolina-based credit union, Truliant Federal. It is offering a 37-month CD yielding 3.05% with a minimum investment of $1,000 of new money. This CD has a one-time "bump" option, meaning the rate can be increased one time - matched to the yield of Truliant's 36-month CD (currently a pathetic 1.55%). Another perk is that new money can be added to the CD throughout the term.
It seems like a good offer, but how good? To find out, let's take a look at a broad range of super-safe, shorter-term investments (yields as of Friday, October 5):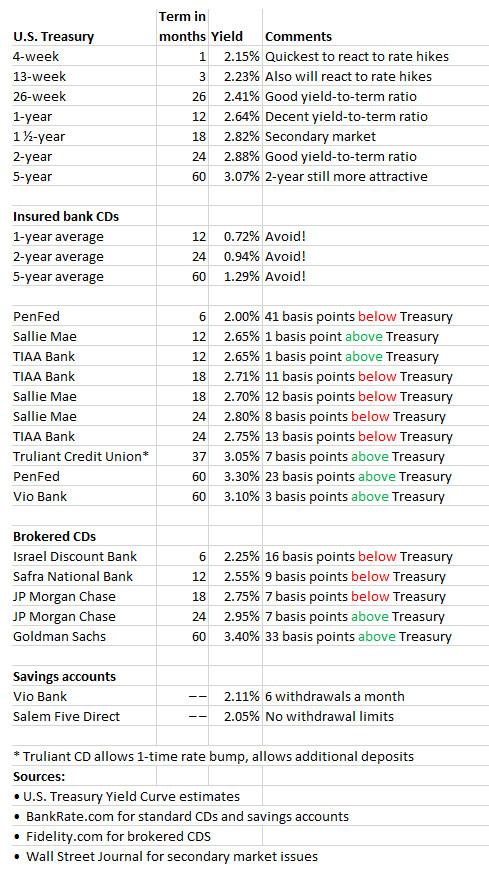 Reactions:
Sorry, bankers: you have failed the test to keep up

with the yields on U.S. Treasurys, which offer ultimate safety and are not subject to state income taxes. Best-in-the-nation CD rates are consistently below the Treasury issue of the comparable term. The few exceptions tend to be for 5-year CDs, which banks in recent years had stuck with extremely low yields. Now the trend appears toward encouraging customers to take longer terms - the banks will then win if yields keep rising.

Brokered CDs at this point also aren't especially attractive, with yields below similar Treasurys. There are always exceptions, though. If you know good deals out there, please point them out in the comments.
4-week Treasurys are attractive because their rollover yields will almost immediately adjust higher if the Federal Reserve continues to raise interest rates. (Another increase of 0.25% is considered a sure thing in December.) With a yield of 2.15%, they also outperform classic cash accounts like the Vanguard Federal Money Market Fund (VMFXX), currently yielding 2.03%. These 4-week Treasurys are auctioned every Monday, so a common strategy is to divide your total investment into quarters and invest each Monday for four weeks, then roll over all the investments. You'd always have access to a quarter of your investment each week.
13-week Treasurys won't react as quickly to the Fed's moves, but you get an 8-basis-point advantage over the 4-week Treasury.
26-week Treasurys are yielding 2.41%, a bump of 26 basis points over the 4-week. This looks like a safe, no-risk reach for a higher yield, but it will lag future rate increases.
Similarly, the 2-year Treasury with a yield of 2.88% looks like the optimum yield at the optimum term. The 5-year Treasury yield is only 19 basis points higher.
What about that Truliant promotion?
A yield of 3.05% for 37 months is attractive, but only about 7 basis points higher than a comparable Treasury on the secondary market. However, the added perk of a one-time bump in the rate is attractive, as is the ability to add cash to the current CD at 3.05%.
I suspect that these rate bumps are rarely used, especially in the case of a "higher than usual" yield for 37 months. In Truliant's case, the bump would be usable only if the 3-year term rises above 3.05%. It's currently just 1.55%. If a rate bump offer interests you, look for an institution with strong yields across all maturities.
That being said, Truliant has a good promotion and I give them credit for the possibility to earn more than 3% over three years.