Cardinal Health (CAH) is one of the largest drug distributors in America. Together with McKesson (MCK) and AmerisourceBergen (ABC), they form the Big 3 of drug wholesalers and account for 85%-90% of all US drug distribution revenue. Cardinal Health is the smallest of the 3 but by a narrow margin, and its annual revenues of over $136 billion makes it one of the biggest players in the market.
With this much concentration in the hands of so few companies, and the continuous growth of the US pharmaceutical market, it would be logical to think that each of these companies should be performing well. However, this is not the case and over the past year, each one of these behemoths has underperformed the S&P 500.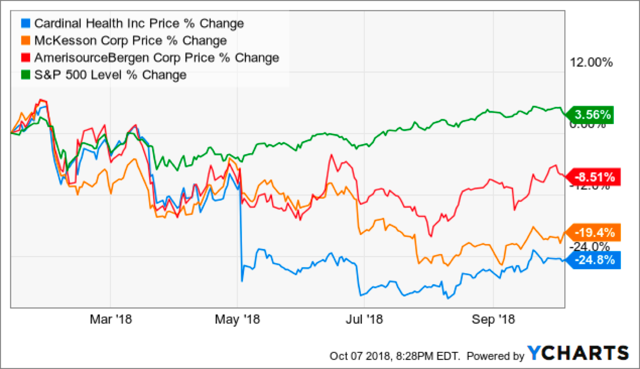 Cardinal Health is the biggest laggard of the group, dropping nearly 25% while the S&P has gained 3%. But at this point, I believe the worst is over CAH. Its fundamentals and potential catalysts make this stock well positioned to recover and it may be poised for a breakout 2019. In this article, I will first detail the struggles CAH has had in 2018, then analyze growth opportunities, and finally finish by explaining the company's policy on returning capital to shareholders.
2018 Struggles
Cardinal Health actually reported a 5% increase in revenue during Fiscal 2018. This was the result of benefits coming from acquisitions and growth in its core distribution business and increased sales coming from specialty pharmacy customers. However, the good news largely stops here. This increase in revenue did not translate at all to more profits. Even after excluding charge-offs, non-GAAP earnings were $2.59 billion, marking a 7% decline, and the second straight year of negative earnings growth.
The main contributor to this was the continued deterioration of its generic drug business. Over the past few years, the rate of new generic drugs coming to market has been dramatically increasing in the US and beyond. In 2017, the FDA reported that the number of ANDAs, which are applications for US generic drug approval, rose to a near-record high of 1,306. The number of approvals did jump to a record high, coming in at 763.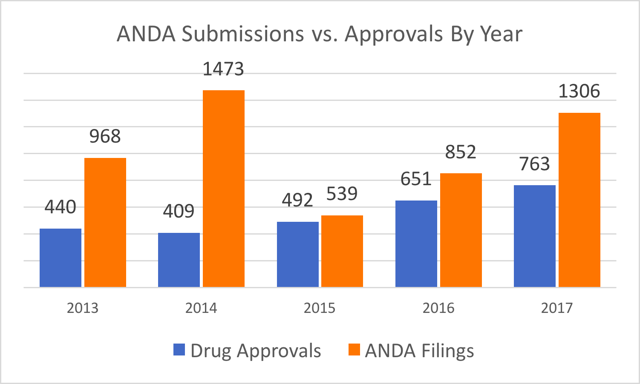 Source: User Generated using data from FDA Activities Report of the Generic Drug Program
This large increase in supply has created significant downward pricing pressures on all aspects of the generic drug market, from manufacturers to distributors such as CAH. Cardinal's pharmaceutical segment suffered the bulk of the pain. Its generic business caused a 12% drop in pharma profits from 2016-2017 and brought down the entire company's earnings that year by 6%. This year, the declines continued but were not as significant.
Pharma segment profits fell 9%, resulting in an overall decline of 4%. This issue overshadowed progress in other more lucrative areas of CAH. Specialty pharmacy products were a bright spot and benefits of the higher-margin Patient Recovery business, part of Cardinal's medical segment, helped partially offset struggles coming from generics. In fact, its smaller medical segment continued to deliver strong operating performance. It grew revenues by 15% and unlike its pharma sibling, actually saw profits increase by 16%.
Impending Competition
But poor profits alone did not cause Cardinal Health to shed nearly a quarter of its market value. Another factor is Amazon (AMZN). So far, every industry that this e-commerce giant has entered, it has disrupted in a major way. Obvious examples include brick and mortar retail, grocery stores, content streaming, and now even global shipping with Prime Air. Its track record has shown that it has the ability to compete with any company it wants.
So when Amazon announced it was buying online pharmacy PillPack for just under $1 billion, investors in CAH and the healthcare sector at large became frightened. It seemed that the e-commerce giant has set its next target on the pharmaceutical industry. The stock was sent plummeting by 8% the very next day. Whether or not Amazon ultimately succeeds in this competitive space is still to be seen, and it will be anything but easy.
Distributors operate with razor thin margins and have established infrastructure to deliver the product. But Amazon is likewise experienced in moving products around the country and is not new to the idea of tiny margins; it itself usually reports profit margins of around just 3%. No matter what, this will be a genuine concern for all investors moving forward and part of the reason behind CAH's fall in 2018.
As the previous sections have explained, there certainly are many questions and concerns surrounding Cardinal Health. The stock is trading at a 5-year low for a reason. However, there is still a lot of opportunity for the company to grow in the near future, both on the top and bottom line. The following sections will dive into how this company can recover.
Future Growth Drivers
Cordis
One of the most straightforward ways Cardinal Health can return to growth is by turning around its slumping Cordis subsidiary. Acquired in 2015 for $1.94 billion from JNJ, this medical device maker of cardiology and endovascular supplies was supposed to expand CAH's presence in MedTech while complementing its existing portfolio of medical device products. Management was very high on this company and touted its many strengths during its acquisition announcement. A portion is shown below.
[Cordis] is helping customers standardize around medical devices, while offering innovative solutions in supply chain management, inventory optimization, and workflow tools and data to support the most effective management of the patient."

Source: Cardinal Health
Management listed "supply chain management" and "inventory optimization" as benefits coming out of this acquisition. But in fact, these very areas are the ones that are causing Cordis to stumble. CAH has had numerous problems integrating this company and managing its inventory. In its most recent Fiscal 2018 10-K form, a full 3 years after the acquisition, it reported "The performance from the Cordis business primarily reflects inventory challenges and increased operating costs."
These issues have led to large goodwill impairments which have totaled over $1.4 billion in 2018 alone, as Cordis struggled to sell inventory before expiration dates. These charges evaporated GAAP earnings, down 94% to only $0.81 EPS.
But things are getting progressively better and Cardinal Health is confident that this important asset is about to turn the corner. A new management team, led by new Cordis president Patrick Holt, has taken over operations. Under their leadership, sales momentum for its devices are building despite previous internal turmoil. In addition, Cordis has also remarkably been able to deliver continued topline revenue growth. Service levels have improved significantly as well and it has made progress optimizing inventory levels while fixing COGS issues.
It has gained what is being called "enhanced inventory visibility" needed to run the business efficiently. Currently, these changes are expected to deliver Cordis to profitable growth by the back end of 2019. Meanwhile, it is also spending money on capital improvement projects such as improving global supply chains. These strategic infrastructure improvements will have great positive effects moving forward. As inventory levels are optimized and CAH learns how to run this profitable business efficiently, Cordis can become the industry leader Cardinal Health envisioned when it was first acquired.
Other Growth Drivers
Beyond Cordis, CAH has other growth opportunities as well. One of them includes the newly formed Red Oak Sourcing, a 50/50 joint venture with CVS Health (CVS) that purchases generic drugs on behalf of both companies. CVS and CAH are both one of the biggest buyers of generics. By combining efforts, they can leverage their sheer purchasing volume through economies of scale for mutual benefit. As seen from the chart below, Red Oak has the largest purchasing volume of all other buyers by a healthy margin.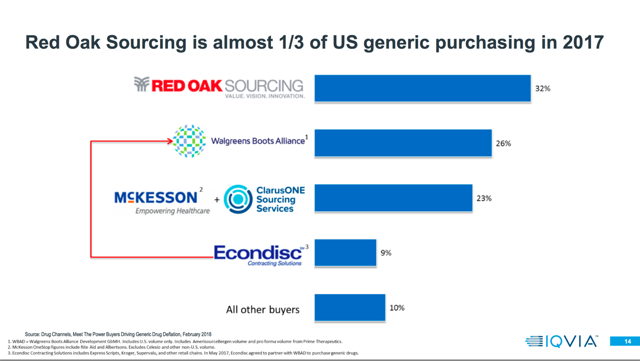 Source: Drug Channels
Benefits have already somewhat offset negative generic drug pricing changes and while the largest impact has already been realized, this JV will continue to produce benefits long down the road.
The hardship coming from past generic price deflation may be coming to an end as well. Eventually, the generic drug market will reach an equilibrium as manufacturers no longer bring as many generics to market because it will not be profitable enough to do so. Once this point is reached, it will allow the entire market to recover and begin an upward trajectory.
There are some indications this may come sooner rather than later. Cardinal Health has already seen its profit decline path start to flatten and bottom out. Additionally, the last time ANDA submissions have broken the 1,000-application plane (back in 2014), the next year submissions fell by nearly two thirds. This may be a harbinger of brighter days to come.
Capital Returns To Shareholders
While many parts of its business have lagged behind, CAH has remained dedicated to returning capital back to shareholders. When it recently raised its dividend 3% to $1.9052 annually per share, that marked the 32nd consecutive year of dividend increases. This makes it firmly a dividend aristocrat, a select group of companies that have raised dividends for more than 25 years. And now with the stock trading at a 5-year low of around $50, the yield comes out at around 3.6%. This makes it the highest yielder out of all the other Big 3 companies.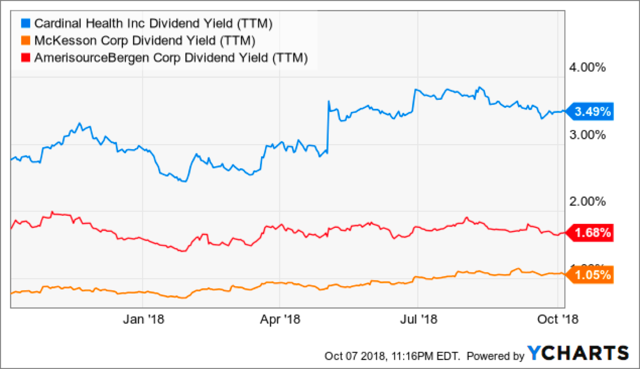 It also has repurchased $550 million of stock during 2018 and plans to continue at these depressed prices. CAH currently has a $600 million accelerated repurchase program in place that will last until Q2 2019.
But CAH is not paying out of its means to maintain its Dividend Aristocrat title. The company still produces strong operating cash flows and most recently grew it to $2.77 billion, a substantial increase from $1.18 billion one year ago. Granted this does come with a large tax benefit but it also incorporates a large increase in money paid to suppliers. Below, you can see CAH's cash from operations per share is at $8.80, meaning just a multiple of 6 using a stock price of $53. Its dividend meanwhile, is at a historical high.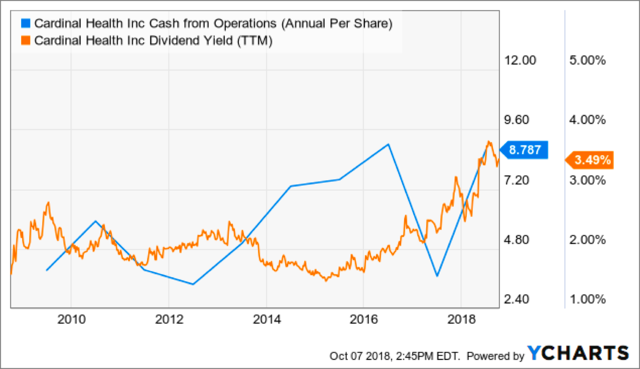 This presents a great opportunity for investors. Who wouldn't pay a record low price for a record high dividend?
Conclusion
Despite the past year's struggles, Cardinal Health remains one of the most prominent healthcare companies in America. Its recent struggles have been due to problems in specific subsidiaries, mainly Cordis, and issues largely outside of its control, specifically generic price deflation. Management has already taken key steps to resolve, or at least mitigate, both of these problems. Their hard work will likely materialize in the near future, and serve as catalysts to push the stock off these 5-year lows. Meanwhile, investors are currently presented with a golden long-term opportunity. Its record high dividend is just icing on the cake.
Disclosure: I/we have no positions in any stocks mentioned, but may initiate a long position in CAH over the next 72 hours.
I wrote this article myself, and it expresses my own opinions. I am not receiving compensation for it (other than from Seeking Alpha). I have no business relationship with any company whose stock is mentioned in this article.