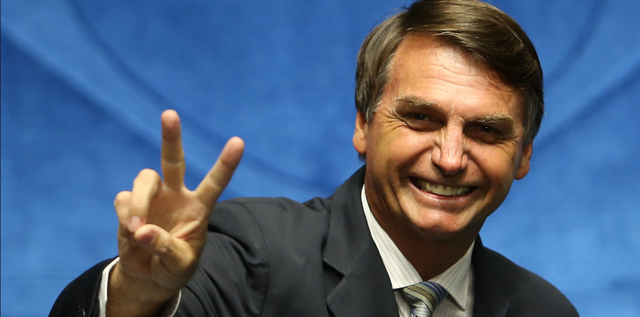 Leading Brazilian presidential candidate Jair Bolsonaro (via Senso Incomum).
Petrobras's Bolsonaro Bounce
Usually when I write about a company, I select an image from the company's website to lead off with. In the case of Petrobras (PBR), a photo of Jair Bolsonaro, the right wing candidate who won the first round of Brazil's presidential election on Sunday is fitting, because Petrobras's rise over the last few weeks, and especially on Monday, seems to be due to Bolsonaro's rising prospects for victory in the runoff scheduled for the end of this month.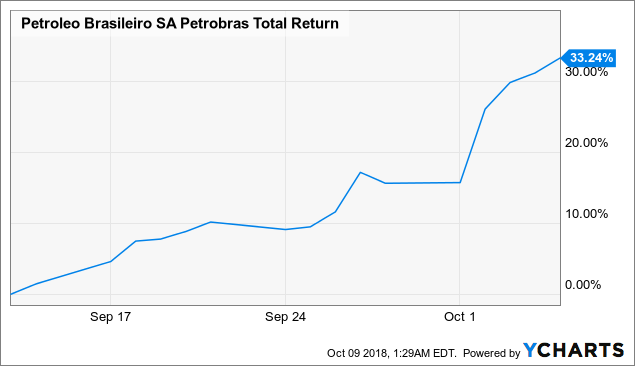 With that run-up in mind, let's look at a couple of ways you can lock in some of those gains while staying long. First, though, a few words about who Bolsonaro is and how likely he is to become Brazil's next president.
The Prospect Of A President Bolsonaro
According to PredictIt, Bolsonaro now has an 82% chance of becoming Brazil's next President.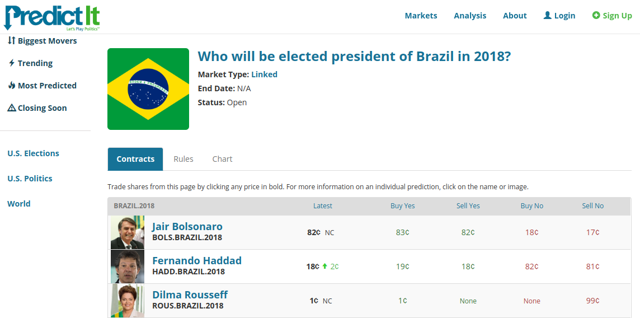 Still, it's unclear how a President Bolsonaro's policies might affect Petrobras. Bolsonaro has been described as "part Donald Trump, part Rodrigo Duterte," a reference to him being a right wing populist who advocates extremely harsh tactics against crime (Philippines president Duterte recently appeared to admit to authorizing extrajudicial killings of suspected criminals, as you can see in the tweet below).
The Duterte comparison seems to have gotten more traction recently as an old interview clip of Bolsonaro praising Brazil's past military dictatorship and calling for civil war made the rounds on Twitter.
Unfortunately, though, there's nothing new about high levels of crime in Brazil or extreme measures to combat it, such as extrajudicial killings. Most likely, the enthusiasm among PBR investors for Bolsonaro is due mostly to him not being socialist and not being implicated in the huge corruption scandal that led to the impeachment of former Brazil president and former Petrobras chairwoman Dilma Rousseff.
So what we're left with is a stock that has climbed more than 33% in a month based on the chance that Brazil's political leadership will soon shift to the right, but no one really knows what policies a President Bolsonaro would implement. In light of that uncertainty, let's look at a couple of ways you can limit your downside risk in Petrobras.
Adding Downside Protection To Petrobras
Let's assume here that you have 1,000 shares of PBR and can tolerate an 18% decline over the next several months, but not one larger than that. Here are two ways of adding that level of protection (screen captures below are via the Portfolio Armor iPhone app).
Uncapped Upside, Positive Cost
As of Monday's close, these were the optimal, or least expensive, puts to hedge PBR against a >18% decline by mid-April.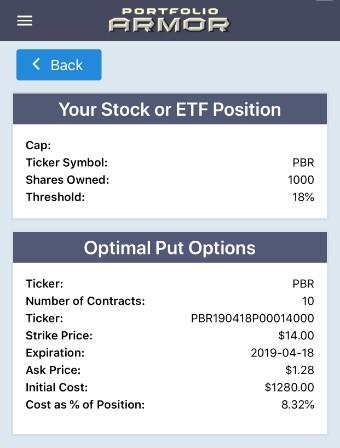 As you can see above, this protection was a bit pricey, at $1,280, or 8.32% of position value (although that price was calculated conservatively, using the ask price of the puts - in practice, you can often buy and sell options at some price between the bid and ask prices). Nevertheless, a PBR shareholder who's up 33% recently might be willing to pay that to lock in some gains. And if they're not, they can consider the next hedge.
Capped Upside, Negative Cost
If you were willing to cap your possible upside at 17% over the next 6 months, this was the optimal collar to get the same level of downside protection as in the previous hedge.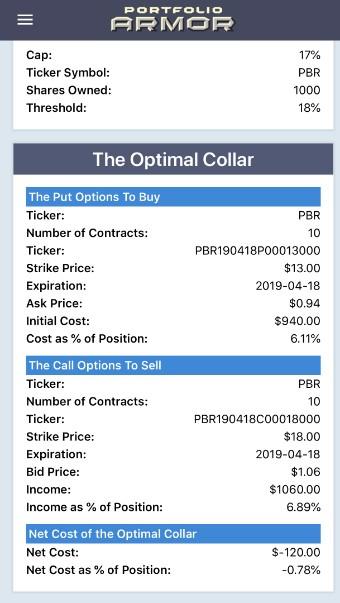 One difference with this second hedge is that, after an iterative process taking into account the net cost of the collar, the hedging algorithm was able to use a less expensive strike for the put leg, one with a cost of $940, or 6.11% of position value (calculated conservatively, using the ask price of the puts, as above). The other difference is that the cost of the put leg was more than offset by the income of $1,060, or 6.89% of position value (calculated conservatively, using the bid price of the calls) generated from selling the call leg.
So the net cost was negative, meaning you would have collected a net credit of $120 when opening this hedge on Monday, assuming you placed both trades at the worst ends of their respective spreads.
Wrapping Up
There's a lot of uncertainty about how the political environment in Brazil will affect Petrobras. Recently, the market has assumed change will be positive for the company. It may be prudent to protect yourself in the event it isn't.
To be transparent and accountable, I post a performance update for my Bulletproof Investing service every week. Here's the latest one: Performance Update - Week 44.
Disclosure: I/we have no positions in any stocks mentioned, and no plans to initiate any positions within the next 72 hours.
I wrote this article myself, and it expresses my own opinions. I am not receiving compensation for it (other than from Seeking Alpha). I have no business relationship with any company whose stock is mentioned in this article.