Brazil held presidential elections on October 7, 2018. Since no candidate won an outright majority, a runoff will occur on October 28. The U.S. ETF Investment Strategy team explains the implications of the vote.
Overview
Far-right candidate Jair Bolsonaro won a decisive lead in the first round of Brazil's presidential election, but fell short of the majority needed to avoid a runoff contest. Bolsonaro will now face his left-wing opponent Fernando Haddad in Round 2 on Oct 28 in a contest that will lay the course for Latin America's largest economy. We see Bolsonaro's unexpectedly strong showing in the first round leading to a near-term rally in Brazilian assets, given his economic team's perceived market-friendly orientation.
The Brazilian economy remains in a fragile state despite recovering from a 2015-2016 recession. Brazilian risk assets had gained over the past week as Bolsonaro's prospects improved in polling. He was a politically divisive figure during much of the campaign, but Bolsonaro's economic team appears committed to building on the reform agenda in place over the past two years. These reforms have been seen as largely responsible for a gradual recovery in Brazil's economy. Yet if, as some fear, Bolsonaro were to act in ways that damaged institutions, this could pose longer-term risks to Brazil's growth.
Chart 1: 12-month equity and currency performance (Rebased to 100, 9/20/2017-10/3/2018)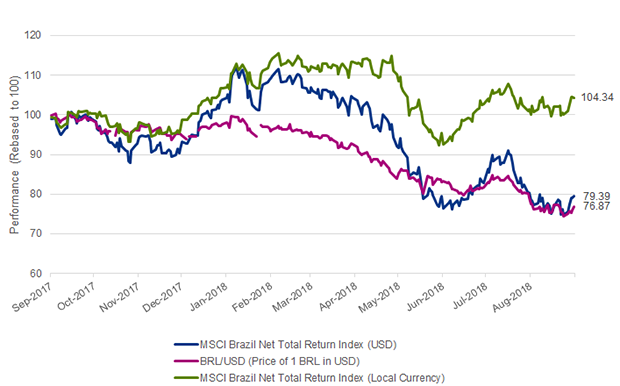 Index performance is for illustrative purposes only. Index performance does not reflect any management fees, transaction costs or expenses. Indexes are unmanaged and one cannot invest directly in an index. Past performance does not guarantee future results. Index performance does not represent actual iShares Fund performance. For actual fund performance, please visit www.iShares.com or www.blackrock.com.
Sources: Bloomberg as of October 4, 2018. Return depicted is that of the MSCI Brazil Net Total Return USD Index, MSCI Brazil Net Total Return Local Index and Brazilian Real / US Dollar Cross.
Political landscape
Bolsonaro has promised to tackle Brazil's debt problem through pension reform, halving the number of government ministries, and extending privatization of state enterprises. A Bolsonaro administration would need Congressional support to tackle such a reform agenda. Gaining such support would be no easy task given the 35 parties in Brazil's political system, but Bolsonaro's party had a stronger than expected showing on Sunday, becoming the second largest party in the lower house.
A victory by Haddad — who represents the Workers' Party (PT) - may have sparked market fears that he would be more hesitant to press on with the fiscal consolidation process started by the outgoing government. Haddad's proposals include capital controls to stabilize the currency - and a rolling back of reforms including privatizations. Yet the candidate has recently been striking a softer tone, making him somewhat of an unknown for investors.
Brazil's economy is making some progress, but the new president's approach to pension reform and public spending will be crucial in determining the country's growth potential. A growing debt burden, driven by massive social security obligations, is the key challenge. We see wide support to reform social security. The president of Brazil's lower chamber has recently said he would bring a pension reform bill up for a vote if the new president-elect publicly supported it. A key focus for investors will be the net present value of fiscal savings from future cuts to benefits.
Bolsonaro represents the right-wing Social Liberal Party and was seen as the favorite leading into the election. The populist and former military captain has tapped into widespread discontent with the status quo, but faced high individual disapproval levels due to his often provocative views. The most popular politician in this election, Luiz Inácio Lula da Silva (aka "Lula"), remains behind bars on corruption charges. Haddad was Lula's vice presidential candidate and replacement on the ballot.
Investor positioning
U.S.-listed ETP flows into Brazilian equities turned negative in July as political uncertainty ahead of the election appeared to dent investor sentiment. This came after a series of strong net inflows in the first half of 2018 totaling over $900 million. Those inflows have been offset completely by over $1 billion of outflows since July, the majority of which came in August - the most in the history of the category. (Source: Markit, calculated by BlackRock as of 10/2/18.)
Chart 2: U.S.-listed ETPs with exposure to Latin America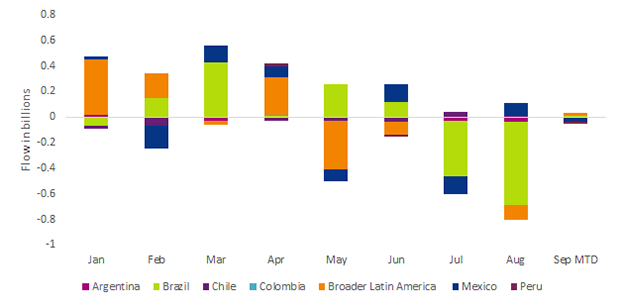 Source: Flow data sourced from Markit and calculated by BlackRock, October 2, 2018. ETP groupings and categories are determined by BlackRock.
The bottom line
We see Brazilian risk assets rallying in the near term as markets price in a Bolsonaro victory in round 2, which would likely be seen as a mandate to press ahead with economic reforms. Longer-term prospects will depend on the new government's progress in tackling Brazil's debt dynamics. The conclusion of the Brazilian election will mark the end of a string of contentious Latin American political matches. We remain risk-on and see the lifting of political clouds in emerging markets supporting the long-term case for EM assets. We believe LatAm populism shows limited risk to global stocks.
Article was originally on iShares.com
© 2018 BlackRock, Inc. All rights reserved.
Carefully consider the Funds' investment objectives, risk factors, and charges and expenses before investing. This and other information can be found in the Funds' prospectuses or, if available, the summary prospectuses, which may be obtained by visiting the iShares Fund and BlackRock Fund prospectus pages. Read the prospectus carefully before investing.
Investing involves risk, including possible loss of principal.
This material represents an assessment of the market environment as of the date indicated; is subject to change; and is not intended to be a forecast of future events or a guarantee of future results. This information should not be relied upon by the reader as research or investment advice regarding the funds or any issuer or security in particular.
The strategies discussed are strictly for illustrative and educational purposes and are not a recommendation, offer or solicitation to buy or sell any securities or to adopt any investment strategy. There is no guarantee that any strategies discussed will be effective.
The information presented does not take into consideration commissions, tax implications, or other transactions costs, which may significantly affect the economic consequences of a given strategy or investment decision.
This document contains general information only and does not take into account an individual's financial circumstances. This information should not be relied upon as a primary basis for an investment decision. Rather, an assessment should be made as to whether the information is appropriate in individual circumstances and consideration should be given to talking to a financial advisor before making an investment decision.
International investing involves risks, including risks related to foreign currency, limited liquidity, less government regulation and the possibility of substantial volatility due to adverse political, economic or other developments. These risks often are heightened for investments in emerging/ developing markets or in concentrations of single countries.
Small-capitalization companies may be less stable and more susceptible to adverse developments, and their securities may be more volatile and less liquid than larger capitalization companies.
The Funds are distributed by BlackRock Investments, LLC (together with its affiliates, "BlackRock").
The iShares Funds are not sponsored, endorsed, issued, sold or promoted by Barclays, Bloomberg Finance L.P., BlackRock Index Services, LLC, Cohen & Steers Capital Management, Inc., European Public Real Estate Association ("EPRA® "), FTSE International Limited ("FTSE"), ICE Data Services, LLC, India Index Services & Products Limited, JPMorgan Chase & Co., Japan Exchange Group, MSCI Inc., Markit Indices Limited, Morningstar, Inc., The NASDAQ OMX Group, Inc., National Association of Real Estate Investment Trusts ("NAREIT"), New York Stock Exchange, Inc., Russell or S&P Dow Jones Indices LLC. None of these companies make any representation regarding the advisability of investing in the Funds. With the exception of BlackRock Index Services, LLC, who is an affiliate, BlackRock Investments, LLC is not affiliated with the companies listed above.
Neither FTSE nor NAREIT makes any warranty regarding the FTSE NAREIT Equity REITS Index, FTSE NAREIT All Residential Capped Index or FTSE NAREIT All Mortgage Capped Index; all rights vest in NAREIT. Neither FTSE nor NAREIT makes any warranty regarding the FTSE EPRA/NAREIT Developed Real Estate ex-U.S. Index, FTSE EPRA/NAREIT Developed Europe Index or FTSE EPRA/NAREIT Global REIT Index; all rights vest in FTSE, NAREIT and EPRA."FTSE®" is a trademark of London Stock Exchange Group companies and is used by FTSE under license.
©2018 BlackRock, Inc. All rights reserved. BLACKROCK, BLACKROCK SOLUTIONS, BUILD ON BLACKROCK, ALADDIN, iSHARES, iBONDS, iSHARES CONNECT, FUND FRENZY, LIFEPATH, SO WHAT DO I DO WITH MY MONEY, INVESTING FOR A NEW WORLD, BUILT FOR THESE TIMES, the iShares Core Graphic, CoRI and the CoRI logo are registered and unregistered trademarks of BlackRock, Inc., or its subsidiaries in the United States and elsewhere. All other marks are the property of their respective owners.
ICR1018U-622017-1930661
Disclosure: I/we have no positions in any stocks mentioned, and no plans to initiate any positions within the next 72 hours.
I wrote this article myself, and it expresses my own opinions. I am not receiving compensation for it. I have no business relationship with any company whose stock is mentioned in this article.