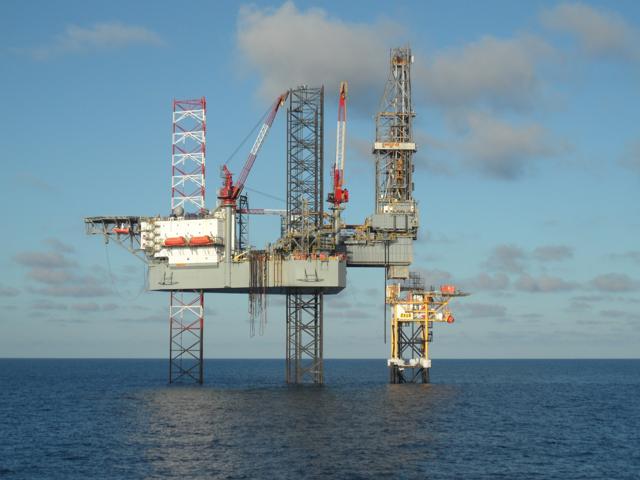 Image: Jack-up Ensco 121. Courtesy: Ensco
Merger Thesis
Today, we learned from Offshore Energy Today the following:
Offshore drillers Ensco and Rowan have announced an all-stock merger agreement creating an offshore drilling company with 82 rigs in its fleet. Rowan CEO will serve as the chief executive of the combined company.
According to the deal, Rowan shareholders will receive 2.215 Ensco shares for each Rowan share. Upon closing, Ensco and Rowan shareholders will own approximately 60.5% and 39.5%, respectively, of the outstanding shares of the combined entity. There are no financing conditions for this transaction.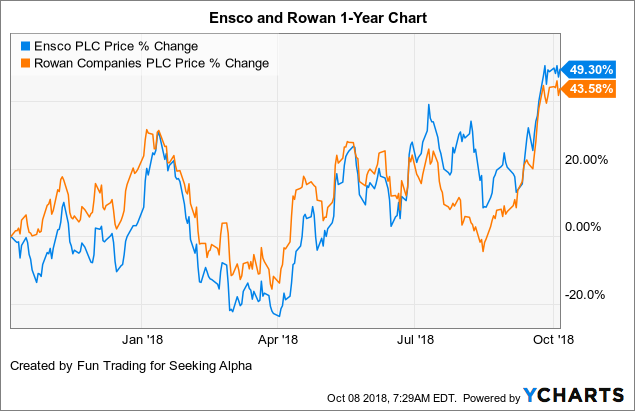 Ensco PLC (ESV), and Rowan Companies (RDC) are two solid offshore drillers that I am following for many years on Seeking Alpha. I own Ensco as a long-term investment, and I had also invested in Rowan, up until recently, when I decided to sell out my RDC position because of a complicated relationship with Saudi Aramco that I could not figure out entirely.
One central characteristic which defines these two offshore drilling companies quickly is that they own a sizeable jack-up fleet which represents a substantial part of their respective total backlog while holding as well a non-negligible modern floaters' fleet which is not performing well compared to the jack-ups' portion.
Rowan President and Chief Executive Officer Tom Burke, who will serve as President and Chief Executive Officer of the combined company, noted,
We are excited to reach an agreement to combine our well-respected organizations, enabling both Rowan and Ensco shareholders to participate in the substantial value creation opportunities of a larger, more technologically-advanced and diverse offshore drilling company.
Backlog Situation
1 - Ensco had an estimated ~$2.4 billion at the end of last month.


I recommend reading my precedent article about Ensco fleet status.
2 - Rowan has a much more complicated backlog which involves Aro Drilling ( 50/50 JV between Rowan and Saudi Aramco). I have estimated the contract backlog at $725 million. However, this amount is not factoring the entire contribution from the JV Aro Drilling.
Thomas Peter Burke, President, and CEO noted in the Q2'18 conference call:
Since the beginning of the second quarter, ARO Drilling has added 33 years of backlog, including 27 years for rigs which are wholly-owned by Rowan.

The contract backlog above includes only $46 million for the floaters' backlog contribution. I recommend reading my article about the July fleet status which details the company rig fleet.
This all-stock merger is not a surprise, and I have indicated that I was expecting more consolidation in this Industry which is slowly awakening from many years of a challenging market environment.
On September 5, 2018, I have commented about the acquisition of Ocean Rig UDW (ORIG) by Transocean (RIG) for a total of $2.7 billion. After completion of this acquisition, Transocean combined fleet is comprised of 57 floaters, with 17 of the top 50 and 31 of the top 100 ultra-deepwater drillships.
A quick look at the 2Q'18 respective balance sheet
| | | |
| --- | --- | --- |
| Company | ESV | RDC |
| Total Revenues in $ Million | 458.5 | 241.3 |
| Net Income in $ Million | -151.0 | -76.7 |
| EBITDA $ Million | 71.4 | 55.7 |
| Profit margin % (0 if loss) | 0 | 0 |
| EPS diluted in $/share | -0.35 | -0.60 |
| Cash from operations in $ Million | -57.5 | -34.8 |
| Capital Expenditure in $ Million | 42.6 | 41.5 |
| Free Cash Flow in $ Million | -101.1 | -76.3 |
| Total Cash $ Billion | 0.74 | 1.13 |
| Total Long-term Debt in $ Billion | 4.99 | 2.51 |
| Dividend per share in $ | 0.01 | 0 |
| Shares outstanding (diluted) in Million | 434.1 | 127.0 |
| Backlog | ESV | RDC |
| RDC Backlog in $ billion | ~2.35 | ~0.73 |
Source: Most of the data indicated above come from Morningstar and the companies' SEC filings.
I recommend the reader to read my preceding articles about the two companies second-quarter earnings results, below:
1 - Ensco second-quarter earnings results.
2 - Rowan second-quarter earnings results.
Trends and Charts for the combined entity: Revenues, Free Cash Flow and Net Debt.
1 - Revenue comparison.

Total combined revenue for the second-quarter 2018 is $699.8 million.
2 - Free cash flow

Total combined Free Cash Flow for the second-quarter 2018 is minus $176.4 million.
3 - Net debt

Total combined Net Debt for the second-quarter 2018 is $5.63 Billion, with total cash combined in 2Q'18 of $1.87 billion. The Net debt to EBITDA combined is 8.4x (EBITDA combined is $667.5 million on a yearly basis).

Commentary
We have entered a period of consolidation for the offshore drilling industry.
The offshore drilling Industry was ripe for consolidation already in early 2017. Despite a "full recovery" in this sector taking much longer than I previously thought, the process of consolidation, which always starts when evidence of a bottom is showing undoubtedly, has now begun and other players will follow soon in my opinion.
Normally, companies seek to consolidate – or acquire their competitors – to reduce costs (via synergies and scale) and to take out competition and gain more pricing control. An inherent drive toward consolidation, which stops at the point it becomes anti-competitive, should be present in any market...

If there's any industry ripe for consolidation, it's offshore drilling. Utilization is low, rig values are low, many owners are financially distressed, and there's just too much competition in the market. The abundance of opportunities to consolidate, however, is countered by a list of issues rig owners can't seem to ignore.
Transocean acquired Songa Offshore and Ocean Rig UDW in the floaters' segment while selling out its entire Jack-ups fleet to Borr Drilling. Ensco is now merging with Rowan after acquiring Atwood Oceanics last year. Only two remaining active players in this Industry have not made a move yet. Diamond Offshore (DO) and Noble Corp. (NE) but I am confident that we will hear from them soon. Probably Pacific Drilling (OTCPK:PACDQ) will also be involved.
I believe the trigger for this wave of consolidation is the feeling that we have reached a bottom and activity is slowly increasing, even if it is not evident yet. In a preceding article, I wrote: The recovery if we can call it a real improvement, has been anemic and has not been sufficient to slow a rapid backlog erosion. The recovery is not encouraging, with limited average contract duration and low daily rates. The only bullish element is oil prices but is it enough for a drilling service sector such as the offshore drilling industry to turn bullish? In my opinion, it is not.
So far, the recovery has been confined to the Jack-ups' segment, but the floaters' segment is still struggling.
However, it is enough to "prepare" for an eventual "full recovery" that many analysts forecast in H2 2019. The consolidation process will accelerate a slow increase in daily rates by reducing the rigs available and making it easier for companies to retire the obsolete part of their fleet.
It is hard to make a definitive assessment of this complicated merger, but I see it as a positive, at first glance, for both Ensco and Rowan. By combining their two fleets, I see potential cost synergies, and the combined company will be one of the dominant force in the Jack-up industry.
Author's note: Do not forget to follow me on the oil sector. Thank you for your support, I appreciate it. If you find value in this article and would like to encourage such continued efforts, please click the "Like" button below as a vote of support. Thanks!
Disclosure: I am/we are long ESV.
I wrote this article myself, and it expresses my own opinions. I am not receiving compensation for it (other than from Seeking Alpha). I have no business relationship with any company whose stock is mentioned in this article.