Key themes
Wider range of growth outcomes: We see the steady global expansion rolling on, underpinned by above-trend U.S. growth. Yet, the range of potential economic outcomes is widening as the cycle matures. Stimulus-fueled surprises and productivity gains could boost growth and risk assets, whereas escalating trade disputes and rising price pressures could create downside risks.
Tighter financial conditions: Gradual increases in U.S. rates are tightening financial conditions globally, and have contributed to bouts of volatility and sharply depreciating emerging market (EM) currencies. Higher U.S. rates also add to EM stress by creating competition for capital. Investors can now potentially receive decent returns in U.S. short-term bonds without having to take major credit and duration risk. As a result, investors have reset their return expectations for riskier assets, especially EM assets and equities broadly.
Greater portfolio resilience: Rising macro uncertainty and tighter financial conditions argue for a greater focus on portfolio resilience. We favor the momentum factor, but see a role for quality exposures as a buffer. In fixed income, we like short-term bonds in the U.S. and take an up-in-quality stance in credit.
Market views
We remain pro-risk but have tempered that stance given the uneasy equilibrium we see between rising macro uncertainty and strong corporate earnings growth. We prefer U.S. equities over other regions. We still like the momentum factor, but emphasize quality exposures as a buffer. In fixed income, we favor short-term bonds in the U.S. and take an up-in-quality stance in credit. Rising risk premia have created value in EM equities, including in the hard-hit tech sector. We prefer selected hard-currency EM debt over the local variety on valuation and insulation from further currency depreciations.
Great repricing
Asset yield comparison, January vs. September 2018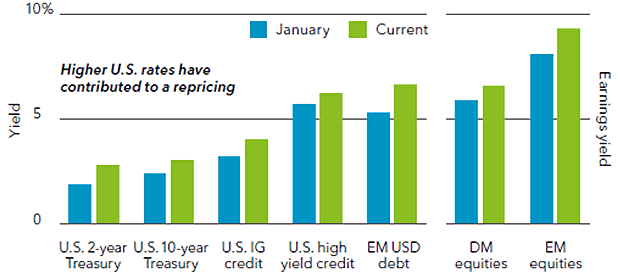 Index performance is for illustrative purposes only. Index performance does not reflect any management fees, transaction costs or expenses. Indexes are unmanaged and one cannot invest directly in an index. Past performance does not guarantee future results.
Sources: BlackRock Investment Institute, with data from Thomson Reuters September 2018. Notes: Indexes used from left to right are: Thomson Reuters Datastream 2-year and 10-year U.S. Government Benchmark Indexes, Bloomberg Barclays U.S. Credit Index, Bloomberg Barclays U.S. High Yield Index, JP Morgan EMBI Global Diversified Index, MSCI World Index and MSCI Emerging Markets Index. Yield in the two equity markets is represented 12-month forward earnings yield.
Macro views
Consensus views for G7 growth have pulled back relative to our BlackRock Growth GPS, creating the potential for upside surprises. U.S. fiscal spending is picking up into year-end, keeping the risk of economic overheating on our radar. This comes as the Federal Reserve presses with its normalization campaign, bringing interest rates closer to "neutral" levels that may stoke worries that policy will actually become tight. Trade tensions show few signs of abating. Tariffs have potential to disrupt corporate supply chains, increase price pressures and dent confidence. Economists have become divided on the two-year outlook compared with last year: More are penciling in downside forecasts.
Strategies and related funds
1. Wider range of growth outcomes: It can still pay to take risk in equities, we believe. Strong earnings momentum, corporate tax cuts and fiscal stimulus make the U.S. our favored region, with a preference for technology. The 2018 selloff has restored value in EM, and we see the greatest opportunities in EM Asia on the back of strong fundamentals.
2. Tighter financial conditions: Gradual increases in U.S. rates are tightening financial conditions globally, and have contributed to bouts of volatility and sharply depreciating EM currencies. In fixed income, we favor short-term bonds in the U.S. and take an up-in-quality stance in credit. We prefer selected hard-currency EMD, and are mostly steering clear of the local-currency variety.
3. Greater portfolio resilience: The tighter financial conditions and macro uncertainty underscores the need for greater portfolio resilience. How? We stick with our preference for momentum alongside quality exposures for added resilience. Although we prefer short-duration bonds in fixed income, longer-term government bonds can play a key diversification role as ballast in the face of any equity market selloffs.
© 2018 BlackRock, Inc. All rights reserved.
Carefully consider the Funds' investment objectives, risk factors, and charges and expenses before investing. This and other information can be found in the Funds' prospectuses or, if available, the summary prospectuses, which may be obtained by visiting the iShares Fund and BlackRock Fund prospectus pages. Read the prospectus carefully before investing.
Investing involves risk, including possible loss of principal.
This material represents an assessment of the market environment as of the date indicated; is subject to change; and is not intended to be a forecast of future events or a guarantee of future results. This information should not be relied upon by the reader as research or investment advice regarding the funds or any issuer or security in particular.
The strategies discussed are strictly for illustrative and educational purposes and are not a recommendation, offer or solicitation to buy or sell any securities or to adopt any investment strategy. There is no guarantee that any strategies discussed will be effective.
The information presented does not take into consideration commissions, tax implications, or other transactions costs, which may significantly affect the economic consequences of a given strategy or investment decision.
This document contains general information only and does not take into account an individual's financial circumstances. This information should not be relied upon as a primary basis for an investment decision. Rather, an assessment should be made as to whether the information is appropriate in individual circumstances and consideration should be given to talking to a financial advisor before making an investment decision.
International investing involves risks, including risks related to foreign currency, limited liquidity, less government regulation and the possibility of substantial volatility due to adverse political, economic or other developments. These risks often are heightened for investments in emerging/ developing markets or in concentrations of single countries.
Diversification and asset allocation may not protect against market risk or loss of principal.
Funds that concentrate investments in specific industries, sectors, markets or asset classes may underperform or be more volatile than other industries, sectors, markets or asset classes and than the general securities market.
Technology companies may be subject to severe competition and product obsolescence.
There can be no assurance that performance will be enhanced or risk will be reduced for funds that seek to provide exposure to certain quantitative investment characteristics ("factors"). Exposure to such investment factors may detract from performance in some market environments, perhaps for extended periods. In such circumstances, a fund may seek to maintain exposure to the targeted investment factors and not adjust to target different factors, which could result in losses.
Fixed income risks include interest-rate and credit risk. Typically, when interest rates rise, there is a corresponding decline in bond values. Credit risk refers to the possibility that the bond issuer will not be able to make principal and interest payments.
Non-investment-grade debt securities (high-yield/junk bonds) may be subject to greater market fluctuations, risk of default or loss of income and principal than higher-rated securities.
Actively managed funds do not seek to replicate the performance of a specified index. Actively managed funds may have higher portfolio turnover than index funds.
The iShares Short Maturity Bond ETF will invest in privately issued securities that have not been registered under the Securities Act of 1933 and as a result are subject to legal restrictions on resale. Privately issued securities are not traded on established markets and may be illiquid, difficult to value and subject to wide fluctuations in value. Delay or difficulty in selling such securities may result in a loss to the iShares Short Maturity Bond ETF. The Fund may invest in asset-backed ("ABS") and mortgage-backed securities ("MBS") which are subject to credit, prepayment and extension risk, and react differently to changes in interest rates than other bonds. Small movements in interest rates may quickly reduce the value of certain ABS and MBS.
The Funds are distributed by BlackRock Investments, LLC (together with its affiliates, "BlackRock").
The iShares Funds are not sponsored, endorsed, issued, sold or promoted by Barclays, Bloomberg Finance L.P., BlackRock Index Services, LLC, Cohen & Steers Capital Management, Inc., European Public Real Estate Association ("EPRA® "), FTSE International Limited ("FTSE"), ICE Data Services, LLC, India Index Services & Products Limited, JPMorgan Chase & Co., Japan Exchange Group, MSCI Inc., Markit Indices Limited, Morningstar, Inc., The NASDAQ OMX Group, Inc., National Association of Real Estate Investment Trusts ("NAREIT"), New York Stock Exchange, Inc., Russell or S&P Dow Jones Indices LLC. None of these companies make any representation regarding the advisability of investing in the Funds. With the exception of BlackRock Index Services, LLC, who is an affiliate, BlackRock Investments, LLC is not affiliated with the companies listed above.
Neither FTSE nor NAREIT makes any warranty regarding the FTSE NAREIT Equity REITS Index, FTSE NAREIT All Residential Capped Index or FTSE NAREIT All Mortgage Capped Index; all rights vest in NAREIT. Neither FTSE nor NAREIT makes any warranty regarding the FTSE EPRA/NAREIT Developed Real Estate ex-U.S. Index, FTSE EPRA/NAREIT Developed Europe Index or FTSE EPRA/NAREIT Global REIT Index; all rights vest in FTSE, NAREIT and EPRA."FTSE®" is a trademark of London Stock Exchange Group companies and is used by FTSE under license.
©2018 BlackRock, Inc. All rights reserved. BLACKROCK, BLACKROCK SOLUTIONS, BUILD ON BLACKROCK, ALADDIN, iSHARES, iBONDS, iSHARES CONNECT, FUND FRENZY, LIFEPATH, SO WHAT DO I DO WITH MY MONEY, INVESTING FOR A NEW WORLD, BUILT FOR THESE TIMES, the iShares Core Graphic, CoRI and the CoRI logo are registered and unregistered trademarks of BlackRock, Inc., or its subsidiaries in the United States and elsewhere. All other marks are the property of their respective owners.
ICR0918U-614586-1913720
This post originally appeared on the iShares Blog.
Disclosure: I/we have no positions in any stocks mentioned, and no plans to initiate any positions within the next 72 hours. I wrote this article myself, and it expresses my own opinions. I am not receiving compensation for it. I have no business relationship with any company whose stock is mentioned in this article.