Investment Thesis
August marks the sixth month that I have been tracking John's retirement accounts in an article. I apologize to readers for the tardiness of this article and I am working to get September's series caught up by the end of the week. Since the beginning of January 2018, his portfolio has produced the following results:
$10,011.01/Dividend Income through August 31, 2018.
On February 1, 2018, we began tracking the active tracking active trades which have provided a total realized gain of $8,119.90 through August 31, 2018.
If we combine trading income and dividends, we can approximate an average monthly income of $2,140.18/mo.
Although this may sound repetitive, I would like to include a disclaimer that this article is based on an actual portfolio for clients of mine. The goal is to build a portfolio of dividend-paying stocks, bonds, etc. that will continue to produce a growing and long-lasting income stream and simultaneously preserve capital. Capital appreciation is the least important characteristic of this portfolio. It is important that you do your own research when creating a portfolio that meets your needs!
A Rising Ten-Year Treasury Opens Up New Doors
September, historically, is consistently known as one of the most terrible months when it comes to returns of the Dow, but so far, October seems to be far more concerning after we saw the ten-year Treasury yield finish up just under 3.2%.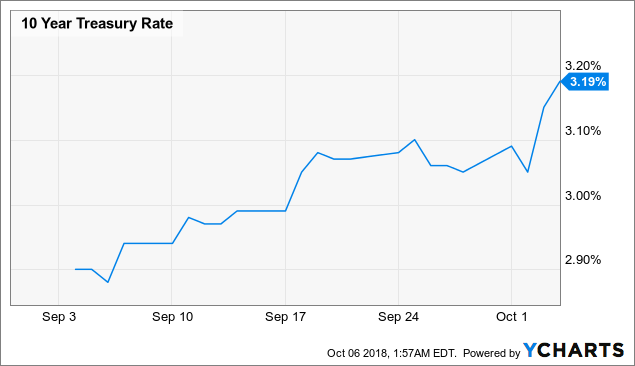 For those unfamiliar with this benchmark, it is important to recognize that this move has been in the works for a long time. The question wasn't if, but when.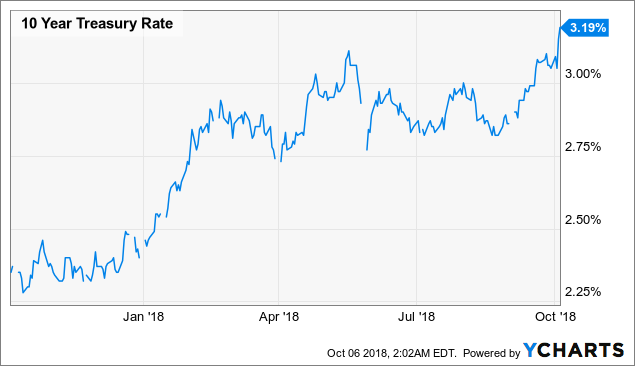 The chart above shows a one-year timeframe in which the most recent movement put us in uncharted territory after we experienced a dramatic move up in late May/June. Prior to this, the last time the ten-year Treasury hit these levels was when rates were dropping in 2011.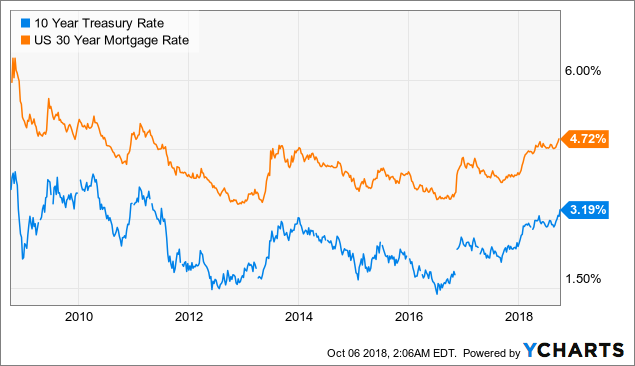 As you can see, the ten-year Treasury and the 30-year mortgage rates move in tandem with one another and mortgage rates will likely continue to rise as Treasuries do especially because we are experiencing a supply problem when it comes to housing. As the supply problem begins to rectify, I expect that mortgage rates will begin to level-off significantly until we see housing prices drop due to the fact that prospective buyers are being priced out of the market when interest rates move.
What this means for John is that the safe income provided by certificates of deposit are beginning to look more attractive. Here are the main reasons why John is considering some short-term CD options:
Short-term CDs are beginning to provide a reasonable return for 1, 2, 3, and 6-month periods. The yield on a number of CDs is higher than a number of dividend growth stocks because of their record-high valuations.
CDs represent capital preservation at its finest and by using short-term offerings, it gives investors the opportunity to revisit where their money will make a difference.
It is because of this that we will begin reallocating some of John's portfolio into short-term CDs as this will provide protection from market downside while also producing monthly interest payments that will be available as extra income.
Dividend And Distribution Increases
Companies that increased their dividend or paid a special dividend include:
Cracker Barrel Old Country Store - It's always nice to receive a reasonable dividend increase, but it becomes even better when combined with an outrageous special dividend too. CBRL saw its margins deteriorate (and will likely continue to see them do so because of rising food costs and wages). I also don't expect to see any dramatic changes in YoY EPS as sales growth per stores stagnates (increased only 1% YoY). The addition of the special dividend has helped CBRL maintain an average annual dividend yield of at least 5% since mid-2015.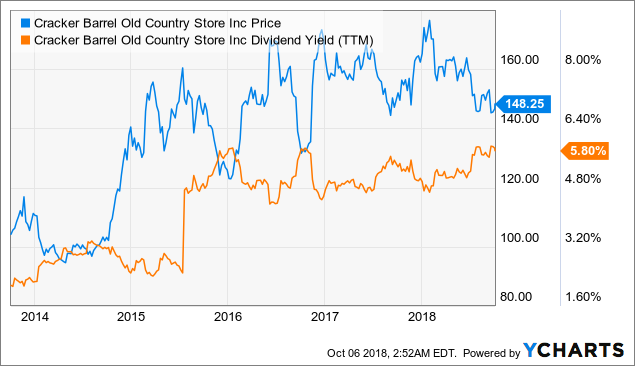 CBRL paid a special dividend of $3.75/share in addition to its increased quarterly dividend of $1.25/share, which is up from its previous quarterly payout of $1.20/share. At a current price of $148.25/share, the stock yields approximately 3.37% based on quarterly dividend payments and if we add the special dividend of $3.75/share, it moves the yield up to 5.9% based on an annual payout of $8.75/share.
Active Trading Log
As noted at the beginning of my article, I have utilized an active trading method in tandem with a dividend growth model. This is not day-trading, nor is it some crazy scheme to make a lot of money quickly. The purpose of this section is to provide readers with a better insight on my philosophy and to provide full-disclosure that this method isn't for everyone.
My trading philosophy is based on a couple of key rules:
Worthy of being held on a long-term basis - Some of the trades that I make can play out over a very short period of time, while others can take months, depending on various events. Because of the risk associated with trading, I will only purchase companies that I deem worthy of being held on a long-term basis (in the event that they do not reach my sellable price target). By purchasing only high-quality stocks, we are able to mitigate much of the risk associated with the process.
Pays a dividend - Stocks that make my list almost always pay a dividend (at least that seems to be the case so far), which is important because this means that even while they are being temporarily held, they are fitting in perfectly with my dividend strategy - which, at its core, is focused on consistent dividend income. The primary reason for holding strong dividend-paying stocks is that it is the only reasonable way to be compensated for risk while waiting for the share price to recover (in the event of a downturn).
Set price targets - This rule tends to be the most difficult one for people to implement and is in many ways the most important aspect of my strategy. The biggest problem that we all face with an active trading strategy (yes, myself included) is that most people do not initiate a price target at which they are willing to sell all or part of a position. Too many investors will "hold-on" hoping for an extra dollar per share even only to find that the market turns the other way and that their opportunity to sell at a reasonable price has slipped away. Every stock in Jane's portfolio has a specified price target that I regularly update based on changes in fundamentals and cost basis. On occasion, I will ignore this rule when I see a short-term opportunity.
Here are some examples of trades I made in the month of August:
AbbVie (ABBV) - This purchase was intentionally made to trade on with some extra cash John was sitting on. The first purchase was made at $91.04/share which was far too cheap to ignore and then again at $94.34. Two weeks after the second purchase, the price moved above $99/share which we felt was a reasonable price to sell at given ABBV's recent volatility.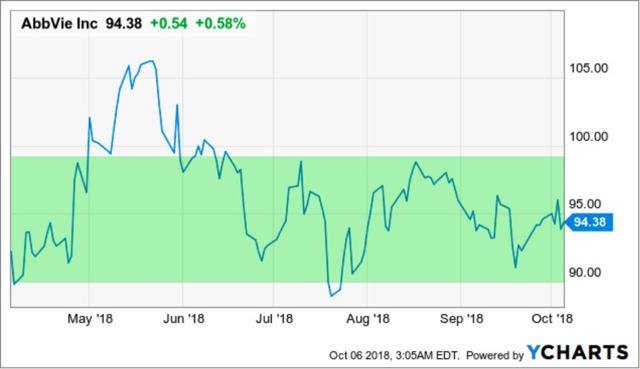 The green shows the low and high range that ABBV has consistently fallen into over the last six months. For the sake of full disclosure, I would consider buying into another position if prices dropped into the low 90s/share. While highly predictable patterns like this don't necessarily occur permanently, it is worth the risk because ABBV sports a hefty dividend at 4.09% with some hefty double-digit annual % increases during the last 3-4 years. Below is the proof of these transactions.

Source: Charles Schwab
Boeing Corporation (BA) - Boeing is another example of a quick trade that was too good to pass up. Although John made money on the trade, it is unfortunate that we sold before the most recent Boeing run-up that has pushed the stock price up to a 52-week high of $394.28/share. Nonetheless, I have been fond of purchasing Boeing in the past when shares dropped into the $330/share range.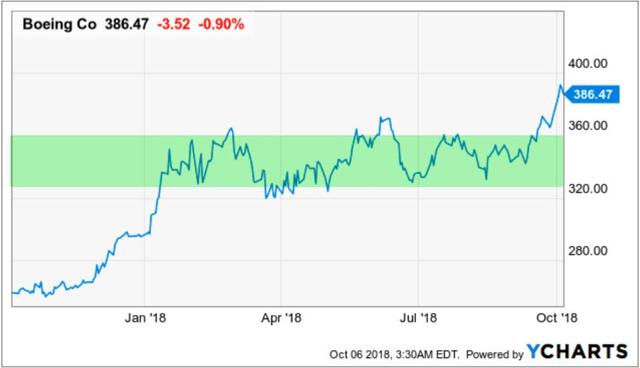 Since the beginning of the year, Boeing has continued to trade within the $330-360/share range and only in the last week of September did it break out to reach its current price of $386.47/share. My price target moves up after this recent breakout as I would be willing to re-establish a new position at around $350/share (or less).
Here are the gains for the month of August in both retirement accounts:


Source: Charles Schwab
Since we began executing this strategy on February 1, 2018, to August 31, 2018, John's Traditional and Roth IRAs have benefited from realized capital gains totaling $8,119.90 or an average of $1,014.99/month (over the course of an eight-month period).
Active Trades Watchlist From July
In July's article, I mentioned a few companies on my watchlist that I was interested in over the coming month. Here is how they played out:
BB&T (BBT) - Shares have suffered along with the banking sector which provides another buying opportunity. With the dramatic increase in rates in the first week of October, I expect shares will continue to fully recover. We still maintain 150 shares at a cost basis of $51.12/share.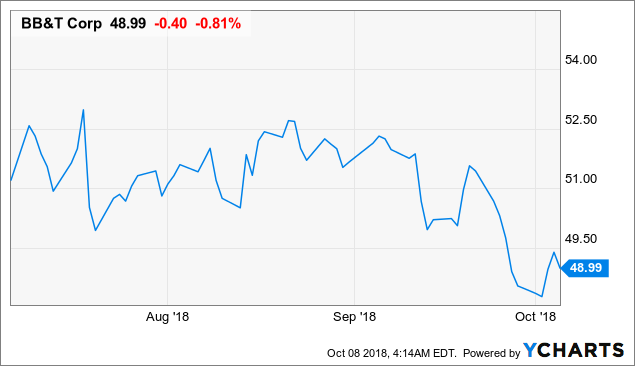 I still see a future price target at $54-55/share.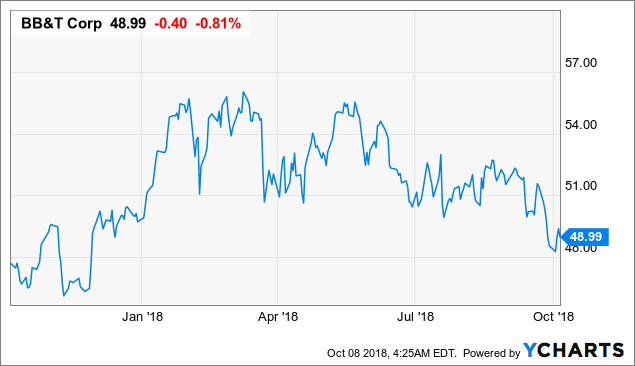 Chevron (CVX) - John has two positions in CVX (25 shares in his Roth and 50 in his Traditional). CVX has seen its share price jump back up again on the increase in crude oil prices. While I am still bullish on CVX, I believe that the increase in the strategic reserves stockpile should have a cooling effect on the price of crude. I am looking to sell the higher cost position at around $128/share and am willing to add to the positions at around $118/share.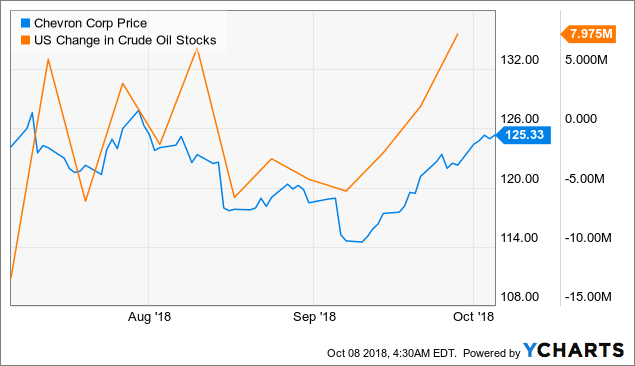 Potential Trades
PepsiCo (PEP) - After its most recent earnings, Pepsi has moved back into my buy range as their stock was hammered (from what I believe is a favorable earnings report). PepsiCo continues growth in Latin America and Asia that is more than compensating for their struggles in North America. The last time investors overreacted we were able to pick up shares at the amazing price of $96.87.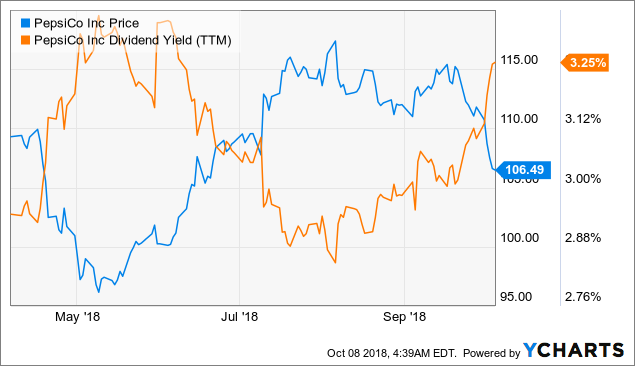 The yield on the chart above is incorrect with the true yield just under 3.5%. When shares dropped under $100/share, we saw yields push up to about 3.80%/share. Pepsi's stock has rarely been available at these yields which is what I find so appealing about shares at these prices.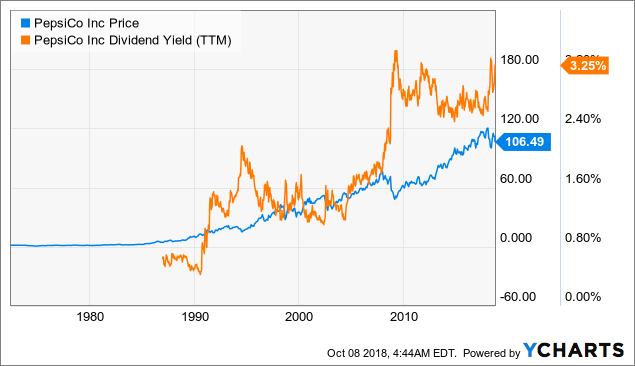 August Income Tracker And August Estimates
I have created the following charts to assist with keeping track of John's retirement portfolios, with the intention of maintaining a database that can be compared on a month-to-month and YoY basis.
Green is used to show when dividends were actually received.
Yellow represents dividend estimates that haven't occurred yet (estimates).
Red indicates a position that no longer held.
In order to de-clutter these charts going forward, I am going to start including the dividend earned from sold positions in a separate chart. If shares are repurchased, I will move the position from the "sold" chart back to the current holdings chart.
Traditional IRA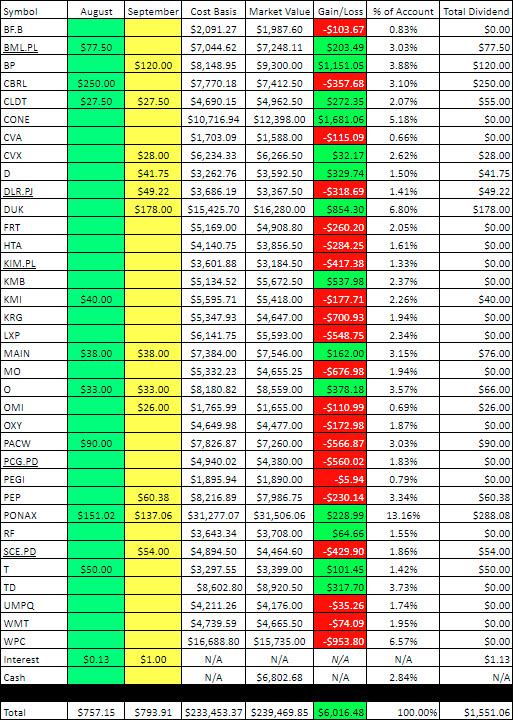 In total, John's Traditional IRA produced $757.15 of recurring dividend income during the month of August. It is projected to generate $793.91 of dividend income in the month of September.
Roth IRA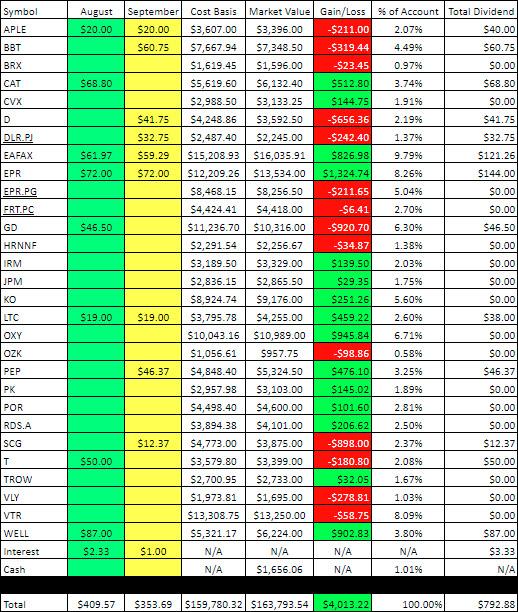 In total, John's Roth IRA produced $409.57 of recurring dividend income during the month of August. The Roth IRA is projected to generate $353.69 of dividend income in the month of September.
January-August - YTD Results - Traditional IRA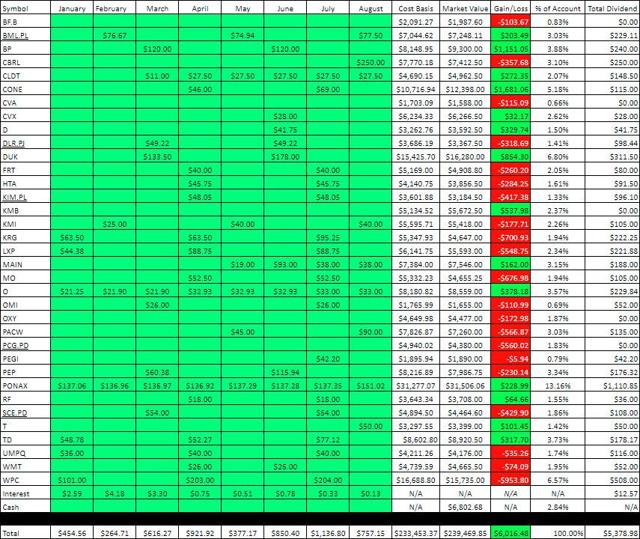 In total, John's Traditional IRA has produced $5,378.98 of recurring dividend income from January through August and $621.55 of non-recurring dividend income for a total dividend income of $6,000.53.
January-August - YTD Results - Roth IRA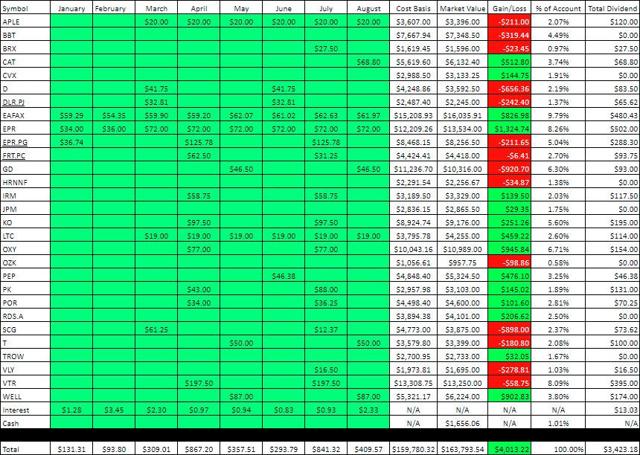 In total, John's Roth IRA has produced $3,423.18 of recurring dividend income from January through August and $587.30 of non-recurring dividend income for a total dividend income of $4,010.48.
In total, John has received total earnings (dividends and capital gains) in the amount of $18,130.91 over the course of eight months (January through August) resulting in an average monthly income of $2,266.36. (This is slightly down from last month's average of $2,289.48).
Conclusion
John's portfolio has continued to perform well even as market volatility has increased in the last few weeks. Many positions that had significant unrealized capital gains have corrected and are closer to their original cost basis than they were in July's article.
As I am writing this article, I am looking at CDs that are currently being offered on Charles Schwab (NYSE:SCHW) and here are some of the rates (all quotes in APY(%)):
3 Month - 2.117%
1 Year - 2.60%
3 Year - 3.10%
5 Year - 3.40%
10 Year - 3.55%
Currently, I am most interested in short-term CDs since these will offer more opportunity to take advantage of market corrections (especially since we currently have fewer cash reserves than we did a month ago).
Final Note: If you enjoy my articles, please take the time to follow me. While I enjoy performing analysis, following me is the best method for showing me that SA subscribers are finding my work useful. I welcome all meaningful feedback, and I enjoy using the Seeking Alpha platform to enhance and improve my own knowledge as well. My promise to readers is to be as open and transparent as I can be. The numbers presented are accurate as of the time I wrote this article.
In John's Traditional and Roth IRAs, he is currently long the following mentioned in this article: Apple REIT (APLE), BB&T (BBT) Bank of America Preferred Series L, (BML.PL), British Petroleum (BP), Brown Forman Class B (BF.B), Caterpillar, (CAT), Cracker Barrel (CBRL), Chatham Lodging Trust (CLDT), Chevron (CVX), Covanta (CVA), CyrusOne (CONE), Dominion Energy (D), Digital Realty Preferred Series J (DLR.PJ), Duke Energy (DUK), Eaton Vance Floating-Rate Advantage Fund A (EAFAX), EPR Properties (EPR), EPR Properties Preferred Series G (EPR.PG), Federal Realty Trust (FRT), Federal Realty Trust Preferred Series C (FRT.PC), General Dynamics (GD), Hydro One (OTC:HRNNF), Healthcare Trust of America (HTA), Iron Mountain (IRM), JPMorgan Chase (JPM), Kimco Preferred Series L (KIM.PL), Kimberly-Clark (KMB), Kinder Morgan (KMI), Coca-Cola (KO), Kite Realty Group (KRG), LTC Properties (LTC), Lexington Realty Trust (LXP), Main Street Capital (MAIN), Altria (MO), Realty Income (O), Owens & Minor (OMI), Occidental Petroleum Corp. (OXY), Bank of the Ozarks (OZK), PacWest Bancorp (PACW), Pacific Gas & Electric Preferred Series D (PCG.PD), Pattern Energy (PEGI), PepsiCo (PEP), Park Hotels & Resorts (PK), PIMCO Income Fund Class A (PONAX), Portland General Electric (POR), Regions Financial (RF), Royal Dutch Shell Class A (RDS.A), South California Edison Preferred Series D (SCE.PD), Scana Corporation (SCG), AT&T (T), Toronto-Dominion Bank (TD), T. Rowe Price (TROW), Valley National Bancorp (VLY), Umpqua Bank (UMPQ), Ventas (VTR), Welltower (WELL), Walmart (WMT), and W.P. Carey (WPC).
Disclosure: I am/we are long GD, GIS, PEP, T, UMPQ. I wrote this article myself, and it expresses my own opinions. I am not receiving compensation for it (other than from Seeking Alpha). I have no business relationship with any company whose stock is mentioned in this article.
Additional disclosure: This article reflects my own personal views and is not meant to be taken as investment advice. It is recommended that you do your own research. This article was written on my own and does not reflect the views or opinions of my employer. I would like to emphasize that I am employed by Umpqua Bank which is a company held in John's Retirement Portfolio. The inclusion of this stock is for informational purposes only and is not an attempt to promote this stock. Please understand that I will not answer any questions that are specifically related to Umpqua Bank.
Editor's Note: This article discusses one or more securities that do not trade on a major U.S. exchange. Please be aware of the risks associated with these stocks.