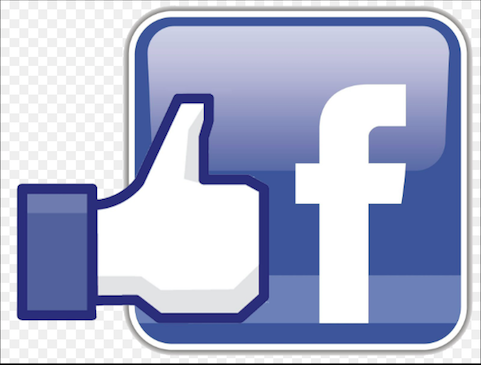 Introduction
Facebook (FB) may see declining MAU growth for the foreseeable future as three billion people have access to Facebook and it reaches 2.23 billion already. Instagram, WhatsApp and Messenger currently have almost four billion MAU combined (sources shown throughout article) and have significant revenue generating potential that Facebook is just beginning to tap. I would like to stress that forward looking MAU growth rates and ARPU for these features is still very much "murky waters." This article is meant to give a potential valuation for these features, not an exact valuation.
Instagram/Snap/
WhatsApp

/Messenger




Instagram (Source) SnapChat (Source)
Although Instagram's MAU base (1 billion) is nearly 10 times that of Snap's (NYSE:SNAP) (188 million), both have managed to increase their YoY growth rates between 33%-50% since December 2013 (Statistica Data shown above). Instagram currently is showing the most promise for immediate monetization. According to eMarketer, Instagram accounted for about $3.2 billion of Facebook's $40 billion in revenue in 2017 (approximately $4 in ARPU). I'm convinced Instagram will be the preferred platform for businesses to advertise relative to Snapchat which will further increase Facebook's ARPU for the following reasons:
Instagram Stories is designed to ensure you watch all of your follower's stories, which is likely why TheAmplify reported a 28% higher view rate on Instagram vs. Snapchat.
Instagram offers cheaper forms of advertising usually in the range of $0.7-$1.00 per ad, whereas Snapchat is $1.00-$1.30.
There are more free analytics tools on Instagram such as Websta, Union Metrics, and Keyhole. You also can run Instagram ads and measure results within Facebook's Ad Manager which is convenient for those also using Facebook as an advertising platform. In contrast, Snapchat does not offer any free analytics tools (Snaplytics costs $19 per account).
Snapchat's MAU growth has leveled off and even declined the past six quarters, while Instagram has largely kept its growth steady according to TheAmplify report. I attribute this largely to discoverability. Instagram offers your business a public profile option, allowing potential followers to check out your content whether they have agreed to follow you or not. A SnapChat profile can only be viewed by people who have added the user. This barrier could prevent users from adding the user on Snapchat since they can't preview your Snapchat content beforehand. In addition, all the snaps and stories you create disappear within 24 hours, which lessens the content available at a given time for a profile. This leads me to believe that Instagram can continue its current pace in MAU growth for at least the next two years, and contribute as much as $50 billion in revenue to Facebook's top line by 2023.
Don't be too quick to think this prediction is solid. What also must be considered is that 45% of Snapchat users are age 18-24 and spending an average of 40 minutes on Snapchat per day. Moreover, almost half those users aren't even on Instagram according to For Business. Also, those who are still active SnapChat users have indicated an overwhelming preference for features such as direct messaging and face filters over those respective features on Instagram, according to Variety.
Although it will likely take some time before Facebook is able to monetize WhatsApp and Messenger, these features have experienced tremendous MAU growth (shown below). As we can see these apps have close to 3 billion MAU combined as of December 2017, and have grown at annual rates between 20%-40% since 2015. Tencent's WeChat sells in-app content, ads, games, and stickers to generate revenue, which we can use as a baseline. eMarketer estimated that WeChat generated approximately $7 in ARPU on 200 million users in 2016. WhatsApp and Messenger ARPU could actually outpace that of WeChat due to the network effects of Facebook's other businesses and the development of a peer-to-peer payment system on the WhatsApp platform in India. According to my estimates, WhatsApp and Messenger have the potential to contribute a minimum of $19 billion annually to Facebook's top line.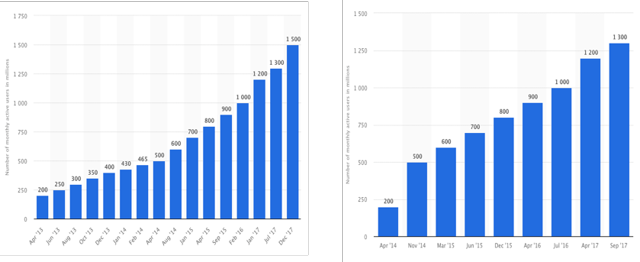 WhatsApp (Source) Messenger (Source)
According to Adweek, Facebook already launched the WhatsApp Business Application Interface (API), where businesses can send customized notifications with relevant non-promotional content such as shipping confirmations, appointment reminders or event tickets at a flat rate. This feature is currently being tested with API companies such as Sale Stock. Facebook also is enabling businesses that advertise their network to start a discussion in WhatsApp with Facebook ads that click to WhatsApp. Users who click the WhatsApp ad are taken to a pre-filled chat in WhatsApp. Brands can track their success with new metrics, such as conversations started and messaging replies.
DCF Analysis
Now let's do a DCF analysis on Facebook, Instagram, WhatsApp and Messenger using conservative assumptions for MAU growth and what can be inferred for ARPU for these individual apps. These are the assumptions:
Facebook's ARPU will be an average over the past two years (shown below) and will use current Q2'2018 MAU grow rates at 7%.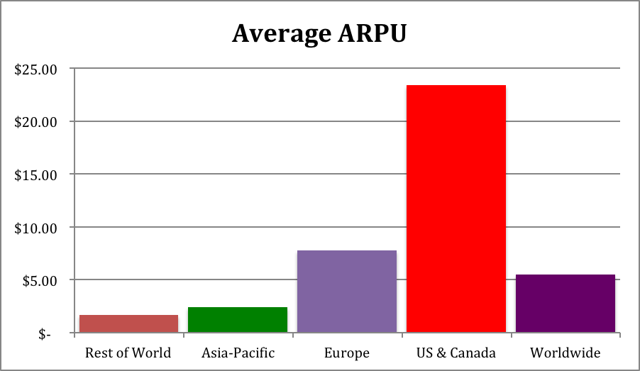 (Source: Author's Table, Microsoft Excel)
Instagram MAU will grow at 33% during the next two years as it continues to develop Instagram Stories and increase its ARPU at 7% per quarter (in line with Facebook, since 98% of advertisers on Facebook also advertise on Instagram according to Forbes).
WhatsApp and Messenger will not generate revenue until 2020 and will generate $7 in ARPU (in line with WeChat). WhatsApp and Messenger MAU will grow at their current paces of 20% and 30% respectively for the next two years as in-app content and games are developed.
All services will regress to Facebook's current MAU growth of 7% after two years as their growth potential will likely diminish.
Expenses will be derived using the average of the expense/revenue from the Q2'2018 earnings presentation. I also use an average of non-cash expenses/revenue and standard working capital assumptions to derive free cash flow.
| | |
| --- | --- |
| Expense | % Revenue |
| Cost of revenue | 17% |
| Research and development | 20% |
| Marketing and sales | 13% |
| General and administrative | 6% |
| D & A | 11% |
| Share Compensation | 10% |
| CAPEX | 15% |
| Prepaid Expenses | 3% |
| Deferred Tax | 1% |
| | |
| --- | --- |
| A/R Turnover | 7.7 x |
| Prepaid Expenses/Expenses | 3% |
| A/P Turnover | 5.5 x |
| Effective Tax Rate | 20% |
(Source: Author's Table, Microsoft Excel)
Facebook has held a relatively conservative capital structure, with a debt/equity that's has never exceeded 12%. They have a $2 billion approved credit facility with all outstanding debt due in 2021, but was left undrawn as of December 31, 2017. Therefore I'm assuming no debt in the capital structure going forward.
The company has had an effective tax rate the past two years of about 20%.
The financials can be modeled as follows based on this information:

(Source: Author's Table, Microsoft Excel)
The DCF valuation is calculated with the following inputs. Note that all assumptions remain constant after five years of modeling and therefore FCF growth is constant at 7%. I used the CAPM model to estimate WACC. Although faulty, my estimate seems to be in line with analyst estimates.
| | |
| --- | --- |
| Shares Outstanding | 2,895 |
| WACC | 9.5% |
| Terminal Growth Rate | 7.0% |
| PV/Share (by 2023) | $852 |
(Source: Author's Table, Microsoft Excel)
Conclusion
It's very difficult at this point to value Instagram, WhatsApp, and Messenger, as forward looking MAU growth rates and ad revenue estimates are difficult to determine with precision. However, the point of this article is not to value these features with precision but to discuss the potential value they can achieve using reasonable estimates. Consider the analysis above looking at only at Facebook's potential contributions to the top line:
Projected five-year revenue at $56 billion
An implied 35% net income margin for earnings of about $20 million
Facebook's usual P/E multiple of 30x
A WACC of 9.5%
Discounted five years
This would generate a price of about $130/share. This can serve as a baseline for downside risk (~20%) as this is a very conservative estimate of Facebook's value. The point I'm trying to emphasize here is that Instagram, WhatsApp, and Messenger have the potential to increase Facebook's revenue nearly seven-fold and even account for 80% of revenue by 2023, and therefore generate almost $700/share in value-added by 2023. This analysis does not consider the revenue generating ability of Oculus, as it is much too difficult to predict at this point.
In addition to margins potentially being squeezed due to the latest privacy concerns and GDPR rules, here's a list of potential risks and headwinds Instagram, WhatsApp and Messenger will face that could affect my MAU growth and ARPU assumptions:
The risk of running ads on these features is the threat of the user experience. The wrong ad size or placement inside the app could discourage many loyal users, and could easily jump to an ad-free messaging platform like Telegram or GroupMe.
MAU growth assumptions are based on the other features not being demonized for their connection with Facebook which has had a toxic reputation of late.
WhatsApp/Messenger will face fierce competition in Asia, most notably WeChat and Japan-based Line which have very loyal user bases. Obtaining the last billion potential users could prove to be the most difficult.
SnapChat will not be easy competition for Instagram as I am assuming Instagram will continue to steal SnapChat users. SnapChat has established itself with the 18-24 age group, dramatically increased revenues from smaller sized businesses, and most importantly brought ad prices down as they have moved toward letting advertisers use self-serve options to buy.
Messaging applications have become very competitive the past few years with the development of Skype, GroupMe, KakaoTalk, LiveProfile, etc. WeChat has a very loyal user base, and was a pioneer with less competition than what WhatsApp and Messenger currently faces. These features will have to rely heavily on Facebook's network of other businesses and its brand loyalty to achieve an ARPU of $7.
The analysis assumes a constant net income margin. There's no way to tell at this point if that will be the case as the other features reach their monetization potential.
Disclosure: I am/we are long FB.
I wrote this article myself, and it expresses my own opinions. I am not receiving compensation for it (other than from Seeking Alpha). I have no business relationship with any company whose stock is mentioned in this article.