Welcome to the natural gas prices keep soaring edition of Natural Gas Daily!
Housekeeping item first.
We expect a +92 Bcf change in the storage report for the week ended October 5. A storage report of +92 Bcf would compare with +87 Bcf last year and +90 Bcf for the five-year average.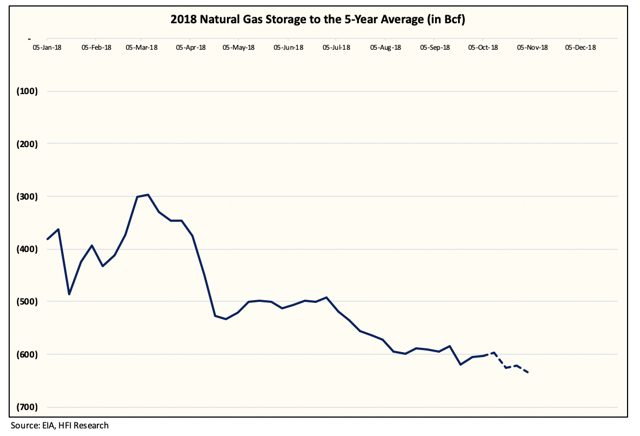 Natural Gas Storage Expected To End Injection Season At Record Lows
Over the last week, the weather models kept churning out bullish total degree day (TDDs) revisions one after another. This resulted in our November storage forecast to end below 3.2 Tcf!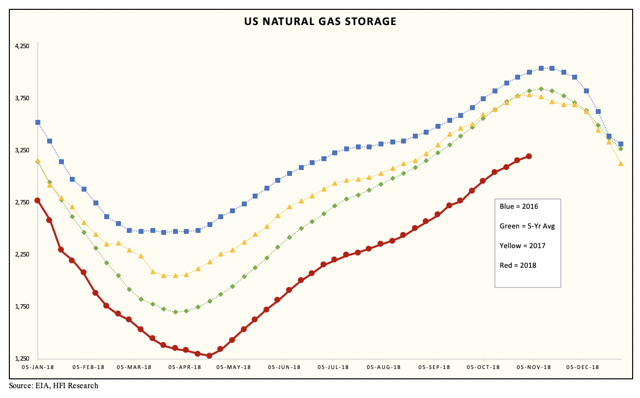 This will be 635 Bcf below the 5-year average!
Bullish Weather Propels Natural Gas Prices Even Higher
In our last week's NGD, we noted that bullish weather forecasts sent natural gas prices higher. Namely, the bullish weather model revisions for mid-October showed TDDs to come in well above the 10-year norm, which pushed natural gas prices higher.
Well, it now stinks to be a natural gas bear because over the last week, the weather models turned even more bullish. The key to understanding why the forecast below is considered to be bullish goes back to the premise that most market participants thought the second half of October may turn out to be warmer than expected. That is no longer the case: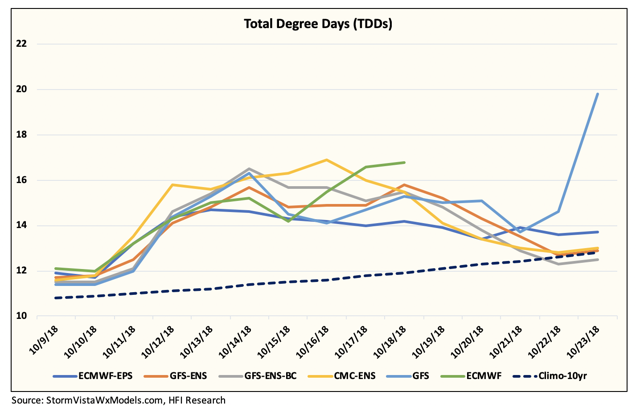 Source: StormVistaWxModels.com
As you can see in the ECMWF-EPS 15-day cluster above, there's the potential for much cooler than normal temperatures in the Northeast, which would keep natural gas prices supported for the time being.
However, given where natural gas prices are already trading, the key is to figure out just how long the weather is expected to remain bullish. Given the latest ECMWF-EPS long-range outlook, the weather outlook is expected to remain bullish until the end of October followed by more neutral conditions. If so, this could push prices lower in the near term following the bullish ramp we are seeing today.
For now, we do not have any trading positions on. Given the risk that natural gas prices are at the whim of weather model fluctuations, we prefer waiting for a higher certainty trade set-up.
Readers should expect natural gas price volatility to pick up materially going forward as ECMWF-EPS weather model updates could swing prices massively.
Note- ECMWF-EPS 00z finishes updating at 4 AM EST, and ECMWF-EPS 12z finishes at 4 PM EST. When daylight savings end, ECMWF-EPS finishes updating at 3 AM EST and ECMWF-EPS 12z finishes at 3 PM EST.
Author's Note: Thank you for reading this article. If you found this article insightful, please leave a "Like" below.
For readers who are interested in receiving real-time trade alerts along with our exclusive natural gas fundamental, weather, and trader positioning updates, we highly recommend you to give HFI Research Natural Gas a try. You can see here for more info.
Disclosure: I/we have no positions in any stocks mentioned, and no plans to initiate any positions within the next 72 hours.
I wrote this article myself, and it expresses my own opinions. I am not receiving compensation for it (other than from Seeking Alpha). I have no business relationship with any company whose stock is mentioned in this article.