Editor's note: Seeking Alpha is proud to welcome Alpine Holdings as a new contributor. It's easy to become a Seeking Alpha contributor and earn money for your best investment ideas. Active contributors also get free access to the SA PRO archive. Click here to find out more »
Background
My strategy for the most part of the last 3 years has been non-existent, I have not actively engaged my portfolio and have not evaluated more sophisticated trades to unlock the full potential of my portfolio. However, in Q4 2017, I decided to better position myself as a long-term investor with a defined strategy. This is my way to share with you my journey, market insights, learnings along the way, and a way to hold myself accountable for the task.
Over the last year, I've taken the time to carefully pen down my existing portfolio positions, what worked, what didn't, and the results they yielded. One thing struck out, those investments I carefully researched and built sound strategies around, yielded gains of +130% over the course of four years, while those in which I did not, were down a combined (13%).
These results, while not entirely indicative of future performance - and granted this has been quite the bull market - reinforced my belief that conducting the necessary research, due diligence, and building of appropriate long-term strategy can yield positive results.
What is Alpine Holdings?
It is a collection of financial instruments and investments across several brokerage accounts; for the purposes of this and subsequent writings, my 401k and Roth IRA are excluded. The portfolio holds stocks, ETFs, options, mutual funds, and bonds, and it is funded on an ongoing monthly basis with about 1-3% of my income.
What's in the name? It came about from one of my trips to Portland, Oregon two years ago, where I learned that alpine plants grow along the Cascade Range from Washington to Oregon.
Why Follow Alpine Holdings?
My background is in Business Analytics and Sales Operations, I'm currently a Country Manager for Canada, and I'm U.S. based. I've always considered myself more of a Fundamentals trader than Technical, I tend to not chase daily price movements and instead focus on the long-term picture. My mission is to share learnings and real-time management of the portfolio. If you're in your early to late-20s, do not have a finance background, but investing piques your interest, then I hope you find this series insightful and motivational.
Core Investment Philosophy & Tactics
The lifetime for the portfolio is 5 to 7 years with a goal of achieving expected annual returns of 10-15%. Every investment made is decided on Fundamentals and Value. Is the equity undervalued? Is the product(s) positioned for mass scale adoption? Is the company established or relatively new to the market? I primarily seek out undervalued small to mid-caps. One example, SQ, I cover below and go in-depth on the story behind the investment.
Below are the core competencies and tactics I've implemented in the active management of the portfolio:
Diversification - I am implementing a target drift rate of no more than 3% between asset classes. I'd like to diversify my portfolio as I'm over reliant on U.S. markets, with a small percentage in emerging markets. Implementing a diversification strategy can help my portfolio mitigate any economic and political downturn that may occur.
Value - I primarily seek out undervalued equities typically those at 52-Wk lows, usually, the fundamentals and market cap aren't appropriately assessed and have normally been beaten down for some time. When examining Consumer Goods & Tech, I examine product market-fit to determine the long-term viability of a company's core products and its position within each sector.
Fundamentals - I look at 10-K and 10-Q filings, healthy balance sheets, income statements, and cash flow positions. I implement the use of debt-to-capital when comparing competing companies in a like sector. In the case of small-caps and emerging markets, I use it to determine how much at risk my investment may be.
Brokerage Routing - Probably an underutilized and unspoken strategy, I use this to save several hundreds of dollars annually in commission fees. Depending on the trade size and time horizon, I either use my traditional broker or Robinhood for trading. If I'm trading options for example, I use Robinhood because I normally trade these at a higher frequency, saving me $6.95 + $0.75 per contract.
Portfolio Asset Mix
The portfolio is primarily composed of six asset classes:
Stocks - I usually add individual stocks as long-term positions, this is evident when you look at the portfolio composition below. I look for value opportunities and betas of .80-1.0 for implied volatility.
ETFs - These are primarily used to diversify my portfolio among different sectors and add global exposure. ETFs allow the portfolio to keep a small and lean list of tickers while expanding its exposure, they also require lower investment minimums which means my cash can go further. I position myself to buy ETFs with high-yielding dividends.
Mutual Funds - I use these similarly to ETFs, albeit they represent a smaller fraction of the overall portfolio (7.5%) due to higher fund fees and expense ratios. They do, however, provide active management of assets, as opposed to ETFs.
Bonds - The portfolio currently does not include any bonds, however, I'm looking to enter the market in Q1 2019, primarily by buying bond-focused mutual funds.
Options - This is where I intend to focus in the next 6-12 months. I use these mainly for short-term trading, swing trading, and to capitalize on price movements. I use these usually to take a 'bearish' position or to offset the risk or short-term losses of any of my long-term holdings. Normally, I buy naked puts with expiration dates of 30 days, up to 90 days. Capitalizing on stock prices that move with positive news even though no fundamental changes to the underlying business have taken place. I do not do weekly options due to my low-risk tolerance. I usually just trade contracts and rarely exercise the options.
Cash - I keep a small portion of cash - up to 20% - in the portfolio for price opportunity buys and to capitalize on any market opportunities.
Portfolio Composition
The portfolio currently contains 20 picks grouped into their appropriate asset classes, with the exception of stocks which I have split out into Long-Term (plan to hold for more than 3 years) and Short-Term (bets for no more than a year).
| | | | | |
| --- | --- | --- | --- | --- |
| Class | Avg. Cost | Last Price | % Change | % of Portfolio |
| Stocks (Short-Term) | $15.80 | $15.84 | +0.3% | 18.1% |
| Stocks (Long-Term) | $13.96 | $37.21 | +166.5% | 55.0% |
| ETFs | $39.09 | $43.86 | +12.2% | 19.4% |
| Mutual Funds | $20.84 | $22.42 | +7.6% | 7.5% |
| Options | $0.50 | $0.47 | -6.0% | 0.0% |
| Bonds | $0.00 | $0.00 | 0.0% | 0.0% |
Below, I've included the complete listing of picks found in the portfolio and their performance. SQ is written about below and includes the story and numbers behind the position.
| | | | | | |
| --- | --- | --- | --- | --- | --- |
| Ticker | Class | Avg. Cost | Last Price | % Change | % of Portfolio |
| AMD | ST | $12.91 | $27.78 | +115.2% | 15.4% |
| CIM | LT | $17.56 | $17.67 | -9.3% | 2.4% |
| CMC | ST | $17.21 | $20.10 | +8.7% | 3.5% |
| CY | ST | $14.50 | $14.28 | -1.5% | 1.1% |
| EWH | ETF | $24.00 | $22.83 | -4.9% | 2.5% |
| EXTR | ST | $8.03 | $5.70 | -29.0% | 2.3% |
| FCX | ST | $12.81 | $13.62 | -7.3% | 1.8% |
| GE | LT | $15.76 | $12.65 | -28.0% | 4.2% |
| HPQ | LT | $13.26 | $26.41 | +99.2% | 1.0% |
| IJR | ETF | $70.94 | $84.75 | +19.5% | 6.3% |
| JBLU | LT | $25.86 | $18.47 | -28.6% | 0.7% |
| MSFT | LT | $15.20 | $112.76 | +517.2% | 3.5% |
| PRSIX | MF | $19.42 | $19.57 | +0.8% | 3.6% |
| SCHE | ETF | $27.50 | $24.76 | -10.0% | 1.8% |
| SQ | LT | $10.34 | $94.49 | +813.8% | 27.9% |
| TRULX | MF | $22.61 | $25.99 | +14.9% | 3.8% |
| TUSK | ST | $28.00 | $29.24 | +4.4% | 5.4% |
| X | ST | $23.81 | $29.90 | +18.3% | 4.2% |
| XLE | ETF | $62.41 | $77.17 | +23.7% | 5.7% |
| XLF | ETF | $25.14 | $28.14 | +11.9% | 3.1% |
An undervalued portfolio star with record returns
SQ / +802.9% (2015)
Square's IPO was on 11/19/15 priced at $9. I normally avoid IPOs for about four weeks after they've initiated trading, just because I like to see how the market reacts and it allows me to properly assess filings.
When I looked at SQ, I saw product-market-fit, it was a product that my local merchants were using and at an increasingly higher number. It offered the ability to make/receive payments effortlessly at a very low cost, essentially making anyone a merchant.
I initiated my position on 12/3/15 at 11.99 and averaged my cost down on two separate occasions 1/20/16 at 9.17 and lastly on 6/7/16 at 9.47. Below, you'll see my three buy points. On my 6/16 purchase, I knew it was way oversold as it neared its IPO price, my belief here was that SQ was severely undervalued and it was a perfect opportunity to increase my position.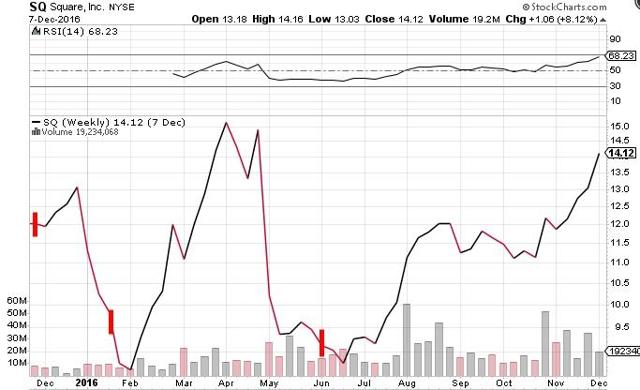 If we zoom out to the 3-year chart, you can see my three buy points and how they eventually turned out. I haven't added to or sold my position since June 2016.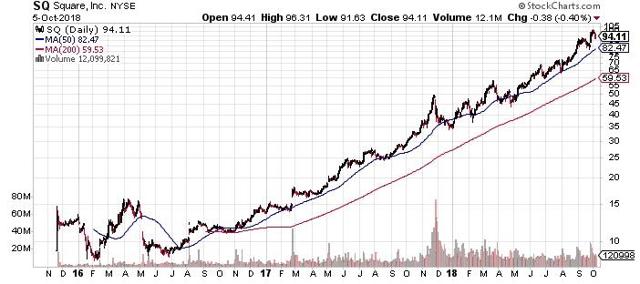 My position in SQ is an example of how I studied product-market-fit and used charts to anticipate oversold positions to capitalize on price opportunities and increase my position.
A portfolio dud with valuable lessons
SUNW / -58.8% (2015; exit 2018)
This was a promising micro-cap and probably the last micro-cap I will hold. It was originally Solar3D, a company developing a patent-pending three-dimensional solar panel that was several times more efficient than traditional panels because it could collect sunlight from three wide-angles.
Over the course of 2 years, it made several acquisitions that led them to become a residential and commercial installer of traditional solar panels, and eventually, they abandoned their 3D panel technology. By early 2016, it changed its name to SunWorks, along with its brand and business model.
I initiated my position on 3/9/15 at 3.39 and averaged my cost down on several occasions, as the stock further declined to 1.06 when I eventually sold my position on 7/24/18. As of this writing, SUNW trades for 0.46.
I chased what I thought would be long-term gains by chasing the stock down on price to lower my average cost, all in the hopes of eventually being able to pull a profit. Bad idea.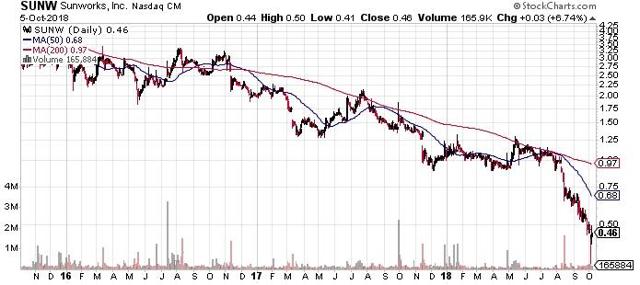 First lesson, don't necessarily trade on daily price/volume movements, you can and should get to know the company you're investing in. Their products and financial well-being, what exactly is their value proposition and competitive edge in the market, or is it all a bluff.
Second, and most valuable lesson, don't chase losses. Eliminate your position when you have a chance, I wasn't actively managing my portfolio and missed several opportunities to sell and minimize my loss. As a result, I closed my position for a -58.8% loss.
As of this writing, I no longer own a position in SUNW.
In my second post, I will dive into how I've used options to offset accumulated losses.
If you found this article interesting and want to read more about Alpine Holdings and track my progress, please click the FOLLOW button.
I look forward to joining and contributing to the Seeking Alpha community. Your feedback is most very welcome!
Disclaimer: The material in this article is for informational/educational purposes only and should not be construed as investment advice or a recommendation of any particular security, strategy or investment product, any opinions expressed herein are subject to change at any time without notification. Please remember to do your own due diligence before investing.
Disclosure: I am/we are long SQ. I wrote this article myself, and it expresses my own opinions. I am not receiving compensation for it. I have no business relationship with any company whose stock is mentioned in this article.
Editor's Note: This article covers one or more microcap stocks. Please be aware of the risks associated with these stocks.